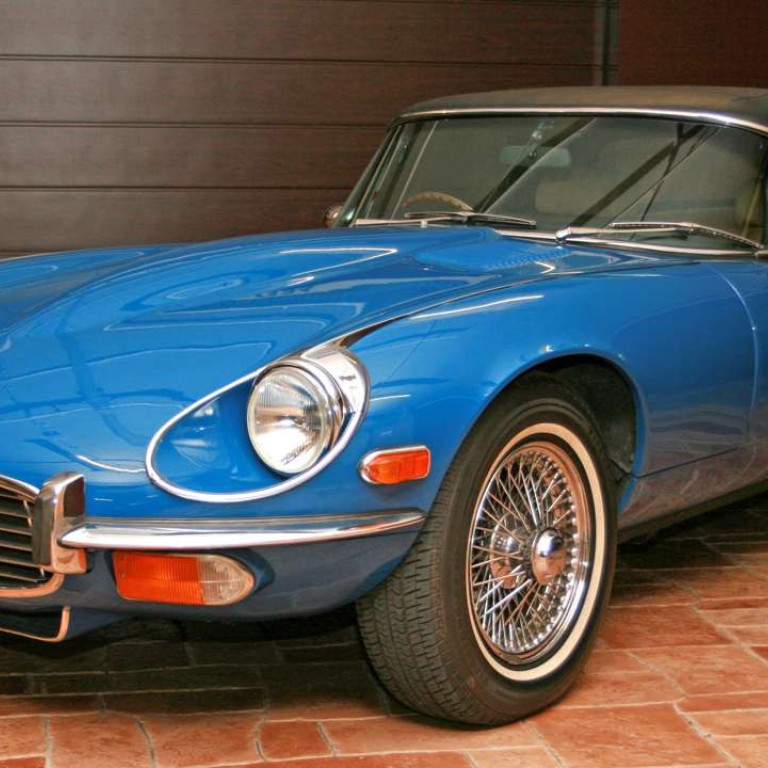 Classic car auction brings Hollywood glamour to Hong Kong
RL Neo Classics offers mouth-watering collection at Cyberport Arcade on November 12
Hong Kong automotive auctioneer RL Neo Classics will offer 21 collectible cars in its "Movie Car Tribute" sale at Cyberport Arcade on November 12. All the lots look desirable, and the auctioneer describes them as similar to "those that have appeared in classic Hollywood movies and television series".
RL Neo Classics should draw investors, having in June sold at least 10 of 26 collectibles at its rain-lashed inaugural sale at The Repulse Bay. The auctioneer also offers Hong Kong's first classic car "digital live bidding" platform for overseas and private buyers.
The international classic car market seems to have cooled, however. London-based analysts Historic Automobile Group International in September announced that the best quality classic cars appreciated in value by 4.65 per cent over the past year, compared with the 4.37 per cent of the S&P Global 1200. Premium classic cars have, in recent years, outperformed the S&P index by a much wider margin.
Meanwhile, the Hagerty Market Rating of North American classic sales last month was 67.24, about a third of a point down on September, and below its all-time high of 71.99 in May 2015.
RL Neo's latest sales performance is hard to predict, but 12 sales might put Hong Kong on the classic car auction map. Anything less might suggest the auction is a year too late.
Among the cars on offer, five stand out. The 1974 Jaguar E-Type Series III Roadster is eyecatching in blue with a big V12 engine, and is offered for HK$1.48 million to HK$1.58 million, including first registration tax. It's a similar make and model to a car in How to Steal A Million (1966), starring Audrey Hepburn and Peter O'Toole, but the exterior's "good" and the interior's "excellent", RL Neo Classics says. The car has clocked 53,767km.
A 1990
Peugeot 205 GTI 1.9
hot hatch could be a fine collection starter, with 30,868 kilometres on the clock, and could repay the owner in fun if classic car markets continue to cool. A Japanese import and registered in Hong Kong, this "Pug" has a 126-horsepower engine and a traditionally exhilarating five-speed manual transmission. Easier to park than bigger cars, the two-door four-seater is also rare in Hong Kong. A "similar make and model" to a 205 GTI in
Target
(1985), starring Gene Hackman and Matt Dillon, its auction estimate range is HK$140,000 to HK$200,000, and earns immediate respect at local classic car events.
You can pretend you are Rowan Atkinson's
Johnny English
(2003) in a 1996 silver
Aston Martin DB7
, which the auctioneer says offers the easiest entry to the marque. Fitted with a light grey leather interior, this 2+2-seater model is one of 7,000 produced, and is registered as one of 12 examples in Hong Kong, according to RL Neo Classics. Astons also have the James Bond aura and sell well worldwide. A 1996 DB7 sold for HK$390,000 at the auctioneer's June sale at The Repulse Bay. This collectible, with 65,883km on the clock, is estimated to sell for between HK$235,000 and HK$350,000. It looks powerful with a 3.2-litre, 335hp supercharged inline six-cylinder engine and five- speed automatic transmission.
A Japanese-import, 1976 Pininfarina-designed
Alfa Romeo 2000 Spider Veloce
looks attractive and is already registered in Hong Kong. Its sales estimate ranges from HK$260,000 to HK$290,000 and ownership would entitle you to join Hong Kong's ardent Alfisti community, which could then help you source the right labour and parts. The auctioneer says the two-litre, 132hp roadster is one of 4,338 units made in 1976. RL Neo Classics says this stunning vehicle is a similar make and model as Dustin Hoffman's in
The Graduate
(1967) but it could reflect your Lantau Riviera Dolce Vita, and with only 4,100 miles (6,650km)on the clock, might do-do-do-do-do for the Mrs Robinson in your life along Cheung Sha.
However, a flashy 1986
Lamborghini Countach 5000 QV
with a mid-mounted 5.2-litre V12 engine tuned by Al Burtoni could be the "Car of the Night". Its sale estimate looks steep – between HK$3.7 million and HK$4 million, including first registration tax. One of 610 models built, the car has had a single owner since new, RL Neo Classics says. "The vendor bought this car as his 18th birthday present in Switzerland, [and] the car has followed him everywhere he goes," the auctioneer says. "It has been loved and received only the very best of care and attention for these last 31 years." However, some investors might wonder why someone should keep a car for so long, and then sell it.
The sale's other lots include a 1973 Porsche 911 T 2.4 (HK$1.8 to HK$2 million); a 1990 Ferrari 328 GTS (HK$1.28 million to HK$1.48 million ); an Australian 1976 Jaguar XJ6C; (HK$100,000 to HK$200,000) Mercedes 190SL Roadster (HK$1.15 million to HK$1.3 million); a 1994 Ferrari 348 Challenge (HK$630,000 to HK$800,000) and a 1991 "Barn Find" Ferrari Testarossa LHD (HK$630,000 to HK$730,000). That's a lot of gleam. Local auction-hub ambitions might rest on their sale.
This article appeared in the South China Morning Post print edition as: classic car sale brings hollywood glamour to hk