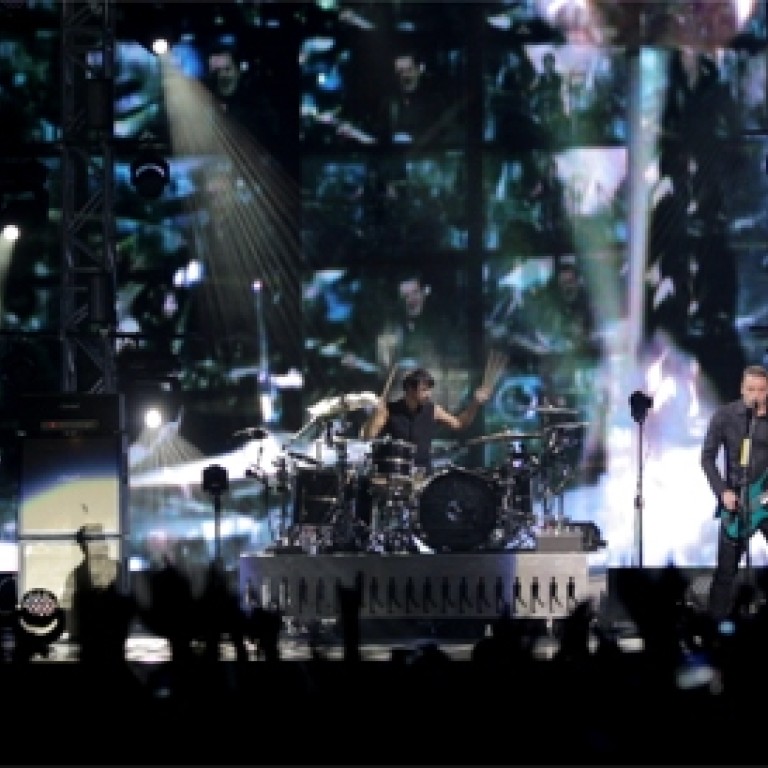 Video
Muse's Dominic Howard: We had to change our set list to play China
Drummer discusses restrictions on Asia leg of tour - and reveals the band have already talked about their next album
British rock band Muse dropped two songs from their set list as they played China for the first time, drummer Dominic Howard has revealed.
Uprising, from their 2009 album The Resistance, and Revolt from latest record Drones, were considered too politically sensitive for the trio's Beijing and Shanghai shows.
In Uprising, frontman Matt Bellamy sings lyrics including "Interchanging mind control / Come, let the revolution take its toll". On a similar theme, Revolt includes the line: "You can make this world what you want / You can revolt / You can revolt / You can revolt".
"There were a couple of songs that we weren't allowed to play. But, you know, there's certain things that if the authorities feel aren't necessarily in line with some Chinese culture then we're not allowed to play it," he said, adding: "You know, I get it. I understand if things are a bit sensitive over there."
Muse are certainly not on their own when it comes to having to make changes to secure gigs in China. Last year, the Rolling Stones were forced to alter their set list after some songs were banned by the Chinese Ministry of Culture.
And some bands didn't even make it that far: earlier this month Bon Jovi were banned from playing scheduled Shanghai and Beijing gigs because they used an image of the Dalai Lama as a backdrop at a previous gig.
Despite the controls, Howard said finally getting to play China was "awesome", and that the band "had a really, really good time there".
He added: "I didn't know what to expect really at all. I knew not a lot of western acts go there or historically haven't been there that much.
"So it's kind of a little bit new, the idea of that kind of rock concert there. So I didn't really know what to expect. I'd thought the audience were going to be way more subdued than they were but they were actually really, really great. So I suppose I was really surprised by how really loud and into it they were."
The 37-year-old drummer, Bellamy, 37, and bassist Chris Wolstenholme, 36, are touring their seventh studio album, Drones, a concept album exploring the dehumanisation of modern warfare. In recent days they've added scores of new dates around the world.
But heavy touring hasn't stopped the Devon trio from making plans for their next album, news that will be music to the ears of their legions of global fans.
"We've talked about it [the next album], yeah, but we haven't really talked about when or where. But I just know we need to do something really, really different to anything we've done before. I think it's time to kind of lose our minds a little bit more in the studio and delve into some new areas of music that we're kind of not that used to or comfortable with. I think we should definitely do that and kinda go for it. Yeah, we've got small ideas about how we think we can evolve. That's the key thing: evolving."
Often described as producing alternative rock, the band formed in 1994 and have earned a reputation as one of the best live acts around with their ambitious stage sets and stadium appearances. This tour, however, has taken it back to basics with a stripped back live show.
Howard said he was looking forward to the Hong Kong show as he remembered it being "pretty cool" last time.
Asked what he thought was the most challenging aspect of being a member of Muse, he said: "You spend a lot of time away - touring and stuff - you spend so much time away from home it's very easy to lose contact with friends and family and loved ones and stuff like that so sometimes that can be a bit difficult."