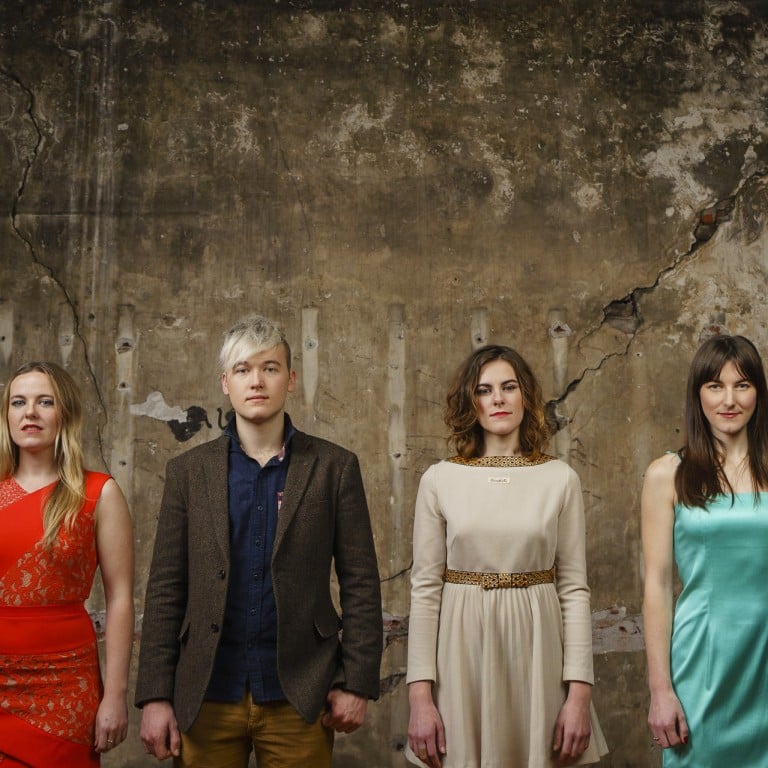 Forget the lederhosen: for the younger von Trapps, the sound of music is actually indie rock
The famous name can open doors, say the descendants of the harmonising Austrian singers, but can also create a burden of expectation
The modern-day Trapp family singers are hanging out on the craggy patio of a Washington cafe, each wearing some variation on skinny jeans and combat boots.
Melanie, 25, has wrapped herself in a leopard-print trench coat, while Sofi, 27, is clad in a cropped red leather jacket. Amanda, 24, is in head-to-toe black. And then there is August, just 21, who let his hair do all the statement-making, the bleached-blond wisps of his fringe swooping over one eye, Bieber-style.
"What?" Amanda asks wryly. "You were expecting lederhosen?" Well, uh, yeah. But could you blame us?
The musical foursome known as the von Trapps are descended from the wholesome, singing Austrian clan of fame. Their grandfather, Werner, was one of those von Trapps, who skipped around the world in the 1930s and '40s as the Trapp Family Singers, belting out madrigals and the folk songs of their native Austria for audiences shell-shocked by successive wars.
The older generation of singing von Trapps became the very loose source material for a Rodgers and Hammerstein Broadway musical, and then for one of the most-watched films of all time, an epic mix of romance, musical numbers, Alpine scenery and Nazi bad guys.
But just as Miley declined to follow dad Billy Ray's path into country music, the siblings Melanie, Sofi, Amanda and August are leaving behind the Austrian lullabies for something unexpected.
The von Trapps moved to Portland, Oregon, to forge careers as indie-rockers. Ask them who they want to sound like, and they'll tick off names such as Fleet Foxes, Beach House and Sufjan Stevens.
In April, the von Trapps lobbed their first EP of original music, , out into the universe, where EPs are generally greeted like cosmic space junk.
Unless, of course, your name is von Trapp.
In that case, four songs were enough to prompt a call from their agent wondering how they'd feel about maybe opening for Loretta Lynn in Washington. So here they are, sipping coffee before load-in at the Lincoln Theatre, where the great-grandchildren of the Captain and Maria von Trapp are set to take the stage.
After emigrating to the US in 1939, the captain, Maria and the first generation of singing von Trapps settled in Stowe, a hilltop town in Vermont. They bought a farm and opened a ski resort, the Trapp Family Lodge. They pursued other passions.
By the time Maria's memoir was adapted into the 1959 Broadway musical, and the fair-haired, porcelain-skinned Julie Andrews was cast as the dark-featured matriarch a couple of years after that, the Trapp Family Singers had abandoned gigs for good. The von Trapps scattered, landing all over the country. So Stefan von Trapp, Werner's son, and his wife, Annie, didn't have much interest in music, the children say. "Our parents had no clue what it was to go on tour or have kids in the music industry," August says.
It was dairy farmer Werner (the one who was envisioned as the blond, chubby-cheeked Kurt for the silver screen) who taught his grandchildren to sing on his visits to the family home in Montana. Stefan and Annie indulged them and ferried them to vocal lessons after that, the children say. That the couple took the children all to a single lesson, together, proved fateful: the young von Trapps became harmonisers, kind of like the old von Trapps.
And, of course, they already had the name.
In 2001, the von Trapps were invited to sing at Ground Zero for firefighters on their lunch breaks. It was the first time they'd left Montana for a gig. August was just seven, but soon, they were getting requests from all over the world. (Stefan and Annie declined requests for an interview but sent a statement that read, in part, "We believe that by touring the world since they were young, it gave them an education that helped them understand, appreciate and love people - they've become unique and very wise. We are so proud of them and the music they produce.")
These days, they've been taken under the wing of the modern orchestral act Pink Martini, and produced with Israel Nebeker of the Portland band Blind Pilot. Sometimes, Rufus Wainwright - scion of another renowned musical family - would show up while they were recording.
They've booked a three-night stand at the John F. Kennedy Centre for the Performing Arts in Washington this December.
At the Lincoln Theatre, where the four performers stood at their mics and harmonised through a sparkly, if spare, 25-minute set, it wasn't until Melanie announced that they were the von Trapps that the audience began to shift in their seats and murmur.
Of those von Trapps?
When they were done, a few in the audience even gave them a standing ovation.
If the name opens doors, it can also bury the von Trapps under expectations. "There are times when it has that nice ring of fate to it," August says. "But we're not trying to do what they did already."
Among their sprawling clan these days, in fact, no one else seems to want to inherit the family business. The von Trapps have one aunt in music, and so far, they're the only ones who have wanted to use the name for their own musical group.
Sometimes, even the von Trapps haven't wanted it. "We definitely toyed with the idea of going with an underground name, like the Trappezoids or something," Amanda says with a laugh. "It takes people a long time to get that our art is a little bit different than what they're expecting."
The von Trapps are hoping they'll be recognised for , the first of three EPs they hope to release in the coming years, each with a different producer. On it, they evoke The Carpenters as well as She & Him, Zooey Deschanel's AM radio homage act with M. Ward.
"There's a whole generation of people for whom it was an annual event to tune into ," says Thomas Lauderdale, founder of Pink Martini, who jokes that he is "both a mentor and cautionary tale" for the von Trapps. He recalls that even he was "very curious to see what this new generation was like". They were, he says, everything you hope the von Trapps would be.
"They are navigating that as well as anybody could," Lauderdale says.
One way is by embracing their legacy, the real one and the celluloid one.
At the Lincoln Theatre, they left the audience with one last song, which, Sofi announced with an expectant smile, was about a flower that grows in the Alps.
It was . And while the von Trapp elders never actually performed it - like , it was pure musical fiction, written for the Broadway show - their hipster descendents didn't mind indulging the fantasy a bit.
"We are von Trapps," Sofi says. "It is our last name, and we want to celebrate what our grandparents did."
"But," adds Melanie, "we are who we are."
The Washington Post
This article appeared in the South China Morning Post print edition as: 'You were expecting lederhosen?'