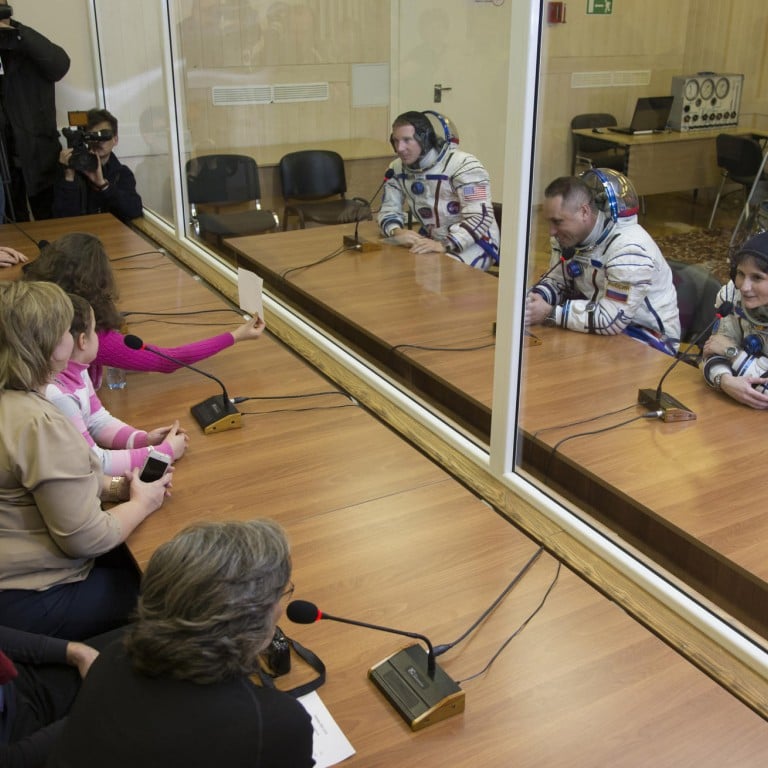 Taking the slow food life to space, Italian style
Italian astronaut and slow food devotee gets special taste of home in space thanks to cutting-edge cuisine painstakingly made by an engineering firm
Spare a thought for those far from home this Christmas season - not least Italy's first woman in space, Samantha Cristoforetti, one of the six astronauts orbiting the Earth at 7,690km/h in the International Space Station (ISS).
While Cristoforetti will miss out on her traditional family meal, she will have the consolation of cutting-edge cuisine prepared especially for her in a pristine factory on the edge of Turin.
The pre-packed dishes were produced at a small aerospace engineering firm, Argotec, and have been the subject of almost as much experimentation as the spacecraft's pressurised modules, robotic arms and solar arrays.
The company's association with space food stems from its involvement in astronaut training, and began "as a bit of joke", managing director, David Avino said. His firm was helping to train Luca Parmitano, the Italian astronaut on the first mission to be run by the country's space agency, ASI.
"He wanted to take up some dishes that were typical of Italy," Avino said. It was only after Argotec embarked on their preparation that he realised what he had let himself in for.
Special meals could only justify their place in the payload if they helped to boost morale. To do that, they had to be significantly better than the standard astronauts' fare produced by the US and Russian space agencies. But making luxury cuisine for astronauts is no easy matter.
Space travel like air travel, robs food of its flavour. And dishes sent up to the ISS have to keep for long periods: Parmitano was away for five-and-a-half months and Nasa demands an "eat by" date at least 18 months after launch.
Some dishes can be sterilised by thermo-stabilisation, using heat under pressure. But the more liquid ones have to be freeze-dried, which takes away yet more flavour.
Stefano Polato, Argotec's 33-year-old chef, who also has a restaurant near Padua, said part of the solution lay in scrupulous selection of the ingredients. "Take an apple, for example," he said. "You can lower the temperature for sterilisation and avoiding killing off the nutrients if you pick one that has the right acidity level. A pH of 3.5 is ideal. You get fewer bacteria and longer conservation. It tastes good too."
Polato also makes liberal use of spices, but not salt. One of the problems that astronauts face, particularly in the early stages of a flight, is water retention. Salt exacerbates it.
Another challenge is to ensure the food is easily digestible. "Digestion is more difficult in space because there is no gravity," said Polato, who co-ordinates his researches with nutritionists. "So anything that would be heavy on our stomachs on Earth will be very, very heavy in space."
Then there is viscosity. A food that is too liquid will "end up going all over the space station", said the chef.
For Cristoforetti, the requirements are even more stringent. The fighter-bomber pilot, whose videos and photos from orbit have won her celebrity status at home, is a foodie. She's an admirer of the slow food movement and fussy about what she eats, Polato said.
Avino said Argotec had "changed direction completely" over the past two-and-a-half years to produce food that was not just tasty, long-lasting, easily digestible and unlikely to splatter in space, but which would safeguard Cristoforetti's physical wellbeing and enhance her mental and physical performance.
Astronauts age more quickly than people on Earth. So Argotec's bonus food includes hefty amounts of antioxidants. Polato points to a "power bar" which, he said, gives an energy boost lasting two hours. It does not crumble (otherwise the crumbs would float around the ISS). And it is packed with goji berries "which contain more antioxidants than any other food. We use only the Tibetan ones, which are the best," the chef said.
To find ingredients with specific properties in Italy, Polato enlisted the help of the Slow Food movement. In a room off Argotec's kitchen, he opened a tall jar. "These lentils are from the island of Ustica and contain a lot of mineral salts," he said, before unscrewing another jar.
"These are beans from Piedmont that are particularly digestible because they have very delicate skins. And these ... these are really special: black chickpeas, which are immensely high in iron and proteins. They're from Puglia."
During hydration of the pulses for soup, Polato inserts the leaf of an alga found in Brittany. "It absorbs heavy metals the body cannot process," he said, adding that "studying a single recipe can take six, seven, even eight months of research".
Cristoforetti has promised to enter the spirit of the season and share samples with her fellow Russian and America travellers.
This article appeared in the South China Morning Post print edition as: Taking la Dolce Vita to space