Bitcoin
Get more with myNEWS
A personalised news feed of stories that matter to you
Learn more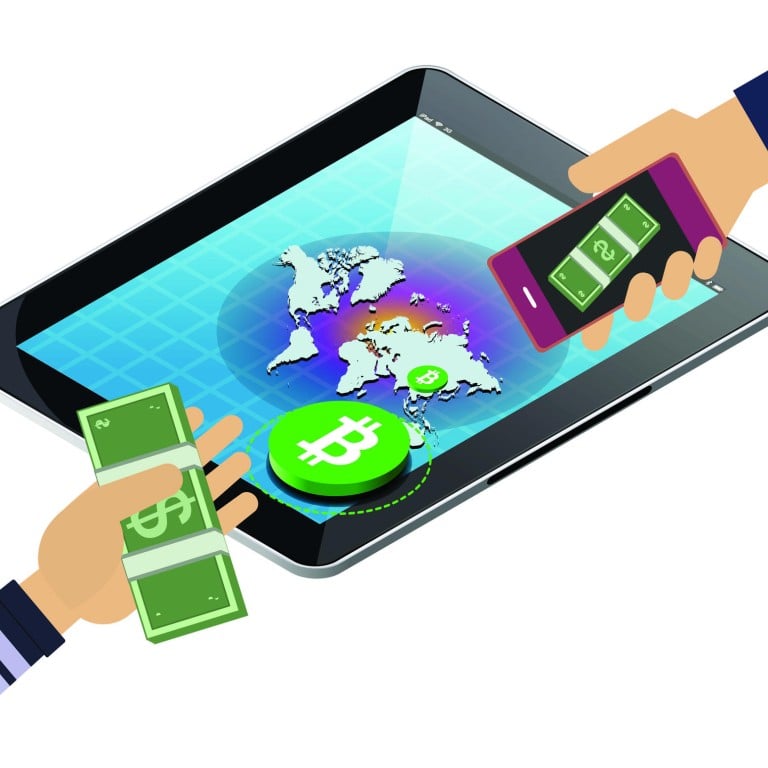 Bitcoin transactions cut the cost of international money transfers
Bitcoin operation helps domestic workers in Hong Kong to transfer money home cheaply
Maria Teresa Lasam doesn't know how bitcoin works but is thrilled that she's able to remit money to her family more conveniently and at a fraction of the usual cost through this cryptocurrency.
The domestic helper sent her money through local start-up Bitspark, which has a temporary Sunday office at World Wide House in Central.
On his laptop, 26-year-old Bitspark CEO George Harrap fills in her details, such as the funds' recipient, the amount, her contact details, and where the remittance will be picked up. It takes about 10 minutes.
"It's very fast and convenient because the money gets there in less than 24 hours. Last time I did it, the money was there in three hours," says Lasam, who has worked in Hong Kong for nine years. The HK$300 is for her daughter, who will receive a text message with a numbered code to verify her identity when she picks up the cash. Lasam will get periodic updates by text or email to let her know the status of her money transfer.
Typical remittance services charge a minimum fee of between HK$20 and HK$25. Bitspark undercuts other services with a flat HK$15 for any remittance less than HK$1,200, and 1 per cent for amounts over HK$1,200.
According to Harrap, Bitspark is the first bitcoin remittance in Hong Kong, and the first end-to-end bitcoin remittance in the world. He has used bitcoin since its inception in 2011 and last May set up Bitspark, which aims to be a "disruptor" - or a game changer - in the foreign exchange market.
Cash and remittance orders are taken back to its Cyberport office, where the Hong Kong dollars are used to buy bitcoin. This is then sent to Bitspark's Philippine remittance partner, Rebit, which converts the bitcoin into pesos for the receiver.
Harrap says the flat fee of HK$15, or 1 per cent of the transaction, covers the service charge for both Bitspark and Rebit, and they transferred more than HK$65,000 in the first three weeks of business.
He says the advantage of transferring money through bitcoin is that the amount can be as little as US$20, which suits the city's more than 164,000 Filipino domestic helpers, who typically remit funds home once a month.
According to Rebit, the Philippines was the second-largest recipient for remittances in Asia in 2013, with US$23 billion transferred, with US dollars being the most remitted currency.
Bitspark has also begun conducting remittances for businesses related to the Philippines, with the largest transaction to date being HK$10,000.
Another plus for those receiving the money is that they don't need a bank account - they can get it from set-ups such as remittance company Western Union, but also post offices and even pawn shops.
Other remittance companies are already showing an interest in partnering with Bitspark in other countries. Harrap this week expanded his business to Indonesia, partnering with PT ArtaBit Indonesia, to target the 150,000 domestic helpers from the country in Hong Kong.
Ambitious companies want to turn Bali into a bitcoin island. This could attract more visitors to the tourist destination and help locals cope with chronic inflation by having a currency that cannot be manipulated by governments.
Asked whether he is concerned about encountering corrupt partners in developing countries, Harrap says: "We make sure the partners have experience in bitcoin and they must be compliant with local and Hong Kong laws. That's how we know if they are going to be above board."
Harrap is also keen to start remittance business to the mainland. "China is the net buyer of bitcoin. They do 70 per cent of the world trading, worth US$800 million in volume."
While the People's Bank of China, the central bank, has barred state-owned bank accounts from dealing in bitcoin, and prevented bitcoin exchanges from having bank accounts, this does not stop individuals from making cryptocurrency transactions among themselves, or outside of the country. This what Bitspark aims to capitalise on.
However, Bitcoin's value has plunged 44 per cent since the start of the year and 85 per cent from its record high of US$1,165 in December 2013, which means the cryptocurrency has lost US$11.3 billion in value since its peak.
Nevertheless, Harrap reassures clients that the remittance transactions are locked into how much they receive at the other end and the transaction is done instantly so there's no chance of volatility.
In the meantime, Harrap says Asia is fast adopting bitcoin and other cryptocurrencies, such as Litecoin, Dogecoin, Darkcoin and Nubits, especially in countries such as South Korea and Japan, and cities such as Singapore and Hong Kong.
"There are new companies in Hong Kong geared towards bitcoin," he says, adding that the city could become a bitcoin hub. There are at least six bitcoin ATMs in the city, and a small but growing number of companies accepting the currency for transactions.
"Bitcoin have the same value anywhere in the world, and eventually everyone will have to embrace it," Harrap says.
This article appeared in the South China Morning Post print edition as: Special FX