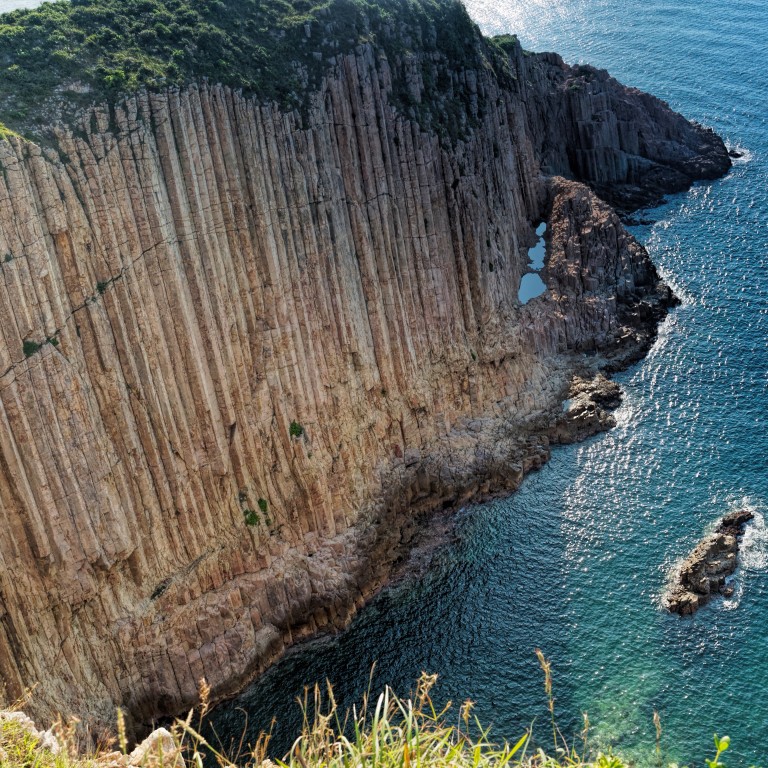 The four best sights in Hong Kong's below-the-radar geopark and how to visit them
Rock formations created by volcanic explosions 140 million years ago created one of Hong Kong's greatest natural attractions, yet hardly any tourists see it and not that many Hongkongers either. Here's how to make the most of it
Around 140 million years ago, the area that became Hong Kong was dominated by an immense volcano. Perhaps dinosaurs roamed forests on its slopes, but if so none left any remains – for, in a dramatic finale to the volcanic activity that created most Hong Kong rocks, the supervolcano collapsed, with a succession of explosive eruptions blasting incandescent ash across the landscape.
The ash fused and began cooling to form layers of rock up to 400 metres thick. As it contracted, joints spread in a honeycomb pattern, creating arrays of hexagonal rock columns. These are like the renowned columns of Giant's Causeway in Ireland, and Devil's Tower in Wyoming in the United States – but individual columns are larger, and they occupy a far greater area.
Today, the hexagonally jointed tuff, as it's properly known, is the key formation in the Hong Kong Global Geopark, which comprises eight areas in eastern Hong Kong. Though parts are challenging to tour independently, there are places you can head to admire the rocks and stunning scenery.
Rock walls forged in fire: eastern High Island Reservoir
This is surely the most spectacular part of the Geopark you can visit without taking a boat. The reservoir – Hong Kong's largest – occupies a former channel that separated High Island from the eastern Sai Kung Peninsula, and was created by building two tall dams across gaps to the west and east of the island.
Both dams rise to 64 metres above sea level, and the eastern one is especially impressive, with a seaward barrier of massive, interlocking concrete blocks to absorb the impacts of typhoon waves. A narrow road to this barrier angles down between cliffs of the tuff rock columns, and you can stroll here through an almost otherworldly landscape, to a small lake beneath the dam wall and towering cliffs.
Information signs tell of how the rock formed, and point out features like folds produced by earth movements, and a slender dyke of dark rock – a product of magma that intruded and solidified.8
South of the dam, rough trails lead up and over a low hill, and you can scramble to the top of a headland that drops sheer to the sea, and affords majestic views of the untamed coastline. Close inshore is Po Pin Chau,   a sea stack that was joined to the headland till an arch collapsed, leaving it separated by a chasm between imposing walls of columns.
Nearby cliffs plunge to stony beaches, and to waters appearing crystal clear by Hong Kong standards. There's a cluster of islands on the southern horizon.
Uncommon grandeur: the Ung Kong Group of Islands
A cluster of islands – Town Island plus Wang Chau, Basalt Island and Bluff Island in the Ung Kong Group – is wonderful to visit by boat. Mostly, the islands' coastlines are steep, cut from volcanic rocks, including the hexagonal columns, making them best appreciated from the sea.
There are tall sea arches – one through Wang Chau is 50 metres high; along with caves and crags. Hong Kong's tallest cliffs plunge 140 metres down the east face of Bluff Island, yet headlands here also cradle a sheltered beach, beside which is a fine area of hard coral – a prime spot if you're lucky enough to visit by pleasure boat.
Peaceful and picturesque: Double Haven
The islands of Double Haven are even more remote from the city, though they can be admired from the coast between Lai Chi Wo and Sam A Tsuen. Together with the land, they encircle a tranquil area of water, and form some of Hong Kong's most picturesque scenery.
Rocks here include sediments formed from erosion of extinct volcanoes, notably attractive red sandstones, their rusty tints serving as evidence of a desert-like environment. You can land in places, such as at the fine beach on Double Island, and corals plus colourful fish and other marine life make snorkelling rewarding.
Of the three main islands, only Crooked Island (Kat O Chau) has a settlement, with a fishing village that's interesting to stroll around. Just to the north, the population has dwindled on tiny Ap Chau – Duck Island, named for its profile resembling a duck's head, complete with sea arch for an eye.
Though far from urban Hong Kong, the islands are now close to expanding eastern Shenzhen, with a container port little more than a stone's throw away.
Youngest via oldest: Tolo Channel to Tung Ping Chau
Hong Kong's most northeasterly island, Tung Ping Chau, is formed by its youngest rocks – finely layered mudstones laid down 60 million years ago, in a basin that became today's Mirs Bay. Its name reflects the relatively flat landscape, though there are cliffs and sea stacks in the south.
The ferry to Tung Ping Chau passes through Tolo Channel. This is flanked by sedimentary rocks, notably at Bluff Head in the northeast, where you could see tightly contorted beds of Hong Kong's oldest rocks, which originated in deltas some 400 million years ago. Just past the mouth of the channel is Port Island, known in Chinese as Chek Chau - Red Island - for its younger, ruddy tinged mudstones and conglomerates. Just possibly, these hold dinosaur fossils.
Nearer but blander: Sharp Island
Just a short kaito ride from Sai Kung, Sharp Island (Kiu Tsui Chau) is one of the most easily reached sites in the geopark and yet, geologically, one of the dullest.
There are sea caves at the southern tip, but around the small pier there's little of note save a tombolo – a band of sand and rock – you can walk across to a tiny islet. Still, it's pleasant enough provided there are no crowds, with a beach and showers for swimming, plus corals south of the tombolo.
Getting there
Organised boat tours are the easiest way to see core Geopark sites, though guides may be trained to talk almost non-stop, and you might be swiftly shepherded around.
ECO Travel Limited
is one company offering boat tours (
also in Cantonese
). Otherwise, you might choose from a range of options.
Eastern High Island Reservoir is most easily reached by taxi, maybe from Sai Kung or Ma On Shan; there are no shops here, so take food and drink. You can hike to the shore of Double Haven from Wu Kau Tang; at Sam A Tsuen maybe ask about a speedboat to the islands.
During weekends and public holidays, Tung Ping Chau is served by ferries from Ma Liu Shui. At Sai Kung, you can take a kaito to Sharp Island. For the more spectacular Ung Kong islands, you're probably best off rounding up a group of friends to hire a junk for a day.