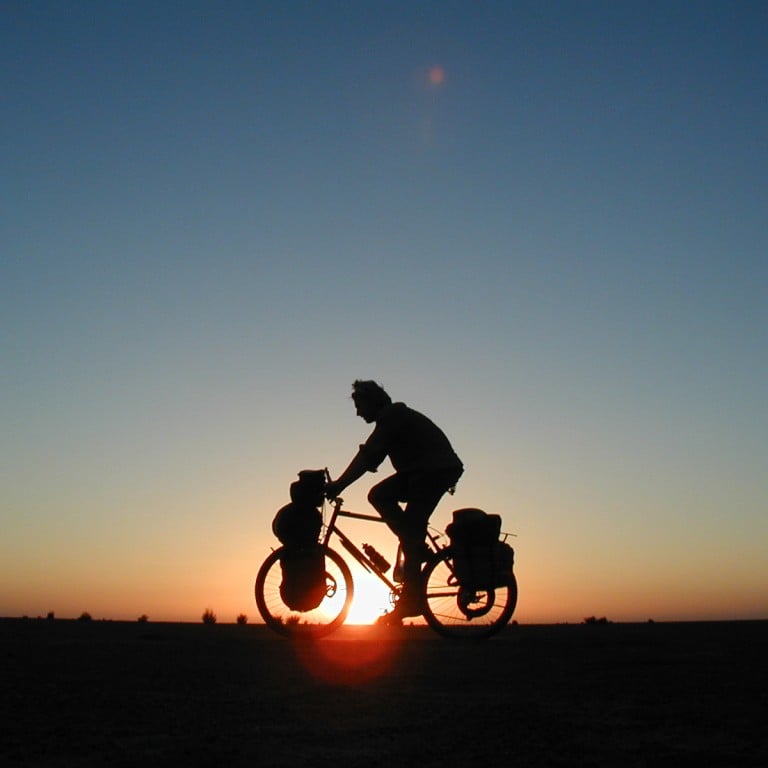 Eight lessons in letting go and having fun, from adventurer Alastair Humphreys
The art of roughing it: how microadventures and staying in touch with your younger self can unlock your potential
Who wants to cycle around the world? According to British adventurer Alastair Humphreys – who's done just that – when he asks a room full of children, they all put up their hands and shout, "Me!". But when that same question is posed to adults?
They become much more negative, he says. "They start doubting themselves and worry about the details."
Humphreys  began his two-wheel world tour from his Yorkshire home in 2001 and cycled south through Europe and Africa. He then crossed to South America by sea and headed north into the Americas and then on to Asia.
He's just released the third in a series of autobiographical children's books. Told through the eyes of a young boy, Tom, it tracks his journey home from Siberia through Russia, China, Central Asia and Europe.
Trained as a teacher, Humphreys – who also blogs and gives speeches – hopes The Boy Who Biked the World: Riding Home Through Asia will be "accidentally educational".
"It's full of information about geography, cultures, religions and all the stuff that you learn on a journey around the world. So hopefully it's an interesting story; if it's a boring book then the rest of it fails."
Having walked across India, rowed and sailed across the Atlantic, participated in an Arctic expedition and trekked 1,600 kilometres across the desert of the Empty Quarter in Saudia Arabia, Humphreys has learned plenty along the way.
Take a lesson from children
"One thing that I've been really trying to reintroduce into my life is to become more child-like," says Humphreys, clarifying that this is not the same as being 'childish'.
"Child-like is a good thing: the enthusiasm and the optimism and the looking for fun and excitement all the time."  
Although he's best known for riding around the world, Humphreys was awarded the title of National Geographic Adventurer of the Year in 2012 for pioneering the concept of "microadventures" : adventures that are short, close to home, accessible and fun. These simple escapes have helped put him back in touch with his younger self.
"When I started, I used to worry a little that I should be sitting at my desk doing serious, sensible work whereas in fact it was a Tuesday afternoon and I was building a raft on a river – or a shelter out of sticks in the woods – and absolutely loving it," he says. "But I've reconciled that now, realising that it makes me happy and is therefore not a bad thing for me to be doing."
Anyone can be an adventurer
Humphreys shifted his focus from vast expeditions to microadventures because he wanted to encourage more people to take part in the experience.
"There's this weird perception that adventure is only for adventurers, and normal people should be getting on with normal life, and perhaps enjoying a bit of adventure vicariously by reading a book or going to a talk," he says. "And many people think adventurers are better, or tougher than them, whereas nearly all the ones I know are incredibly normal people who have just made a choice to do this sort of stuff in their life."
More play, less work
Most people, children in particular, would benefit from  more outdoor fun to counterbalance the pressures of modern society. This is especially true of competitive cities like Hong Kong, where a recent report revealed suicide as the biggest cause of unnatural death among children. Polls point to homework and exams as the main sources of stress.
"It just breaks my heart that children are slaving away like this," says Humphreys.  "I'm a massive evangelist for doing a bit less work and doing stuff that's more fulfilling. I'm certainly not belittling the value of getting a good education...but it's about balance."
How to turn inertia into momentum
Humphreys' idea of microadventures is built on the theory that "inertia and momentum are key".
"I make that first step so ridiculously small that there's no longer any valid excuse not to do it; it's really just sticking blocks in your mind. The microadventures grew more and more popular online the smaller I made them."
The simplest iteration of it is what he calls the "5 to 9" adventure, which involves leaving work at 5pm, camping out somewhere nearby, then heading back to work the next morning. "I appreciate that not everyone finishes work at 5pm, but I think that those people who work so ridiculously hard are probably the ones who would benefit most of all from – even just once – sneaking out of the office a bit earlier and going to sleep on a hill."
The art of roughing it
Most the time, Humphreys won't bother with the luxuries of a tent, and has instead mastered the art of sleeping directly under the stars with just a bivvy bag – basically a thin waterproof cover for a sleeping bag.
"If you start to get blasé about your bed, having a fridge, air conditioning ... these are really good reasons to go on an adventure, just to simplify stuff. Then you re-appreciate your normality, and that's a good thing to do," he says.
During a visit to Hong Kong last year, Humphreys filmed an improvised microadventure.
"I loved how green, wild and adventurous Hong Kong felt, and that mixture of total urban chaos then the beauty...all squashed together. It's perfect microadventure territory."
Make the most of your next holiday
"Holidays are an opportunity to explore a bit, so if you're somewhere you've never been, take your trainers and climb up the nearest hill and see what the view's like. Or if you're staying in the city, go running early in the morning without a map and deliberately get yourself lost," says Humphreys. "If you're a bit more enthusiastic, you can always try to squeeze in a couple of days camping in the middle of it."
Take things up a notch
"Once you've started microadventures, this is when you've overcome inertia and you develop momentum and acceleration begins," he explains. "So if you're planning for the next trip but it seems a bit overwhelming, the secret is to just go back and do it really small, just to get moving."
You'll never have enough money or find the perfect time for a big expedition, he adds, so you just have to commit to saying, "I'm going to do this on this date."
Two big lessons from the road
"Firstly, what amazed me is how good the world is in general," says Humphreys. "We see a lot of bad things on the news, but by and large, nearly everyone in the world is a decent person trying to get on with their life, who will help you and be kind to you if they meet you. I feel much more positive now about the world being a good place.
"Secondly, doing these expeditions has made me realise I'm far more capable than I'd ever imagined – physically and mentally – and it's made me fiercely determined to make the most of my time, my opportunities and potential. And I'm a very normal person, so if that applies to me it applies to everyone."