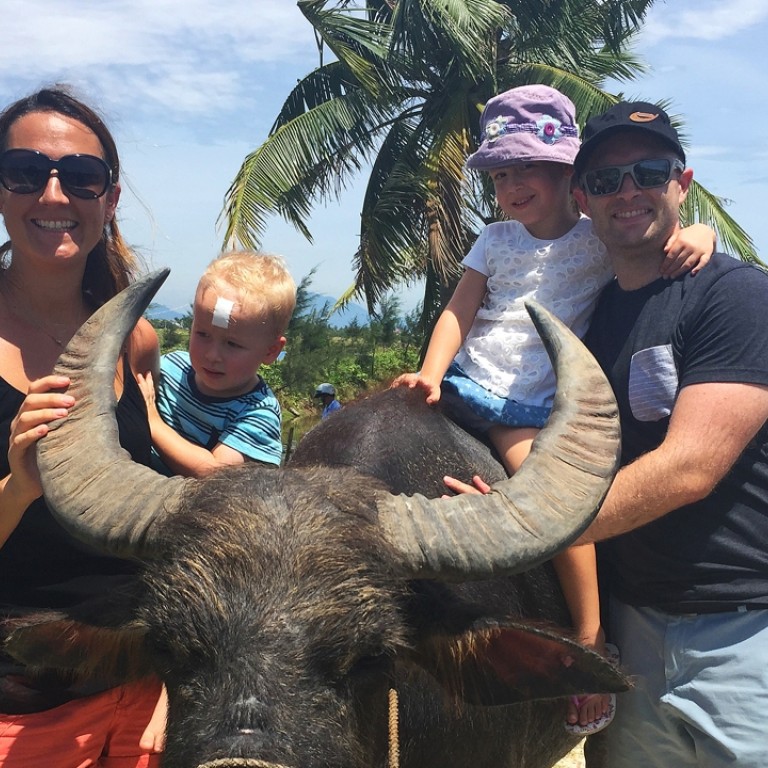 The ultimate guide to long-haul travel with young children
Experts share their top tips for enjoying family getaways that deliver enjoyment for adults and offspring alike, and for coping with the inevitable incidents
The thought of faraway holidays with children can leave many parents feeling fatigued before the plane has even taken off. But it doesn't have to be that way.
Marianne Rogerson, a mother of two, was determined not to let being a parent curtail her spirit of adventure. Rogerson, who grew up in Hong Kong, has always harboured a passion for adventure travel, trekking up mountains in Peru, white water rafting in Costa Rica and hiking the rainforest in Borneo.
Having children means less of such adrenaline-fuelled fun. "Things have to be a little calmer with toddlers in tow," Rogerson says – but her wanderlust has not waned. This year, the mumonthemove blogger took her daughter, four, and two-year-old son bamboo rafting in Guilin, southern China, and on a farming and fishing adventure in Hoi An, Vietnam.
Anders Bay Jenson describes his frequent trips around the globe with wife Alexandra and son Anton, five, on the blog threeonthego.com
He and his wife are firm believers that children are an asset to travel. "We refused to believe having a child should prevent us from travelling," says Jenson. "The way in which we travel has changed. We travel slower but we see much more, and with completely different eyes; also through the eyes of our son."
Still, for many families, travelling abroad is as much about mishaps as having fun - whether it's temper tantrums, wetting themselves while asleep on your lap or spilling your red wine on the plane. So these are some of the factors to consider when planning the next family getaway.
Location, location, location
Booking hotels with child-friendly facilities can make life easier, especially for relaxing beach holidays. This also guarantees the presence of other families, so your kids won't get disapproving looks for splashing in the pool.
The ethos of Intrepid Travel (intrepidtravel.com) is that families can have fun off the beaten track. It offers tailor-made trips for families in Africa, the Middle East, India and the Himalayas that feature a range of activities but build in flexible family time.
Finding a suitable destination is also a top priority: no one wants to drag their children to a city. Safedestinations.com is a great resource, packed full of tips on safe places to visit with the family. Hong Kong ranks 12th safest among 141 countries and territories listed on the website, with Finland, Qatar and the United Arab Emirates taking the top three spots.
Planning and packing
Engaging children in learning about the world can go a long way in pushing their boundaries. Subscribing to tools such as Little Passports (littlepassports.com) will give them an appetite for travel. Australian mumpacktravel.com blogger Evie Farrell and her daughter Emmie, five, gear up for adventures with a countdown on a blackboard, counting off each day until their departure.
Pre-booking a baby cot or rollaway bed at hotels and checking the availability of other amenities, such as a baby bath and steriliser, is recommended. This saves on suitcase space and lugging around excess luggage, says Sotheat Heng of Discover the Mekong, which organises tailor-made trips across Southeast Asia.
Nicola Burke, the author of award-winning family travel blog jetlagandmayhem.com, often packs travel blinds. "I've stayed in far too many hotels where rogue windows stream light in and wake my kids up early," says the mother of two. Portable blackout blinds, such as the Gro Anywhere Blind or SnoozeShade, can be bought for cots, or you can make your own using black bin liners and Sellotape.
To avoid jet lag, adapt to the local schedule as soon as you can, and resist the urge to snooze the day away. Getting out into the daylight will help reset your body clock.
Get the gear
Investing in good equipment goes a long way: Rogerson often takes along a lightweight Maclaren stroller and ready bed – a blow-up mattress with a built-in sleeping bag – while Anders buys garments made of merino wool (such as those from New Zealand brand Icebreaker), which are easy to clean and don't smell.
The Trunki – fun mini suitcases with wheels that young children can hitch a ride on – make walking long airport corridors fun for kids. The Maxi Micro Luggage Scooter is an alternative for older children. The 1stClassKid+ Travel Pillow is another worthwhile investment. Light to carry, it inflates to fit on the floor in between passenger seats so young children can spread out to sleep.
Up and away
The idea of keeping young children entertained during long hours in the air or waiting at airports during stopovers and because of delays sends chills down the spines of the most seasoned parents. Packing saviours such as snacks, colouring books and toys in hand luggage is essential, and downloading movies and games on the iPad is a must.
"People can be as disapproving as they like but the iPad is an absolute godsend," says Rogerson.
She often books overnight flights for long-haul trips in the hope the children will fall asleep.
Infants under the age of two can fly free of charge if seated on an adult's lap. On long-haul flights, most airlines offer bassinets that hook into the wall in front of bulkhead seats, so book early to reserve the right seat. Consult SeatGuru for the plane's layout to find spots with the most leg room.
Shea Stanley, co-founder of parenting site Little Steps Asia, says bending the rules is a no-brainer. "While travelling, all traditional rules go out the window, including bribery . It works wonders on a flight," says Stanley, who has two children.
She packs a bag of little surprises – one for every hour of the flight – and rewards her children for good behaviour and nap time. "It's all about survival."
Many parents dread the thought of flying with a baby who won't stop crying, but Farrell believes such anxiety is unnecessary.
"People are generally understanding, and your priority is your baby and their comfort. If your baby cries, then comfort them as you would at home and try to enjoy the flight," says Farrell, who is gearing up for a year backpacking across Southeast Asia with her daughter.
Out and about
Rogerson makes it a point to balance cultural excursions with a fun activity, such as the hotel pool or beach time. "Nothing ruins a sight-seeing day more than a whingeing child,"she says.
Long day trips can be broken up with snack breaks, games such as Eye Spy and scavenger-hunt-style activity sheets. Sotheat says: "There are lots of ideas online for games to keep children engaged."
Many holiday destinations offer classic bus tours of major sites, which Jenson says is ideal for families.
"There's a reason why the 'classic bus tours' have become classic," he says. "They give you an easy overview of the place so you can easily pick "must sees" to look at afterwards."
Older children can be kept occupied creating a scrap book. Pinterest is full of ideas – visit the Vacation & Travel Scrapbooking board for inspiration. "Give them a cheap compact, digital camera to shoot and record their own memories. You'll be surprised by what they see," Jenson says.
Despite the extended pre-planning, tackling long-distance travel as a family is undoubtedly an enriching experience, he says. "Children are some of the best travel mates you will ever get."
Flight essentials for babies
Nicola Burke, who blogs on jetlagandmayhem.com, lists five items she finds indispensable for infant comfort on long-haul flights.
A baby carrier, for example Ergo, which allows you to be hands-free and is also useful for jiggling a baby to sleep.
A black shawl to drape over airline bassinets to create blackout (be sure to leave a gap for ventilation, though).
Baby wipes.
A change of clothes for you and your baby.
Spare plastic bags to hold items from finished bottles to vomit-soiled clothes.