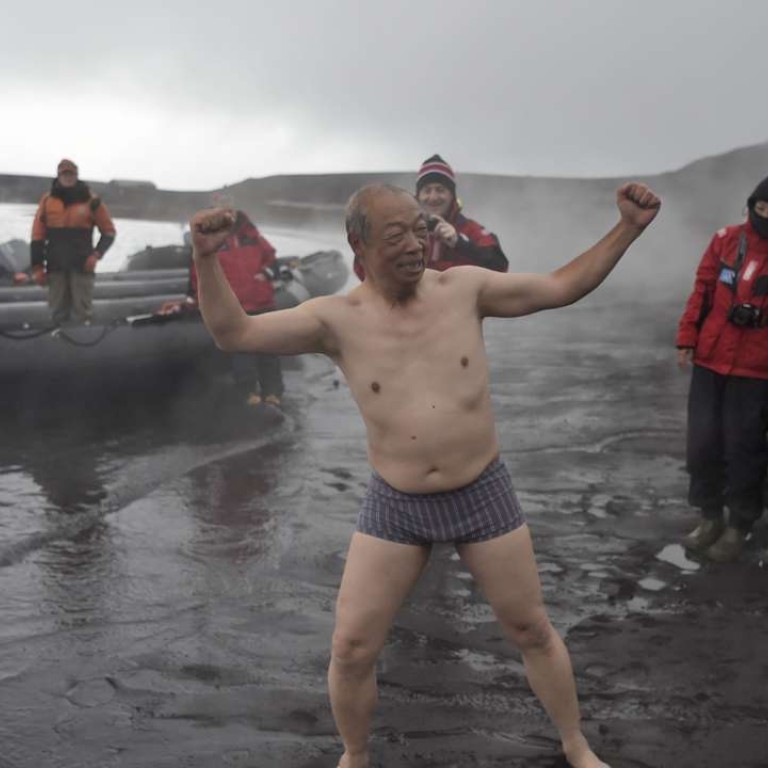 Surge in Chinese tourists drives rise in Antarctica visitors
While the threat of the frozen continent's ice sheet melting worries scientists, records number of wealthy adventurers scramble to get to the once inaccessible land mass before the party's over
In January 1966, the first ship carrying "citizen explorers" arrived in Antarctica. At the time, only a handful of leisure travellers had ever considered visiting the world's most remote land mass.
"I was aware that the idea of setting up tours to that frozen continent would be tangled with complications," wrote Swedish-American entrepreneur Lars-Eric Lindblad, who led that initial group of 57 onto the ice. "Going there might even be impossible."
A half-century later, the near-impossible has become merely a challenge. While the threat of its ice sheet melting away occupies climatologists, wealthy travellers are scrambling to get there before the party's over. The number of people landing on Antarctica is poised to surpass its annual record of 46,000, stimulated in part by new travel options and a surge of Chinese adventurers. On average, about 35,000 to 40,000 people visit each summer, which in Antarctica lasts from November to February. The peak came in the 2007-08 season, before the financial crisis dented Antarctic tourism.
Americans lead the bottom-of-the-world tour trade by a wide measure, with about 12,300 visiting in the 2014-15 season. That's three times the number of travellers from Australia, who was followed by visitors from China, the United Kingdom, and Germany.
Much of the buzz on Antarctica is coming from the luxury end of the cruise business, where the higher ticket prices meld better with the very-much-higher operating costs in a remote polar region where weather conditions are harsh and unpredictable. An Antarctic cruise is at least US$10,000 and goes north from there, steeply, said Bob Levinstein, chief executive of CruiseCompete.com, which helps connect travel agents with cruise shoppers.
For travellers with means, Antarctica has become the ultimate destination, travel professionals say. No other spot holds the same allure of geographical isolation, exoticism, and, naturally, bragging rights. What's more, many travellers have been almost everywhere else.
In recent years, the affluent segment of the market has migrated to "more bucket list, really off-the-beaten path, soft-adventure type of travel," said John Delaney, Seabourn's, senior vice-president of global marketing and sales. "Their priorities changed. People just feel that travel is a bigger priority now. It's less about material goods and more about experiences."
This growth, however, could pose new threats to a continent designated a natural reserve "devoted to peace and science" and governed by the 53 nations party to the 1959 Antarctic Treaty. Treaty nations regulate activities on the continent, including tourism, while a separate US-based organisation, the International Association of Antarctica Tour Operators (IATTO), helps implement those rules through its member travel companies.
The group also collects data on ships, visitors, and where they go. Officially, anyone visiting Antarctica is permitted to have "no more than a minor or transitory impact" on the environment. Industry insiders say the current regulations suffice to protect Antarctica because every company is mindful of the continent's unique and fragile nature.
"We don't want to see casinos, we don't want to see souvenir shops," says Gordon Dirker, Hurtigruten's North America managing director. "The whole thing you've got with Antarctica is the pristineness of the place. So if you want to destroy that, then you destroy the whole opportunity."
Seabourn sees both strong demand and growth for Antarctica, Delaney said, but not a situation where greater numbers means environmental degradation. "There may not be any other place in the world where there's such broad consensus on it needs to be protected, and that means completely," he said.
Treaty nations need to take a less "reactive" approach toward tourism on the continent and devise a comprehensive plan for future growth, said Claire Christian, acting executive director of the Antarctic & Southern Ocean Coalition, which represents 30 organisations focused on conservation in the region. Currently, no one has good data on what tourism means for wildlife there, nor a good idea of how many humans are too many, she said.
"The governance system doesn't really have an idea how [tourism] trends should look in 10, 20, 30 years," Christian said. "Antarctica is a special place, it is set aside, and we don't want it to look like anywhere else."
A new "polar code" adopted by the International Maritime Organisation takes effect in January 2017, and some polar tour experts contend that the rule could also hinder some travel to the area. The group is mandating stricter measures for vessels that operate in polar regions, to include more thorough ship assessments and operational plans. Ships that operate in the Arctic or Antarctic regions will also need a new "polar ship certificate" from the IMO.
As visitors increase, their impact may be confined geographically due to the limited number of places ships can approach safely. Current landings are extremely concentrated: 77 per cent of all visitors to the peninsula come ashore on about 200 hectares, roughly one-sixth the size of London's Heathrow Airport, according to a paper published earlier this year in Antarctic Science. 
Beyond the ship inspections, various other rules are aimed at protecting Antarctica. Among them is
a drone ban, imposed for the 2015-16 season. The ban will be discussed at the IATTO's annual meeting next month, says Amanda Lynnes, a spokeswoman for the group, and a penguin ecologist, who conducted field research in Antarctica during numerous six-month stints. "We just didn't know enough about their use," she said of the ban. "You might not want a little buzzy drone there while you're having your [Antarctic] experience."
Perhaps not, but drones might fly during the coming season, which begins in November. Some member companies report that travellers want to use them to shoot "amazing footage," on the ice, says Lynnes.