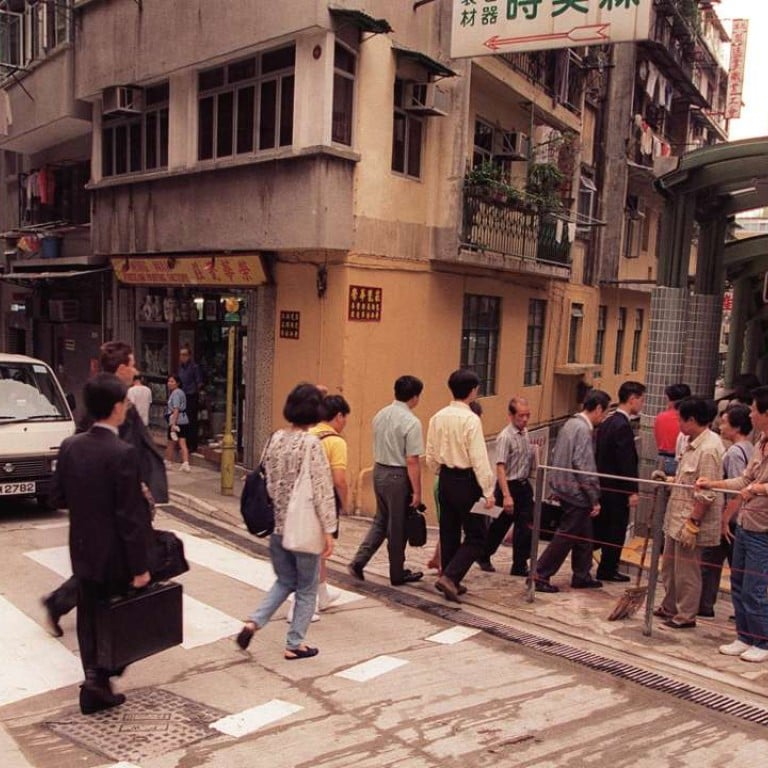 Stories behind Hong Kong districts: SoHo before the escalator
For most of its history SoHo was a quiet residential area with a multicultural mix of people. When the Central–Mid-Levels escalator opened in 1993 the neighbourhood turned into a dining hub
Neighbourhoods don't take long to become established. Just about everyone in Hong Kong knows SoHo as a popular destination for eating and drinking, but its history as an entertainment district reaches back only 20 years, when a few pioneering restaurateurs staked a claim on the streets near the newly built Central–Mid-Levels Escalator – initially in and around Staunton Street.
The name SoHo is often attributed to restaurant owner Thomas Goetz, who coined it in 1996 as a branding device for the area south of Hollywood Road. It certainly wasn't original – cities around the world were caught up in an acronym craze in the 1990s, inspired by trendy New York neighbourhoods like SoHo (South of Houston), Tribeca (Triangle Below Canal Street) and Dumbo (Down Under the Manhattan Bridge Overpass).
But it was effective. "SoHo makes a name as action escalates," read a cheeky headline in a 1997 edition of the South China Morning Post. The article, by Kate Whitehead, described a hypothetical bar crawl that began in Lan Kwai Fong, passed through Wyndham Street, travelled up the escalator and ended with a nightcap on Staunton Street. "Sounds inconceivable?" asked Whitehead. "We're almost there: this is the future."
Whitehead was most certainly right. But what was south of Hollywood Road before SoHo – before the escalator opened and changed everything?
For most of its history, the area was rather anonymous, a point of transition between the bustling market district around Graham Street and the genteel mansions and apartment houses of Mid-Levels.
A photo from the 1880s shows what appears to have been a quiet neighbourhood dominated by the steeple of the Union Church, which was built in 1865. (It was torn down in 1895, when the church moved to Kennedy Road.) In the image, the church dominates the corner of Staunton, Elgin and Peel streets. The upper portion of Elgin Street – then known as Pechili Terrace, after an old name for the Bohai Gulf in northern China – was lined by elegant terraced houses with verandahs.
An 1872 map of the area sheds some light on who lived there, dividing residents into five categories: European, Portuguese, Indian, Chinese and "Chinese woman". (In colonial Hong Kong, "Portuguese" often referred to Eurasians from Macau, which in British eyes earned them a lower spot in the city's racial hierarchy.) The separate category for Chinese women refers to the so-called "protected women", who were mostly Tanka women in relationships with married white men, who paid them enough to rent their own flats and achieve some measure of independence at a time when women rarely lived alone.
Protected women lived in clusters along Staunton, Graham, Elgin and Gutzlaff streets. Ng Akew is probably the best-known of these protected women, if only for her nickname, Hung Mo Kew – "Redhead Kew." Ng was the mistress of James Endicott, an American captain who gave her a plot of land on Gutzlaff Street in 1852. Ng used the money given to her by Endicott to invest in property and ended up becoming the leader of a group of protected women.
You can still see the ruins of an 1870s-era tenement house from Cochrane Street, on a patch of land cleared for escalator construction. Heritage advocates believe the ruins are the foundations of Ng's house, though the Antiquities and Monuments Office claims they have no heritage value.
Another titbit from the 1872 map: around half of the households in the area were identified as Indian. At the time, many of the Indians in Hong Kong were Muslim. The city's first mosque was built in 1850 on Shelley Street. It was demolished and rebuilt in 1915, when it became known as the Jamia Mosque.
It was joined in 1929 by a hostel for Muslim travellers – "who for diverse reasons might find it inconvenient to reside in such accommodation as can be found in the Colony", the
Post
reported, rather ambiguously.
The paper went on to describe the new building as having a "modern flush system", a meeting room and two dormitories, one for women and another for men. "The building is a brick and reinforced concrete one, situated on a pleasant site in the compound of [the mosque]. It commands a good view of the Harbour and distant mountains."
In 1941, the invading Japanese banned religious activities, but while Christian places of worship were taken over by the occupying forces – St John's Cathedral was stripped of its stained glass and turned into a social club – Muslims were allowed to maintain control over the mosque. The imam at the time, Hong Kong-born Haji Maulvi Imam Ahmed Cheung Kwong-yee, allowed Muslim residents displaced by wartime bombardments to take shelter in the mosque's verdant compound.
They never left; the guests took over the hostel and built houses in the garden. In 1991, the mosque's trustees tried to evict them in order to make way for an Islamic cultural centre. One of the squatter families was accused of owning a Rolls-Royce and two racehorses, accusations that were refuted by one resident, Mohammed Qadim, who told the
Post
that he prayed five times a day and helped maintain the mosque. "My heart would weep if we had to leave," he said. The situation still hasn't been resolved.
A number of families continue to live at the mosque, which now feels like a window into the past – the one place in the neighbourhood that hasn't changed in the past 60 years.
By the 1950s, SoHo's old houses and tenements had fallen into disrepair, and several buildings burned down or collapsed. The neighbourhood was an anachronism in a city that was growing increasingly taller, denser and more congested. "The Mid-Levels are under siege," the Post reported in 1990. "Old buildings are being torn down, pile-drivers boom all day long and lumber lorries clog up the once-quiet streets."
"SoHo was just a very old neighbourhood – old people, old shops," says Katty Law, who grew up on Caine Road. Every day, she climbed up Shelley Street to Sacred Heart Canossian School on Robinson Road, passing green hawker stalls. Staunton Street was filled with shops selling funeral items, and dai pai dong. She remembers life there as lively but peaceful – and nothing at all like the skyscraper canyons that were emerging in Mid-Levels.
Post subeditor Simon O'Reilly moved into a flat in Elgin Street in 1993, shortly after he arrived in Hong Kong, and found a job as a bartender in Lan Kwai Fong. "There was no cachet to living there," he says. "A lot of people wouldn't live there because there was no air con and no lifts, but for me, it was close to Lan Kwai Fong and it was cheap." He shared a flat with three friends and paid just HK$1,500 per month for his room.
He remembers the neighbourhood as being a typical working-class enclave. "It was old Hong Kong, pre-Sars – people spitting everywhere, old guys sitting out smoking those bamboo bongs. There was a Chinese medicine shop underneath us, printing shops, one restaurant – a typical green-tiled-walls kind of place."
Then the escalator opened. "I don't remember too many Westerners living in Elgin Street at the time, but within three years it was full," he says.
Within five years, so many new bars and restaurants had opened that district councillors lobbied the government to clamp down on the nocturnal activity. One councillor, Kam Nai-wai, even tried to scrap the SoHo name, claiming it led people to associate the neighbourhood with London's former red light district.
That didn't work, of course. For better or for worse, 150 years into its history, SoHo finally had a name and an identity.
This article appeared in the South China Morning Post print edition as: when SOHO was so ho-hum