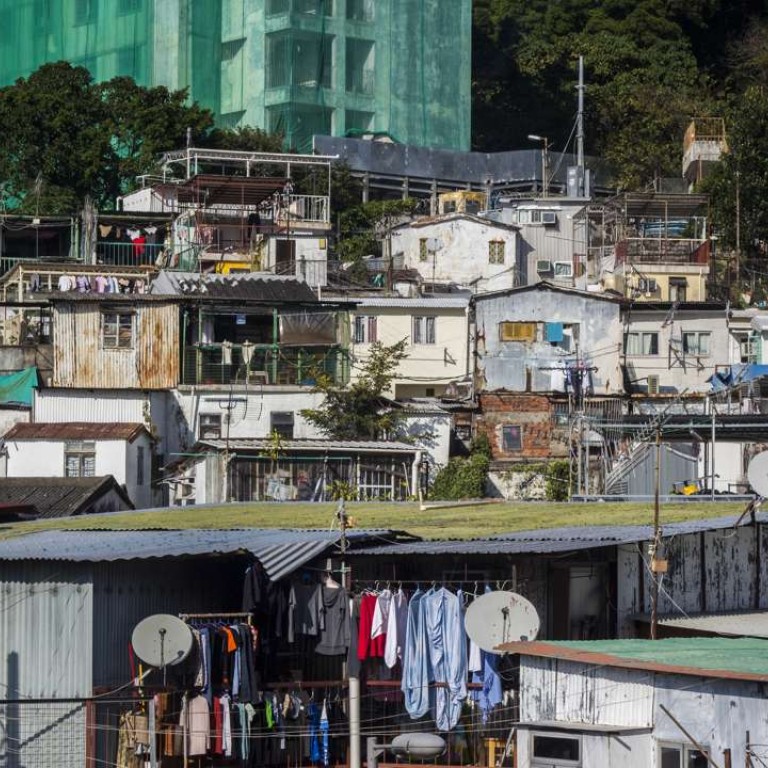 Stories behind Hong Kong districts: Pok Fu Lam Village, once a rural idyll, unbowed amid uncertain future
With a 400-year history, farming centre became bustling early hub of colonial industry – Dairy Farm's milk production – absorbed squatters after 1949, was dwarfed by high-rises but all along has kept its community spirit
When social worker Benjamin Sin Chiu-hang was posted to the Caritas office in Pok Fu Lam Village, he knew he had arrived somewhere special. "The people living there were somehow different from the people elsewhere in Hong Kong," he says. "It's a horizontal community, very vernacular and organic."
Not everyone shared his positive impression. The village's tin-roofed houses, which sprawl between the Pok Fu Lam Reservoir and the high-rises of Chi Fu Fa Yuen estate, have often been dismissed as a slum. But Pok Fu Lam deserves not to be overlooked: it is one of Hong Kong Island's few indigenous villages, with a history stretching back almost 400 years.
Sin set out to collect oral histories, which he documented in
Pokfulam Village: The Historical Settlement Below Victoria Peak
, published in 2013. He also stumbled across a rare collection of 39 photos taken by John Stericker, who documented the settlement in 1952. "It was so rare at that time for a foreigner to go right into the village and take photos of the ordinary villagers," says Sin.
Watch: Pok Fu Lam puts on fire dragon dance for Mid-Autumn Festival
The images depict a quintessential country village of tile-roofed greystone houses, community altars and makeshift market stalls with straw baskets full of fresh greens.
Pok Fu Lam is more than just an ordinary village, though; its history is tied to that of modern Hong Kong. "I like to say that all Pokfulamers are Hongkongers, and all Hongkongers are Pokfulamers," says Nigel Ko, a heritage conservationist who was born and raised in the village. Without Pok Fu Lam Village (pok-fu is the Cantonese name for a bird common in the area; lam means forest), Hong Kong as we know it might not exist today.
It's not clear when exactly Pok Fu Lam Village was first settled, but some accounts trace its origins to the 1670s, when members of the Chan, Wong and Lo clans fled south after the Revolt of the Three Feudatories against Chinese Qing dynasty Emperor Kangxi's rule.
The first written account of the village dates from 1819, when the San On County Journal listed it as one of two villages on Hong Kong Island, the other being Hong Kong Wai near present-day Aberdeen. It made reference to the village's beautiful setting.
More than beauty, Pok Fu Lam's original settlers were drawn to the stream that cascaded down the hill towards Waterfall Bay. The stream allowed settlers to live off the land, rather than the sea, and villagers grew rice, vegetables, root crops, ginger and tea. Incidentally, the stream also supplied passing British ships with fresh water in the early 19th century. By the time the British decided to stick around, Pok Fu Lam Village was home to 50 people, mostly surnamed Chan and Wong. Many had fled Hong Kong Wai and Shouson Hill Village to escape from pirates.
Bit by bit, the landscape around the village began to transform. At first, the changes were nominal. White Tiger Mountain was named High West by the British; Ancestors' Hill became Victoria Peak; Green Dragon Mountain became Mount Kellett. Then came more obvious interventions.
In 1861, Scottish shipowner Douglas Lapraik built a mansion in the area inspired by a medieval castle. (It still stands today as University Hall, a residence for University of Hong Kong students.) Hong Kong's first reservoir was built nearby, in 1863, to provide the colony with a reserve of fresh water. In 1875, French missionaries built a sanatorium called Béthanie on a bluff overlooking the village.
The biggest change came in 1886, when Scottish surgeon Sir Patrick Manson established a dairy farm next to Pok Fu Lam Village. Like the original villagers, he was drawn to the stream, whose clean water could sustain the herd of cows that would provide Hong Kong with fresh, safe milk. Dairy Farm surrounded the village with pastures, cowsheds and dormitories for workers. For the next century, the lives of Pok Fu Lam Village and Dairy Farm were intertwined.
"They were totally integrated," says Ko. Even the seven-storey modern staff quarters built by Dairy Farm in the 1950s were accessible only by village footpath. In 1959, almost half the village was employed by Dairy Farm, including 721 people who lived in the staff quarters. A market was held in the village when Dairy Farm paid its fortnightly wages.
"We had three restaurants, three barbers, five to eight grocery stores and three opium dens," says Ko. Opium dens were legal until the second world war, but the villagers rarely smoked opium; most of the customers made the journey from Aberdeen.
The post-war decades saw Pok Fu Lam Village enter a kind of twilight between rural and urban status. The surrounding fields and rice terraces were quickly developed after the war, when the government banned the cultivation of rice on Hong Kong Island in order to fight malaria. Many refugees from China built shacks on what were once the village's vegetable fields.
That took a toll on the village's environment. In 1972, historian and civil servant James Hayes described the settlement in unflattering terms: "There is nothing attractive about the present village, which mostly consists of small, single-storey stone or wooden structures erected in haphazard fashion round the single row of old village houses that constituted the original village," he wrote.
But Ko, who was born in 1971, has fond memories of growing up in the village. "We had farms and paddocks, and we rode our BMX bikes around," he says. "We'd go into the forest by the reservoir to play."
In the mid-1970s, Chi Fu Fa Yuen was built: an enormous 20-tower complex that looms over the south side of the village. The estate had a bus terminus and a shopping centre, but it cut off access to the nearby mountain, where villagers would walk or forage for herbs and weeds in the bush. "They built a wall just like the Berlin Wall," recalls Ko. "There was even barbed wire."
Villagers improvised a set of steps to scramble over the wall, taking care not to be cut by the wire. "To me, that was a bit insulting," says Ko. "People [in Chi Fu] felt they were better off than us." The situation was finally resolved about 15 years later when a district councillor convinced the housing estate to build a gate to let villagers pass through the wall.
In a way, Chi Fu is the domineering foil to Pok Fu Lam Village's spirit of earthy unpretentiousness.
Stories behind Hong Kong districts: Admiralty, always a place apart
When Sin was collecting oral histories, he was struck by the story of a Chi Fu resident who later moved to a house in the village. "He had a habit that whenever he went to bed at night, he checked the locks on his front gate and door over and over," he says. But after the man moved to the village, he never bothered checking the lock, even though it was much flimsier. "He told me that when he went into the village, he knew so many people, he knew they were good neighbours. This mutual trust is so valuable in this kind of community."
And yet, for the past several decades, Pok Fu Lam Village has been fighting the perception that it is a slum. While parts of the village are indeed squatter settlements on government land, much of it is privately owned by the villagers themselves, with land titles going back to the 19th century. "The land titles are very complicated," says Ko.
That's one of the reasons the future of the village is uncertain. In the 1980s, Dairy Farm became a multinational business and today runs thousands of supermarkets and convenience stores around Asia; it also shut down its Pok Fu Lam operations. It still isn't clear what will be done with the former staff quarters that now stand empty. After decades of official neglect, the village lacks basic infrastructure; it still doesn't have a sewerage system.
What it does have is a sense of community lacking in many other parts of Hong Kong. A bamboo temple stands at the village entrance, decorated with the fire dragons that villagers have made every Mid-Autumn Festival for more than a century.
Uphill, through a tiny wet market and the past the old Dairy Farm staff quarters, a villager has transformed the footpath in front of a waterfall into a seating area lined by bougainvillea and fire dragon sculptures. Colourful graffiti point the way to village landmarks.
This is all part of a concerted effort by residents to make the village a nicer place, even if its official status remains murky. "The village is going to change," says Ko. "We just want to think about how. We want to keep our stories."
This article appeared in the South China Morning Post print edition as: west side stories