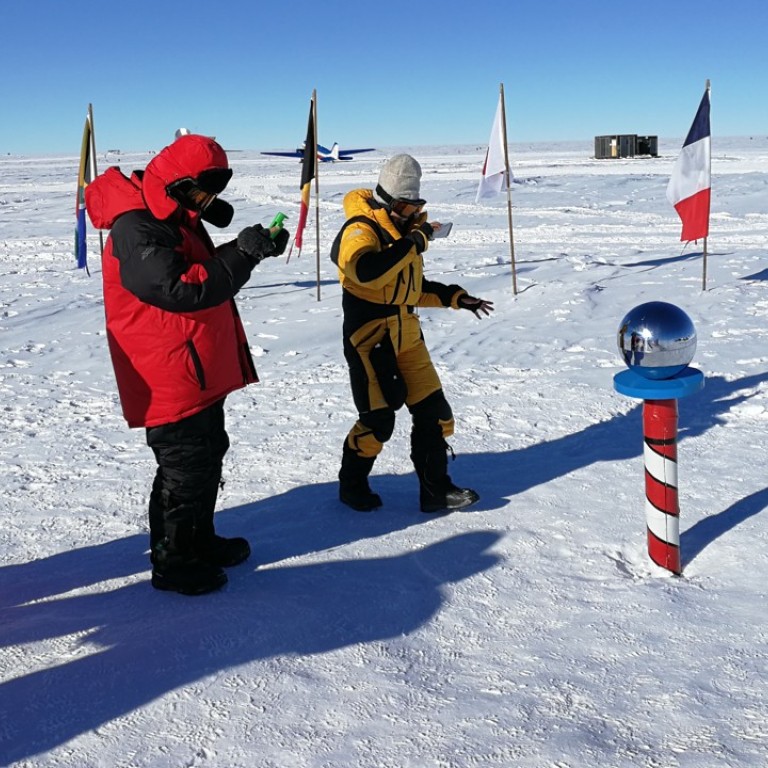 South Pole on bucket list of rich Chinese tourists – with trips costing US$100,000
Chinese tourists to Antarctica are increasing in numbers as wealthy adventurers spare no expense to tick the South Pole off their list. A tour guide takes intrepid elderly adventurers to the bottom of the world
As a tour guide for wealthy Chinese tourists, I have heard polar guides exclaiming, "We really don't understand why tourists want to go to the South Pole."
According to Russian "polyarniks" – the hardened "polar men" who work on Antarctic stations: "It is a nightmare to fly to the Pole, and there is nothing to see there. Why don't they pay the same money to go to see the mountains or glaciers around the Antarctic coast instead?"
The pragmatic polyarniks do not get the idea of "bucket list" travel – that to the tourist who can afford it, a photo at the South Pole is worth paying for. A trip to the South Pole remains the most exclusive of all Antarctic destinations, costing around US$100,000 per person (local flights and up to 10 days' accommodation, depending on weather, included).
Travel is as much about numbers as it is about experiences to high-end Chinese tourists. Waiting for a flight to Antarctica from Cape Town in South Africa, our eight-person South Pole tour group eats at the same Chinese restaurant in Cape Town twice a day, every day for three days (Western food is consumed only under extreme duress) and dinner conversation revolves around one's trips, past and future – how many countries visited, how big the group was, and how much it all cost.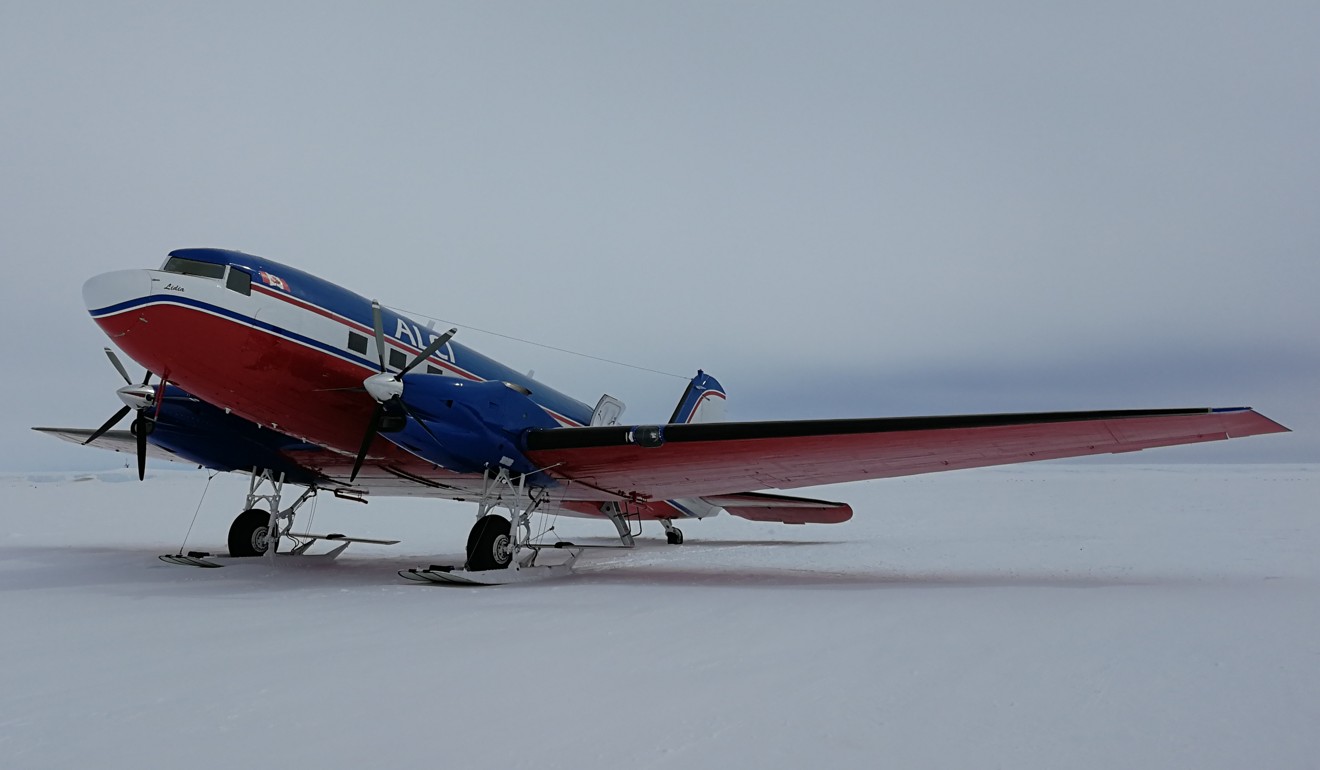 "I have visited every country and territory in the world," says one of my clients, Mr Deng. "Lao Wang [Old Wang] still has five to go; I beat him." He pokes his faithful travel companion. Wang, a bear of a man, sporting a black Mao hat and an Armani jacket, does not seem to mind, and grins.
One elderly man, Mr Li, is dismayed when he hears a fellow Chinese septuagenarian may have reached the South Pole before him. "In his 70s? How old was he exactly?" he demands, leaning forward over a bowl of abalone soup.
It proves to be a false alarm – the rival septuagenarian is three years younger than Mr Li. "In any case, we will be the oldest couple ever at the South Pole", says Li, smiling warmly at his wife, seated next to him, "Our combined age is 150."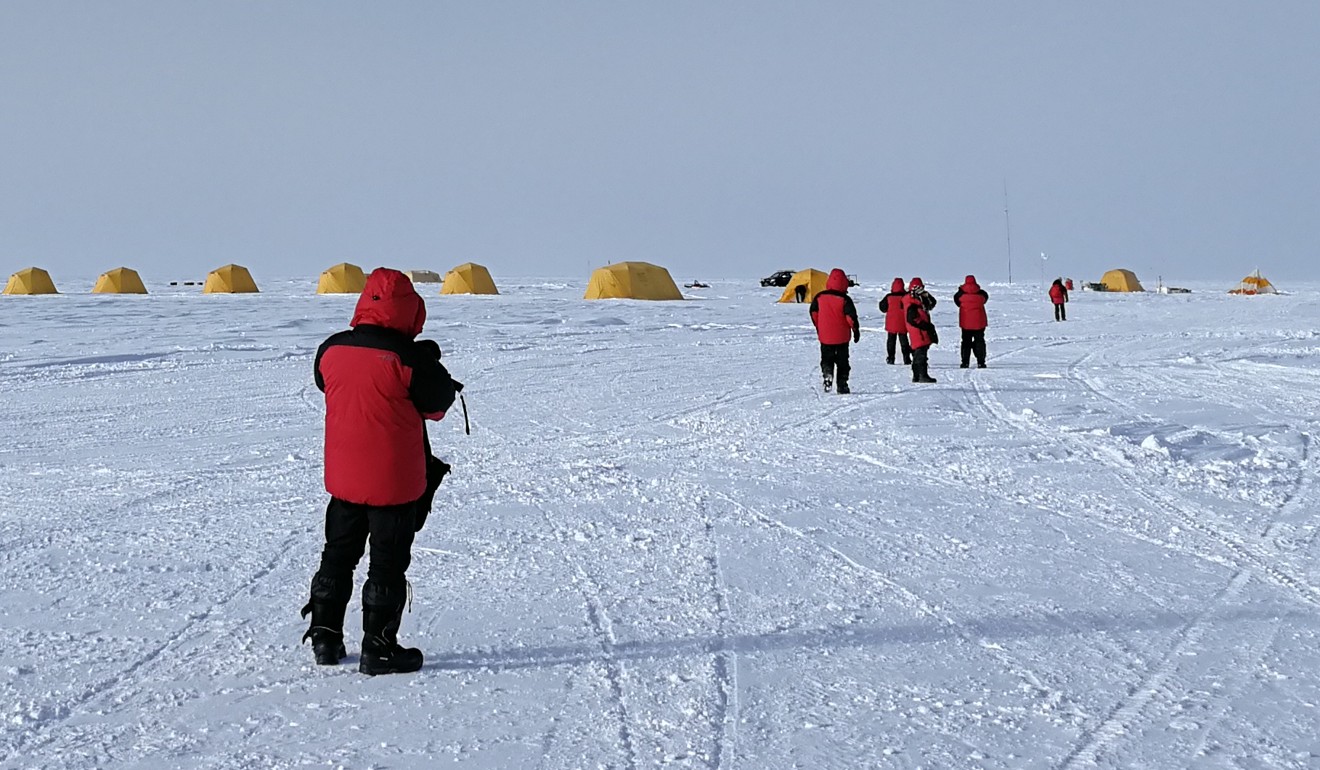 Li, who is considering signing up with a Russian outfit to go to the bottom of Mariana Trench, the deepest part of the ocean at 10,994 metres, and costing ¥120,000 (US$18,500) next year, could trump any seasoned explorer. Not that it ends there for Li.
"I saw a documentary – there is a chimp in Africa that can make its own stone tools. I want to see that chimp," he says.
I'm not unfamiliar with dealing with demanding clients – last year I took
some of the wealthiest people in China to the North Pole by helicopter
– but the idea of being responsible for a couple in their mid-70s at the South Pole gives me the chills. In 2016, Buzz Aldrin, the second man on the moon, visited the South Pole as a tourist, but was affected so badly by the altitude and the extreme temperatures, that he had to be evacuated. Admittedly, Mr Aldrin was 10 years older than Li and his wife, but he was, after all, an astronaut.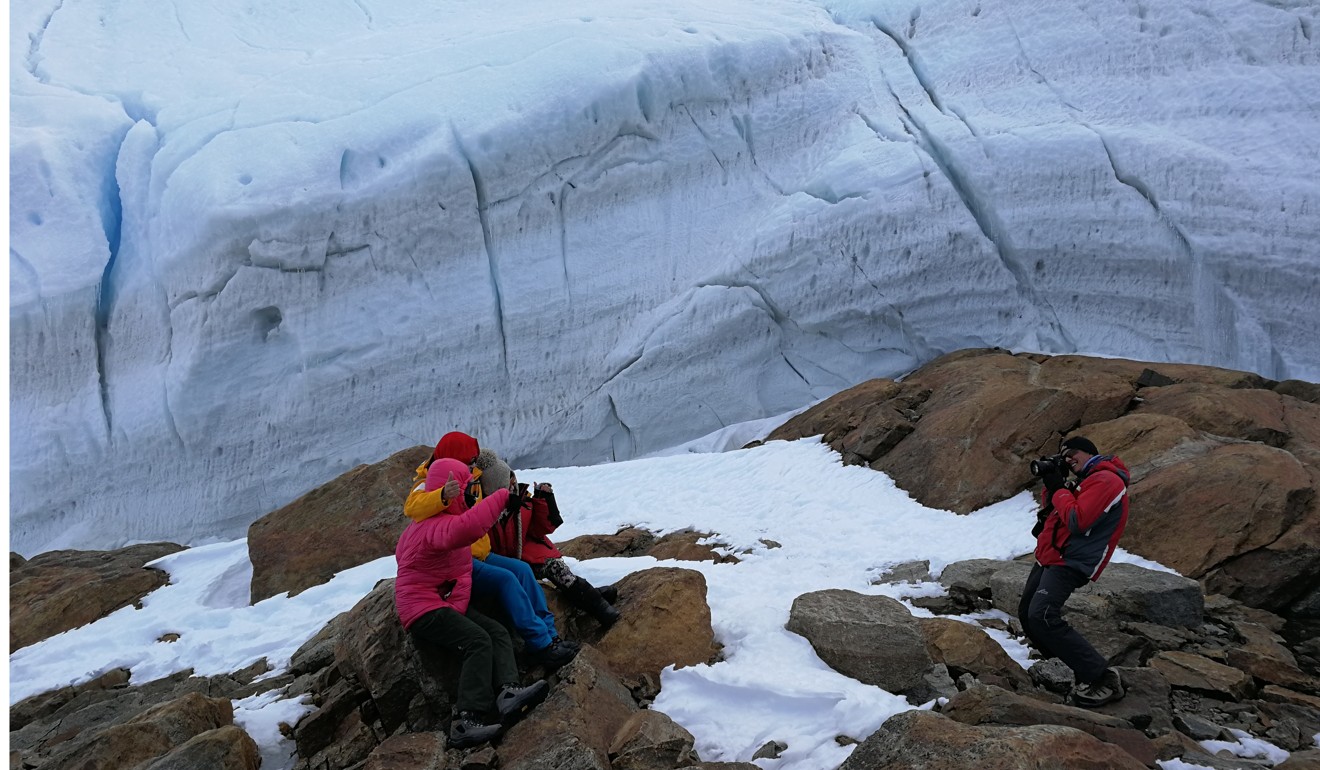 Our ride from Cape Town to Antarctica is in an Ilyushin II-76, a massive, yet elegant Russian cargo plane, that will take us to the Russian Novolazarevskaya Station (Novo for short) airfield. A nearby guest house, complete with a luxury sauna, will be our home for 10 days, sufficient time to allow for two weather windows – one for a 25-hour round trip to the Pole and one for a shorter flight west to an emperor penguin colony. A Chinese chef, brought from Cape Town together with vast amounts of Chinese food, will look after the group's nutritional needs.
The Ilyushin turns out to be unavailable, and so a Dassault Falcon 7X business jet is chartered instead. The group is delighted, the thought of being loaded onto a Soviet cargo plane, designed to transport tanks and paratroopers, has zero appeal.
Unfortunately, adverse weather puts the Antarctic air traffic into chaos, leaving us stranded. An impatient Deng asks me constantly for updates. I explain that while the weather here at Novo, is great, it is dreadful both at the refuelling pit stop, about two-thirds of the way to the Pole, and at the Pole itself. Also, a storm is closing in here, so even if we made it to the Pole now, we would not be able to return to Novo.
Such long-winded explanations only make the group suspicious: after all, last year a Chinese group made it to the Pole at this time with no problems.
While just over 100 Chinese visited the whole of Antarctica in 2007, last year the number exceeded 5,000, according to the International Association of Antarctica Tour Operators. Most book the cheapest and easiest option – an Antarctic cruise. Prohibitive pricing aside, complicated logistics, a short season and unstable weather limit the number of visitors to the South Pole, but last year alone around 70 Chinese tourists successfully made it there.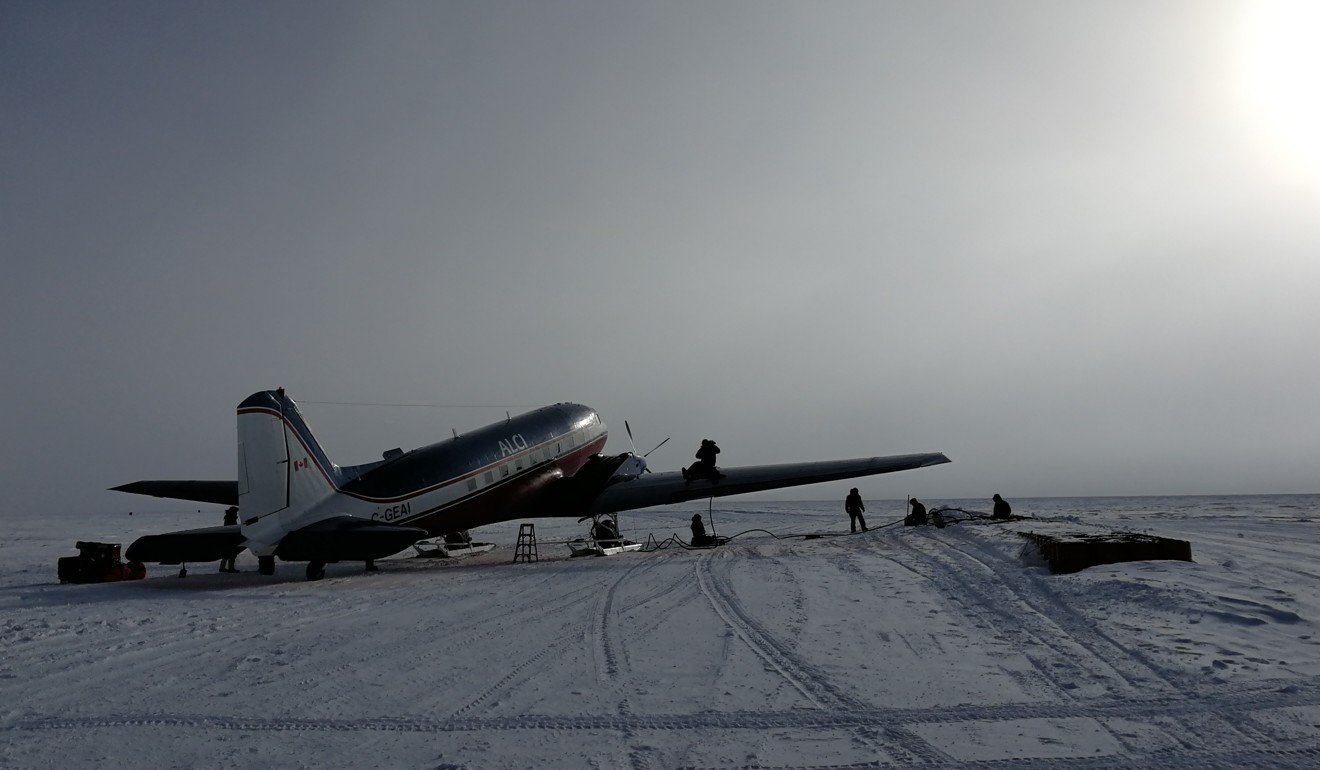 Our first flight to the Pole is cancelled at the shortest possible notice. The second time we try, the plane takes off, but two hours into the flight the pilot turns back, having received an updated forecast. Then, a storm mauls Novo for three days, confining everyone indoors. Tension mounts; our allocated time in Antarctica is running out.
The flight from Novo to the South Pole, when it finally materialises (by which stage everyone, myself included, is at the end of their tether) is brutal. The unpressurised cabin of the Basler DC-3 plane lets the cold and the altitude slowly devour us, while the plane noisily makes its way 2,000 metres above the Antarctic ice, which is a couple of kilometres thick.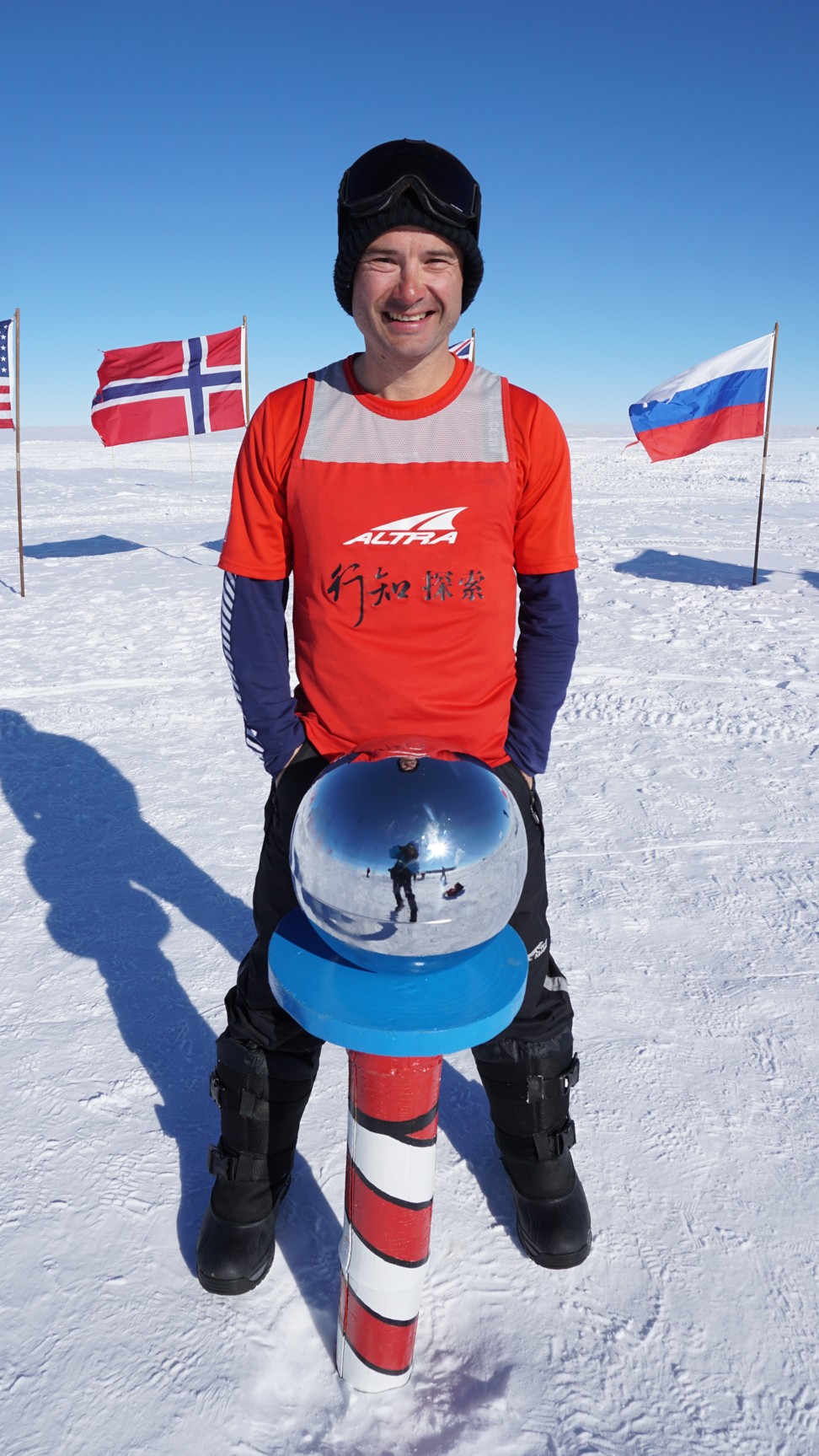 The toilet in the plane is a small plastic bag, using which, dressed in polar gear, is a test of balance and dexterity. After an initial 30 minutes of excitement, noise and posing for photos, the entire group slumps back in their seats, eyes closed, grimly enduring the journey of a lifetime, plastic tubing running from nostrils to the oxygen outlets in the body of the plane.
After almost five hours of misery the plane lands to refuel at Field Depot at a latitude of 83 degrees north (FD-83). It might as well be another planet; a lifeless one. Five humans – Russians and Argentinians, who refuel the planes travelling between bases – are the only life forms, algae and bacteria included, for hundreds of kilometres around. It is almost minus 40 degrees Celsius (minus 40 degrees Fahrenheit) and only our plane and a small row of tents break the horizon.
After the eerily blank FD-83, the Pole feels comfortingly crowded. Heavy machinery of all kinds purposefully trudges around the massive American Amundsen-Scott Station, the station staff casually walk about, some out exercising on cross-country skis.
The South Pole itself is underwhelming, and, confusingly, there are two of them, about 200 metres apart – a ceremonial pole, where a circle of flags surrounds a metal sphere standing on a red stand, and a geographic South Pole, equipped with an American flag, a sign, and yet another steel marker. The rows of machinery parked around them give it a feel of a massive industrial car park.
The group, however, is delighted by the small metal sphere, which is then treated to a performance of tai chi, a lightning, top-half striptease by several male members of the group, and a merry-go-round around the small metal sphere. Reaching it appears to be worth it, despite the fact that we have to spend a night in unheated tents at FD-83 on the way back, and that we only get two hours at the sphere.
The return flight feels less torturous, at least for me – a feeling of profound relief and the endorphins of the post-Pole high numb the effects of the cold and the altitude. I am also immensely proud of my septuagenarian charges: Li and his wife have succeeded where Nasa's best failed.
I sincerely hope next year they get to see their dexterous chimp.
This article appeared in the South China Morning Post print edition as: MAGNET IC S OUTH