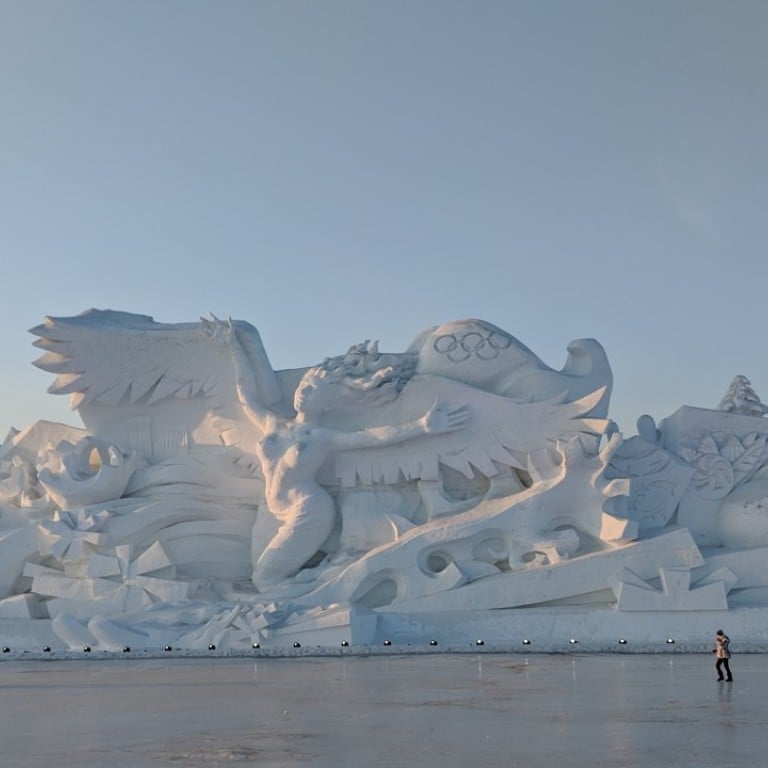 At China's Harbin Ice Festival, you soon learn what cold is – but go prepared, and marvel at sights you won't find anywhere else
Nothing prepares the unwary visitor for what minus 30 Celsius feels like, but take the right clothes – or do some rapid shopping – and the sights at northern Chinese city's Ice and Snow World and International Snow Sculpture Art Expo are unforgettable
It takes all of three seconds for the bravado to disappear, for the harsh truth of what minus 30 degrees Celsius (minus 22 degrees Fahrenheit) feels like to sink in.
It's real. It's horrible. It hurts.
Not enough to stop taking selfies, of course.
Constantly removing two pairs of gloves to take pictures of one frigid marvel after another during a fleeting visit to the annual Harbin Ice Festival, in northeast China's Heilongjiang province, means your hands never get a chance to warm up. Soon, they stop working altogether, a pair of frozen KitKats that can snap off at any moment.
Such is the visual magnificence of Harbin's biggest tourist drawcard.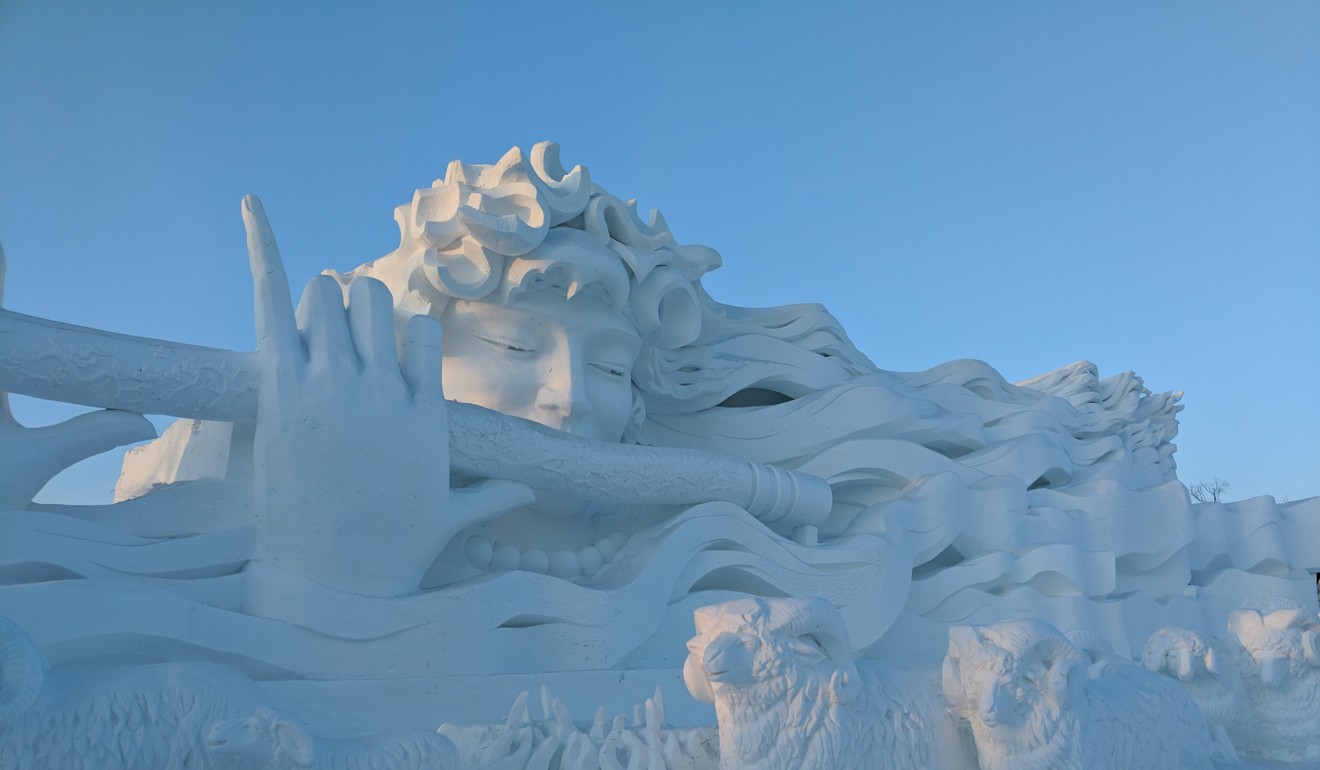 For years I'd seen the pictures, been dazzled by the artistry of more than 180,000 cubic metres of carefully sculpted ice illuminated with infinite LEDs. So elegant, beautiful … so bizarre.
But when I finally decided to go, I quickly discovered I was woefully unprepared. Harbin, which is colder than Reykjavik, Moscow and your average freezer during the Ice Festival peak of January and February, isn't a place you can wing it. The city, after all, is located at a latitude of 45 degrees north.
You need layers and layers of thermals, multiple pairs of gloves, jackets, snow boots, special socks, headgear, heating pads, balaclavas – and that is before you leave the airport.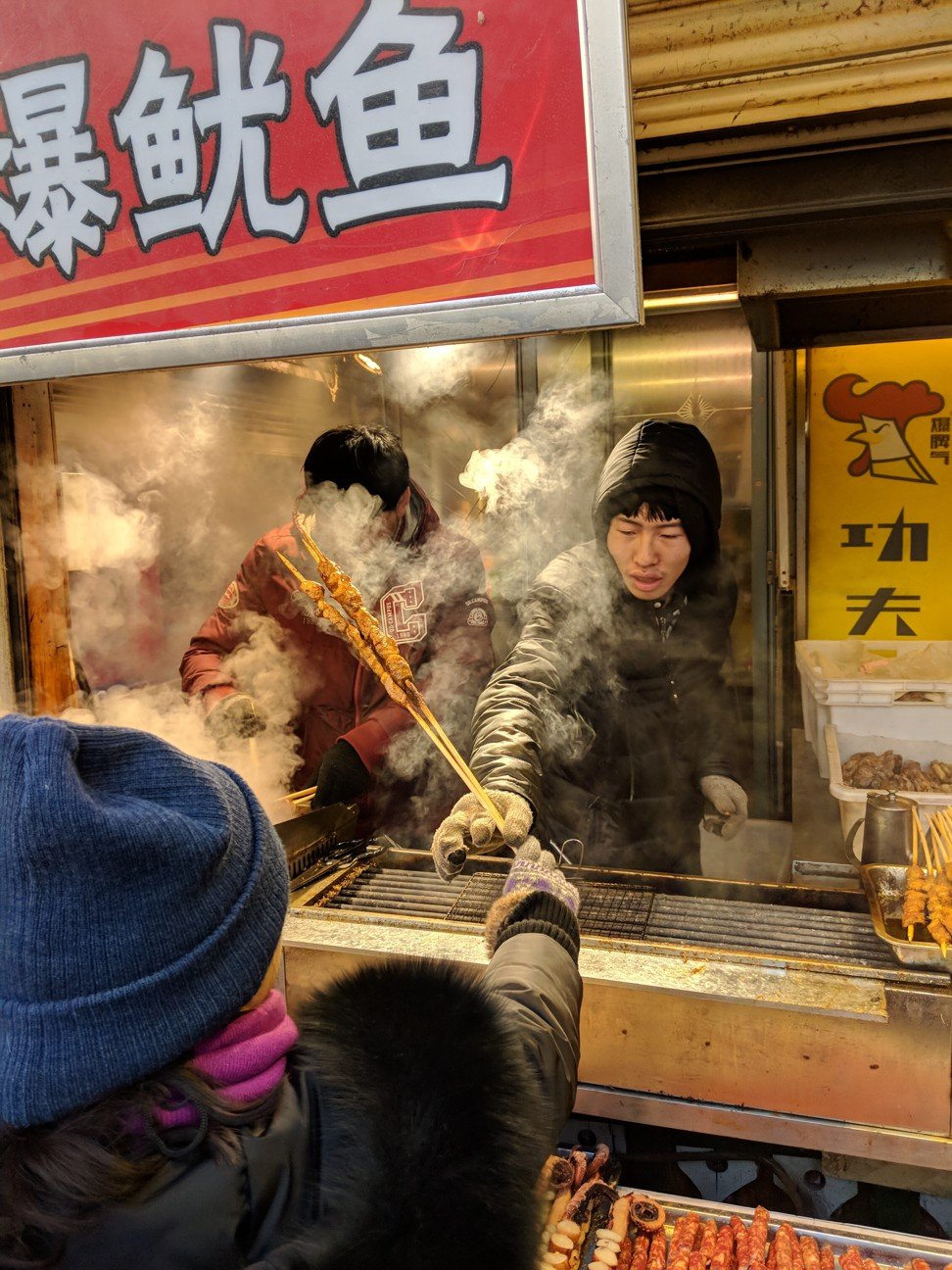 As an Australian based in Hong Kong, I had no idea what I really needed to cope with extreme temperatures. Then there's also the not-insignificant fact that I speak absolutely no Mandarin.
Having to dash into the Uniqlo next door to the hotel three times in the first 24 hours to buy additional layers was a pain. Not being able to spend more than 30 minutes in the open air at a time was frustrating. Being about the only person in mainland China to pay with cash instead of QR code was embarrassing. And trying to negotiate with taxi drivers using Google Translate isn't fun.
But don't let my idiocy put you off: Harbin is a destination worthy of your bucket list.
The second shock is the sheer enormity of the place. It takes about an hour to get from the airport to my hotel in a car; it's the eighth largest city in all of China, with a total subprovincial population of more than 10 million, which means you have to cover serious ground to take in the icy delights.
Located just over 500km from Vladivostok, the Russian influence on Harbin is obvious – particularly the architecture. Several of the buildings in the Zhongyang Pedestrian Street, for example, appear distinctly Neo-Baroque.
Also dotted along the famous cobblestoned thoroughfare – full of shops selling the region's delicious hongchang, or Harbin smoked red sausage – are dozens of intricate sculptures. There are ice reindeer, polar bears, horses, maidens, the Eiffel Tower, a guitar and a sizeable tribute to the Communist Party tucked between the standard fare of Apple and watch stockists. There are even some Smurfs.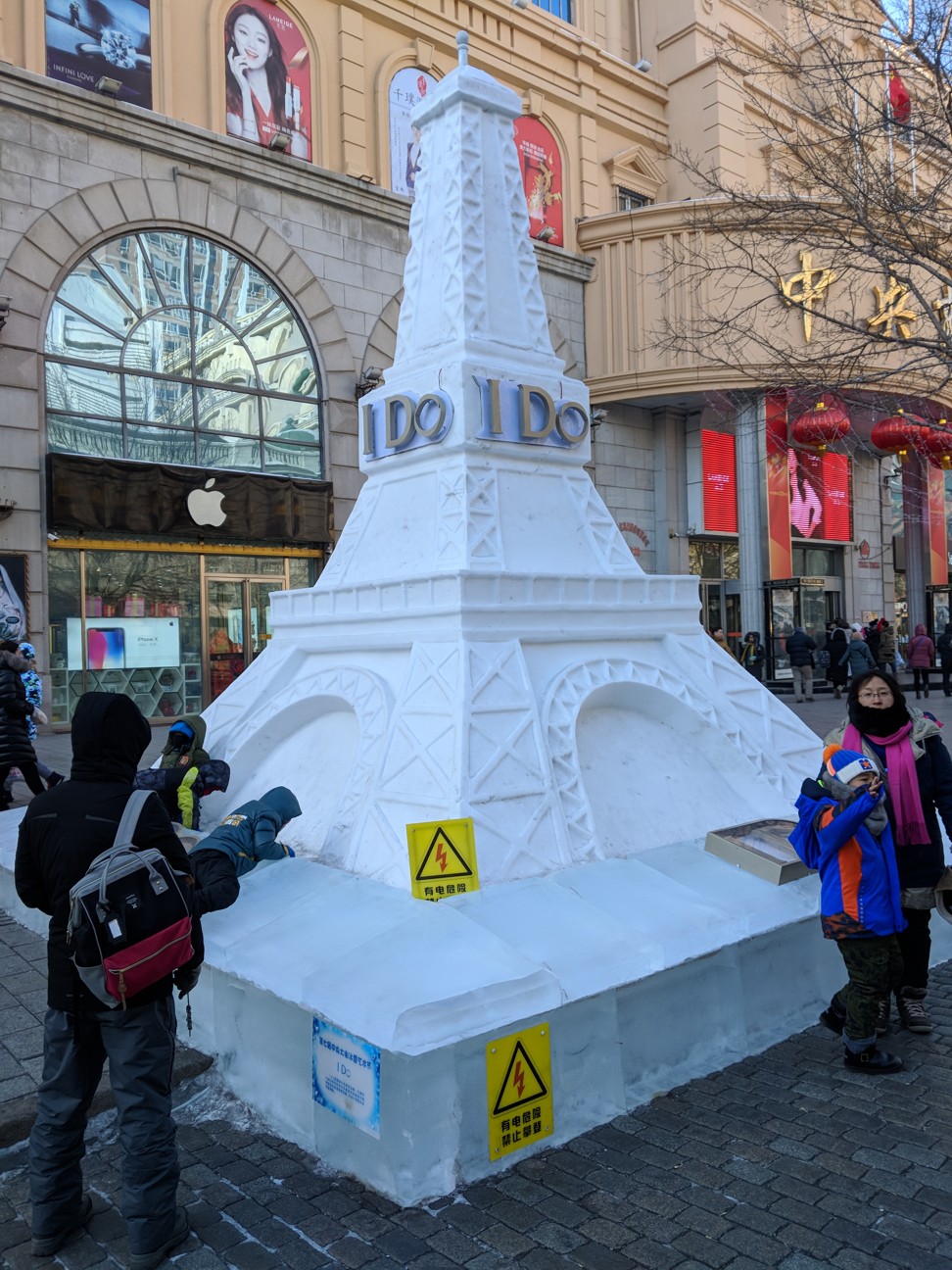 Two hours later, having covered only the 1.5km of Zhongyang, I arrive at the Songhua River that splits the city and provides the blocks of ice from which the sculptures are made.
The Songhua is frozen the full 1km width, and 50cm down. Hordes of people are walking freely across it – cars even drive on the ice – so I head out into the middle.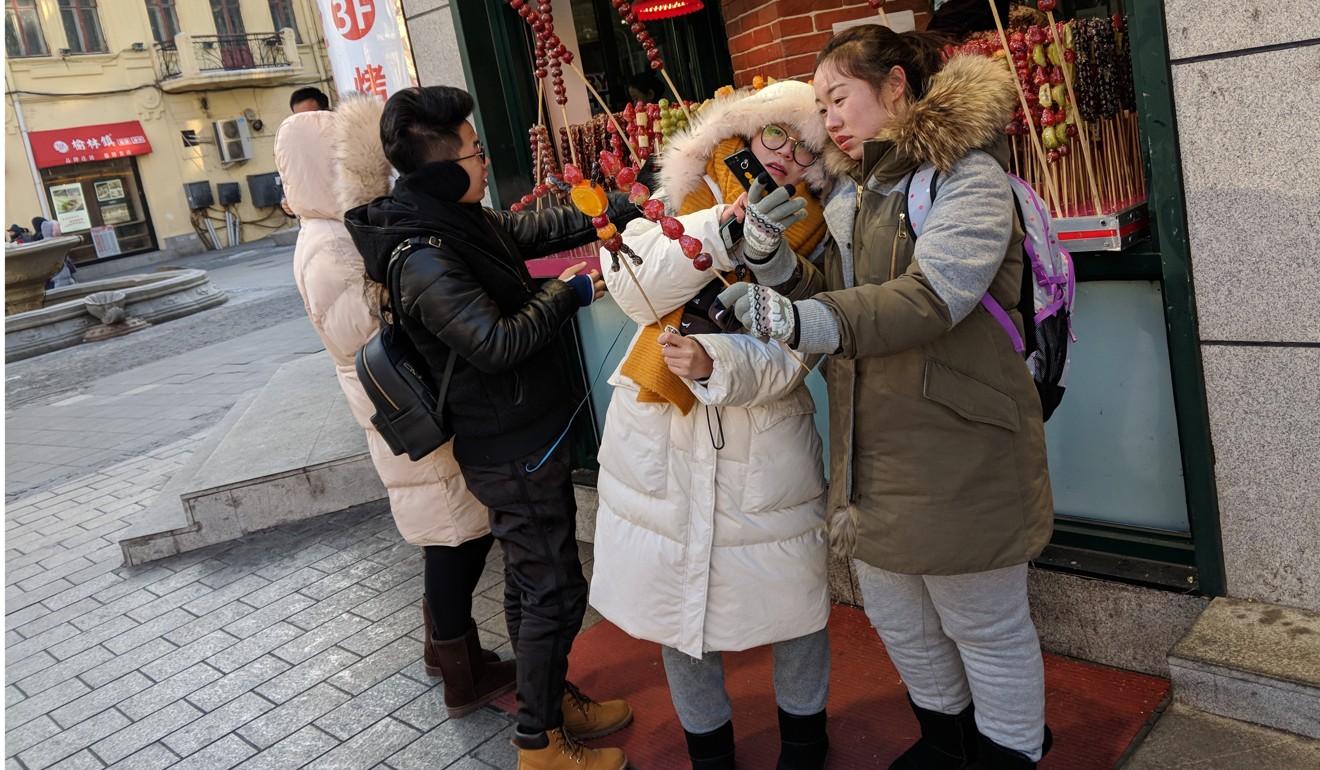 Even by Harbin standards, the middle of a frozen river 1km wide feels particularly cold. My eyeballs are hurting. I put on sunglasses to combat the glare and wind, but they freeze over straight away.
Stubbornly, I take a panoramic photo. Then my phone shuts down. I cannot move my fingers, so I can't put my gloves back on.
I panic and shuffle back along the ice, escaping into the nearest restaurant. They don't understand English, joking among themselves at my pathetic state. I point at a picture of a coffee, and hug the steaming cup until my fingers thaw enough to pay.
The lesson? Buy a better hat. Soon enough I've forked out 100 yuan for a giant Russian-like fake fur number. It looks ridiculous but I'm warm, so I don't care.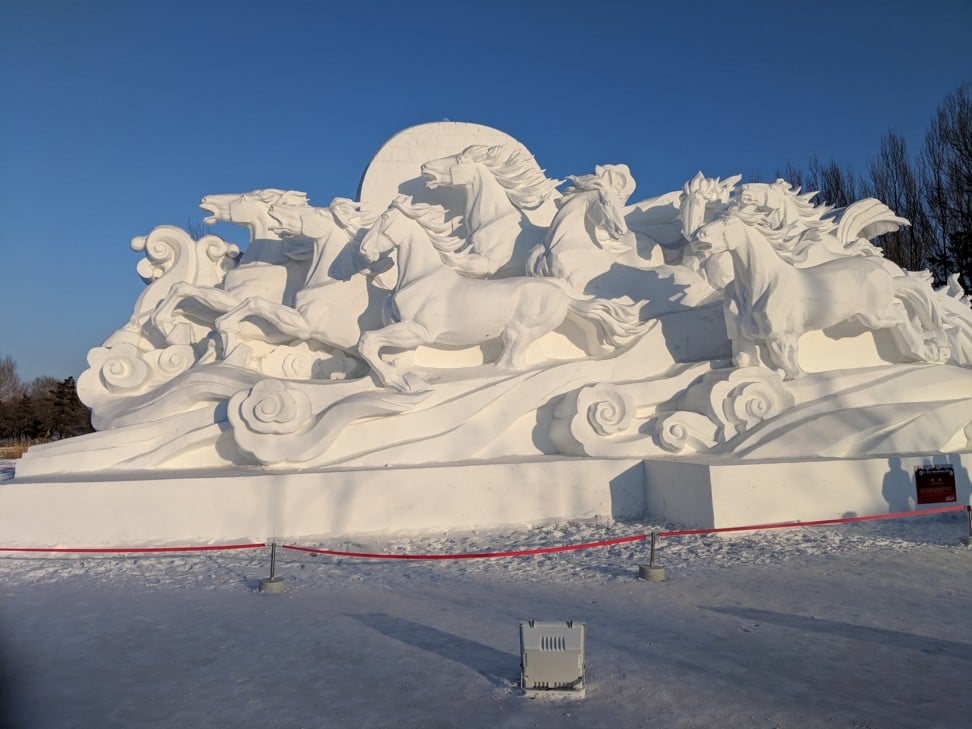 This makes life somewhat easier for the main events: the International Snow Sculpture Art Expo and, down the road, Ice and Snow World. Unlike Zhongyang Pedestrian Street, which has plenty of places to hide from the weather, both these events are open air. You have to rug up, toughen up and battle the elements with everyone else.
The 30th International Snow Sculpture Art Expo is held in the sprawling Sun Island Scenic Area on the north bank of the Songhua River. While many of the exhibits don't precisely seem to match this year's official theme of "Snow Eulogizes Winter Olympic", it's an incredible sight.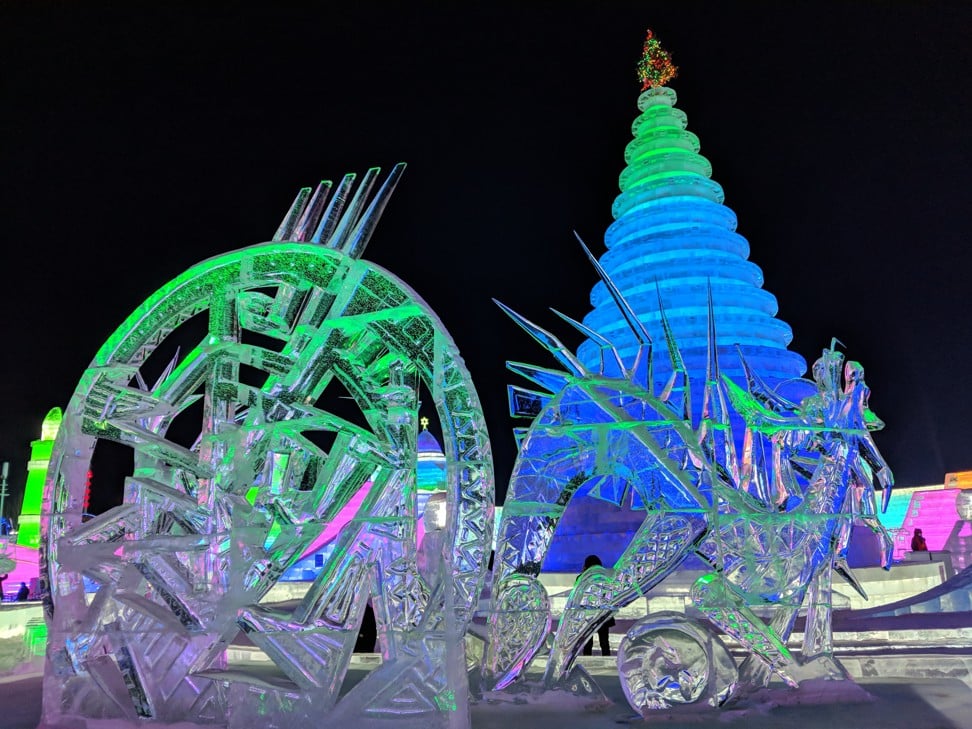 This is the one with all the giant stand-alone sculpted snow pieces, painstakingly assembled and carved on site – in open air using shovels, forklifts and even cranes for up to 10 days on end – by the region's best.
At 100 metres long and 30 metres high, the main sculpture of a young woman flanked by animals with the Olympics logo in the background is a deserved centrepiece – partly due to its sheer size – and the sharp blue sky behind accentuates its details perfectly.
To her left is a majestic Russian ice palace, while in the general viewing area in front are dozens of smaller sculptures up to 5 metres high, of jellyfish, nymphs, zebras, random gods and packs of running horses.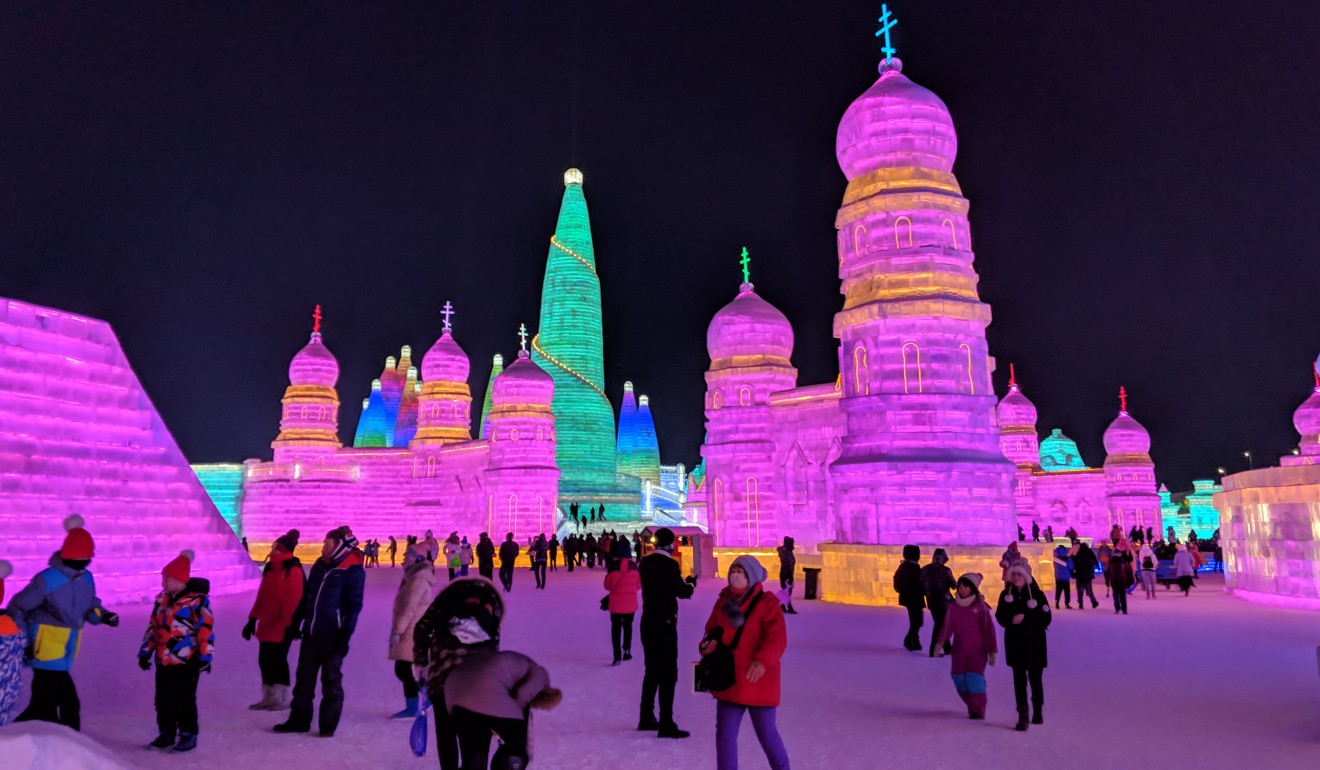 Down the road, Ice and Snow World is the lurid marvel that makes headlines worldwide each year. While the expo is quiet and eerily elegant, this one feels more like a psychedelic Minecraft experiment by Santa Claus after far too many eggnogs. Billing itself as the largest ice and snow amusement park in the world, there are ice castles and towers up to 46 metres high you can climb, ice bridges you can cross, ice slides and ice bike circuits for the children – all lit up with thousands upon thousands of pulsating LEDs of every colour – sprawled across 600,000 square metres.
The best time to visit this is, of course, night, when it's even colder. English is minimal, and even gaining entry required a confusing series of safety checks and eventual 45-minute wait in various queues under the intimidating supervision of security forces.
Again, the exposure soon leads to serious limb pain, meaning I have to call time on festivities well before I can see the whole offering.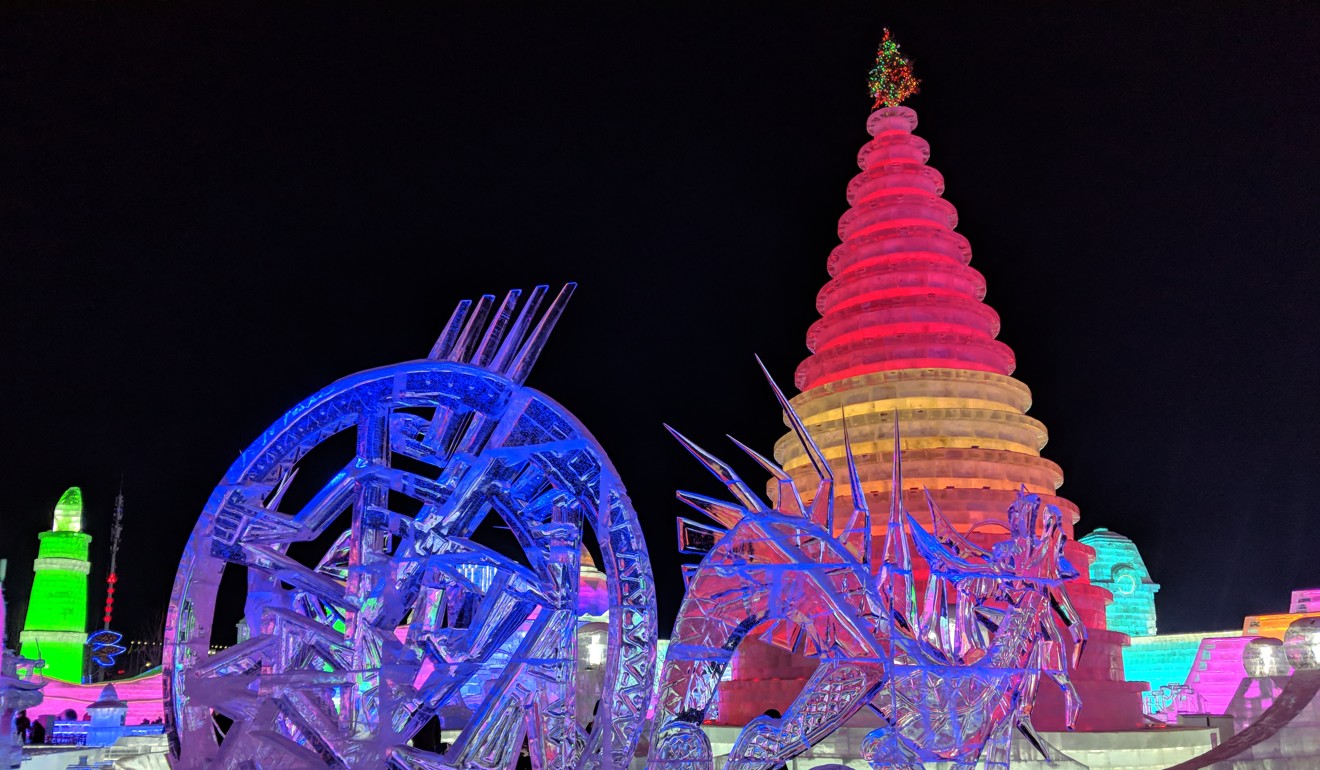 The Harbin Ice Festival isn't like a weekend jaunt in Beijing, Shanghai, Shenzhen or China's other marquee cities. It's not an easy, smooth trip.
But you'll see things there you won't see anywhere on the entire planet. You'll meet people who turned the disadvantage of China's worst winter to their advantage: hardy people who are tough as teak.
Coming home, I feel less naive about the grim realities of extreme cold. I have a stopover in Beijing and it's minus 2 degrees Celsius. Then a balmy 8 degrees Celsius in Hong Kong.
Sure it's chilly, but at least my eyeballs don't hurt. Time to crack out the flip-flops.
Getting there
The Harbin Ice Festival runs till the end of February, depending on the weather. Harbin has limited international flight options from Russia, Japan, South Korea and Los Angeles. However, there are more than a dozen domestic destinations, including China's top-tier cities and, with one or two stops, Hong Kong, and there are plenty of daily flights each way. Six bullet train services also run the 1,241km between Beijing and Harbin every day, passing through Qinhuangdao, Jinzhou, Shenyang, Tieling and Changchun, and offer a cheaper alternative.