Video
How Bruce Lee fought with ingrown toenails – thanks to a scalpel-wielding Shanghai pedicurist in Hong Kong
Who better than the man who tended to martial art legend's painful toenails to take care of your ingrowns, verrucas or warts? Lam Kwun-ching is one of a handful of Shanghai pedicure masters still wielding their scalpels in Hong Kong
A pedicure is considered a mere beauty treatment or a pampering indulgence by many, but for some, it is a necessity.
Ingrown toenails, verrucas and warts are just some of the problems that a Shanghainese pedicurist has to deal with on a daily basis.
A Shanghai pedicure is a technical procedure which involves shaving away calluses on the feet using different types of scalpels. Blades are also used to trim the toenails and to remove any warts or verrucas. Then, dead skin on the feet is buffed away, before a nail tonic is applied.
Lam Kwun-ching, known to his clients as Uncle Ball, is one of the best Shanghainese pedicurists in town. Now 72, he grew up in Hong Kong, where he has been helping his clients since the early 1960s.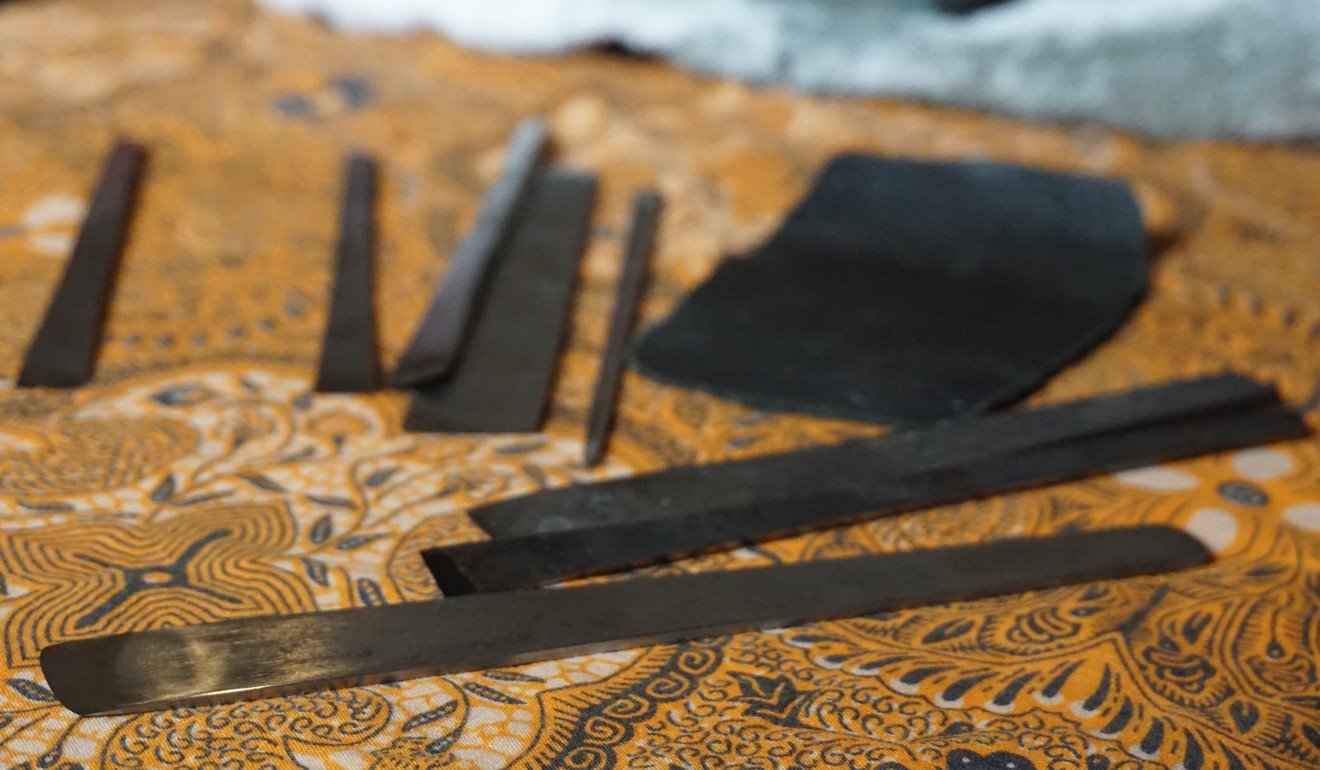 When a customer walks in, Lam will invite them to submerge their feet in a tub of warm water. Not only is this for their comfort, it is also necessary to soften the skin and the cuticles. After they have soaked for about 15 minutes, Lam carefully dries their feet and places them on a small stool. What follows is all down to the master's skills – and the precision of his sharp blade.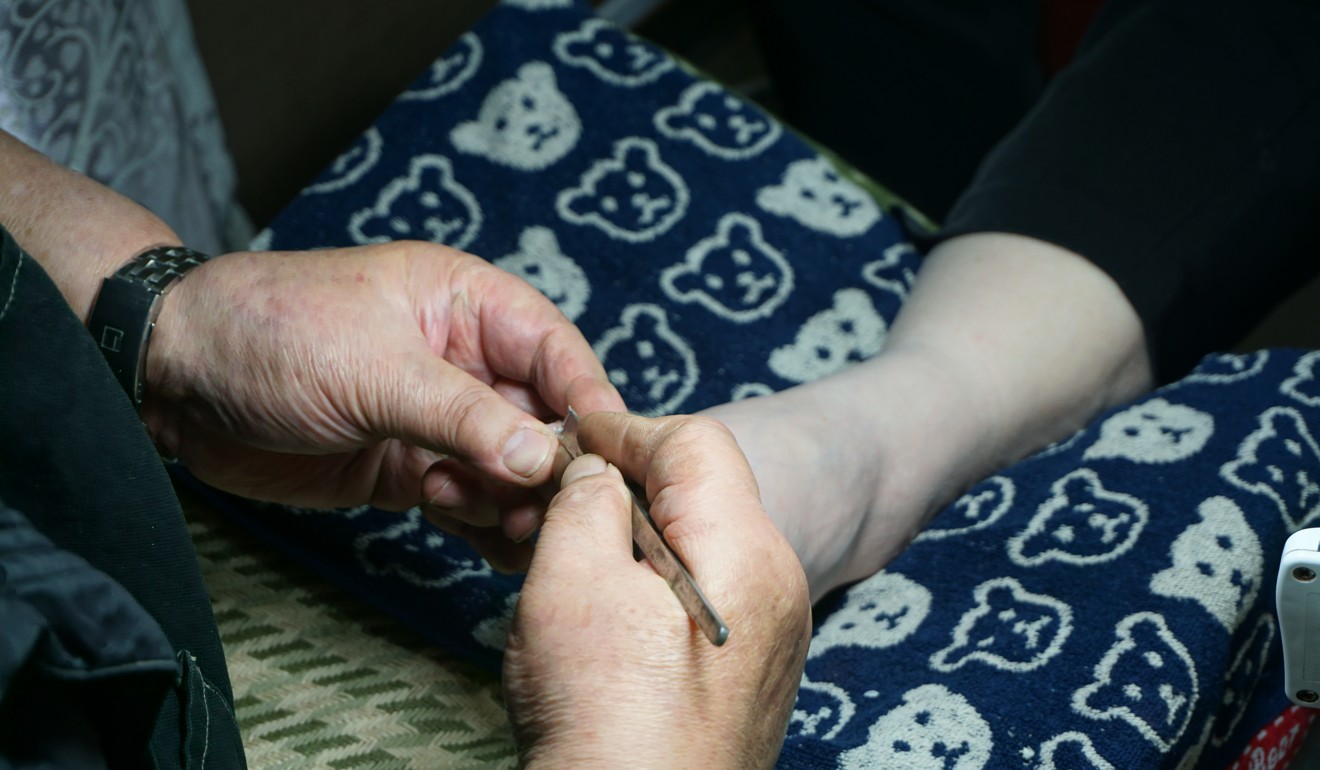 Ms Sin, 45, is one of Lam's most loyal customers. "I have been visiting Uncle Ball for more than five years now," says Sin, letting out a little sigh as Lam extracts a final piece of ingrown toenail.
Sin says her foot problems led her to visit many different doctors and health professionals; these asked her to take antibiotics to get rid of inflammation or even sent her to an operating theatre for surgical procedures. However, her stubborn ingrown toenail always came back.
Lam became her alternative foot doctor. Now, all it takes is 30 minutes a month at his workshop and Sin can walk pain-free.
"I genuinely don't know what I would do if Uncle Ball was gone," says Sin, as she puts on her shoes.
Shanghai pedicures are not just about treating pain and medical issues, however. In fact, says Lam, it can be an incredibly enjoyable experience. Some of his customers have no specific problems, but come in because they love the feeling of getting their feet treated.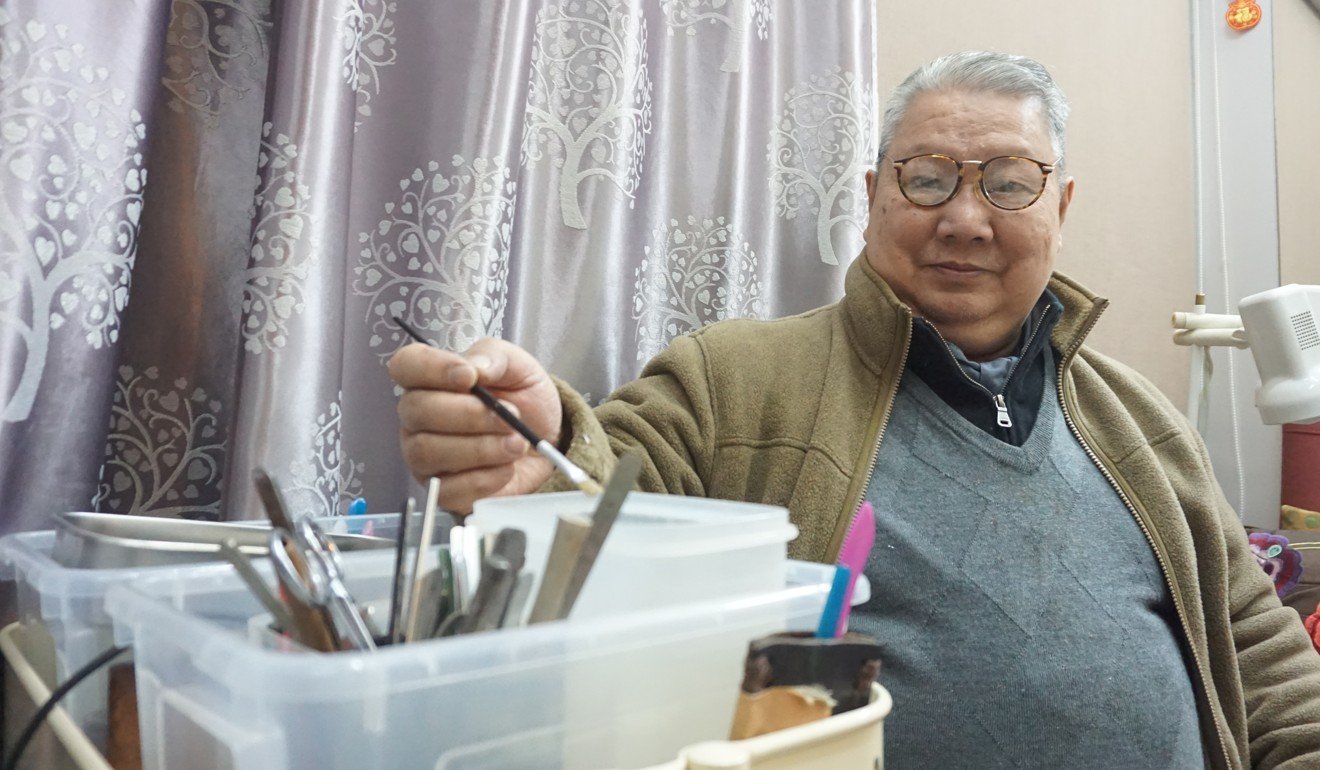 The Shanghai pedicure is thought to have originated in Yangzhou, a city in present-day Jiangsu province in eastern China where public bathhouses with pedicurists were a place for communal relaxation in the Ming and Qing dynasties.
Nearby Shanghai soon adopted the bathhouses and co-opted the Yangzhou pedicure.
Inscribed as part of China's intangible cultural heritage, the treatment is also known as "Yangzhou three knives", referring to three ways of holding the pedicure blades.
Other than physically removing warts and toenails, the buffing of the skin is equally important. Pedicurists use foot buffers and towels to massage the customer's feet. It is believed this massage triggers acupuncture points and relieves pain all over the body.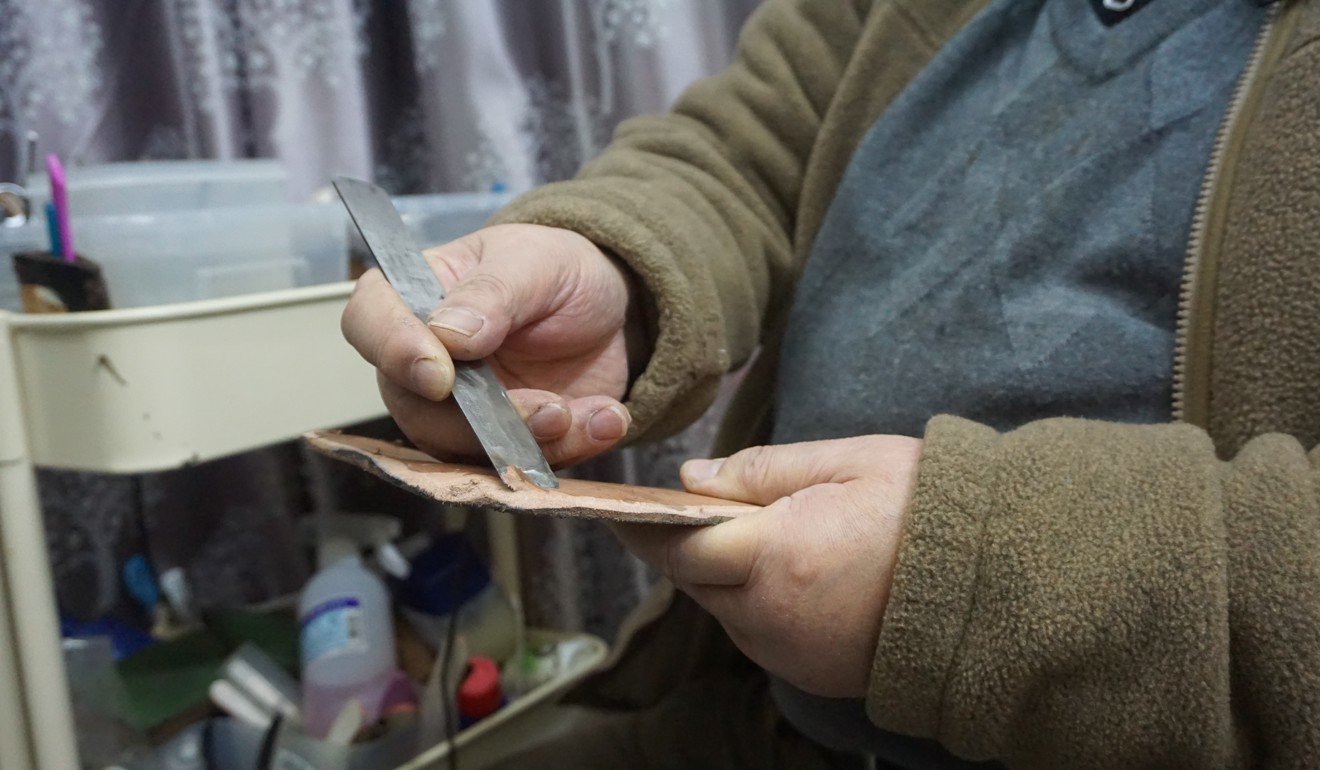 When people from Shanghai and Yangzhou fled to Hong Kong after the communists took power in China, they brought their bathhouse culture and their traditional pedicures with them.
The bathhouses and their complimentary services were popular in Hong Kong from the 1950s until the 1980s. Similar to a massive sauna or a Roman bath, they would be filled with naked men, professional masseurs scrubbing their backs. In the next room, there would be Shanghai pedicurists working their way through their tired feet. Celebrities, businessmen and high-level politicians would gather in them to relax.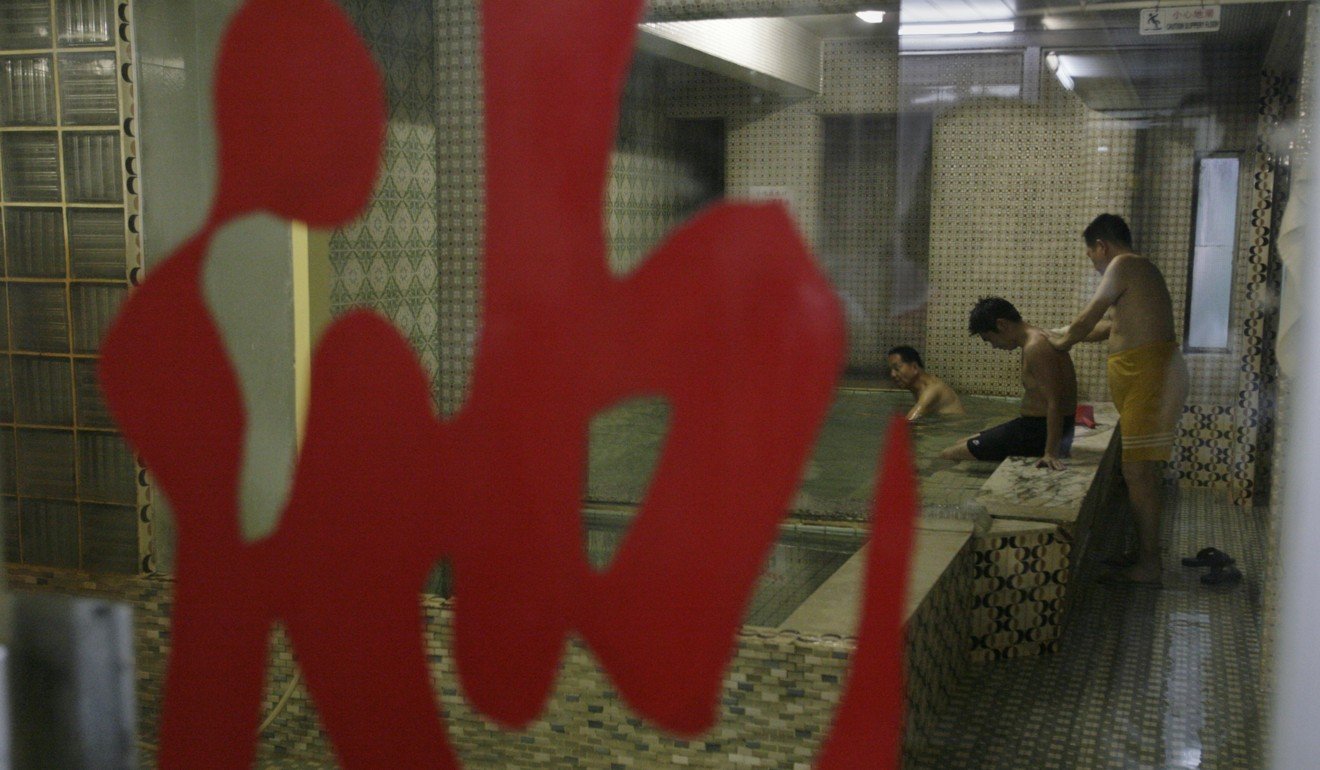 Lam learned his craft from a Yangzhou pedicurist. He shows me a bull's horn and some donkey leather that were his training tools. Their textures resemble those of human toenails and skin.
"Being a protégé was a long process," says Lam. "You needed to train for five years before you could start working on clients."
Lam remembers one particular client – Hong Kong action film legend Bruce Lee.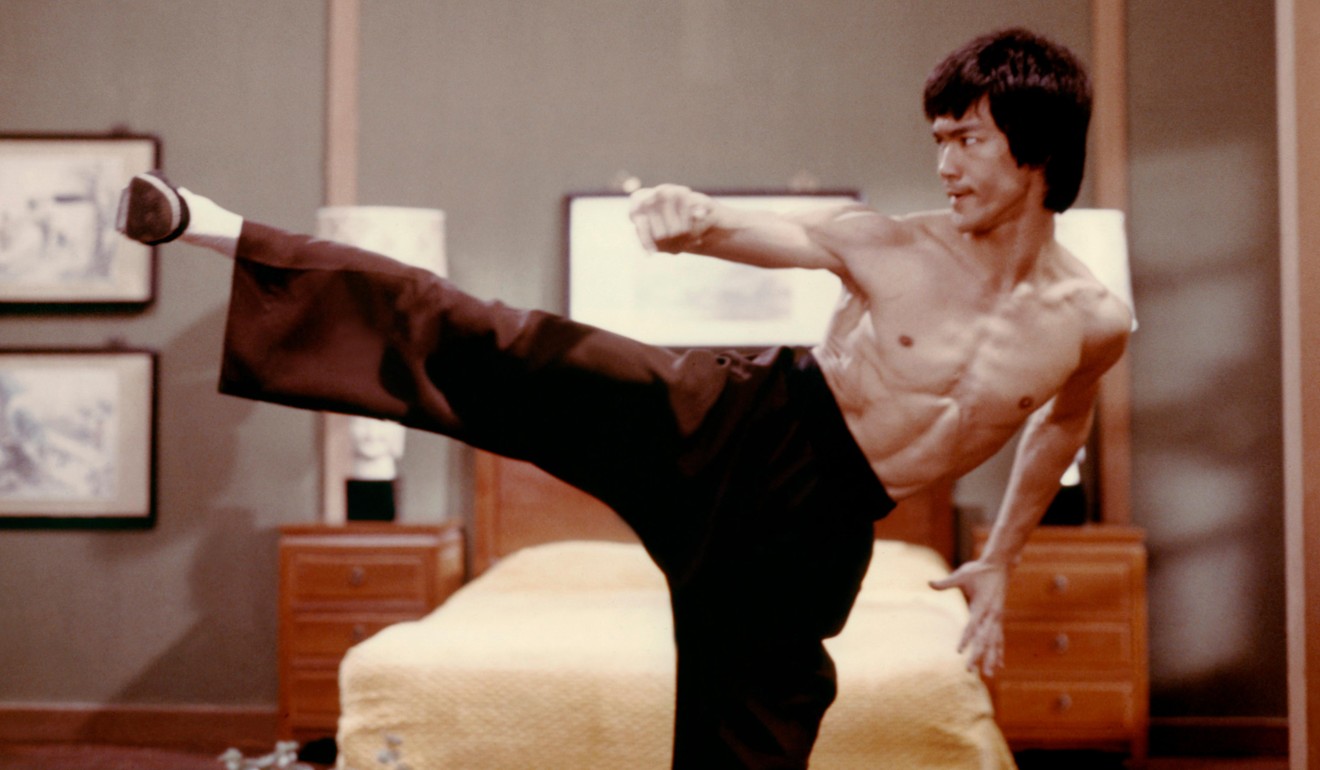 "He was a wonderful man – very eloquent and nice. When he died, I was very upset," says Lam. He says the actor suffered from a serious case of ingrown toenails and had to come to the pedicurist to deal with the pain.
"Bruce Lee also just liked a good chat," Lam adds. Being a good conversationalist is part of Lam's recipe for being a good pedicurist. Many of his customers come back because they just want some company.
Another Shanghai pedicurist in Hong Kong is Master Zhang, a native of Yangzhou now in his 60s. He has been working at reflexology spa chain Happy Foot in Wan Chai for six years.
Zhang was a sculptor, but could not earn enough to sustain a living. He left Yangzhou for Hong Kong in 1988 in search of a better life. Thankfully, he already had a head start at sharpening knives – an essential skill for a Shanghai pedicurist to have.
He trained with one of his neighbours and soon went to work in one of the bathhouses in Hong Kong. He is now the top Shanghai pedicurist in the establishment he works in.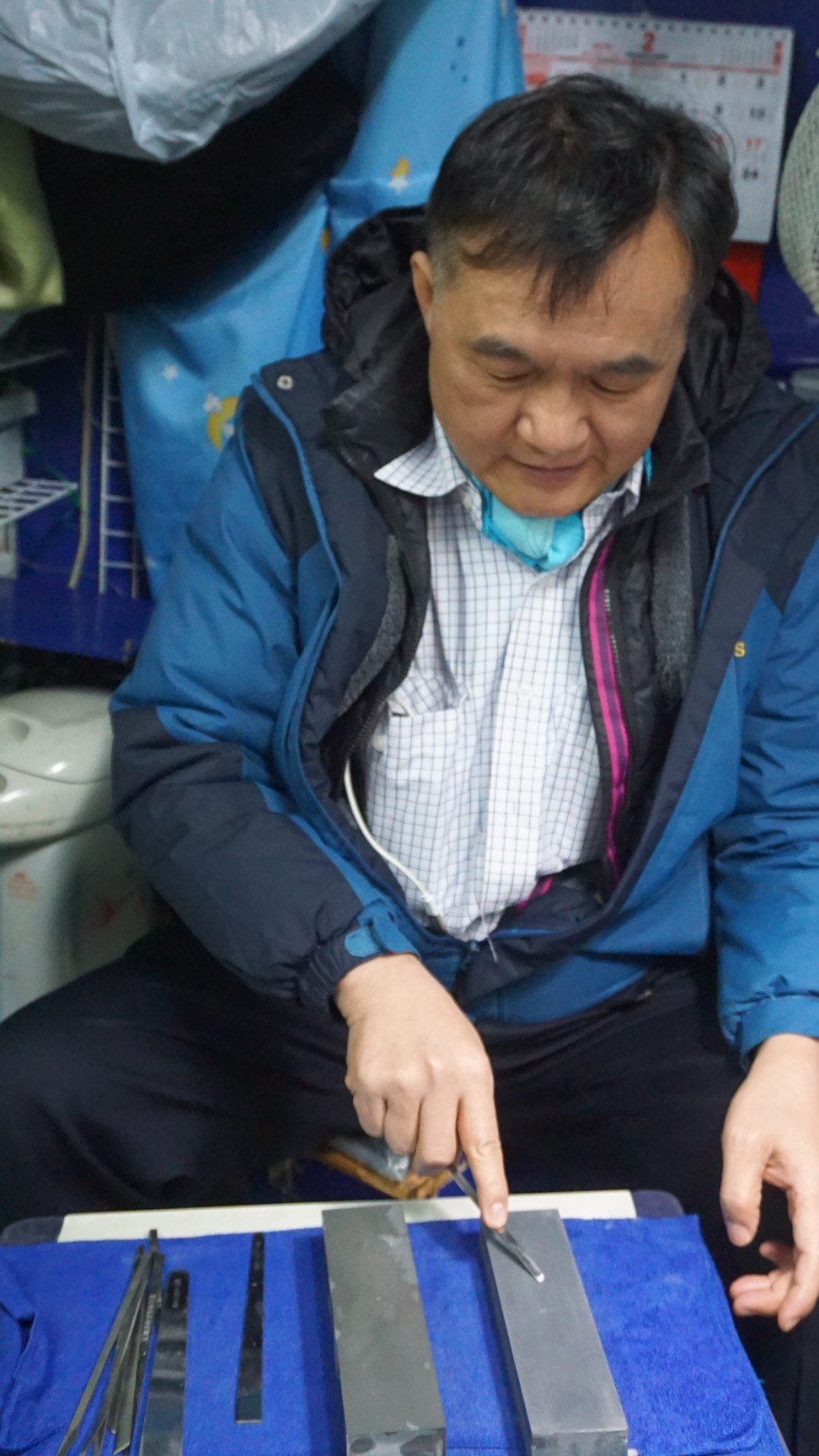 Like Lam and Zhang, Hong Kong native Alan Ng Song-nang learned the ropes working in one of the city's bathhouses at a time when they were just for men.
"No women were allowed into these bathhouses. There were rules till the noughties that male practitioners were not supposed to touch women's feet," says Ng, who is also in his 60s.
When these bathhouses disappeared from Hong Kong neighbourhoods in the noughties due to urban redevelopment, many Shanghai pedicurists had to find other ways to make a living. Ng found a tiny shop space in Jordan's Bowring Centre, just big enough for a chair for himself and one customer.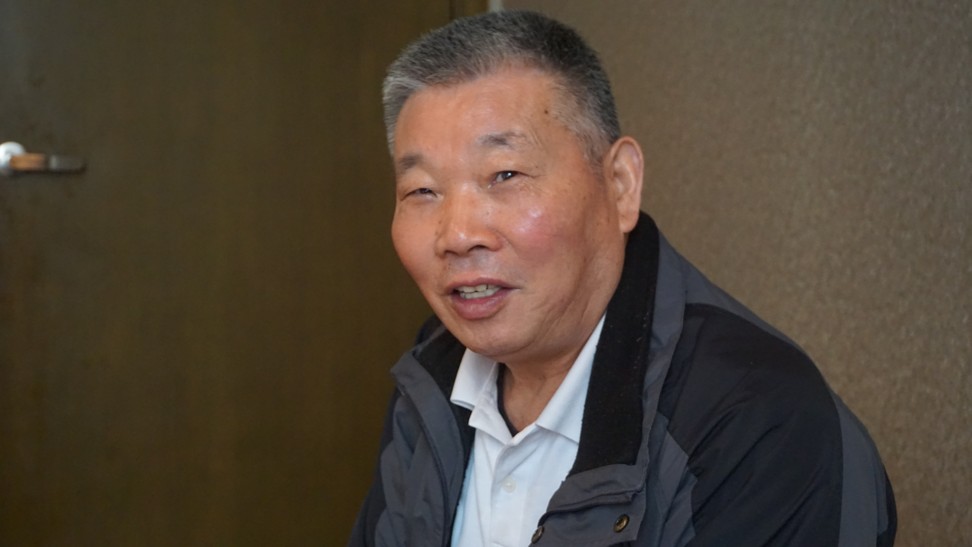 Today he works five days a week but spends most of his hours away from the shop, doing house calls for his loyal customers who have become too old to go there.
Doing house calls is a way for Ng to connect with his past, but Lam has not been able to do that.
Two years ago, he had a near fatal heart attack, which put him in hospital for several months. It was during this time he saw how much his customers loved him, he says. One customer called him every day, and brought him drinks when he returned to his workshop.
With the heart attack behind him, Lam is still working five days a week. His daughter, Ms Lam, has become his guardian. She converted part of her small Japanese accessories shop in Jordan into a workshop for him. Separated by a curtain, Ms Lam manages her business while watching over her father.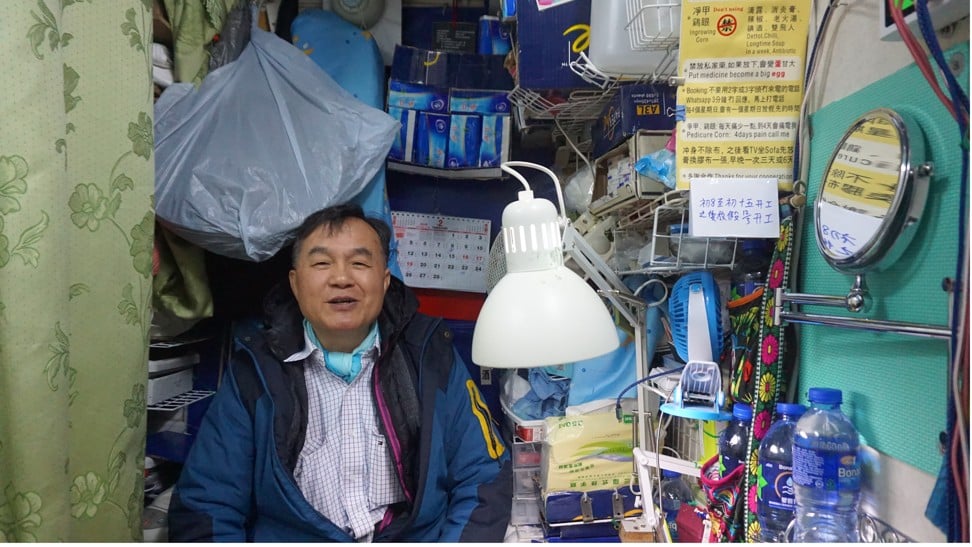 "Shanghai pedicure is his passion," she says. "I will never take up his job, because it is not as easy as it looks. But as his daughter, at least I am here to look after him and to let him do what he loves most."
Where to find a traditional Shanghai pedicure in Hong Kong:
Mr Ball Shanghainese pedicure, Pak On Building Block A, 105 Austin Road, Jordan, tel: 2983 0338/ 9400 3585
Alan Shanghai pedicure, shop 28, 1/F Bowring Centre, 150-164 Woo Sung Street, Jordan, tel: 9453 7126
Happy Foot Reflexology Spa, Wan Chai branch, QRE Plaza, 202 Queen's Road East, Wan Chai, tel: 2573 3428
This article appeared in the South China Morning Post print edition as: Cutting crew still carve out a living