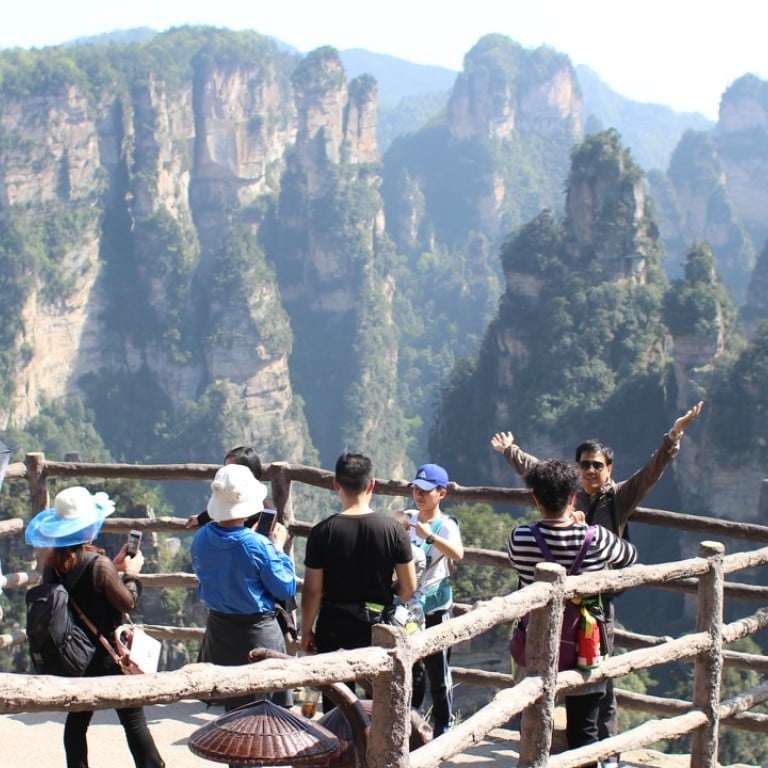 How to see one of China's biggest tourist draws – Avatar Mountain and the Zhangjiajie national park
Avatar, the film by James Cameron, took inspiration for its mountain scenes from the peaks of Hunan province, a beautiful place well worth a visit – but be prepared for a logistical challenge. Our beginner's guide to the area will help
Visiting Zhangjiajie in China's Hunan province to see the mountains that bear a striking resemblance to those in James Cameron's film Avatar is easier said than done.
This area of Hunan province contains three major tourist sights: Zhangjiajie National Forest Park, China's first national forest park and home to the Avatar stone pillar said to have inspired film director Cameron; the Zhangjiajie Grand Canyon, where you will find the world's highest glass-bottomed bridge; and Tianmen mountain, which boasts the world's longest cable car ride and spectacular views. It's all part of a Unesco-listed World Heritage Site called the Wulingyuan Scenic and Historic Interest Area.
The 264 square kilometre (102 square mile) area is a major tourist attraction in China and the region's impressive scenery is matched by its crowds. But although you might have to wait in turn for a selfie, it's worth it.
You will need to commit time and resources to ensure that a trip to the region goes smoothly. Most visitors, whether Chinese or foreign, work with tour guides. It's a logistical challenge to travel around a large area on a set time frame within a budget without a car, whether you speak the language or not. Here is everything you need to know to get the most out of your visit, and the seven sights you need to see.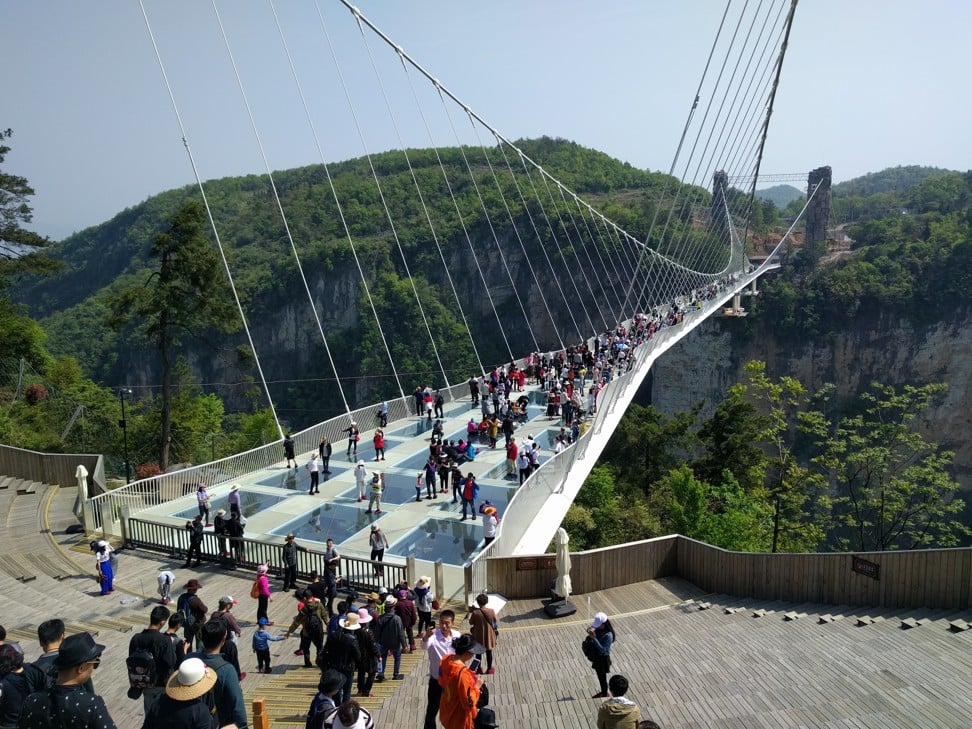 1. Avatar Mountain
The inspiration for James Cameron's film Avatar is commonly understood to be one particular pillar in Zhangjiajie National Forest Park called the South Pillar of Heaven. Go to the eastern entrance of the park and take the tourist hop-on bus to the Bailong Elevator.
From here you ascend the mountain inside an outdoor glass lift attached to the side of a cliff and find the most famous – and probably most crowded viewing platforms – you'll encounter during your trip. Here is the Lost Souls Platform, from where you walk across a metal bridge and take your picture of the South Pillar of Heaven, whose shape echoes the Hallelujah Mountain on Cameron's fantasy planet of Pandora. Then, move on to The First Bridge under Heaven, a naturally occurring slate shelf that connects two peaks.
2. Yangjiajie
The northwestern area of Zhangjiajie National Forest Park is less developed in terms of tourist trails, but is still a must-see. A cable car flies you up over dense vegetation, giving a close-up view of the region's stony pillar formations. Another bus takes you the final hop to the Yangjiajie Scenic Zone, which is famed for its expansive views of towering sandstone walls covered in plants that look like the remnants of a lost city. Here, you can have your photo taken with people in Miao dress, an ethnic minority group local to the area.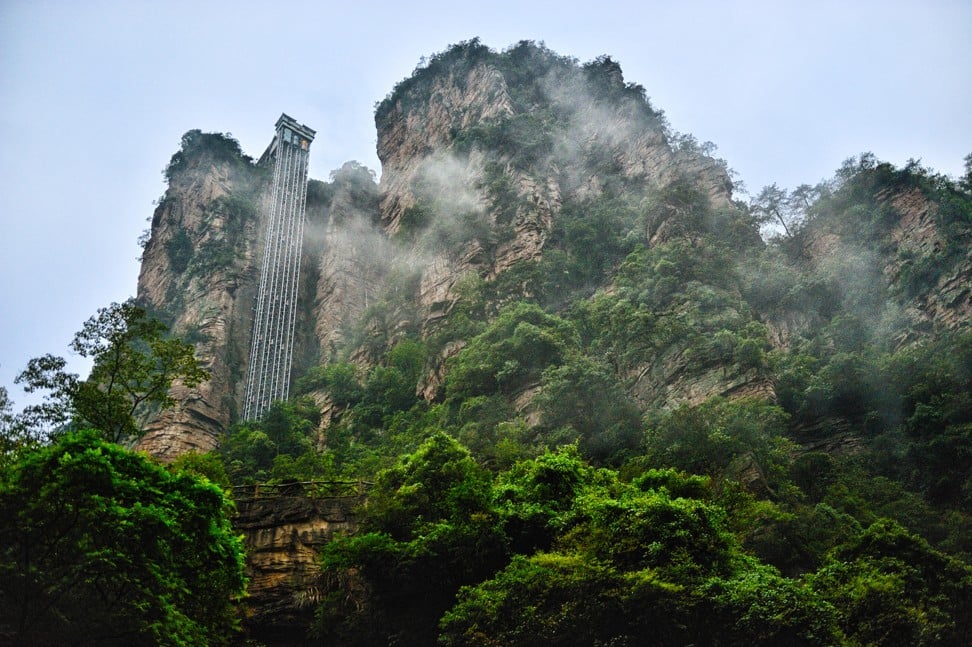 3. Tianzi Mountain
The best way to look down upon this forest of sandstone peaks is from the park's viewing platforms. These elegant, prehistoric towers began forming around five million years ago. Depending on the weather, at He Long Park viewing platform you will either witness the full glory of the mountain's view of trees and peaks known as the West Sea, or the tops of mysterious stone pillars shrouded in mist. Either way you can't lose. And there's a McDonald's here too.
4. 10 Mile Gallery
If you are travelling with a young family this is a great spot to visit and one of the few that is stroller-friendly. This 6km trail sits at the foot of the sheer peaks of the park and is surrounded by lush woodland. Parallel train and walkway tracks take you through the undergrowth. So you can take the train one way and walk the way back.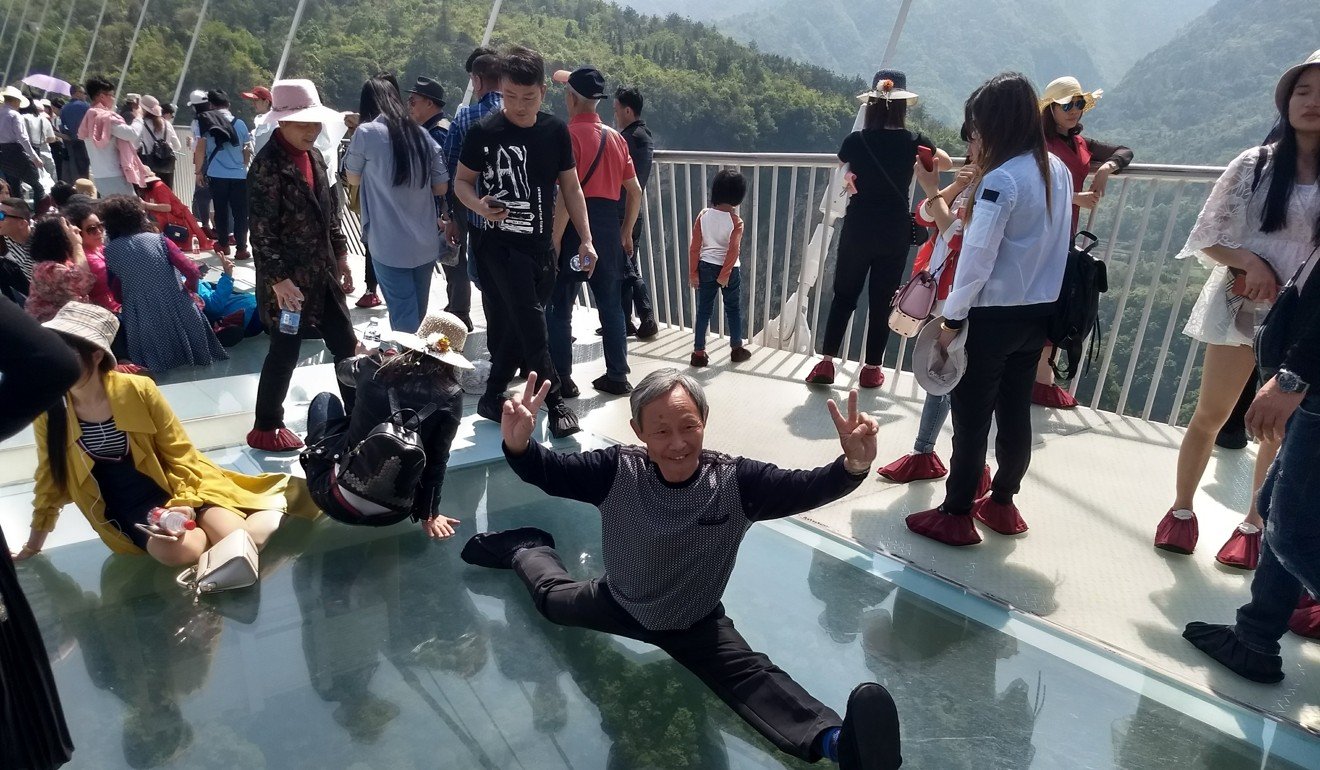 5. Glass Bridge
China is fond of glass bridges and this passion came of age with Zhangjiajie's glass bridge, which is 430 metres long and 300 metres high.
The longest and highest in the world when it opened in 2016, the bridge may also have had the world's shortest opening time, as it was forced to close after 13 days due to record tourist numbers. Although now surpassed in length by the 488-metre-long bridge at Hongyagu Scenic Area in Hebei, it remains the highlight of any tour to this area.
Tickets must be booked, but it is still constantly packed with travellers on a selfie mission. Instead of being frustrated that you can't see much through the glass, given the number of people lying on it, embrace the mood. Lie down and take an iconic photo.
A bungee jump platform – due to be completed soon, although no final date has been given – will surely only increase the levels of tourist excitement.
6. Zhangjiajie Grand Canyon
Of all the sights in Zhangjiajie, the grand canyon underneath the glass bridge is an experience to enjoy at a leisurely pace. Wooden steps lead you from the bridge down into the canyon, which takes around 40 minutes, and then you're treated to a few hours of walking past gushing streams, waterfalls, and emerald blue waters. The vegetation is varied and lush, containing 30 endangered species. The park is immaculately maintained and many bridge-goers don't head down so there's a true sense of peace.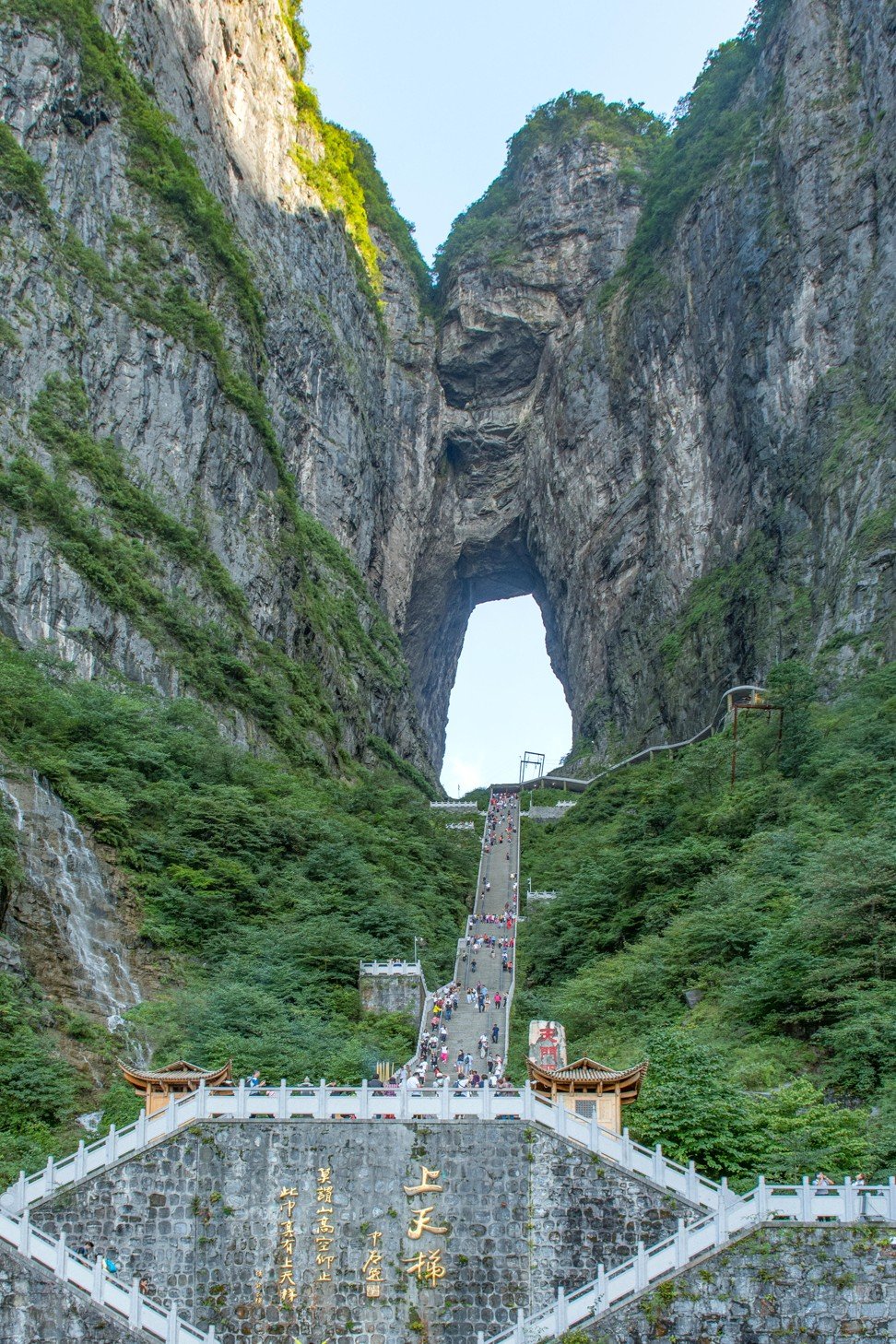 7. Tianmen Mountain
The world's longest passenger cable car to Tianmen Mountain drifts unassumingly up from the outskirts of Zhangjiajie city. During the 7.45km ride, factories are gradually replaced with hills until after 30 minutes you're surrounded by rocks and green slopes.
Views disappear and reappear quickly as the mist moves and you'll regularly find yourself walking along a narrow, cliff edge walkway through dense, white air, with no sense of the height of the drop below.
Bring your fleece, and remember: rain and mist are part of what makes these sights both unnerving and exhilarating, so don't be disappointed if you can't see further than your partner's rucksack.
Things to know
There are very few ramps or wheelchair access at any of the sights. Most mountain trails are made up of concrete steps and walkways. China's lunchtime is 11.30am-12.30pm. It's a good time to avoid the crowds.
Purchase tickets for sights in advance. For on-the-day tickets, guides can go along early so you avoid long queues when you arrive.
English translations of signs in Mandarin are irregular and not uniform. The Lost Souls Platform at Yuanjiajie is also known as the Enchanting Terrace, Enchanting Stand and Ecstasy Terrace, depending on which tourist map you consult. Tourist buses within sightseeing destinations do not always have English translations on the front. Drivers will help if you come prepared with a map.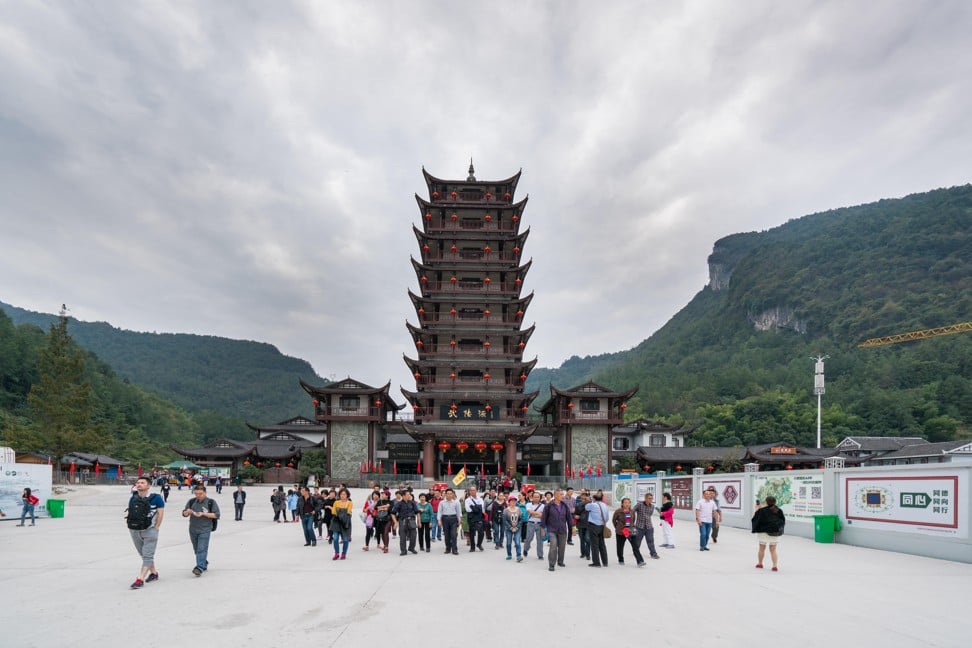 There are also additional costs in many of the tourists zones for certain types of transport or fun activities (such as the glass skywalk at Tianmen mountain) so bring yuan with you.
Take your own snacks for the long walks and pick up a bowl of the utterly delicious "liangpi" cold noodles, which are sold throughout the region whenever you can.

Where to stay?
The Pullman (pullmanhotels.com) in Wulingyuan district, five minutes drive from the eastern entrance to the national park is good-value and the front desk always has a bilingual (Chinese-English) member of staff. Rates start at 748 yuan for two people including breakfast.
Guides
There are no shortage of guides on the internet, but make your preferences clear, such as avoiding crowds and enjoying the experience in a way that suits your friends and family. Tour Zhangjiajie (tour-zhangjiajie.com) is a good bet.
This article appeared in the South China Morning Post print edition as: S tairways to he a ven