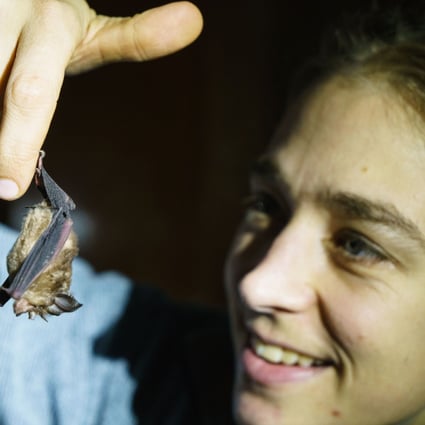 Dr Alice Hughes releases a bat into the night. She is leading a group of ecologists who are trapping bats in a rainforest in Yunnan, China, to learn more about them. Photo: Tessa Chan
Inside China's caves, where untold animal, plant species could go extinct before being discovered
Ecologists exploring the vast cave systems of Yunnan in China are discovering unknown animals, from geckos to beetles – finds that could spur conservation
China and Southeast Asia have some of the richest cave faunas in the world, yet they are largely unexplored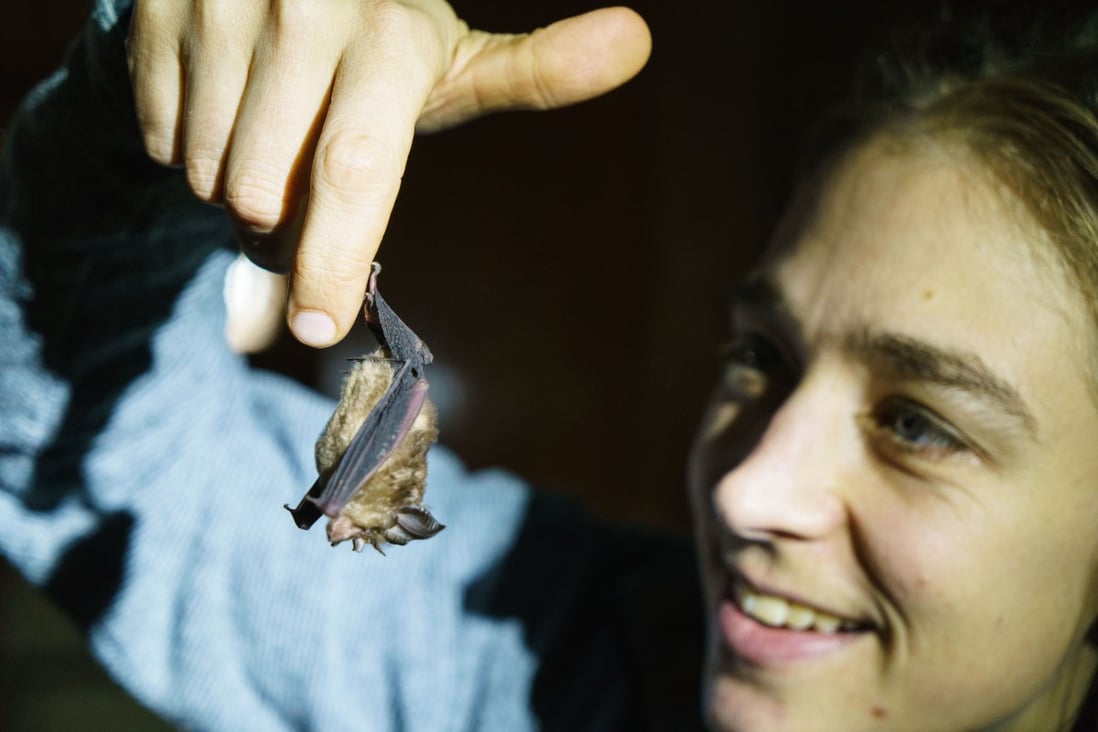 Dr Alice Hughes releases a bat into the night. She is leading a group of ecologists who are trapping bats in a rainforest in Yunnan, China, to learn more about them. Photo: Tessa Chan
We're scrambling up slippery rocks inside an abandoned Buddhist tourist cave near Menglun, a town in Yunnan province in southwest China.
Head torches illuminate dripping stalactites and damp green walls on which tiny leeches and microsnails glisten and cave crickets lurk. I try to mirror the enthusiasm of the two students accompanying me, who seem to delight in every creepy-crawly that scuttles past.
Reaching out to hoist myself up, I sink my hand into something mulchy. It's bat dung, says 26-year-old master's student Ade Prasetyo Agung, and explains that it's the equivalent of gold in a place where the sun doesn't shine, providing a crucial life base for cave-dwelling creatures.
The guano smells like manure and cat urine. Agung points his torch upwards and there they are – a cluster of bats roosting on the ceiling in the darkest chamber of the cave.
The students are members of the landscape ecology group Xishuangbanna Tropical Botanical Garden, of the Chinese Academy of Sciences, under the guidance of Dr Alice Hughes.
"There are about 800,000 sq km of karsts (limestone cave systems) in Southeast Asia," says Hughes. "Half of that is in southern China, but almost none of it is protected."
Hughes, who also leads the Commission on Ecosystem Management Young Professionals Network for the International Union for Conservation of Nature, has worked in Asia for 12 years.
Her team, a mix of young local Chinese and Southeast Asians, has been conducting inventories of karst biodiversity to understand which systems have the most unusual species in order to identify priority spots for protection. Aged 33, and one of the only women leading a research group at Xishuangbanna, she has taken on a mammoth task.
"Every single one of these limestone hills can have species found nowhere else in the world. Given that these systems have up to 12 endemic species in a single hill, there is a lot that needs to be done," she says. "Especially when we're losing 5.7 per cent of Southeast Asian karsts every year."
Based in Xishuangbanna, an autonomous prefecture in Yunnan on the northern edge of the Southeast Asian tropics, the team lives and works in China's biggest and richest botanical gardens. They are the ideal playground for any budding ecologist, spanning 1,100 hectares (2,720 acres) and home to 13,000 species of plants and a limestone forest.
Riding an e-bike through the palm trees, you could be forgiven for thinking you were in Thailand.
Domestic tourists come here to stroll around exotic flower gardens, or paint the lotus pond where giant lily pads float. The sound of traffic and the chaos of the city gives way to birdsong and the chirping of insects.
Though China's caves draw little attention compared to other ecosystems, they are biodiversity hotspots, says Hughes.
In recent years, the landscape ecology team and their collaborators have discovered numerous new species, including geckos, pseudoscorpions, millipedes and cave beetles.
"The majority of karsts have never had a biological inventory. So every single time that a specialist group surveys a karst they will find new species, be they looking at orchids, beetles or millipedes. And most of those are being lost, [or being left] undiscovered," says Hughes.
The biggest threat to southern China's cave-dwelling species is habitat loss from human activity. A lot of the area is being mined for cement: the limestone is used to make concrete.
In 2017, the world used 4.1 billion tonnes of limestone, of which China alone accounted for 2.4 billion tonnes, according to a United States Geological Survey report. For China, with a population of 1.38 billion, that equated to about 1.73 tonnes per person per year.
Back in the Menglun cave, the sleeping bats are beginning to stir under our torch lights – some wriggle and bicker, others flutter past our heads – so we leave them in peace. They are clearly sensitive to our presence, so it's no surprise there are none in the tourist caves for which Yunnan is famous.
Though it's touted as an eco-tourism destination, the one we visit looks more like a Disneyland attraction than a cave. The rock formations are lit up in technicolour, cement paths have been laid for easy access, and the caverns are adorned with statues of everything from Buddha to Mickey Mouse.
"In many ecosystems tourism is used as a way to protect the ecosystem," says Hughes, explaining that it also stops people from poaching bats in these caves. "It's a double-edged sword, because it has positives, but it can also be very dangerous to biodiversity in those systems.
"Buddhism is a very peaceful philosophy. It's against killing. And, yet, in many of the caves that they convert for their pilgrims, they literally cover them in either light or concrete."
Hughes estimates that using motion detectors for the lighting and safeguarding parts of the cave would maintain almost all of the species present.
Unfortunately, there is no management agency in China responsible for overseeing the protection of caves. "In most cases there are no biodiversity surveys before development," says one of Hughes' collaborators, Mingyi Tian, whose team has discovered some 100 cave-adapted ground beetles and 70 millipedes in recent years.
But how do we weigh the cost of destroying cave habitats when we don't know what's in there?
"An estimated 90 per cent or more of cave invertebrates in China are undescribed," says Hughes. "At the moment we have no idea how many new species there are. It would be probably thousands of them, all vulnerable to extinction because we don't know where they are, and most of them are not protected."
Tian, professor of entomology at the South China Agricultural University in Guangzhou, Guangdong province, says: "There are over 150 known species of cave ground beetle, making China one of the richest countries in the world in terms of diversity. We also have the most morphologically specialised cave beetles in the world."
"In 2016, my team spent two days sampling four caves in the Guilin area and identified at least 10 new invertebrate species. This attests to the impressive biological diversity that the South China karst supports," says Dr Judson Wynne, an assistant research professor with the Department of Biological Sciences, Northern Arizona University, who is collaborating with Hughes on a proposal to advance cave conservation in China. "The region already supports the highest diversity of highly evolved cave fish on the planet."
Since not many people can access the karsts, it's a difficult field, says Agung, who specialises in karst-associated geckos. "Lots of researchers like to study big mammals, like tigers, elephants and rhinos. But these small animals also have a role in the ecosystem. If you disturb one part of the food chain, it will disturb all of it," Tian says.
Bats are generally depicted as scary and considered to be rodents, but they are more closely related to dolphins and horses. And not only are they key to cave ecosystems, they are essential pollinators (durian and the agave, used to make tequila, for example, are bat pollinated), pest controllers and seed dispersers, helping reforestation by spreading seeds across the region's many deforested areas.
"They are fascinating animals that we could learn so much about: radar for army technologies, longevity and disease resistance," says Hughes. "They can live for 40 years in the wild – in fact some species don't even show any signs of ageing."
In Southeast Asia, half of the bat species remain undescribed. Hughes' team has been gathering trapping data on a weekly basis for the last three years on bats and other species.
They head out at night into the rainforest and set up harp traps (transparent strings that vibrate and hum when touched), which block a pathway so that bats fall into a bag at the bottom.
Squeaking indignantly, they are scooped up, measured and photographed. DNA samples are taken from their wings, and their echolocation sound waves recorded, before they are released, a little ruffled but none the worse for wear.
The young team works tirelessly, exploring dark caves and forests late into the night and writing up their findings over the weekends. The caves they study are, by default, difficult to access (anything remotely accessible has been visited by poachers so the bats have moved on), and some of the group are learning rock climbing.
On one expedition, a bumpy rural road is blocked by a recent landslide (apparently common because of soil erosion), and the only access to the cave is across a river with strong currents.
On another, the cave entrance is blocked by giant rocks, which have tumbled due to recent earth tremors. The students say earthquakes are frequent – not a helpful thought to dwell on while caving.
Theirs is not glamorous work. The week sees us scrambling through dense undergrowth, being scratched by thorns and stung by nettles, and crawling on our knees through ever narrowing tunnels from one cave chamber to another. I begin to get used to the dankness, the dark and the silence, and forget to fear what I cannot see.
The landscape ecology team's research currently spans Yunnan, Myanmar and northern Vietnam, but is expanding to Malaysia and Thailand.
"By bringing in expertise, and training local scientists, we hope we can begin to observe the patterns of biodiversity in this region," says Hughes.
"We need people to realise that these ecosystems are here. We need more data, more expertise, and regulations about things like environmental impact assessments and sourcing policies. The only way we can protect the biodiversity is to understand where to protect. And that's something we're only just scratching the surface of."
Editor's note: the figure for global usage of limestone in 2017 is 4.1 billion tonnes, not 1.7 billion tonnes, and has been corrected.