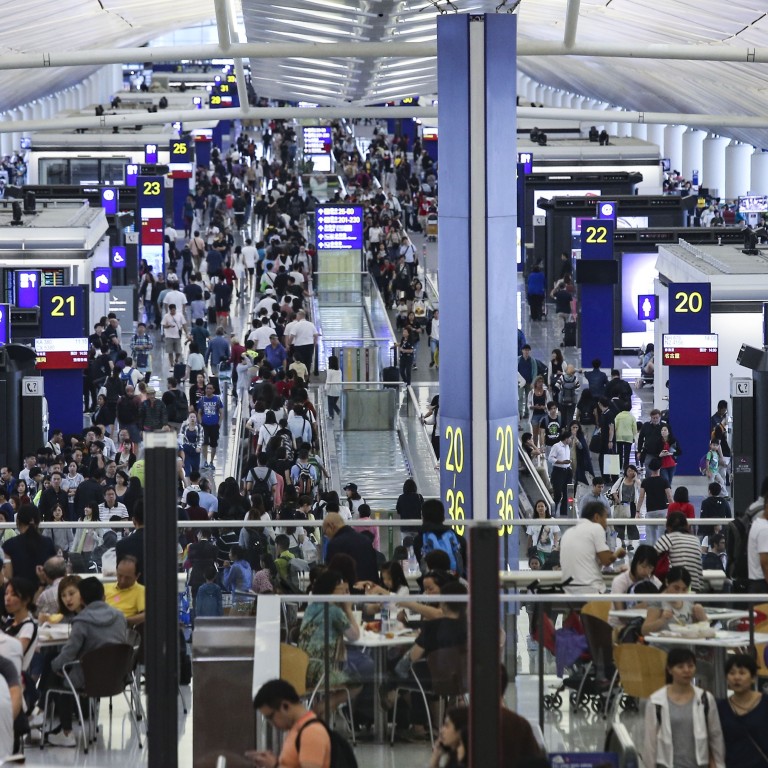 Wellness at airports: Frankfurt services best, LAX worst; Hong Kong, Singapore in top five
Twenty-five international airports were ranked on the quality and availability of stress reduction facilities
Frankfurt airport was ranked first, followed by Amsterdam and Dubai. Hong Kong came fifth behind Singapore
Hong Kong International Airport's lack of outdoor and green spaces, or yoga classes, have placed it behind Singapore's Changi Airport in new research into the best international airports for "wellness".
A global comparison by Netflights named Frankfurt International Airport in Germany as the best, praising its relaxation areas, calming yoga rooms and massage services. Schiphol Airport in Amsterdam and Dubai International Airport follow Frankfurt, with Singapore's Changi Airport and Hong Kong International Airport (HKIA) in fourth and fifth place, respectively. Also in the top 10 were Vancouver International Airport, John F. Kennedy International Airport in New York, Tokyo's Haneda Airport, San Francisco International Airport and Toronto Pearson International Airport.
Los Angeles International Airport was ranked last out of 25 in Netflights' overall ranking with a score of zero, while London Gatwick Airport's focus on first- and business-class passengers left it in 24th position.
What does wellness mean when it comes to airports? "It's an umbrella term for all kinds of stress reduction – mental, physical, spiritual and environmental – which is obviously pertinent to travel and airports," says Beth McGroarty, research director at the Miami, Florida-based Global Wellness Institute, which is holding a global wellness summit at the Grand Hyatt Hong Kong from October 15 to 17.
Wellness at airports involves everything from spas, health clubs and sleeping pod hotels to beanbags, massage chairs and roof gardens.
Time-consuming security checks introduced in the wake of the 9/11 attacks in the US preceded a massive spike in air traffic caused by low fares and the growth of the global middle class.
"Travel is worse than it has ever been," says McGroarty. "Travel is booming and the more people that go through the airport, the more stress you have – people are not happy with airports."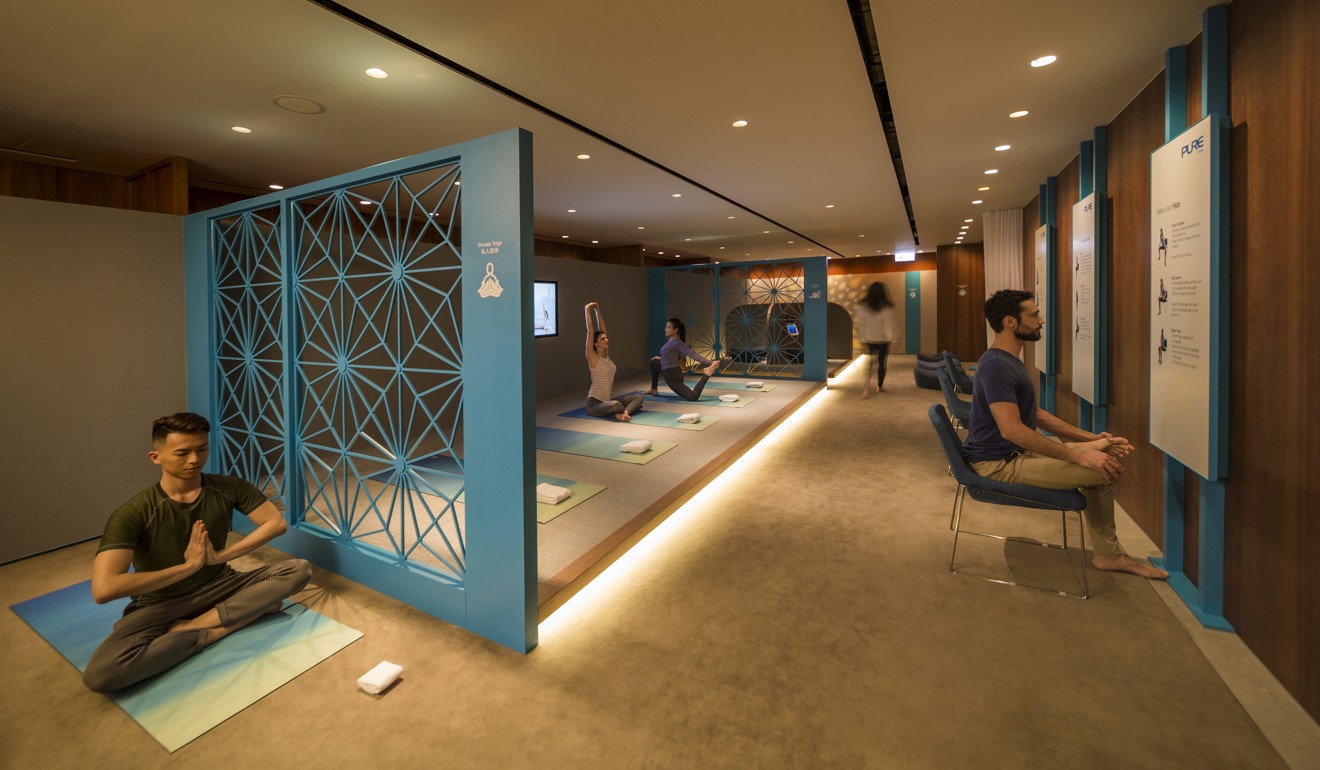 Netflights' scores were calculated by analysing the amount and quality of facilities – from spas to meditation areas and gyms – in 25 international airports. They were then ranked according to their overall score. Winner Frankfurt International Airport, has "silent chairs", a quiet room and leisure zones, an open-air roof terrace, individual yoga rooms, spa facilities, and prayer rooms.
One of the facilities that Hong Kong lacked compared to Singapore's Changi was yoga rooms, but that has just changed. This month Cathay Pacific opened The Sanctuary by Pure Yoga at HKIA. Designed in partnership with the Pure Group, it is a 700 sq ft area divided into two zones; The Body Sanctuary for yoga and The Mind Sanctuary for meditation.
"Airport wellness is about staying calm and collected, feeling refreshed, and generally minimising pressure on the mind and body," says Gary Wise, regional marketing director at Pure Group. "It has a positive knock-on effect on the rest of our journey."
Wise thinks that The Sanctuary by Pure Yoga can help HKIA up the rankings next year. "It's a positive placement for Hong Kong International Airport," he adds. "I personally enjoy travelling through HKIA – the environment is spacious, the facilities are good and the whole process is efficient."
"Some airports showcase their wellness offerings for travellers looking for these services at their airports," says Cristina Alcivar, founder of Vane Airport Magazine and an expert on wellness in airports. "This is not the case at Hong Kong airport … other airports are much more informative in their wellness offerings."
Alcivar says Asian airports focus more on well-being, while in North America the focus is on hospitality.
"Asian airports have a variety of offerings, while creating an environment that is inviting and visually appealing," she says. "North American airports seem to have one spa chain while Asian airports have a variety of spa retailers providing more choice to travellers."
The ultimate example in Asia is Singapore's Changi, which is destined for a wellness boost when its much anticipated Jewel complex opens in April 2019. Designed by Moshe Safdie Architects as a glass dome, Jewel will have a 40-metre indoor waterfall, mazes, an indoor "walking and bouncing" sky net, and a five-storey "forest valley" with 2,500 trees and 100,000 shrubs.
Some airports are coming up with novel ways to encourage calmness. In sixth place, just behind Hong Kong, was Vancouver International Airport, which as well a having a gigantic aquarium has a "less airport stress initiative" (Lasi) that allows passengers to pet dogs. Introduced in 2017, Lasi is a partnership between the airport and St John Ambulance to have "ambassador dogs" that roam throughout the airport.
"You can find them at a gate, check-in counter or roaming down the hallways," says Reg Krake, director of customer care at Vancouver Airport Authority. "They just bring a smile to everyone's face, and that has an immediate impact on people's stress levels and frame of mind."
This focus on wellness represents a major change for airports. "For 50 years, airports have relentlessly focused on luxury shopping and consumption, and you have to ask if that really serves anyone when they're travelling," says McGroarty.
However, some studies suggest that when people are less stressed they shop more, so airports may see this as an incentive, she adds. "If you can make people calm and let them wander as if they were at the mall, they might spend more," she says. "They're 'wellness priming' you for shopping."