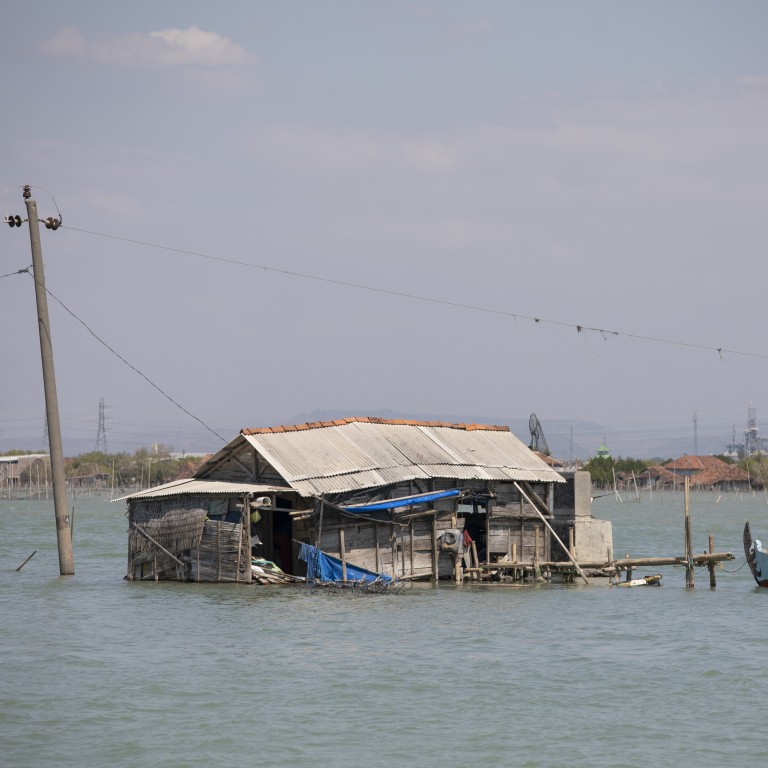 Climate change tourism: Indonesian village that sank offers grim lesson in the dangers of coastal erosion
On the northern coast of Java island, large parts of a village have sunk since the 1990s and more than 500 families have been forced to evacuate
As villagers plant mangroves and build sea defences, the drowned homes have become an eco-tourism destination, offering visitors a grim learning experience
Motorboats chug slowly down a canal running between mangrove forests in the village of Bedono, an eco-tourism area on the north coast of the island of Java, Indonesia. From a grove of mangrove trees, ruins of abandoned and partially submerged houses can be seen.
"The area that has now been overgrown with mangroves was once a residential area," says tour guide Aryo Rifai.
As he drives our boat through the eerie scene, Rifai explains that erosion by waves began to undermine Bedono in the 1990s, sinking three hamlets: Senik, Tambaksari and Mondoliko.
The erosion in Bedono is estimated by the country's Maritime Coordinating Ministry to be the most severe on the northern coast of Java. The area affected spans more than 2,000 hectares (eight square miles), and has shifted the coastline 5km (3 miles) inland.
More than 500 families have been forced to evacuate to safer areas. Around 300 hectares of ponds, hundreds of houses, and public facilities such as tombs, roads, bridges and mosques, have all sunk. Once fertile agricultural land was left to be swallowed by mangrove forest.
"People did not think that their prosperity would disappear because of erosion," says Rifai, 51, pointing out a mosque whose bottom is submerged in water, its walls blackened and dull. Storks, endemic to this forest and protected here, observe us, perched on mangrove branches.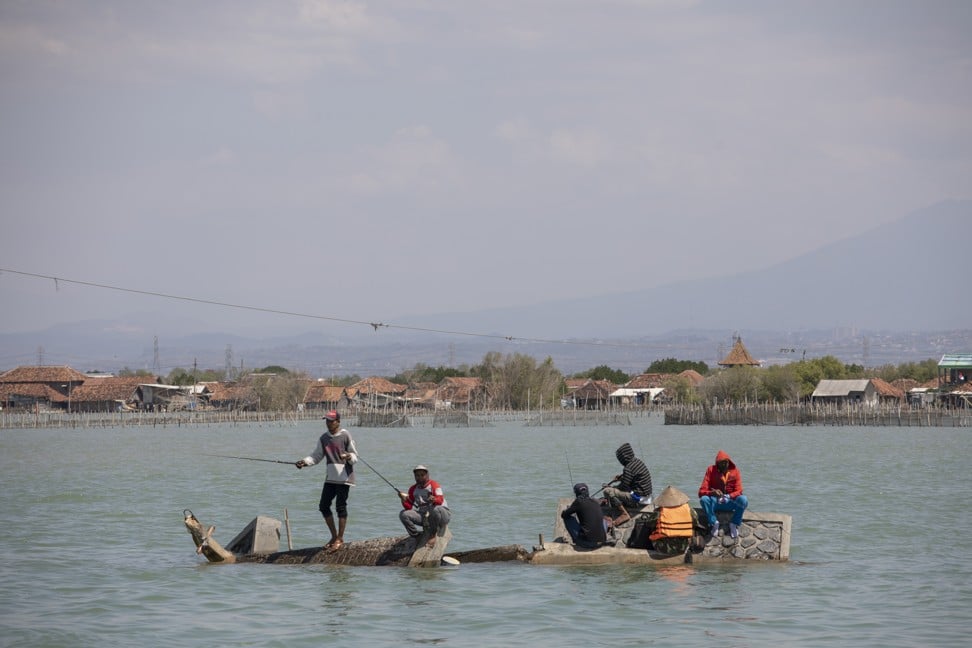 Rifai brings our boat out from the forest into the sea, to an area where once there were fish farms, public facilities and settlements. He used to work at one of the farms – his father's – before changing jobs to a boat driver and tour guide when it was swallowed up by the sea.
"In the past, that was my father's pond," he says, pointing to the water. "Now it's gone, into the sea."
Some people are fishing on concrete slabs that formed part of a bridge. A small building surrounded by the sea, but protected by a breakwater, turns out to be a tomb. To reach it, visitors walk along a metre-wide path that connects it to the nearest piece of land.
"Everything was destroyed by the waves, except Abdullah Mudzakir's grave. This is unique, isn't it?" Rifai asks.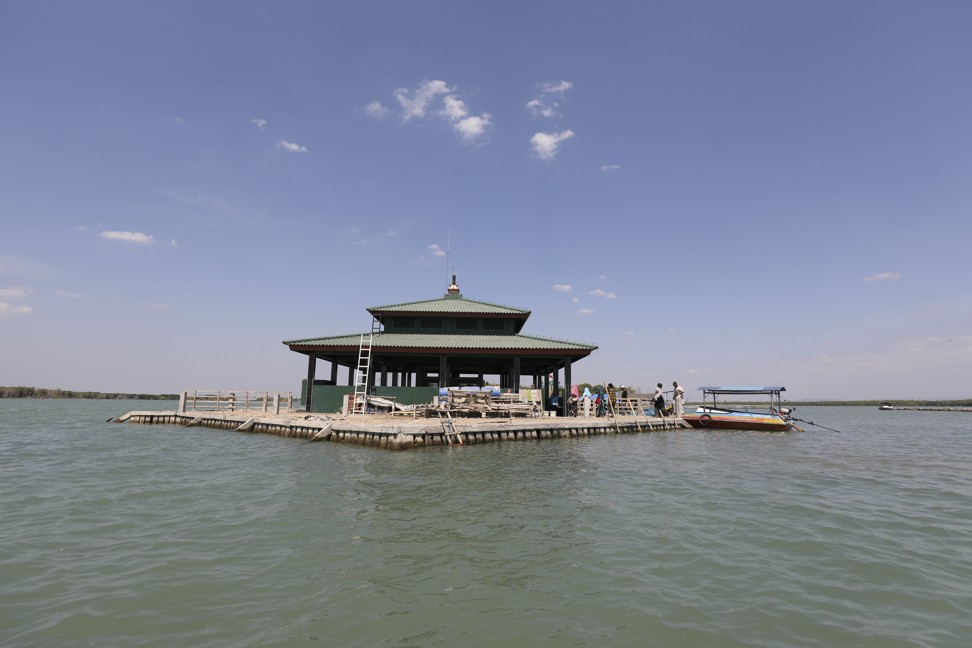 Many Muslim tourists agree. They make pilgrimages to the tomb of Mudzakir, a respected elder and cleric in the area. His tomb, and some others nearby, were the only things that did not sink, leading some locals to believe that there are supernatural forces involved.
Damaging erosion occurs in almost all coastal areas in Indonesia, a country of more than 17,000 islands. It is caused by various factors, including rising sea levels due to global
climate change
; the conversion of mangroves to fish farms; land subsidence due to overloading of buildings and excessive extraction of groundwater; land reclamation; and construction of infrastructure jutting into the sea.
As in Bedono, environmental damage across the Sayung sub-district in which the village sits has been occurring since the 1990s, when villagers began converting rice paddies and mangroves to fish farms. They raise milk fish that are harvested twice a year, and villagers continue to clear mangroves so that they can raise more.
Meanwhile, an influx of factories built around the Demak regency of which Sayung is part, and in the closest nearby city, Semarang, has placed too heavy a load on the land, and reclamation and infrastructure development in port areas has been carried out without taking into account the environmental toll.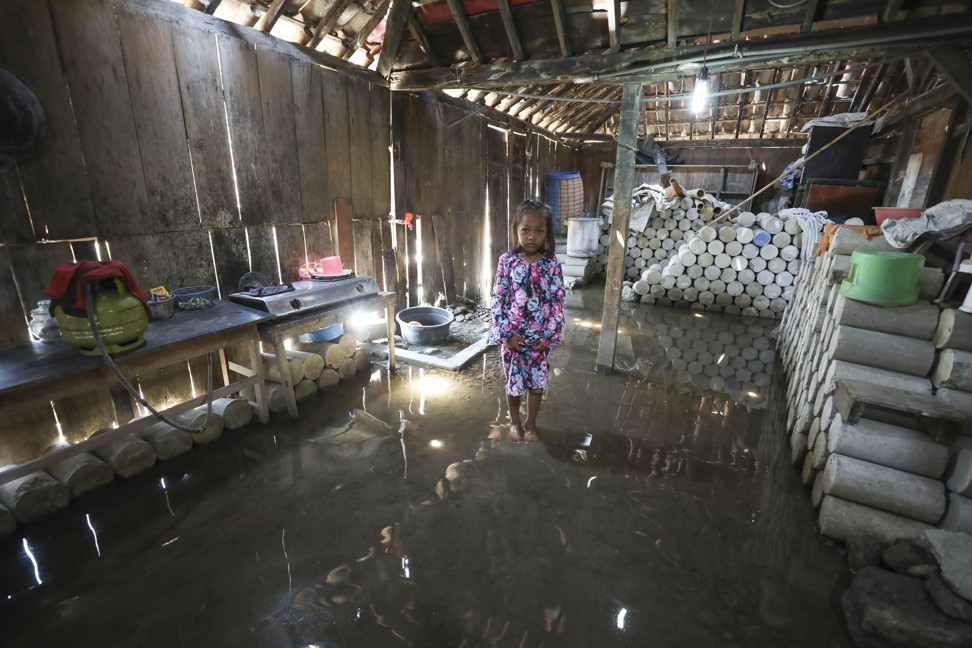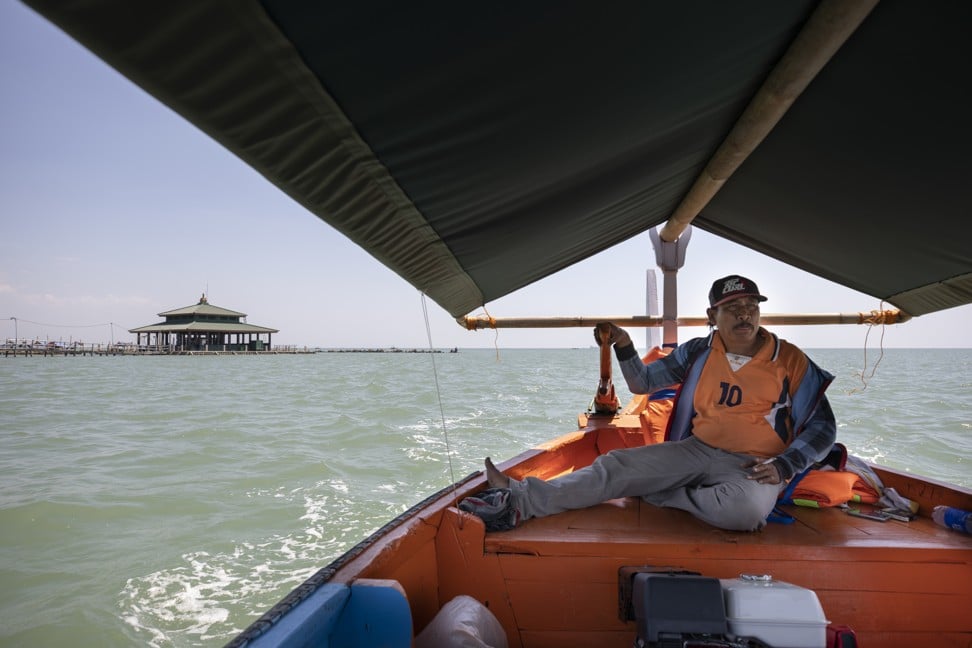 Since Bedono sank, the government and villagers have been planting more mangroves and building coastal walls made from concrete and bamboo.
"Even though there are mangroves and coastal walls, erosion is still a threat to coastal areas," Rifai says.
In 2017, the new mangroves in Bedono and its surrounding areas started to attract visitors. The government initiated mangrove eco-tourism, such as the boat tour I am on. Since then, many tourists – mostly domestic – have visited the destination. There is no charge to enter the area, but visitors are invited to make a voluntary donation.
"Many residents have switched professions to become tour service providers and food traders, but the majority are still fishermen," Rifai says.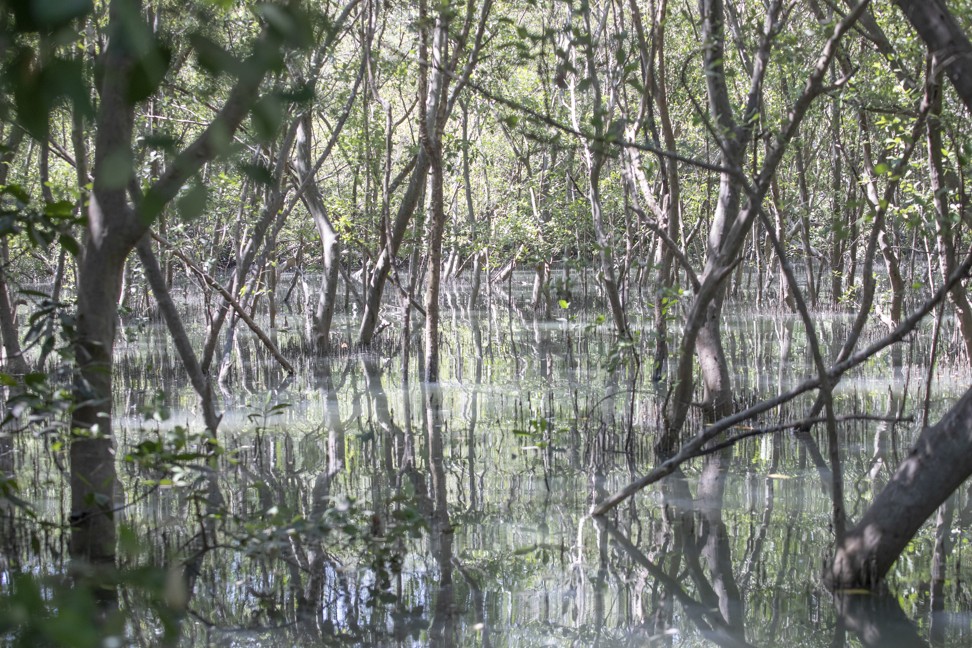 The Ministry of Environment and Forestry promotes mangroves as being the most productive type of coastal ecosystem. It says they reduce erosion and flooding while conserving biodiversity. Mangroves also store far more carbon than rainforests, reducing damage to the atmosphere and slowing the rise in temperatures and coastal erosion. Mangrove forests also provide an excellent ecosystem for shrimp, fish and birds.
Some 200,000 hectares of Indonesia's mangroves are destroyed or damaged every year, according to data from the ministry. The causes include deforestation of coastal ecosystems, reclamation, decreasing water quality, pollution, unsustainable cultivation practices, and exploitation of marine life.
Of the hundreds of families affected by erosion in Bedono, five refuse to be relocated. Today, they inhabit houses in an area surrounded by swamps and mangroves. Visitors to Mudzakir's tomb pass through their settlement en route.
Fauzan, 80, who uses only one name, is one of the five family heads. He claims to have a kinship with Mudzakir, and says he needs to guard his tomb.
"We have a moral responsibility to take care of him," he says.
Fauzan is aware of the risk that his house could disappear at any time, but he still does not want to move.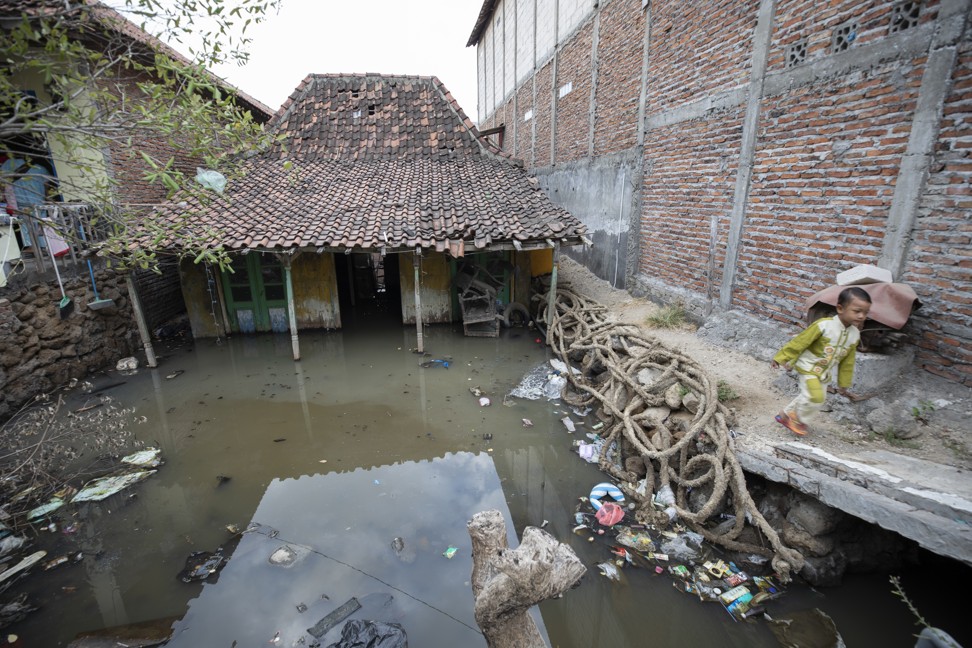 There are steep costs to pay when choosing to live in this disaster-prone area. Every year, Rifai must raise his house by 20 centimetres so that the tide does not flood it.
"Water continues to rise but the land continues to fall. The important thing is that we survive," he says, adding that he does not to have enough money to buy land and build a house in a safer area.
The number of villages in Indonesia with a high-risk status is increasing every year. Experts from the Indonesian Institute of Sciences (LIPI) predict sea level rise and land subsidence due to global climate change pose a serious threat to residents living in the coastal areas of Jakarta, Semarang and Demak.
"The increase in global sea level could result in increased costs for rehabilitation and forced migration, so there is an urgent need to address the effects of sea-level rise and land subsidence," says Sri Sunarti Purwaningsih, head of the LIPI's Society and Culture Research Centre.
While other tourist destinations in Indonesia sell natural beauty, Bedono's mangrove tourism is more about fulfilling people's curiosity about the origin of the village's sinking, and what can be learned from the phenomenon.
Muhammad Sholeh, a domestic tourist, says Bedono provides visitors with an interesting educational experience.
"This is interesting to see, as hundreds of hectares of land turned into the ocean because it was eroded by seawater," Sholeh, 58, says. "We see clear evidence of how climate change and environmental damage affects human life."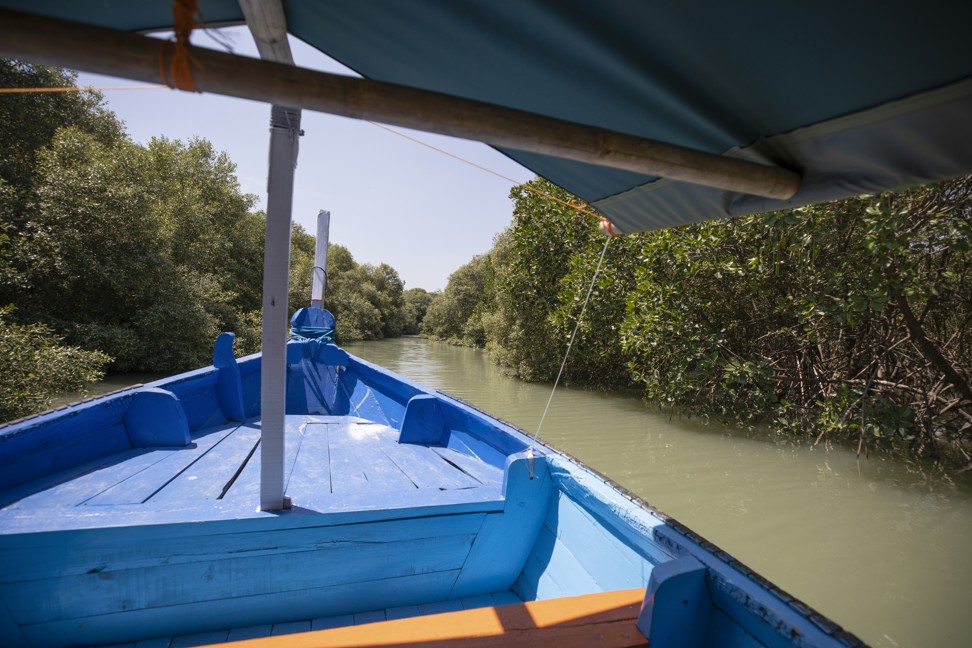 But Sholeh, who is also an environmentalist, regrets the lack of basic tourism facilities such as public toilets and rubbish bins.
"The local government and residents need to think about ways to make this tourist place more presentable," he says.
He adds that the government needs to continue to restore mangroves, given the benefits not only for environmental sustainability but also for the tourist attractions in Bedono.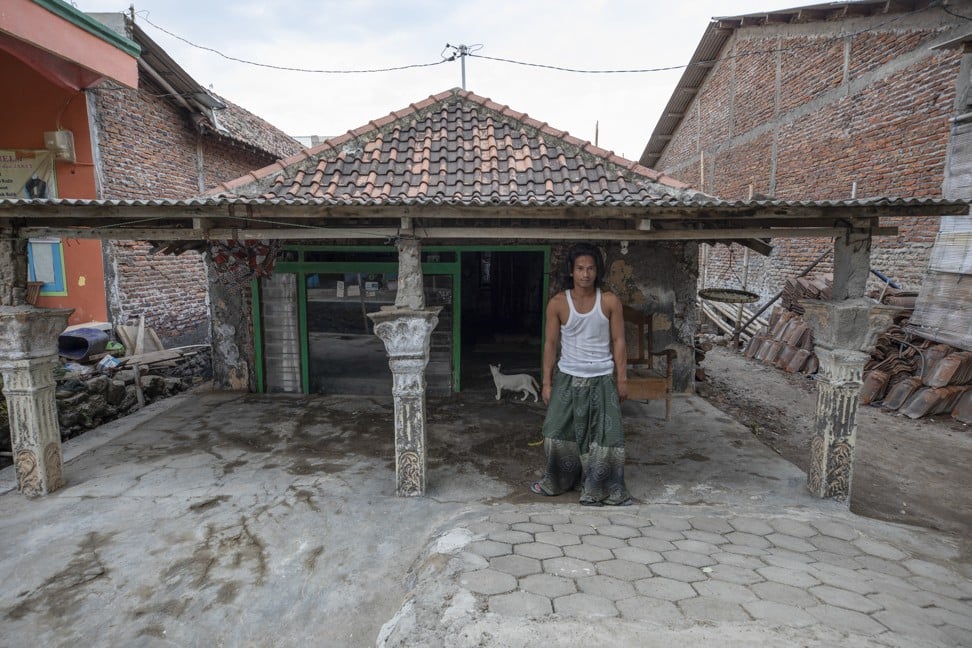 Rifai, who was born and raised in Morosari hamlet, not far from the shoreline, is grateful that he still has work and can meet his daily needs.
"I hope the government will find a way out of this issue and give more attention to our fate," he says.
Getting there: The nearest international airport, Ahmad Yani, is about 25 minutes away from Bedono by taxi or hired car. In Bedono you can rent a motorboat or trekking tour. The nearest hotels are about 20 minutes' drive away.
When to go: You can visit Bedono throughout the year. The best time of day to go is the afternoon so that you can enjoy the sunset and see groups of protected cranes in the mangrove forests. Boat tours should cost about US$7 per person but there are no official announcements of prices, so be ready to negotiate.
This article appeared in the South China Morning Post print edition as: Swallowed by the sea