Animals
Get more with myNEWS
A personalised news feed of stories that matter to you
Learn more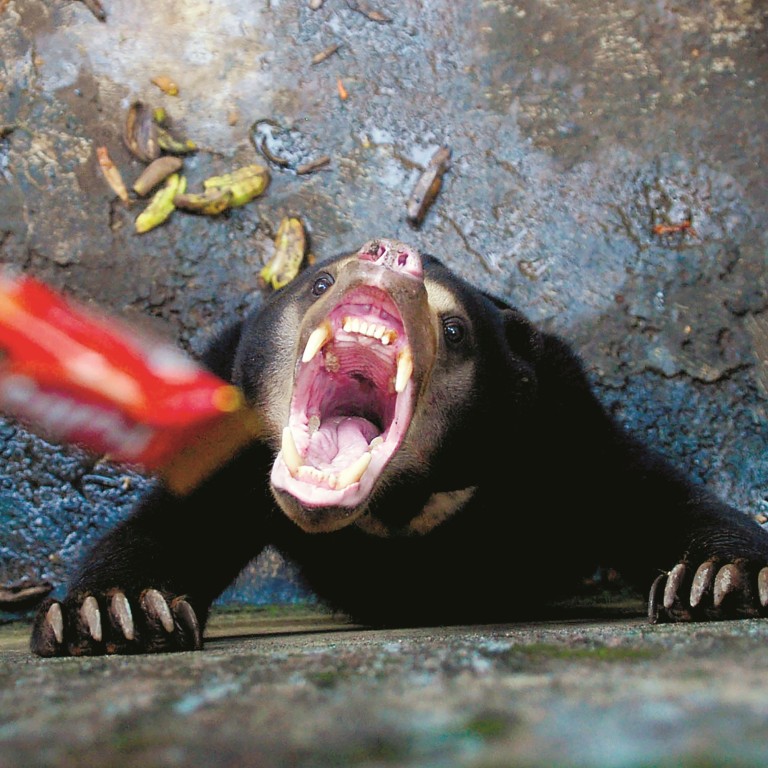 Animal cruelty still plagues Indonesia's zoos despite outrage voiced on social media, and government's pledges to do better
Activists say animals are underfed, kept in poor conditions and exploited for entertainment by performing circus acts for money
Government attempts at regulation and supervision have also fallen short so far
Indonesia is a country with a rich biodiversity. It is estimated more than 300,000 wildlife species – 17 per cent of the world's total, and many of them endemic – live in the archipelagic nation.
"According to a search by wildlife monitoring group the Scorpion Foundation in 2017, around 90 per cent of zoos in Indonesia are unfit for habitation," says Marison Guciano, of the Indonesia Animal Welfare Society. "I think the situation has not changed much now."
Indonesia has at least 84 zoos, not counting those that are unregistered or operate illegally. Guciano, formerly an investigator for the Scorpion Foundation, says its assessment was based on five animal-rights principles. The animal must be free from hunger and thirst, free from pain and injury, free from discomfort, free to behave wildly, and free from stress. "Most zoos have not met all of these criteria," he says.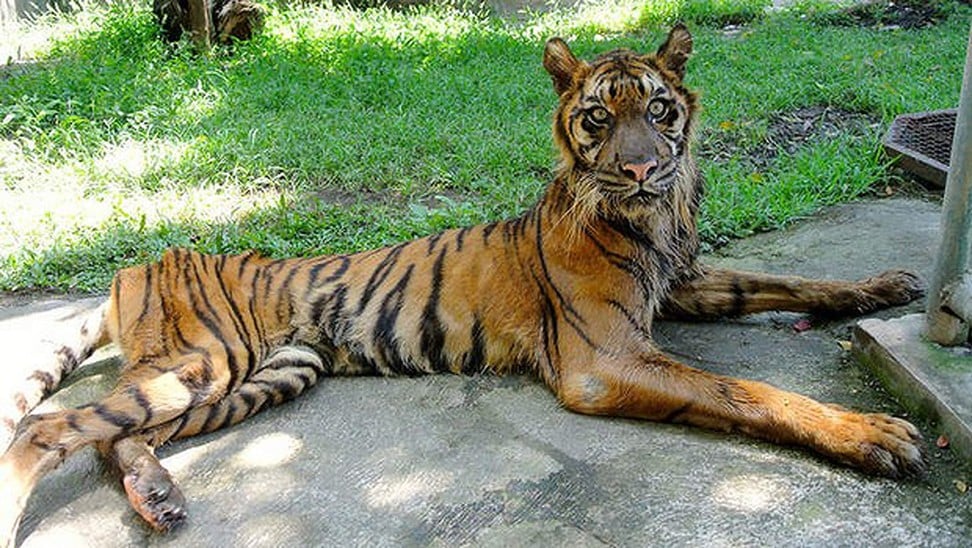 Various cases of violence against animals in zoos in Indonesia have been exposed, raising concerns about the fulfilment of animal welfare in these so-called conservation institutions. This summer saw a series of cases exposed through social media, sparking public outrage. In June, an internet user uploaded a video of a painfully thin sun bear kept in a zoo in Singkawang, a city in West Kalimantan. The video was retweeted more than 2,500 times, provoking responses of dismay and anger.
The West Kalimantan Natural Resources Conservation Agency issued a statement saying that the bear was in an unhealthy condition when the video was taken, but failed to offer details. The agency said the zoo's manager would continue to monitor and guarantee the welfare of the bear.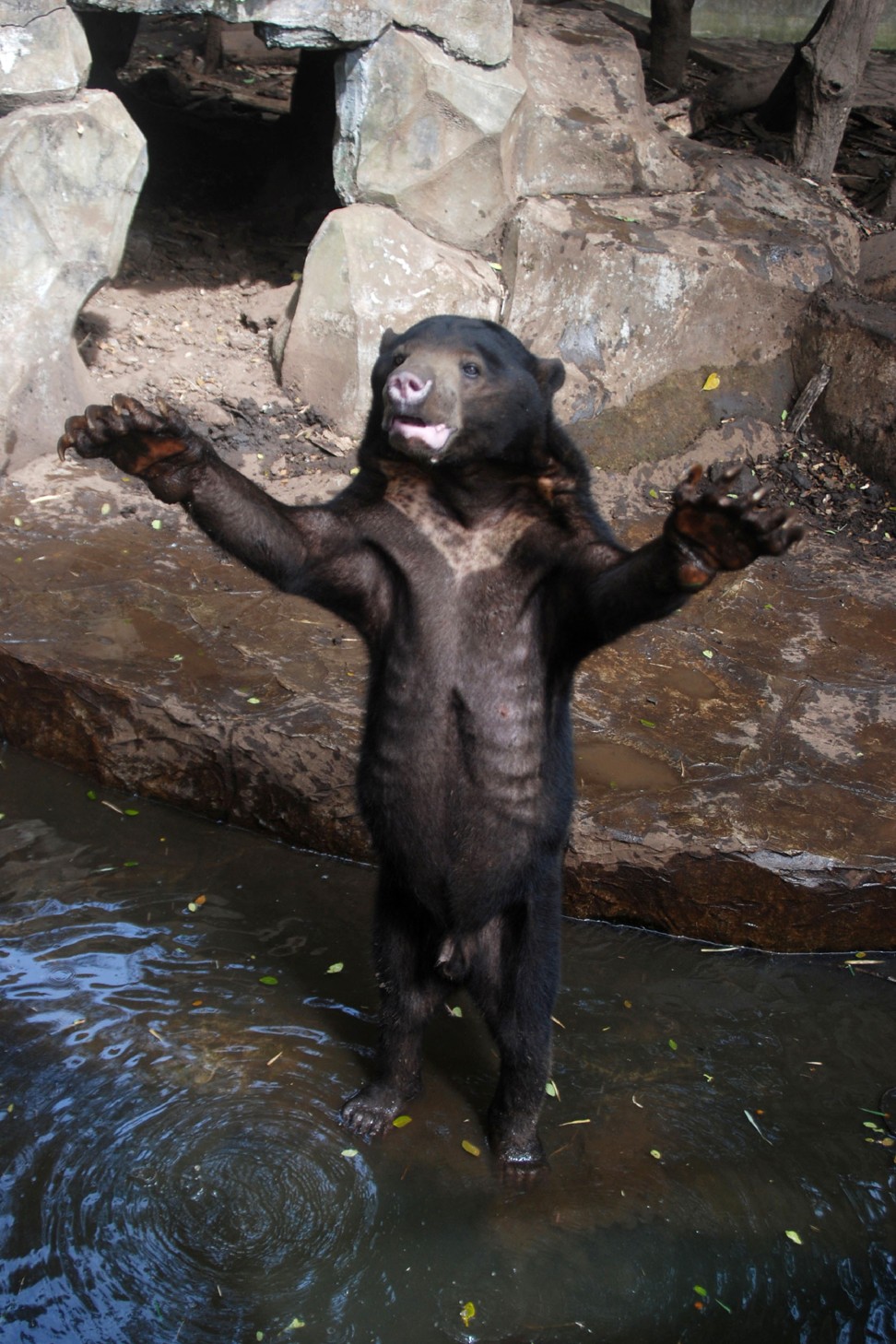 "The Sinka Islands Park Conservation Institute as a zoo manager is committed to returning, maintaining and monitoring the health and welfare of sun bears and other animal collections," the agency said.
In the same month, another internet user uploaded photos showing animal cages in a mini zoo in Cilodong, West Java, filled with plastic waste and used bottles. One image showed food for a cassowary that had rotted and not been replaced.
"The situation is very improper, and this is open to the public. Are there actions that can be done? Guys, what should we do about this?" the user tweeted.
The zoo's manager said in response that the zoo was dirty because of the large number of visitors leaving behind litter. After the tweet, the mini zoo was swiftly cleared up.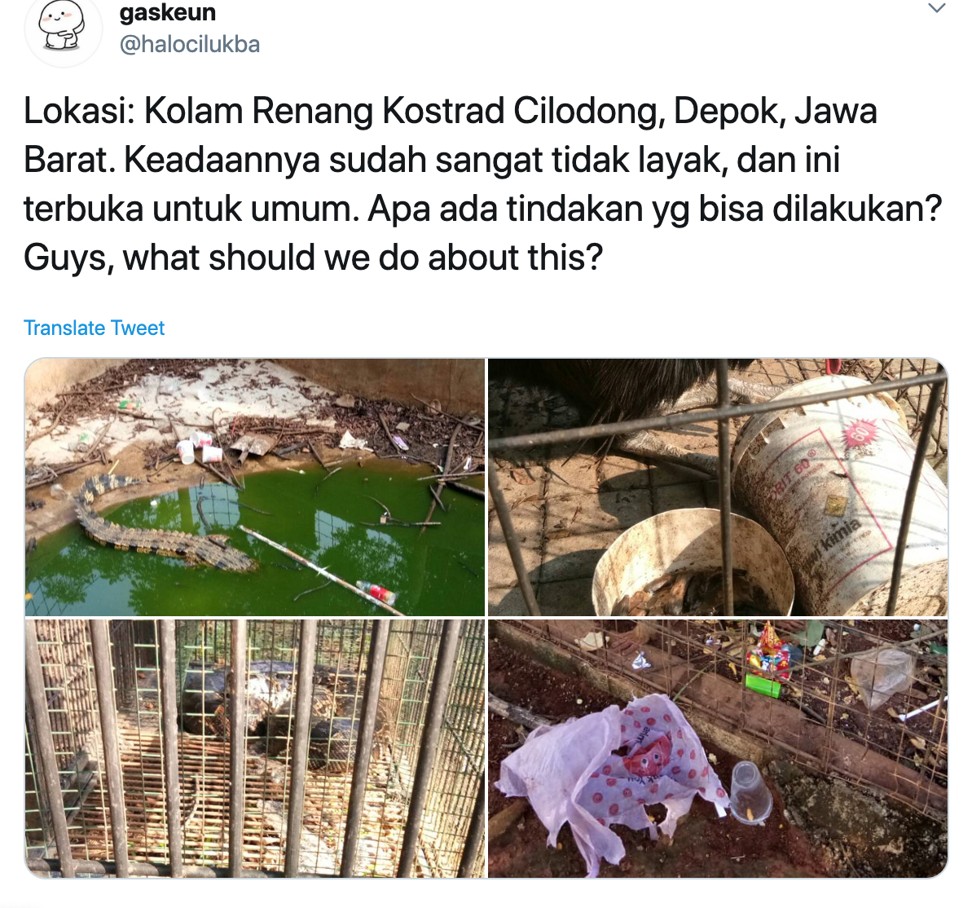 Another incident occurred at the end of June at the Surabaya Zoo, East Java, where a visitor recorded the beating of an orangutan with a stick. After the video went viral and drew public criticism, the zoo claimed that the beating was intended to separate two orangutans that were fighting, not to intentionally harm the protected animal.
The zoo in Surabaya has had such a bad record of violence against animals and animal deaths – including a young lion found accidentally hanged in his cage in 2014 – that it earned the nickname "zoo of death".
Based on data cited from Indonesian weekly magazine, Tempo, at least 130 animals died in the zoo in 2013 alone, including jaguar, deer and a Komodo dragon. According to the report, the deaths were mainly due to illness, and a lack of adequate facilities and animal keepers.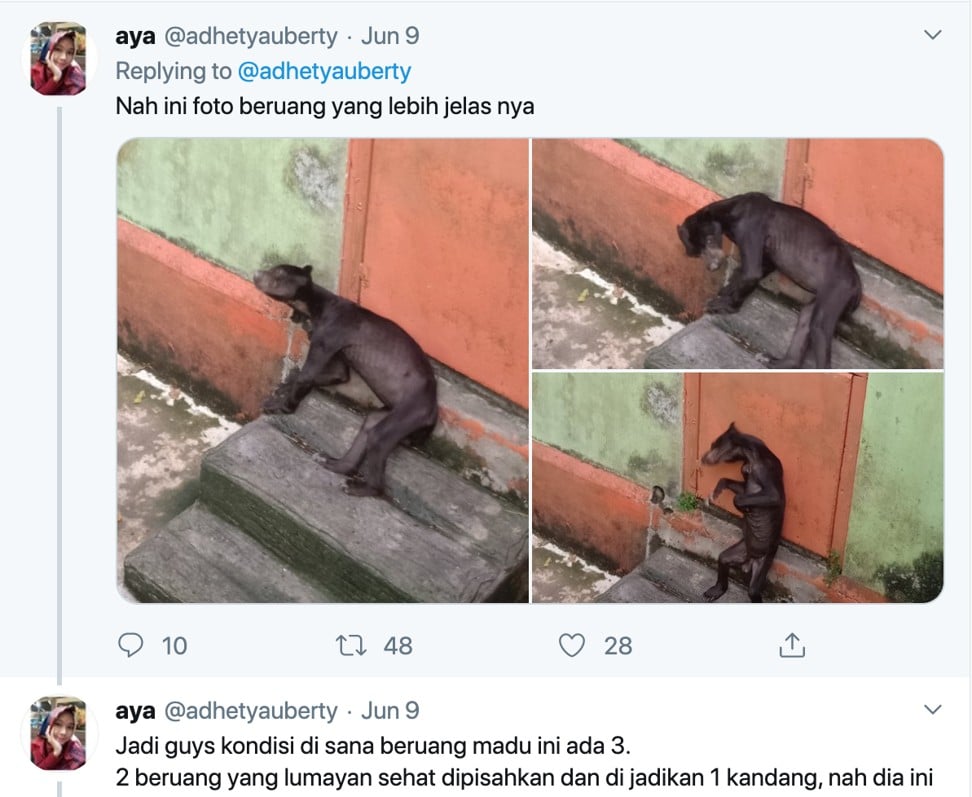 Since 2014, Indonesian media have reported some improvements at the Surabaya zoo. Although there have still been allegations of violence, the wildlife park has been licensed by the Ministry of Environment and Forestry [KLHK] as an animal conservation agency for the breeding of Komodo dragons, a reptile endemic to Indonesia.
Animal rights violations in Indonesia are regulated under an article of the Criminal Code which allows the sentencing of perpetrators to up to nine months' imprisonment. However, weak law enforcement means those responsible for animal abuse are rarely brought to court or convicted.
Guciano says the 2017 assessment of zoos and wildlife parks revealed a lack of access to food and water, poor treatment by officers, cages that are too narrow and dirty, and a lack of control over inappropriate visitor behaviour. Many zoos also do not have permanent medical personnel or veterinary surgeons, even though this is required according to regulations.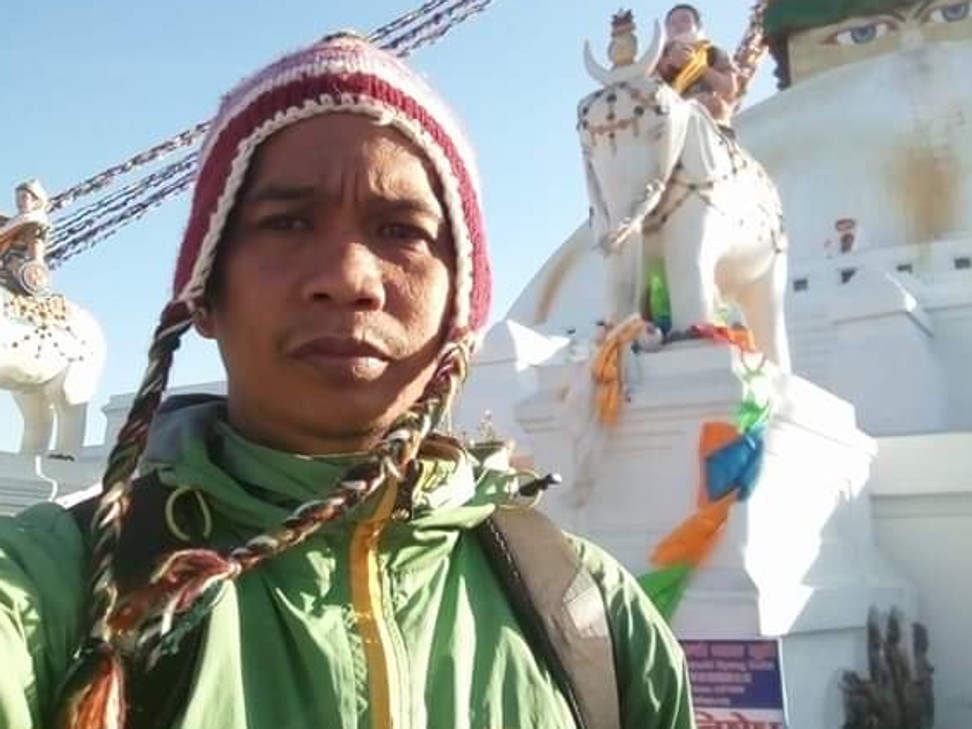 Despite the bad conditions of the zoos, the enthusiasm of the local community to visit them is high, especially on religious holidays and the new year, when visitors to the Ragunan zoo in Jakarta, or to KBS in Surabaya, can number more than 50,000 a day.
"To make them able to entertain, they also have to go through training that is full of violence," Guciano says. Other animals such as eagles and tigers are found chained up so they visitors can take selfies with them.
Guciano hopes the government will soon standardise zoos in Indonesia to at least ensure basic animal rights, as well as eliminate entertainment shows involving animals.
The secretary general of the Indonesian Zoo Association, Tonny Sumampau, acknowledges that the country's zoos experience complex problems due to a lack of financial support, and cannot ensure all basic animal rights. "We must admit that many zoos in Indonesia still do not meet standards. That's because they lack funds," he says.
Animal welfare activist Rosek Nursahid, of Profauna Indonesia, says there are several factors that make violence against animals in Indonesian zoos a regular occurrence.
"First, from a regulatory point of view, there is no mechanism to impose sanctions when the zoo violates the rules of animal welfare," says Nursahid. The government should enforce strict rules and sanction institutions that have violated animal rights, such as by revoking their licences and launching legal action against them, he says.
The director of biodiversity conservation at the Ministry of Environment and Forestry (KLHK), Indra Exploitasia, recognises that to be able to provide basic animal welfare, zoos in Indonesia need to be held accountable. In future he hopes the zoos will meet international standards.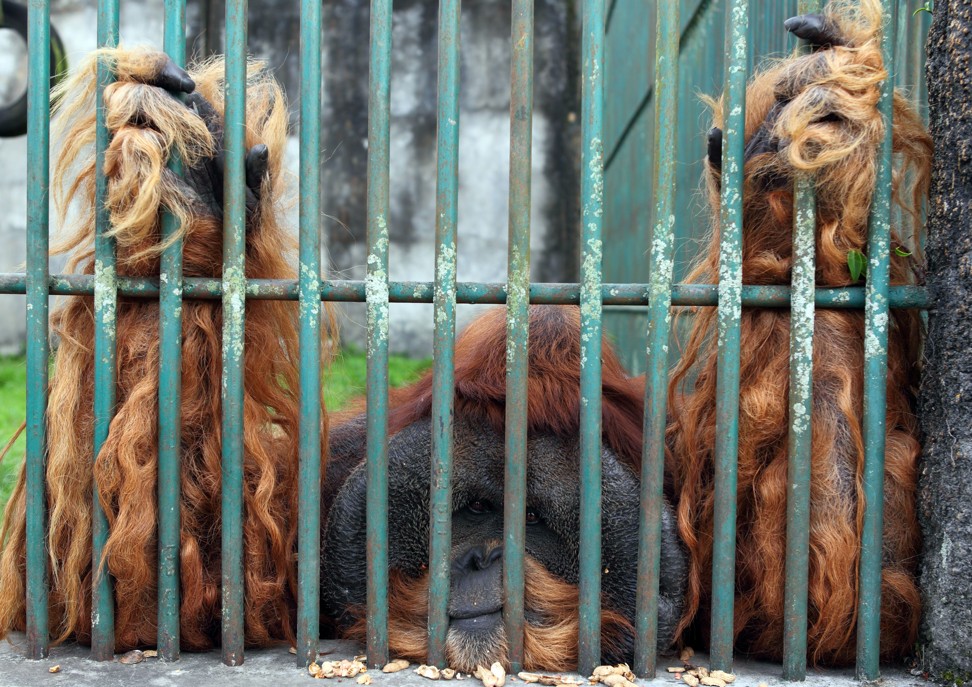 To achieve this, in 2017 the government launched a policy to standardise management of zoos and conservation institutions in the country. However, KLHK data shows that only about 20 zoos out of 84 have completed accreditation to date. At a gathering of the Indonesian Zoo Association in July in Jakarta, Exploitasia said that by 2020, the ministry want all conservation institutions to be fully accredited.
Another problem, says Nursahid, is that many zoos have a commercial orientation rather than prioritising their role as a conservation institution. This has a negative impact on the welfare of animals, especially those
that are used as entertainment for visitors
.
"Visitors often interact physically with animals, for example by holding and riding them, or taking pictures together. It can stress the animals out, so it's better not to have any physical contact with them," says Nursahid.
Physical contact also allows transmission of some 22 zoonotic diseases – including tuberculosis, rabies, toxoplasmosis, and leptospirosis – from animals to humans.
Nursahid says zoos should educate visitors about how – or how not – to treat the animals. Officers must also regularly patrol and reprimand visitors who break the rules.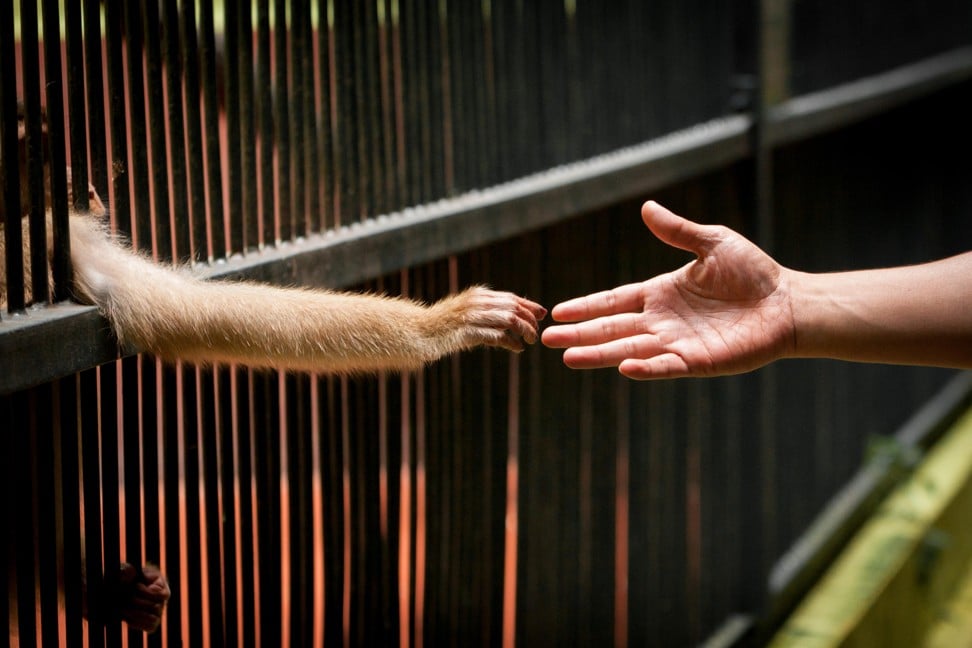 "Visitors should not feed or hold animals," he says. "They must also complain to the zoo manager if they see violence against animals."
If all else fails, Nursahid suggests that visitors post photos or videos of abuse or neglect on social media. While long-term solutions are needed, in the meantime continuing to expose cruelty to other visitors is one effective way to hold institutions accountable for how they treat the animals under their care.
This article appeared in the South China Morning Post print edition as: Cruel and unusual