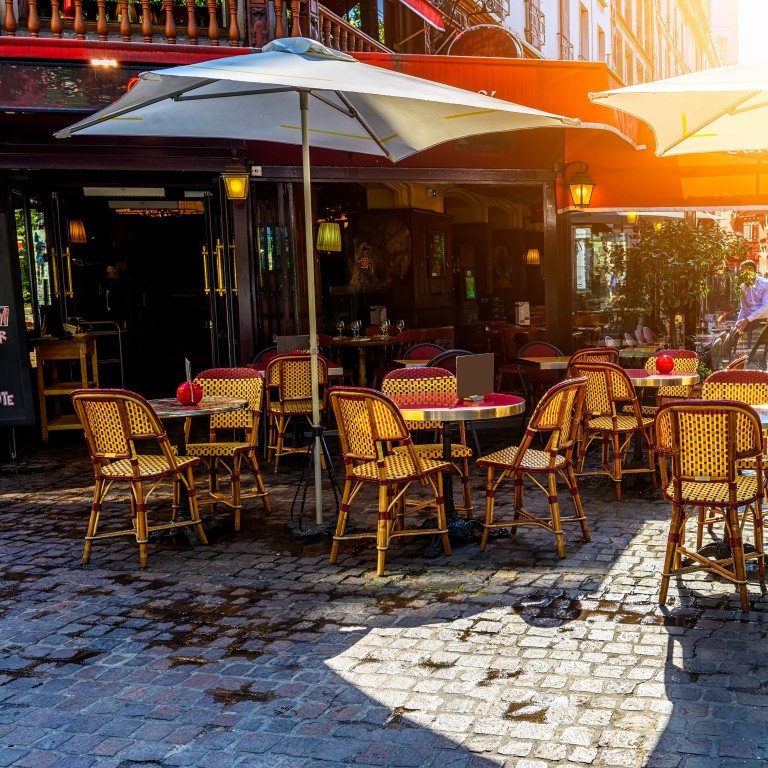 First Paris, soon London, what of Hong Kong? Outdoor dining expands after the Covid-19 lockdown, and for the French the change could be here to stay
Paris has brought in temporary rules allowing bistros and cafes to extend their pavement terraces to help them recoup earnings after a coronavirus lockdown
Outdoor seating has taken over car parks and whole streets. A Parisian restaurateur until recently in Hong Kong says city could allow more al fresco dining too
Many of the world's cities, Hong Kong included, have long had love-hate relationships with al fresco dining; diners would like to see more of it, while motorists and others who benefit from restaurants remaining indoors usually get the backing of the authorities.
As one particularly bold city emerges from Covid-19 lockdown, however, its residents are getting a taste of what a more outdoor dining scene feels like. Should Hong Kong diners dare to dream?
From Montmartre to Saint-Germain, the Bastille to the Champs-Elysées, Paris' cafe pavement terraces have spread over once sacred parking spaces, even extending across whole streets. Overnight, bar and bistro owners have set up creative barriers to guard their newly won territory; luxuriant plants and potted vines, bamboo screens, plastic palm trees, even giant teddy bears on guard in deckchairs.
It is nothing less than a revolution, and moreover, it could be here to stay.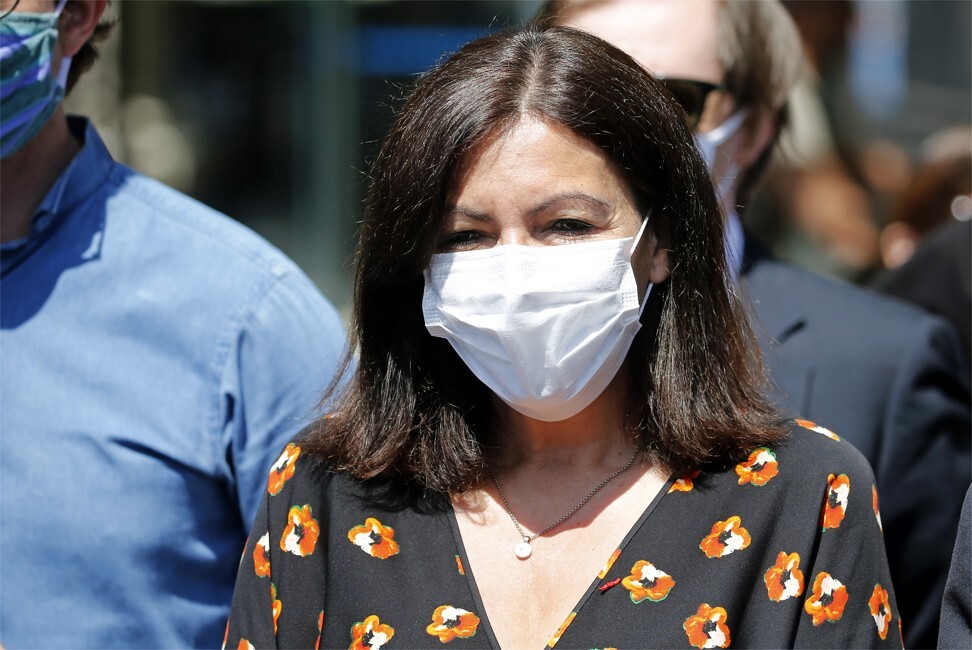 President
Emmanuel Macron
is moving fast to open up the country, to stimulate the economy, and flashing round the globe are images of Parisians returning en masse to sit out on their beloved cafe terraces, enjoying timeless rituals such as the morning café au lait and croissants, a lunchtime plate of steak frites, a chilled glass of chablis or refreshing pastis as sunset aperitif.
Paris Mayor Anne Hidalgo, in the midst of a fierce re-election campaign, immediately decided to allow bars and restaurants to try to make up for the loss of earnings during lockdown by extending their pavement terraces, a measure adored by her electorate and which will last at least until September 30.
Hidalgo has long campaigned to "give Paris back to Parisians", banning cars from motorways, limiting traffic during pollution peaks, planting green streets and massively extending the bike lane system.
Her initiatives have been copied by cities around the world, and the same looks to be happening with this terrace expansion; London has already announced similar measures for its West End for when pubs and restaurants reopen there in July.
"I am convinced that some good can come out of this pandemic if we start thinking outside the box, take opportunities we have never dared to before," says Yves Camdeborde, France's "King of Bistronomy" (affordable gourmet cuisine), who oversees a row of trademark Avant wine bars, a seething bistro packed from morning to night, and a boutique hotel on Paris' Left Bank.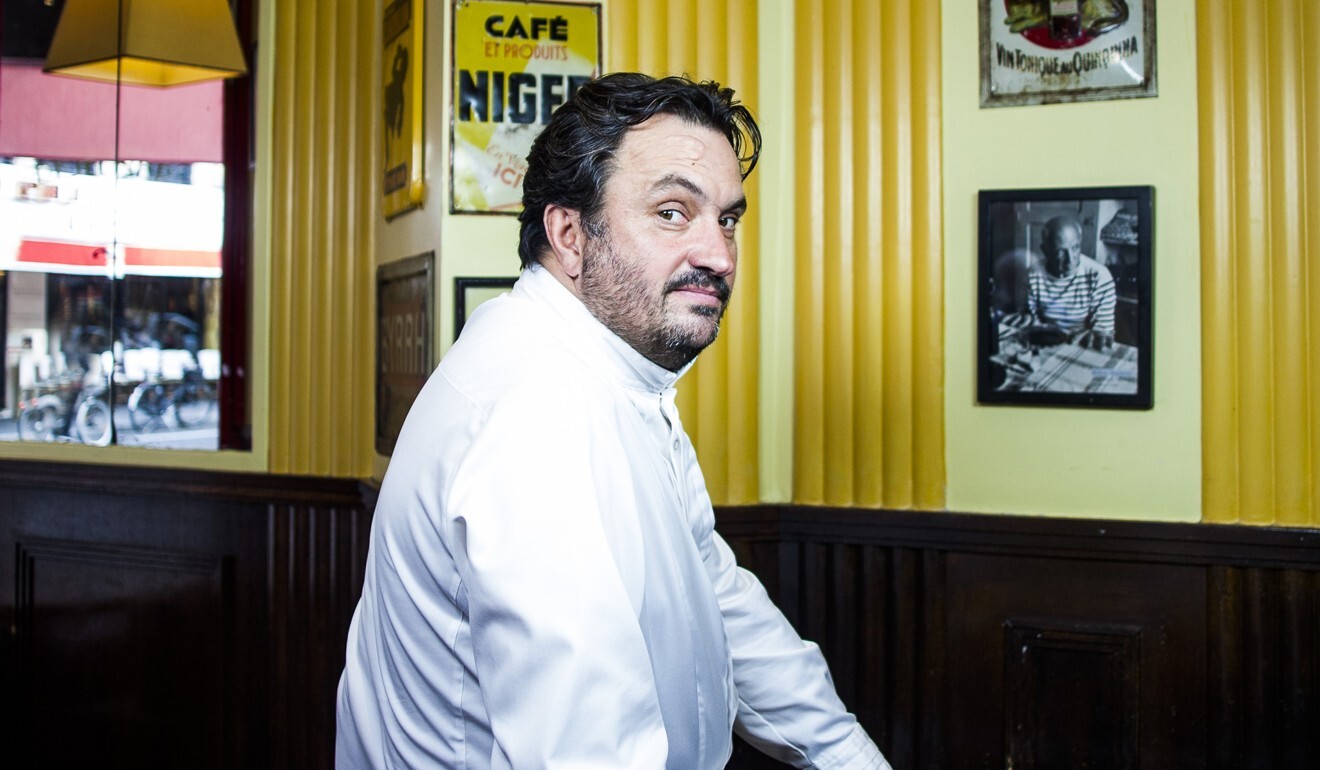 "These extended terraces must become a permanent feature of what will be a new Paris – more beautiful, a more human city. Just look at the smiles on people's faces. Let people sit out on the pavement eating and drinking immediately makes the city come alive again."
The Town Hall has established strict but workable rules for this terrace revolution; each establishment must sign and display its own charter mapping out the new pavement space, agreeing to sanitise and keep it clean of cigarette butts, keep noise levels down for the neighbours, and be responsible for the safety of customers.
"Obviously, the municipality must impose a clear and strict set of rules that respect all the other people on the pavement, from mothers pushing prams to handicapped people and delivery men, otherwise there is a risk of anarchy," says Camdeborde. "But given a choice between cars and pedestrians, then this is the moment to get rid of cars as much as possible.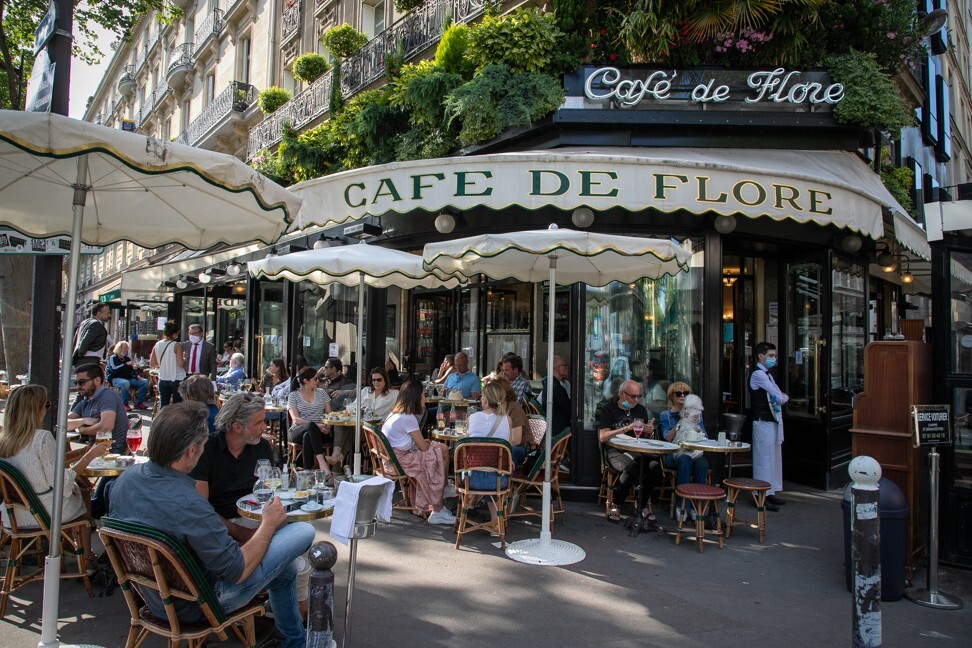 "I know Asian cities like Hong Kong well, and there is no reason why this kind of regulated measures cannot be implemented there, too. Just have an open mind and try."
The Left Bank's legendary Café de Flore already boasts the most celebrated Parisian terrace, immortalised by photographers and frequented by the likes of Simone de Beauvoir, Jean-Paul Sartre, Alain Delon and Brigitte Bardot. The owners have chosen to make only a subtle, intimate extension of a dozen extra tables. So now patrons can sit down for a glass of champagne outside the neighbouring bookshop L'Ecume des Pages, which invited Flore to colonise its pavement.
"It would be marvellous if it becomes permanent," says shop assistant Julien Doussimault. "The neighbourhood feels more charming and our literary customers love it."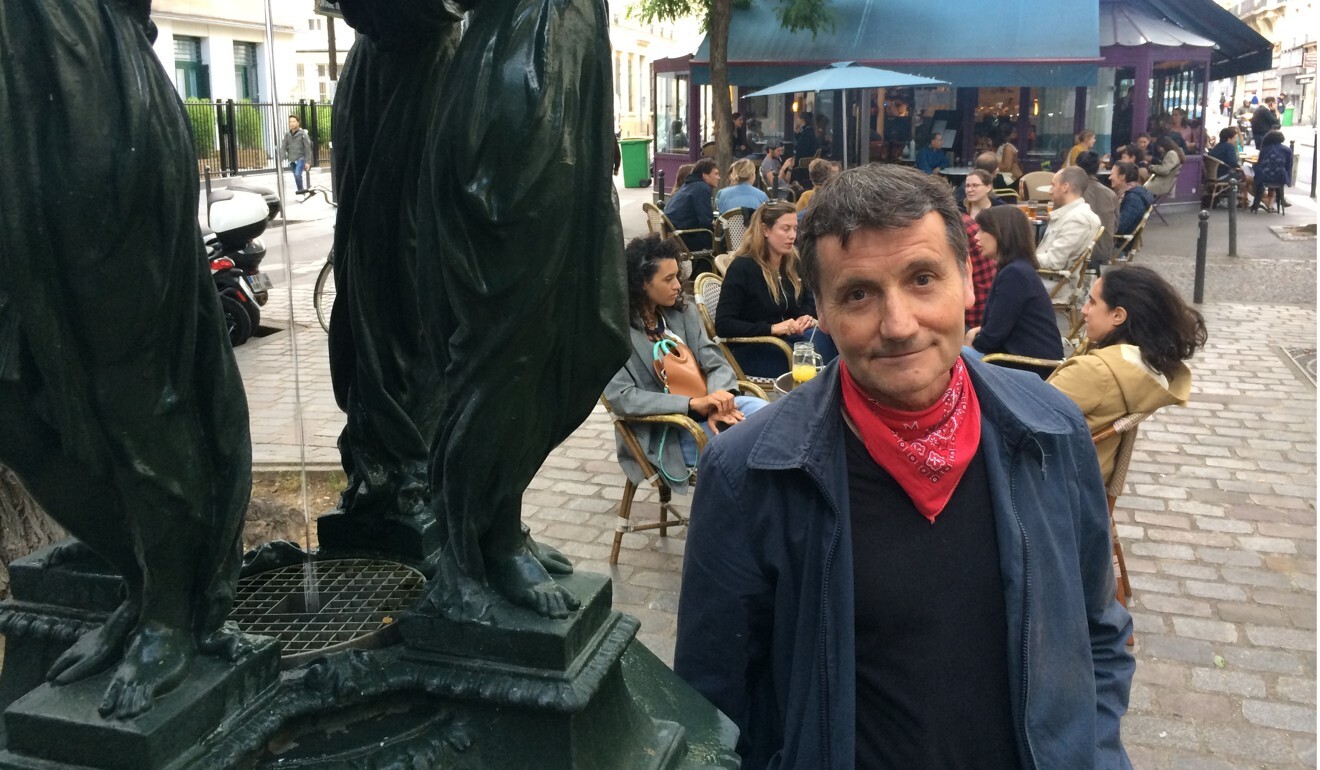 Sébastien Dumont, head waiter at the Flore, is more pessimistic, predicting that "after September 30, I am sure they will think of some way to prohibit the new terraces, as there are too many entrenched political interests and motorist lobbies who are opposed to any kind of radical change like this."
Some Parisians see both sides of the argument. In the nightlife neighbourhood around Rue Oberkampf, Patrick Fiori, a retired journalist, finds an oasis of peace at a table in the shady cobbled square outside his local cafe. "I am not a great fan of pavement terraces – too much pollution, cars and motorbikes roaring past, bikes and pedal scooters zigzagging between tables. I prefer an isolated place like this or under the trees in a park.
"I don't own a car, but can understand that with parking spaces vanishing everywhere, motorists are obviously not very happy. But then all Parisians love complaining! The solution everyone should be looking at is closing off certain streets completely to cars and letting cafes and restaurants take over the whole space. That at least would be a radical, long term solution."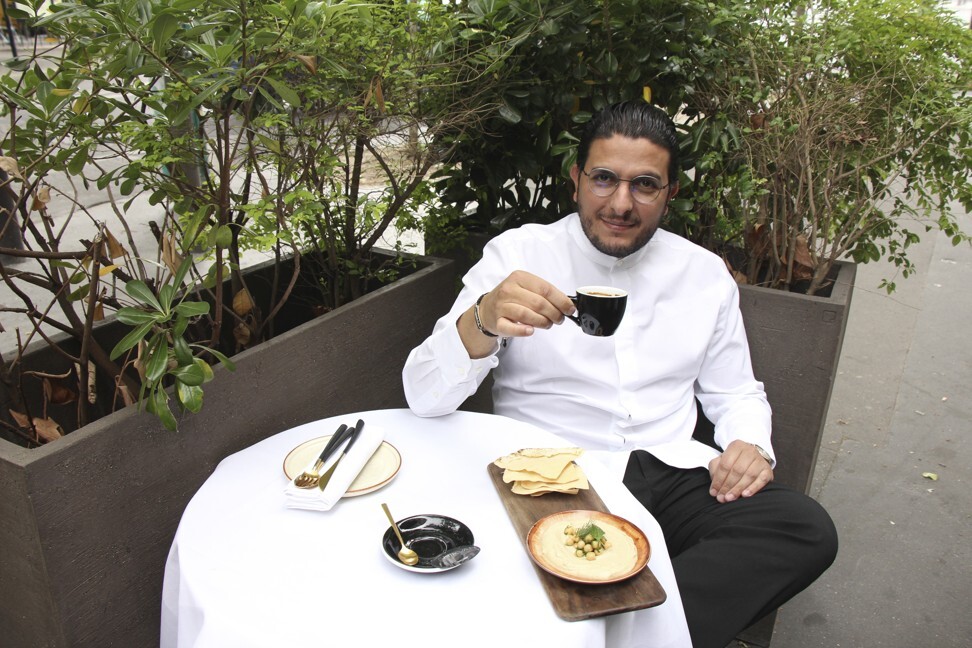 Akrame Benallal, one of the rising stars of the French gourmet scene, has run restaurants in both Paris and Hong Kong. The young Michelin-starred chef had two fine-dining eateries in Wan Chai until recently, when he decided to concentrate on his core Parisian business.
"I believe in taking advantage of situations and for me, this is a great period to have new ideas," says Benallal. "Just look at old sepia pictures of the City of Light; people lived outside, crowding the pavements outside their favourite cafes, bistros and brasseries. And that image attracted and enchanted tourists. So I hope this is the moment to return to those nostalgic times.
"Could this also be time for a change in Hong Kong? Personally, I worry that Hong Kong is just too dense, too crowded to cope with enlarging cafe terraces. But the tradition of street food stalls is so strong – why not build on that and select a certain number of streets that will be permanently closed off to cars, allowing people to eat and drink everywhere within a controlled and ordered area?"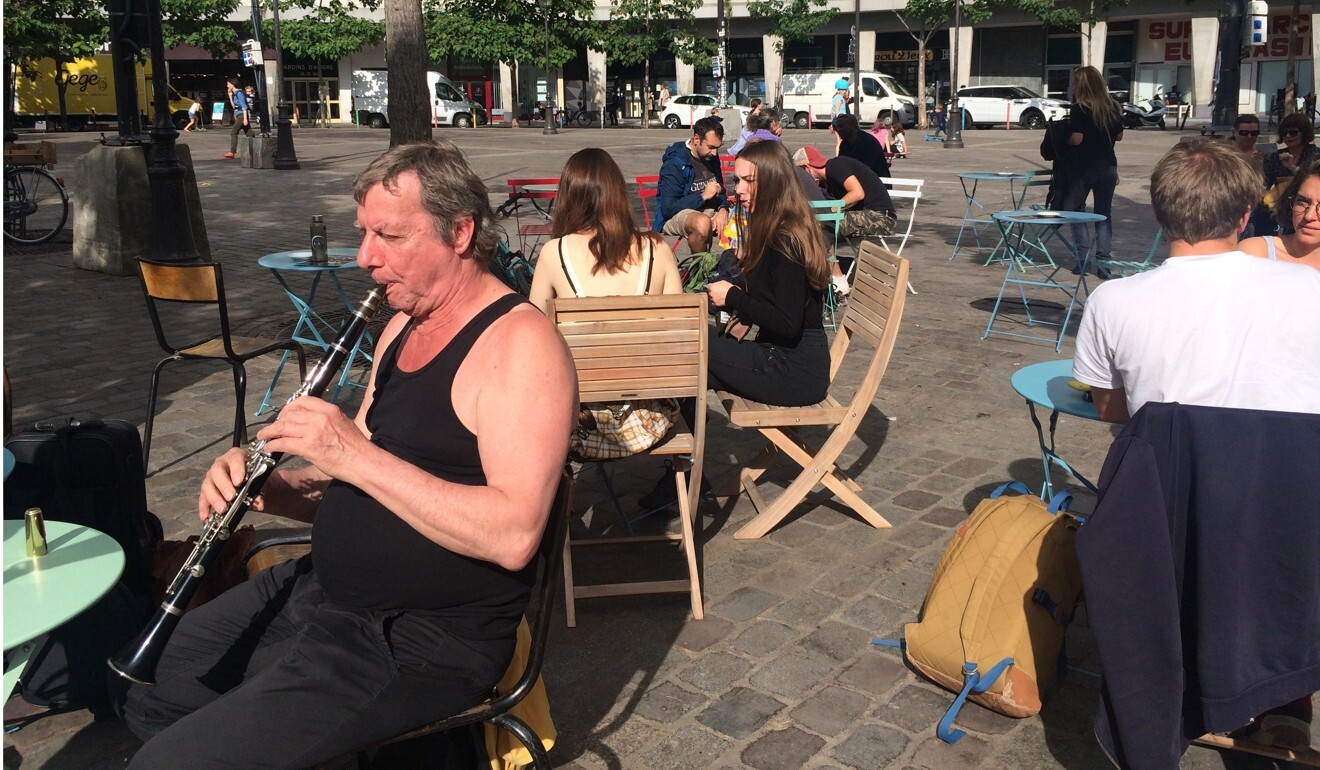 Professional musician Claude Montis is playing soft samba during an impromptu performance on Cafe Chez Camille's huge new terrace on the bohemian Place d'Aligre, near the Bastille. He enthuses on the cultural possibilities of an outdoor urban landscape.
"If these changes become permanent, or at least return every summer, then why can't music, theatre, dance and art create complementary events alongside Parisians eating and drinking on terraces, creating a whole new world of possibilities," Montis says.
Hidalgo is certainly categoric, saying: "Cafe terraces are where Parisians meet and enjoy themselves, the soul of our city, and I am favourable to permanently extending both these enlarged terraces and making certain streets totally pedestrian, as long as it conforms to rules we set down to regulate the situation."
Sipping a coffee on the terrace of Montmartre's Cafe Ronsard, Julia, a Belgian tourist taking advantage of the recent reopening of frontiers within the Schengen passport-free travel zoen, sums the situation up perfectly: "Just look at this fantastic view over Sacré-Coeur's basilica. Let's hope we can always sit out like this and enjoy it – Vive la révolution!"
This article appeared in the South China Morning Post print edition as: A French revolution