Wellness
Get more with myNEWS
A personalised news feed of stories that matter to you
Learn more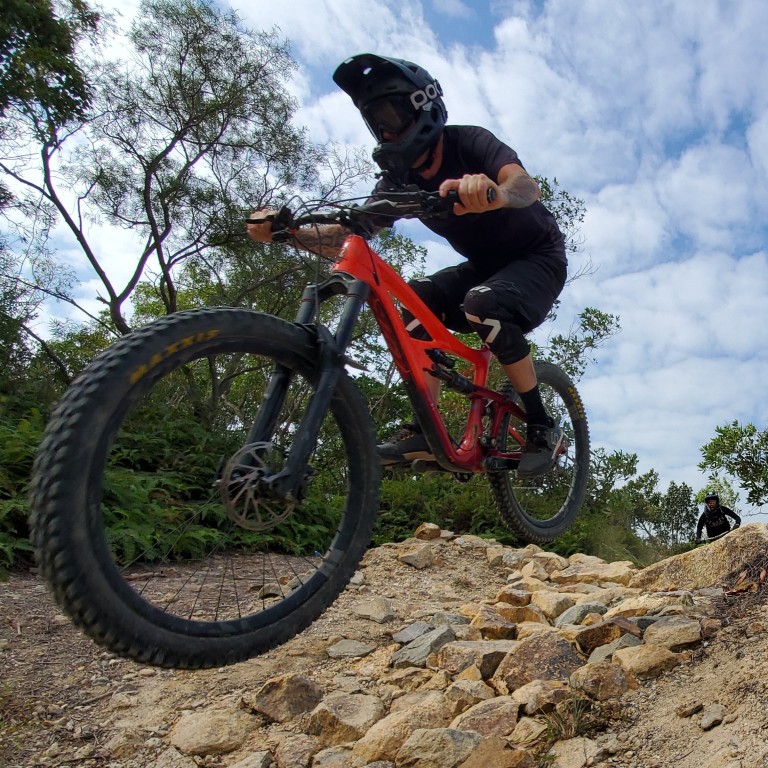 Mountain biking for beginners: everything you need to know, from kit and accessories to cycle set-up and which trails to follow
Mountain biking is great fun, but preparation is important, especially for novices, and this handy guide should get your wheels turning
Hong Kong's trails include tracks for beginners and advanced riders; never tackle unfamiliar ones alone, no matter your level of experience
Mountain biking is, for many riders, all about getting out into nature and having fun. Hong Kong has one of the best city-based trail networks in Asia, making it relatively easy to take on
micro biking adventures while social distancing
.
However, there are some factors beginners should pay attention to and things to learn about before they hit the trails, especially as many of the trails in Hong Kong are of an advanced nature.
The bike
There's no need to spend HK$40,000 (US$5,000) to get a machine suitable for most Hong Kong trails – but you do need at least a decent mid-range bike (from HK$6,500 upwards) to tackle even some of the less taxing off-road routes.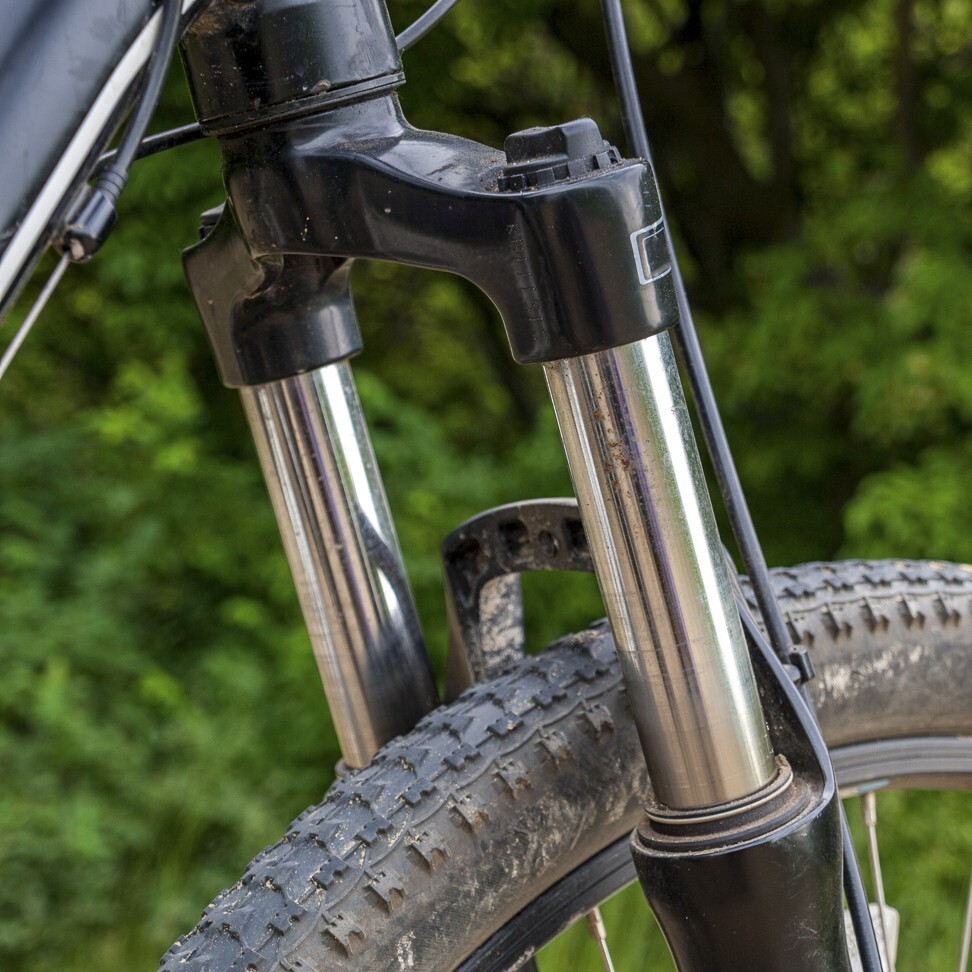 Buying from a reputable dealer – such as the Flying Ball Bicycle Company, in Lai Chi Kok, Kowloon – is strongly advised. Not only will the staff help set you up, the bike will be ready to ride and you can change parts to suit your needs at the time of purchase. Stick to well-known brands (Giant, Trek, Merida and Specialized, for example); slightly older models will give you more value for your money.
Front suspension is essential for most Hong Kong trails, and disc brakes are advisable. Unless you're going for a higher-end bike (more than HK$10,000), it's not worth considering full suspension, as that will mean compromising on the overall specifications to cover that cost.
Accessories
A good helmet can save your life. There's no need for a super expensive model, but do invest in a genuine brand, from a bike shop, rather than from an unknown online retailer. Make sure you wear the helmet correctly; this means it not being too loose or pushed to the back of your head.
Protective eyewear is vital for off-road riding, both for UV protection and to protect your eyes from the grit, branches and bugs you'll inevitably encounter. Avoid cheap copies; they are often not UV protective. There are many good budget options, but do make sure they fit securely.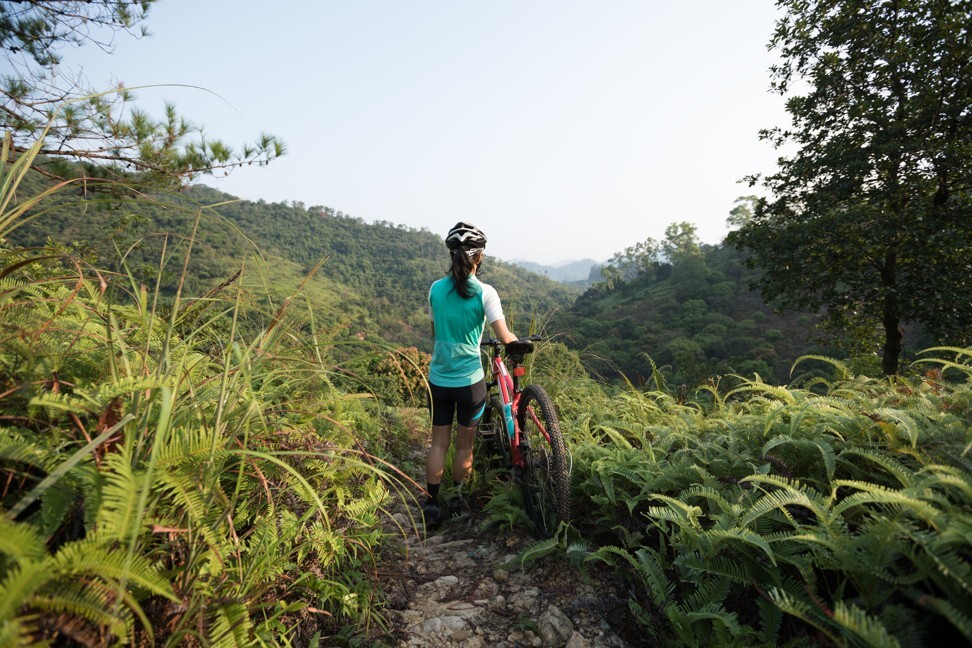 Fingerless, padded cycling "mitts" will protect your hands when falling; full finger cycling gloves will increase your protection significantly. Knee and elbow pads are well worth considering for riding more challenging trails, and can be pulled down or removed for riding uphill or on easier trails.
Most new bikes come with awful pedals, cheap "rat trap" metal or plastic types that will smash a rider's shins. The assumption is that buyers will make their own choice of pedals, and you should. Buy flat pedals and match them with rigid soled shoes to prevent the painful bending of feet, or better still, a pair of clipless (SPD) pedals and compatible mountain bike shoes.
Well-padded cycling shorts with a bib – built-in straps resembling braces – will save your nether regions from all sorts of discomfort (do not use underwear with these) and can be combined with baggy overshorts.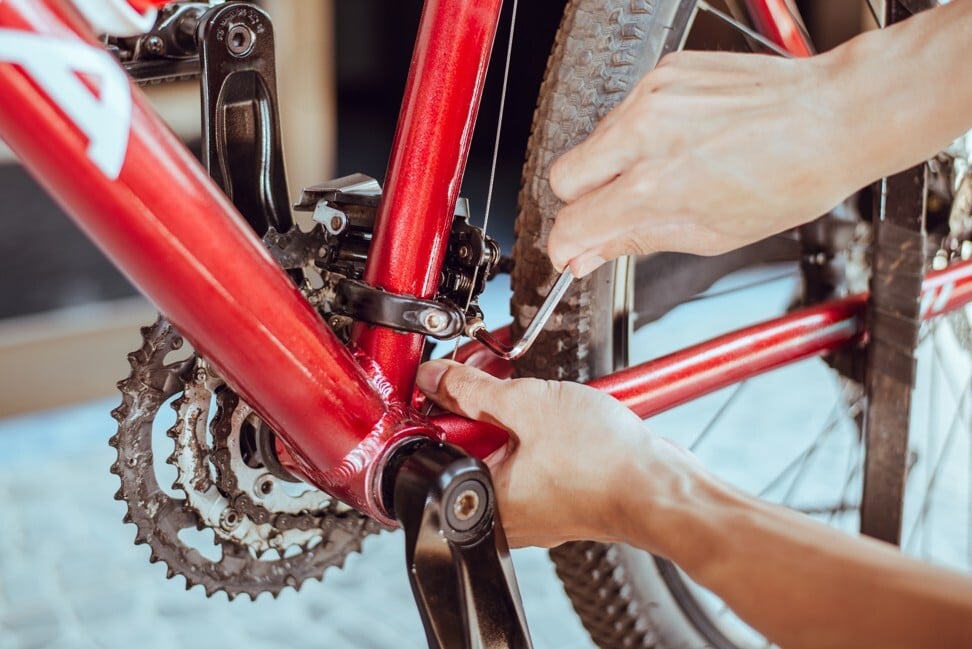 Tooling up
Mechanical issues and punctures are almost inevitable when you're properly off road. A spare inner tube (check the valve is the same as on your bike), self-adhesive puncture patches, tyre levers, a pump and multitool (with a chain breaker), a snap-on chain link, some zip ties and a small roll of electrical tape should cover most trail emergencies, as long as you've learned how to use them, of course.
These can all be stashed in a small saddlebag or a backpack. A hydration pack – a backpack with built-in "bladder", for fluids – is a good idea, as you can then also carry a rain jacket and snacks with the water. It's wise from a safety point to have a basic first aid kit and fully charged mobile phone with you on rides.
Getting set up
Having the right size bike (a dedicated shop will help here) and setting your riding position correctly will not only make you more stable and efficient, it will also help avoid pain and discomfort.
To set the saddle position, lean your bike against a wall. Adjust the saddle angle until it's parallel with the ground. This will help keep the weight distribution of your upper body even. With your riding shoes on, sit upright on the bike. Place your heels on the pedals and pedal backwards. When your leg is fully extended, it should slightly pull you to one side. This is a fairly accurate guide to getting the right saddle height.
Your reach and handlebar position should feel comfortable; not too stretched or upright. Aim to be able to comfortably see well ahead without straining your neck by sliding the saddle back and forth a little and by adding or moving one of the spacers under the handlebar stem (ask a bike shop to help if unsure). Aim for around 30 per cent of your weight to be taken by your arms and the rest by the saddle.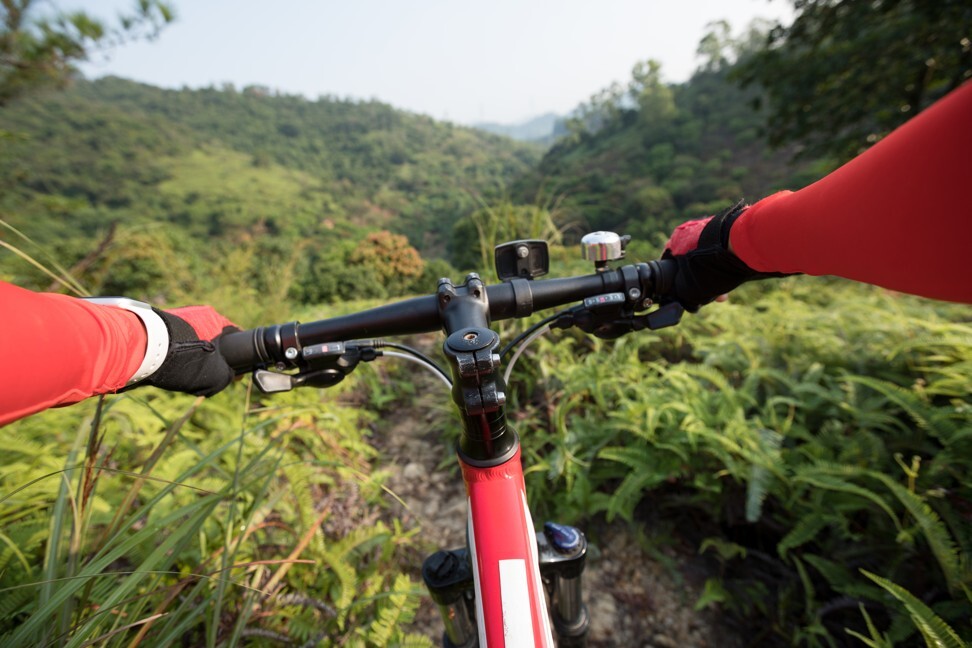 Essential riding tips
Beginners should start riding on quiet roads and simple dirt tracks. Remain relaxed and alert, with your attention fixed well ahead and on where you want to go as opposed to where you are trying to avoid.
Keep a smooth pedalling cadence of around 80 to 90 pedal revolutions per minute (count this on one leg while on a flat road to get a sense of what that feels like). Avoid the gearing extremes and fast changes. Look ahead, anticipate the terrain and change one or two gears at a time, doing so just before you need to. Speed up before short climbs. Note: changing gear under pedalling pressure will crunch and you may stall.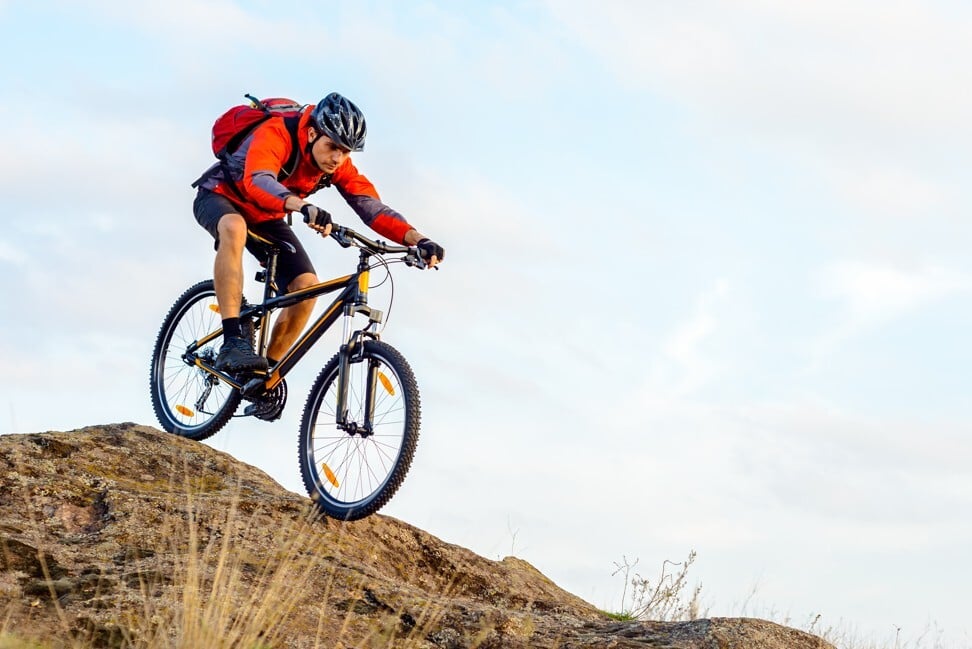 Keep your braking smooth and even, especially on wet or loose trails. In dry conditions, a 60:40 ratio with front braking dominance is best. In the wet, brake more gently and feather the brakes lightly on and off to avoid skidding.
On steep descents, stand off the saddle and push your weight back. Keep your pedals parallel to the ground with arms and knees slightly bowed. This alters your centre of gravity and allows the bike to move around on its own. If you can, it could be worth dropping your saddle height for steep descents (or investing in a remote-controlled dropper seat post, so you can do this on the go).
When encountering roots, rocks and rough terrain, stay "light" on the bike by easing yourself off the saddle or standing, if possible. Pull up slightly on the handlebars to ease the wheel over obstacles and then quickly shift your weight off the rear wheel to allow it to follow on smoothly. If in doubt, walk through technical sections of a trail until you build confidence.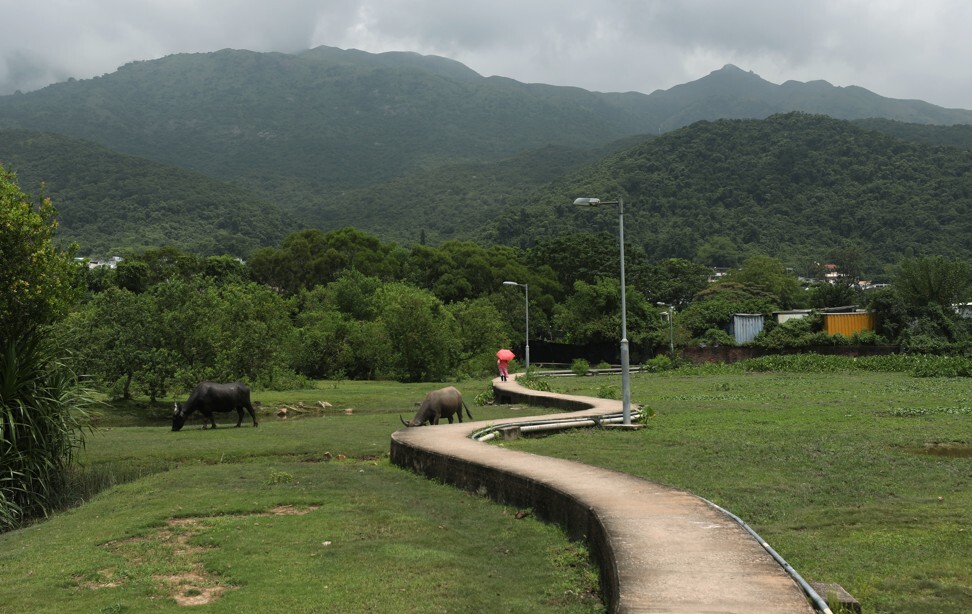 Choosing the right trail
It's very important to start on easy trails and to build up your fitness and trail riding skills. Hong Kong has some great trails, but most are of a fairly advanced level. For safety reasons, always have someone with you when riding a tough or new trail, no matter how experienced you may be.
Beginner-friendly rides in Hong Kong include the 22km Tai Lam Chung Reservoir Bike Trail (Tai Lam Country Park), which includes some short climbs (walk down the steps); in the Mui Wo, Lantau area, the coastal trail to Pui O (walk the steps) or the hilly water catchment road; and the loop around Wan Tsai, in Sai Kung Country Park, which, although difficult to get to (part of the appeal), boasts long stretches of gravel road and non-demanding trails.
Useful links
The Hong Kong Mountain Bike Association (hkmba.org) is a good place to find trail information. For details on biking in country parks, and the mountain biking code of practice, go to afcd.gov.hk. If you want to learn more skills and be guided on the local trails, check out mtbhk.com.
This article appeared in the South China Morning Post print edition as: Happy trails for mountain bikers