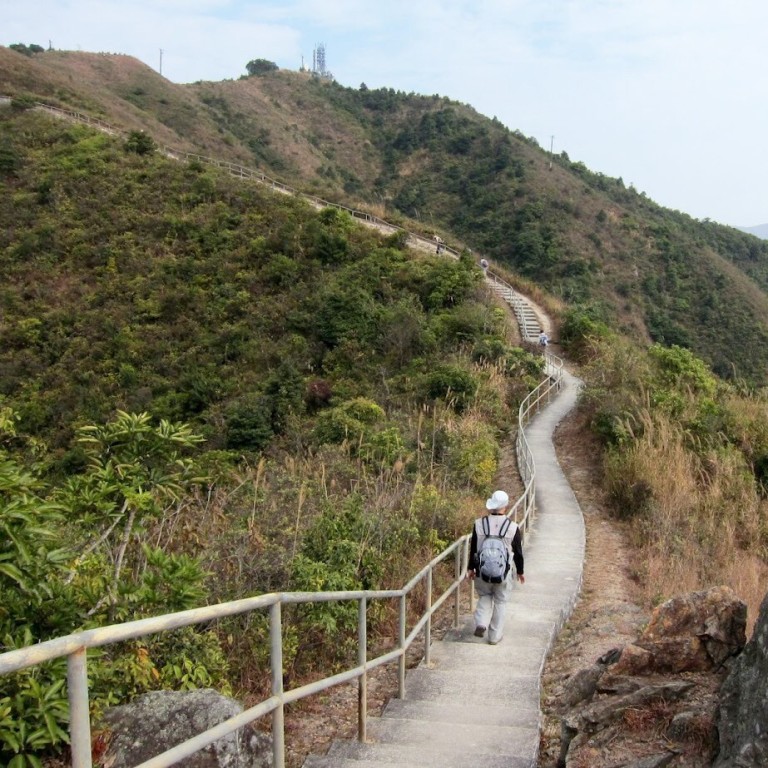 Hong Kong's long-distance trails offer 300km of history, views and scenery – and winter is the perfect time to trek them
The MacLehose, Wilson, Lantau and Hong Kong trails are easy to reach and are well signposted and maintained
They avoid urban areas, take in country parks, abandoned villages and mountains, and offer views of Hong Kong in all its glory
Four long distance trails, stretching nearly 300 kilometres (185 miles) in total, thread their way the length and breadth of Hong Kong. Given the clement winter weather, there's probably never been a better time to don boots, rucksack and AirPods, head into the wide green yonder and shrink that bucket list.
The lengthiest trail takes its name from the late British colonial governor Sir Murray MacLehose, a keen walker who set up the city's networks of country parks in the 1970s. Covering some 44,000 hectares, the parks provide a verdant backdrop for the trails, although the metropolis occasionally intrudes.
"The great thing about these long distance trails is that wherever you are in the city, it does not take long to reach them – you can just go," says Simon Wan Chi-chung, a photographer and tutor at Hong Kong University's Department of Fine Arts who is an adviser to TrailWatch, a mobile app that allows hikers to track their routes.
"TrailWatch adds a new dimension to getting out on the long distance trails – it's not just a record of where you've been, as it also allows users to report incidents and monitor what's going on in the country parks as well," Wan says.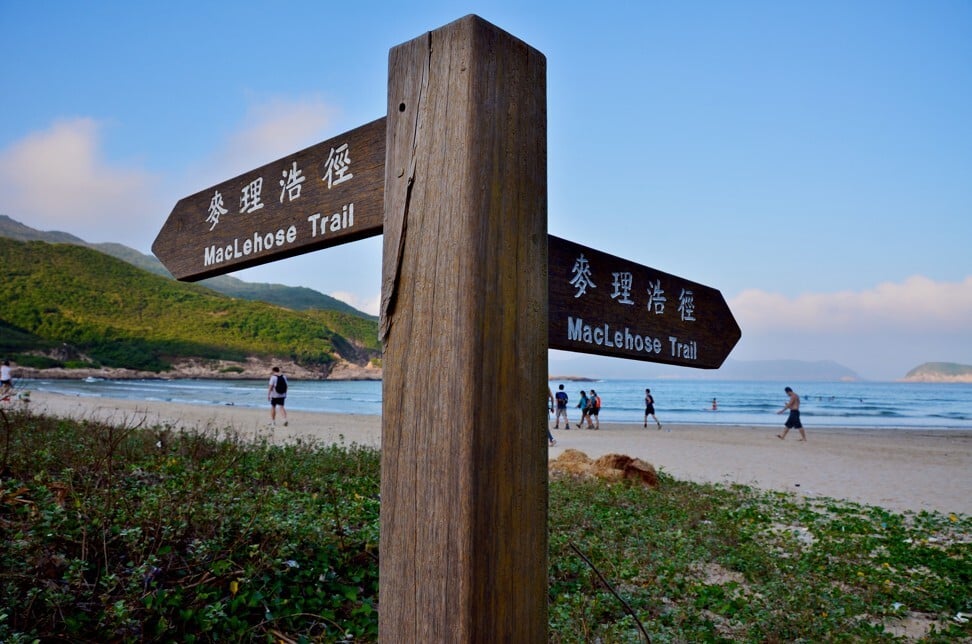 All the trails are well signposted and maintained, and divided into sections, so if time – or energy – is in short supply, they can be tackled bit by bit.
1 MacLehose Trail: east to west
Length: 100km. Opened: 1979
Route
: from Sai Kung, looping round High Island reservoir then along the peaks of Kowloon and up to
Tai Mo Shan
(957 metres) before dropping down into Tuen Mun.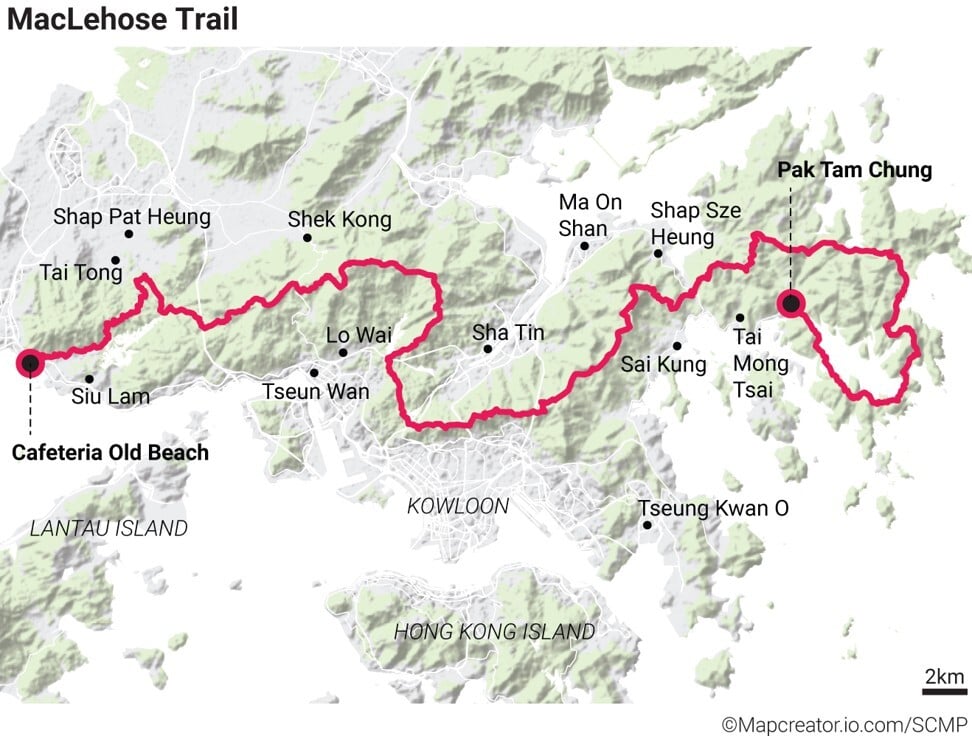 Highlight: Tai Long Wan, easily Hong Kong's most idyllic beach.
Low note: glamour continues to elude Tuen Mun, one of Hong Kong's more humdrum new towns; ending up here is a bit of a downer, though your calf muscles may disagree.
The (almost) coast-to-coast, sea-to-sky MacLehose is perhaps Hong Kong's greatest trek, taking in Instagramable beaches, panoramic ridge line vistas over the city and New Territories, and the highest peak in the city.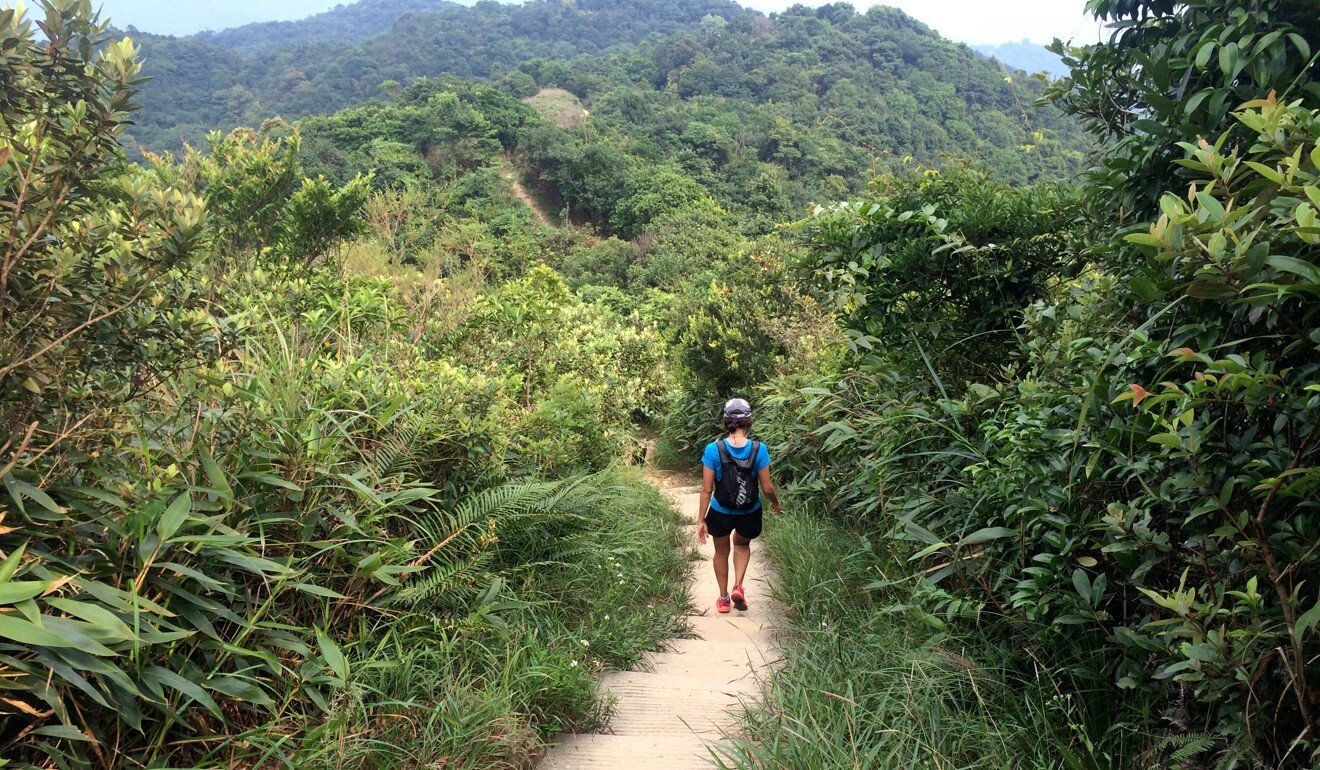 It's the route of the annual (coronavirus permitting) Oxfam Trailwalker marathon – the official record finishing time stands at 10 hours 58 minutes – and intersects the Wilson Trail at a couple of points, for anyone who fancies diverting north or south. But with so much to appreciate and enjoy, this should be more of an extended stroll than a sweat-drenched slog.
The trail winds through stretches of woodland and borders four reservoirs, a natural draw for wildlife, particularly the 500 and more bird species that inhabit Hong Kong, as well as troops of macaques, which can be mischievous if they think there's any picnic food in the offing.
Stage five of the trail ends at the Tai Po Road, a handy halfway exit for anyone planning to overnight in a nearby hotel before completing the 10-stage route.
2 Wilson Trail: south to north
Length: 78km. Opened: 1996
Route: From Stanley to Luk Keng next to the China border, the trail vaults over Hong Kong Island, crosses Victoria Harbour, then snakes up through the New Territories.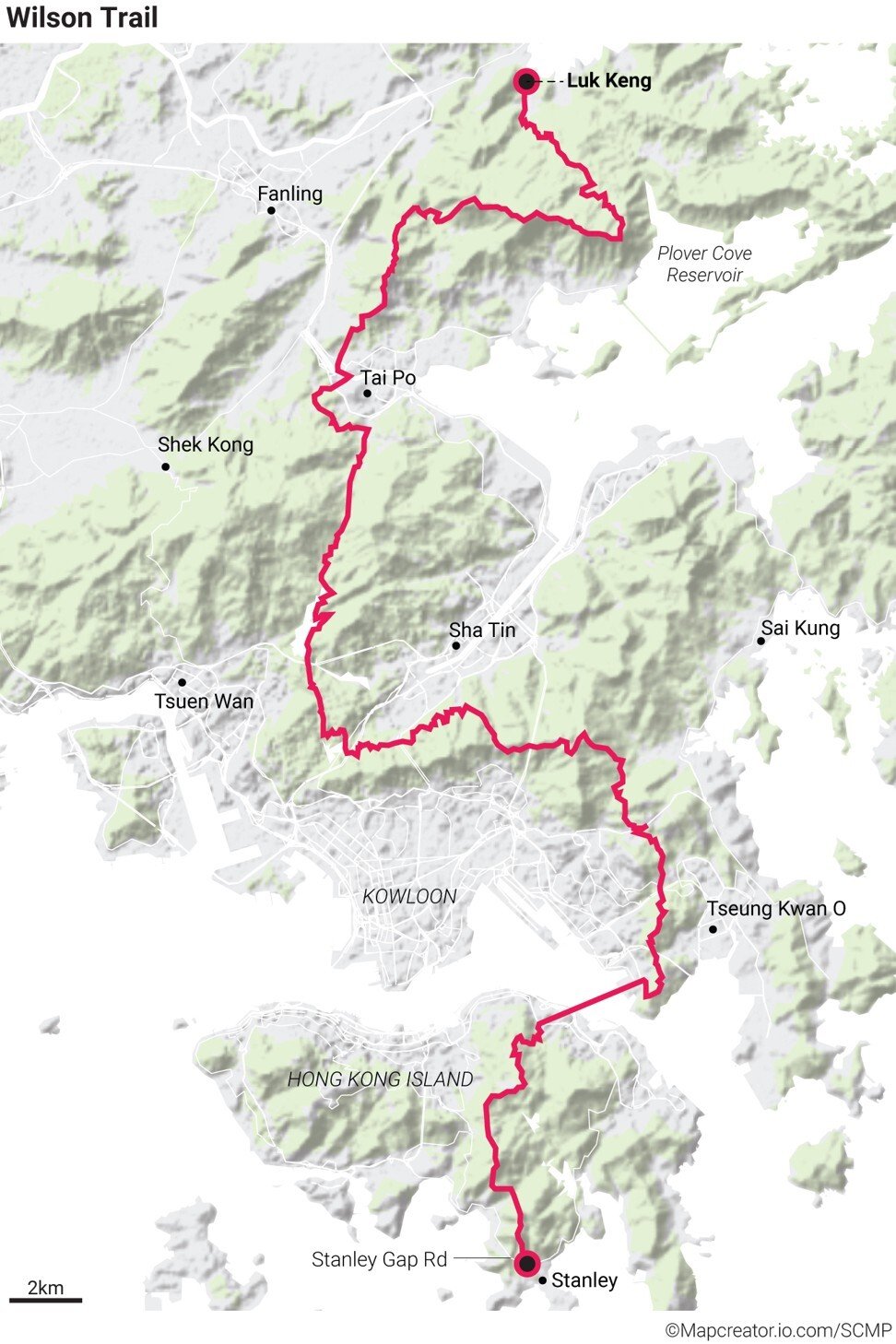 Highlight: almost at the end of the trail, Hong Kong's most bucolic lookout point, the Sir Edward Youde Memorial Pavilion, was modelled on a similar twin-roofed structure in the Temple of Heaven, in Beijing.
Low note: the official guide directs hikers to the MTR subway network between stages two and three. The Coral Sea Ferry that plies between Sai Wan Ho and Lei Yue Mun is a more relaxed, if less frequent, alternative.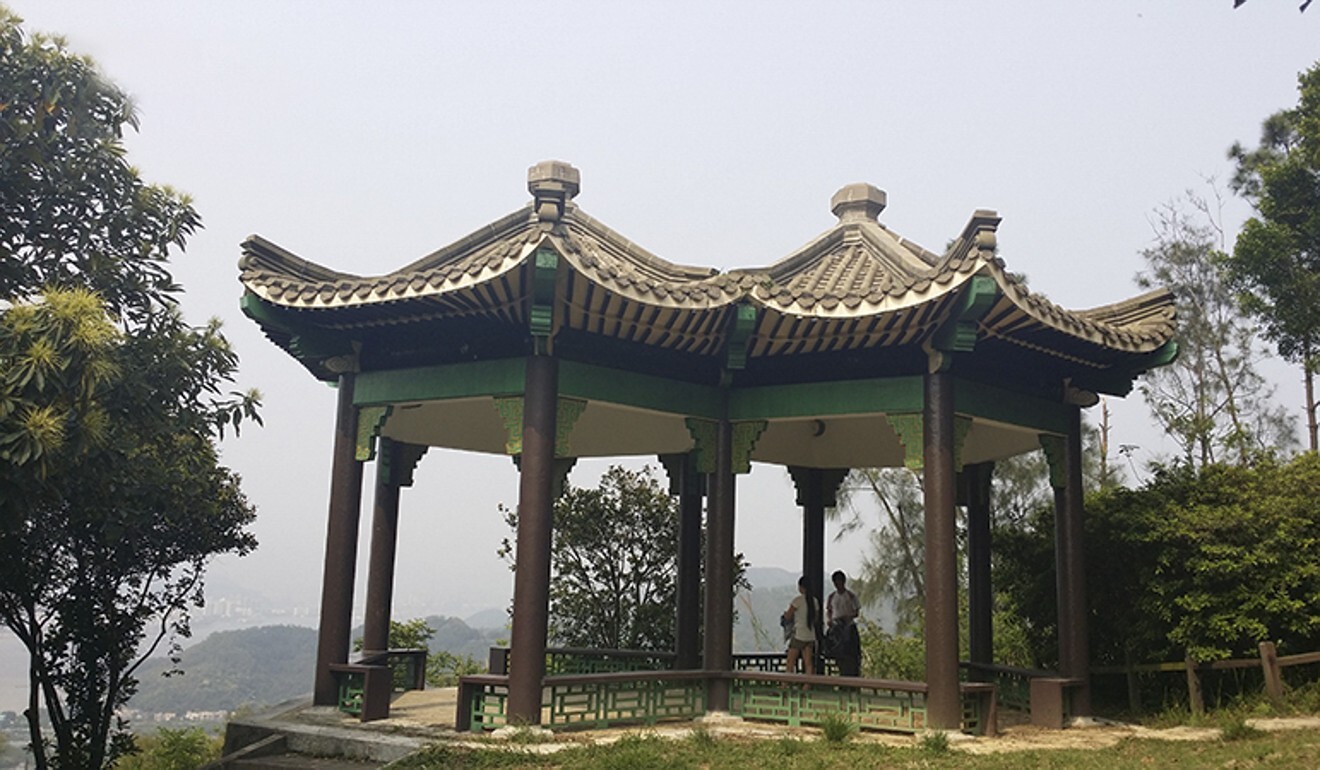 Playing counterpoint to the MacLehose, the Wilson Trail – which is also named after a happy hiker colonial governor, Sir David Wilson – takes in Hong Kong from toe to top. Built in no small part thanks to the efforts of Friends of the Country Parks, an NGO that raised HK$10 million towards its construction, which began in 1994, the Wilson Trail scales some of Hong Kong's best vantage points – Jardine's Lookout, Devil's Peak and the switchback that is Pat Sin Leng, which means "ridge of the eight immortals".
The trail starts as it means to go on, with 1,000 concrete steps climbing sharply out of Stanley towards The Twins (the Ma Kong Shan peaks).
While parts of the Wilson Trail are unavoidably urban, there are some compensations: the ramshackle fishing village of Lei Yue Mun is worth a detour, whether for a photogenic wander or a well-deserved lunch. And the New Territories provide contrast, with alpine landscapes that can seem almost stark and barren.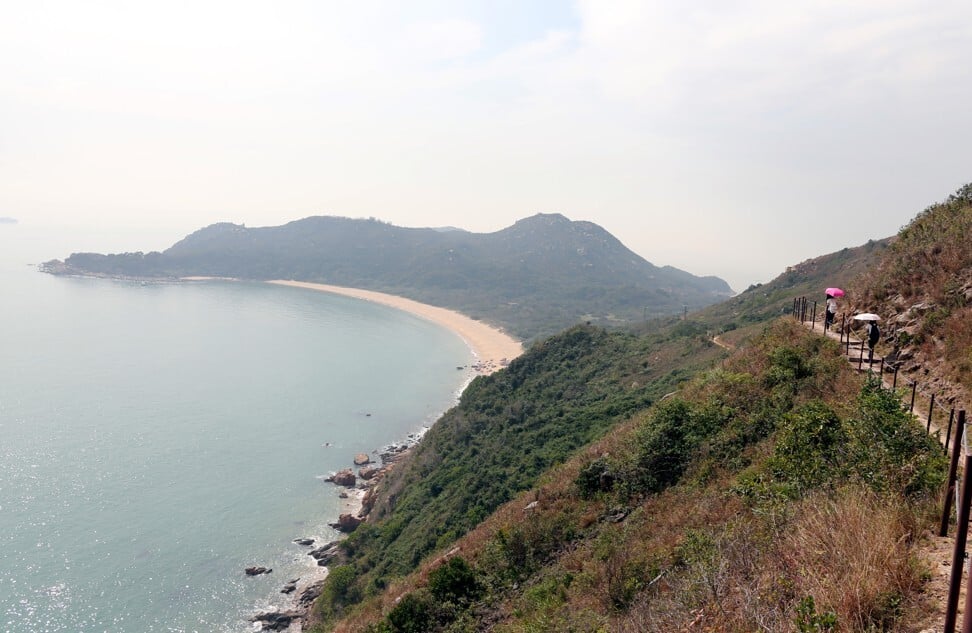 3 Lantau Trail: island loop
Length: 70km. Opened: 1984
Route
: starting and finishing in Mui Wo, summiting Lantau and Sunset peaks, and encompassing the
Big Buddha
as well as a splendid beach or two.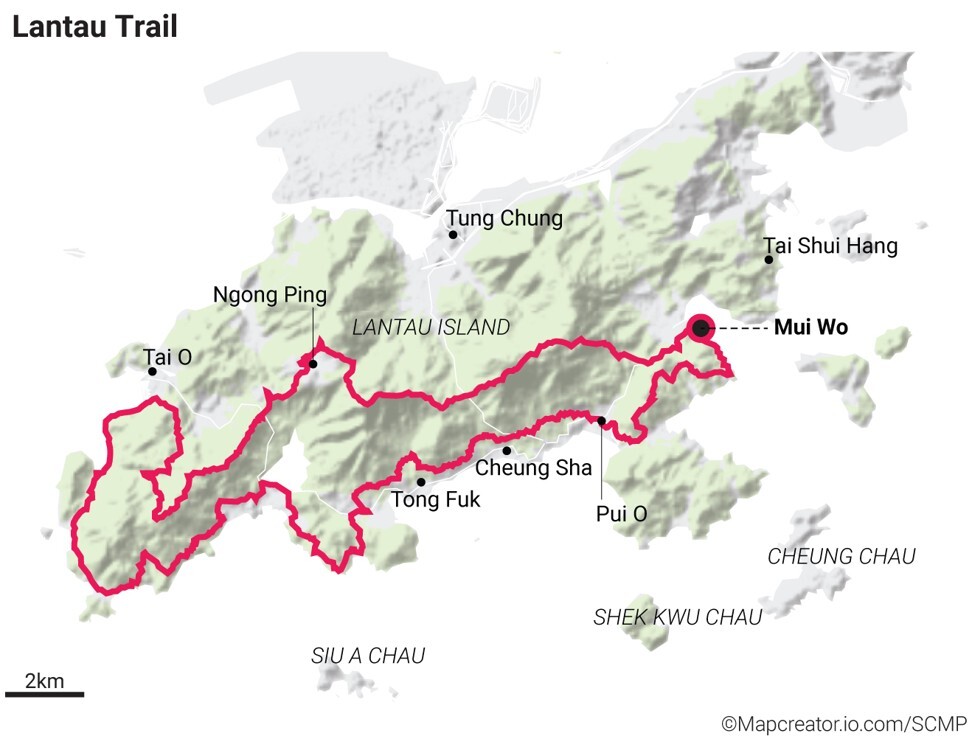 Highlight: riding the triple-decker slow ferry either to or from Mui Wo and contemplating Lin Fa Shan (Lotus Mountain; 766 metres), which towers above the township.
Low note: being reminded none too gently by the cable car to Ngong Ping that there is far simpler way to get up and down mountains.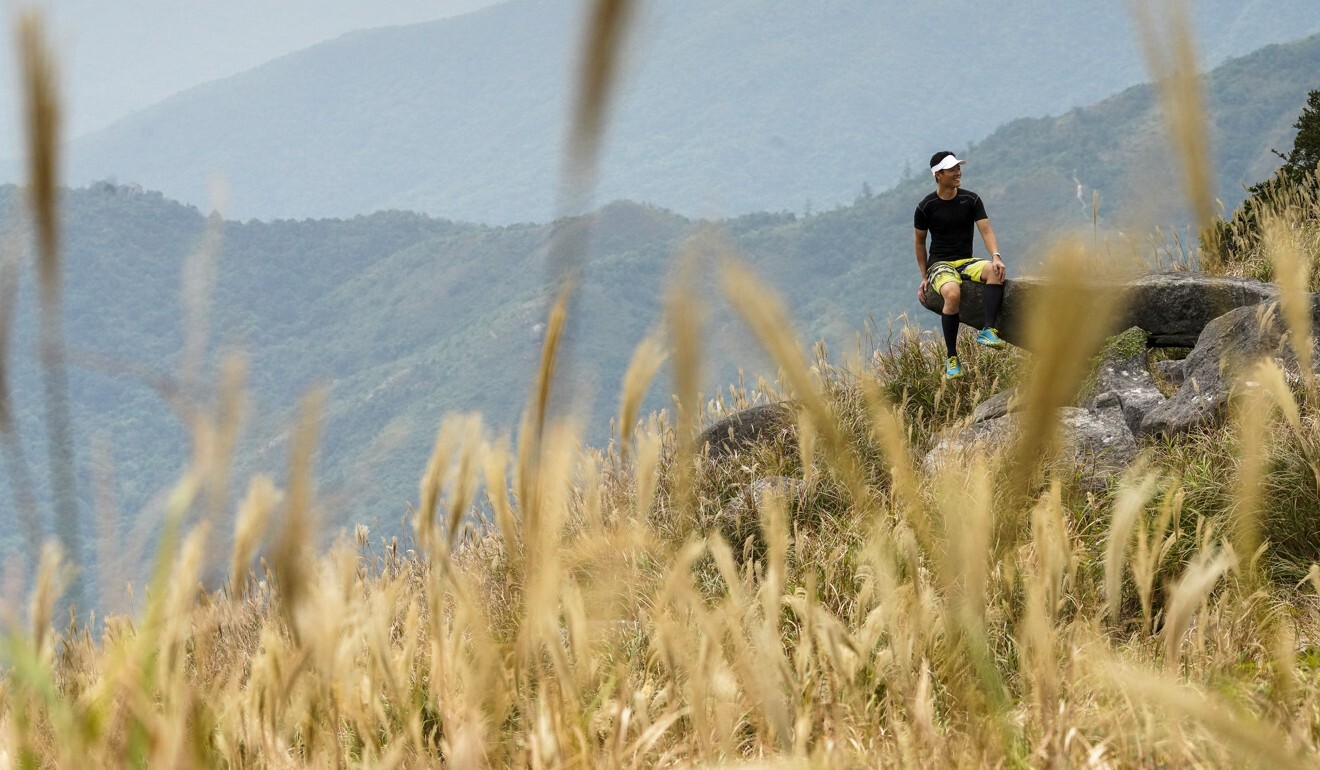 Few hikers would disagree with the assertion that
Ngong Ping
was a lot more interesting before it became a destination – that is, when there was just the Buddha statue, a monastery and a scattering of houses rather than a mini theme park-cum-shopping centre. Still, it remains one of the Lantau Trail's hallmarks, and a welcome rest point after the vertiginous zigzag down from Lantau Peak.
Otherwise, the trail's entertainments are many and varied: it's often in sight of the sea, whether overlooking a placid cove or the stretch of water spanned by that surreal bridge to Zhuhai; the circular route makes it unique among Hong Kong's long-distance trails; and there's a slight edge-of-the-world feeling about the nigh deserted hamlet of Fan Lau and its ruined 18th-century fort.
This is Hong Kong's westernmost village, a spot where mobile phones have a tendency to try to skip to a provider in China. The two campsites here are often deserted midweek.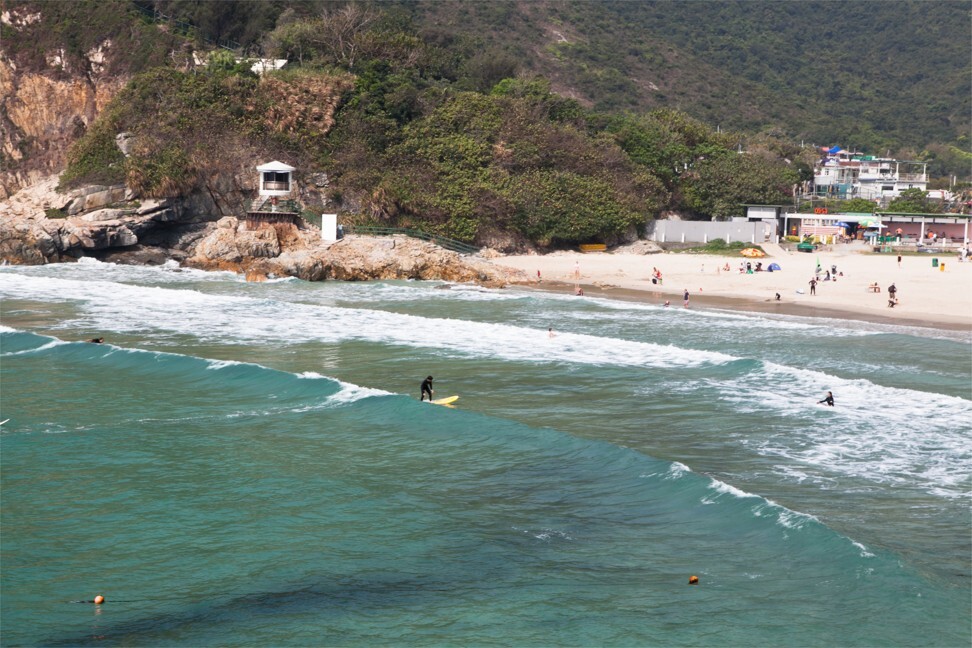 4 Hong Kong Trail: backyard hike
Length: 50km. Opened: 1985
Route
: from
Victoria Peak
to Big Wave Bay, experiencing some of Hong Kong Island's more varied topography along the way.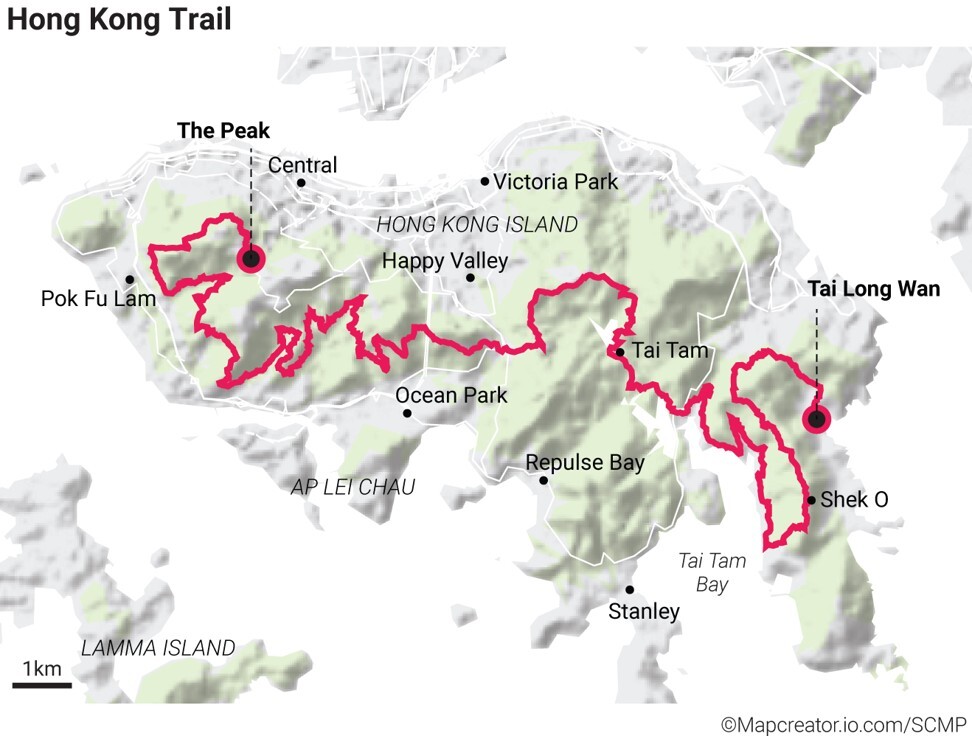 Highlight 1: cliché though it may be, the Peak panorama is one of the wonders of Hong Kong, and more easily appreciated now that group tours have become an endangered species.
Highlight 2: there's great satisfaction to be gained from walking – as opposed to taking the Bentley – between Hong Kong's two most exclusive residential outposts.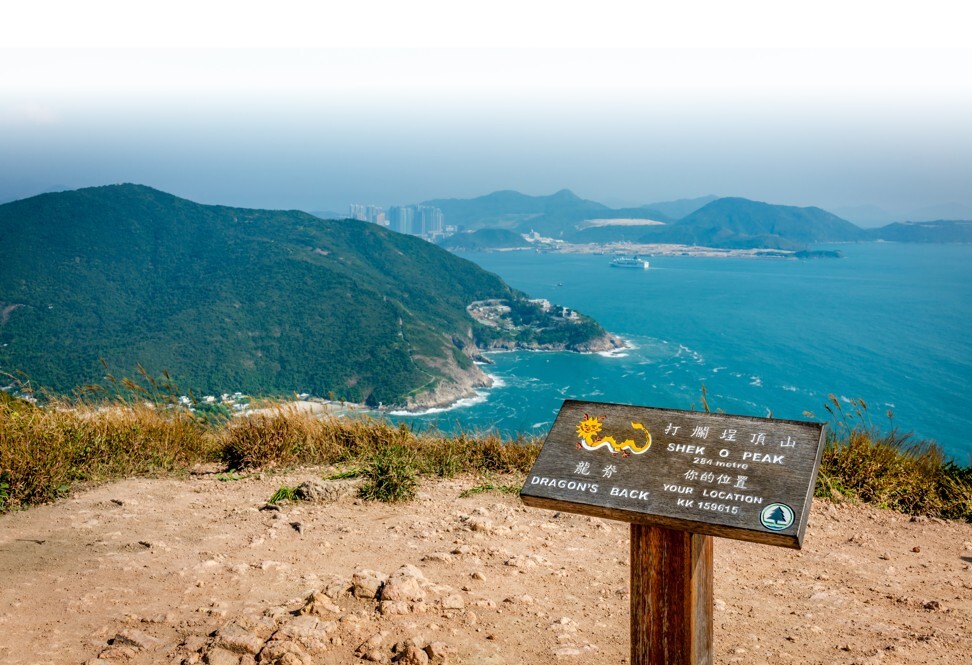 The Hong Kong Trail is quite the most accessible of the long-distance quartet, with the starting points of all eight stages either on or close to a road. This means it's easy to snap up bite-sized chunks in half a day or so. Most of all, this route underlines Hong Kong's legendary contrasts – one moment the backdrop is high-rises, a few steps further along leads to what might be the outer fringes of a jungle.
Anyone hankering for a detour tinged with history should head for the Wong Nai Chong Gap Trail, which commemorates some of Hong Kong's bitterest fighting of World War II. Further along, and further back in time, another minor detour and another heritage trail highlights the marvels of Victorian architecture found at Tai Tam Reservoir.
Despite the Hong Kong Trail being the shortest, given some fairly punishing gradients fit hikers might have trouble completing it in less than 16 hours.