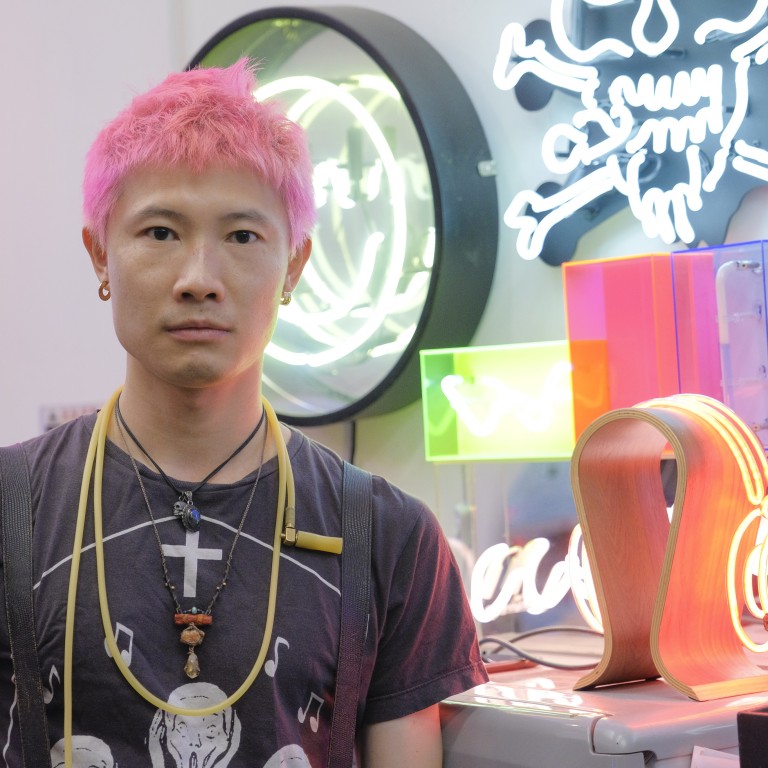 The Hong Kong neon artist teaching his craft to a new generation – can he help it survive the onslaught of LEDs?
Neon signs once dominated the Hong Kong nightscape, but have dwindled in recent years with the rise of LED lights, with now only a few traditional artists left
We take a class from Jive Lau Ho-fai, a 20-year veteran who teaches neon bending at his Kwun Tong studio in an effort to preserve the art form
Neon signs have been drawing the eye in Hong Kong for more than a century, a familiar sight in the city's nightscape advertising everything from pharmacies and seafood restaurants to topless bars and saunas.
In the past 20 years, though, most of
Hong Kong's neon signage
has been removed, either for safety reasons or because of the increased popularity of cheap, more energy-efficient LEDs.
One of the most well-known signs to have come down recently was that promoting the
Koon Nam Wah Bridal store
in Yau Ma Tei, in August.
"It's really sad, it was so iconic," says Jive Lau Ho-fai, 39, who runs the Kowloneon workshop, in Kwun Tong, East Kowloon, where customers can make their own neon sign or piece of art in one- or four-day workshops.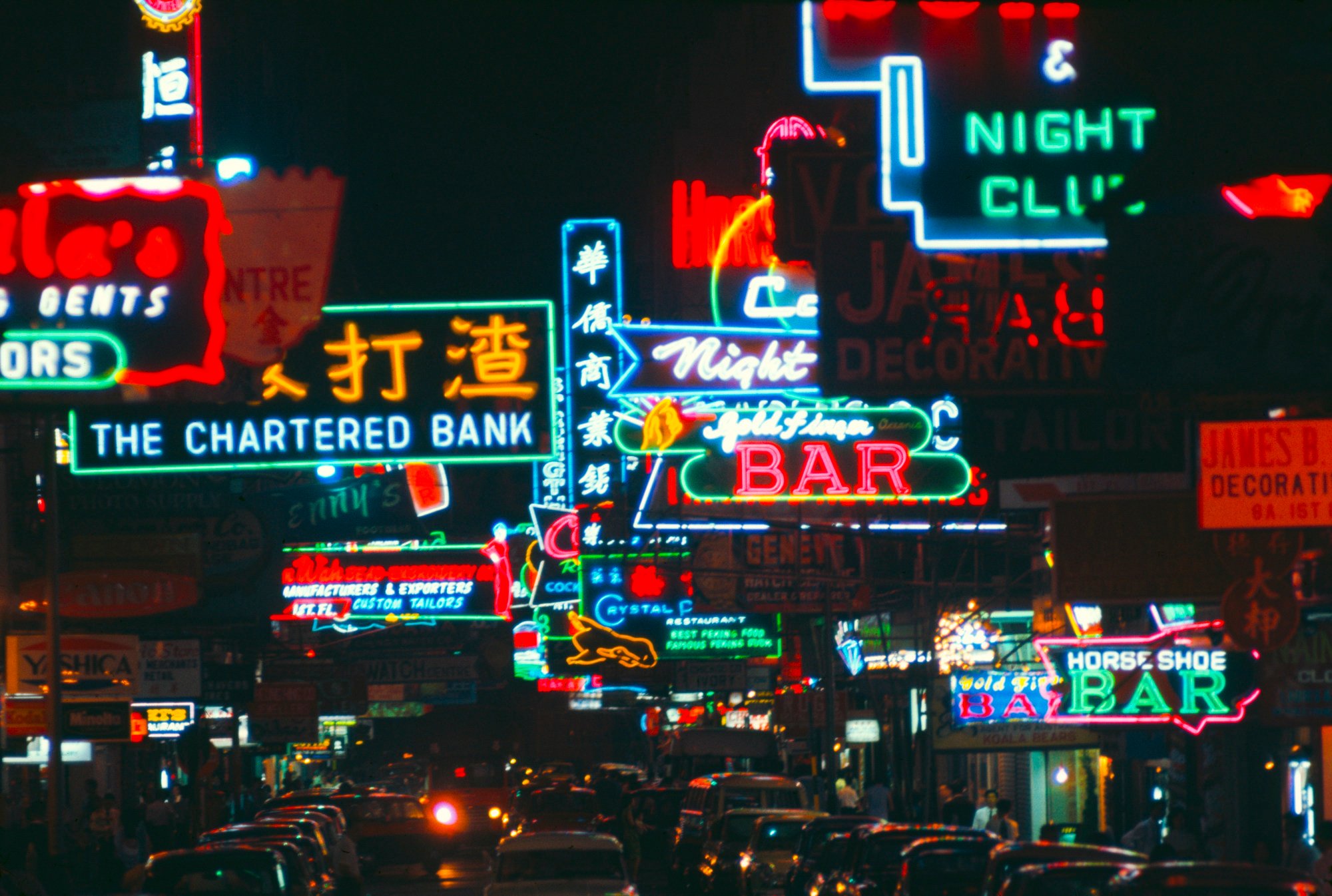 His studio is in the Kwun Tong Industrial Centre Phase 1, a gritty block near the Kwun Tong MTR station.
Exit the lift on the third floor and you're guided into Lau's workshop by the warm glow of scarlet neon.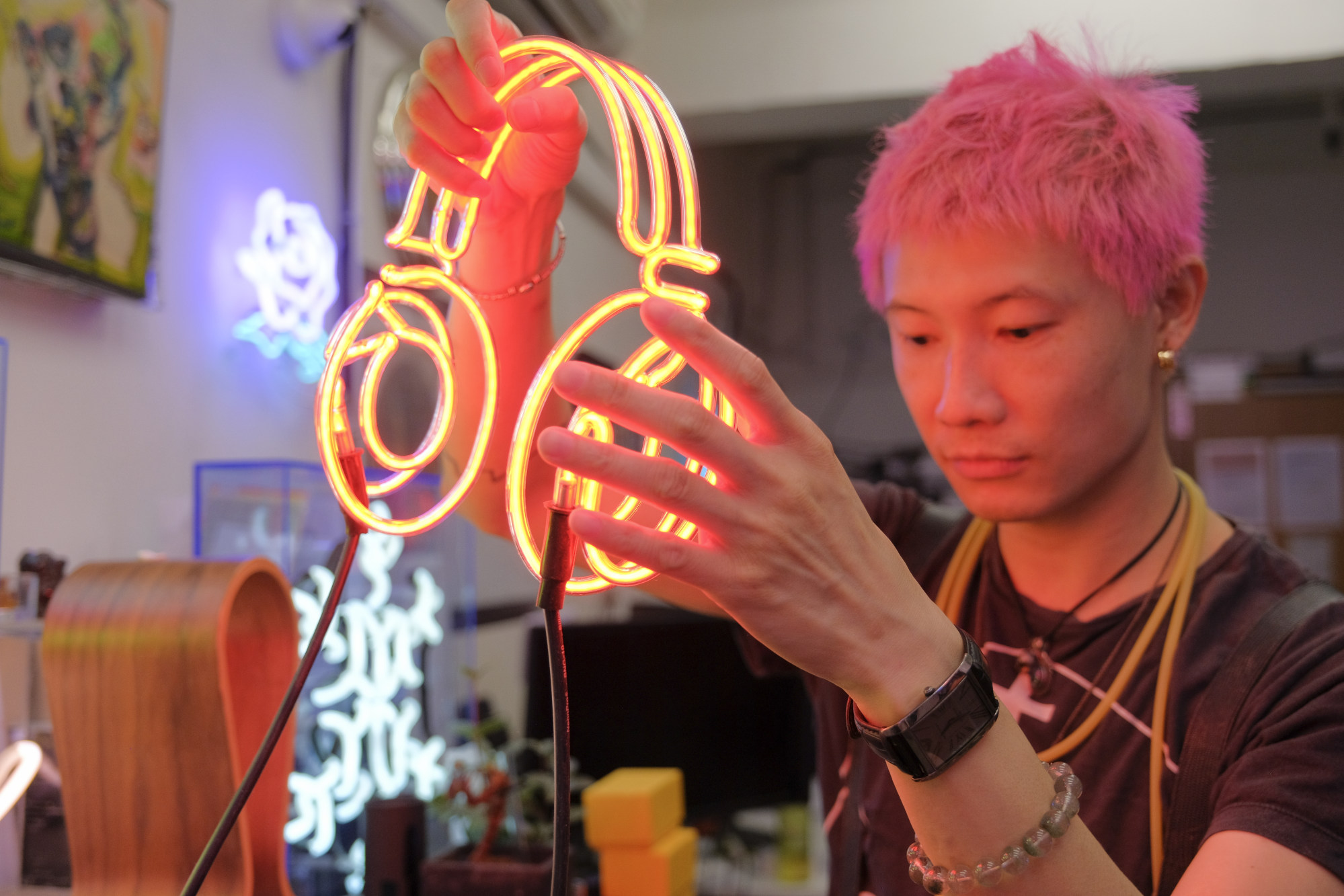 The interior is full of colourful and quirky creations, some made by his students. "There are many different people from different professions that want to learn about neon," he says.
We have chosen to do a one-day (five-hour) workshop in neon glass blowing and bending. Up to three students can take part in any one session, which can be conducted in Cantonese, Mandarin or English.
Neon lighting
is made of electrified glass tubes or bulbs that contain rarefied neon or other gases.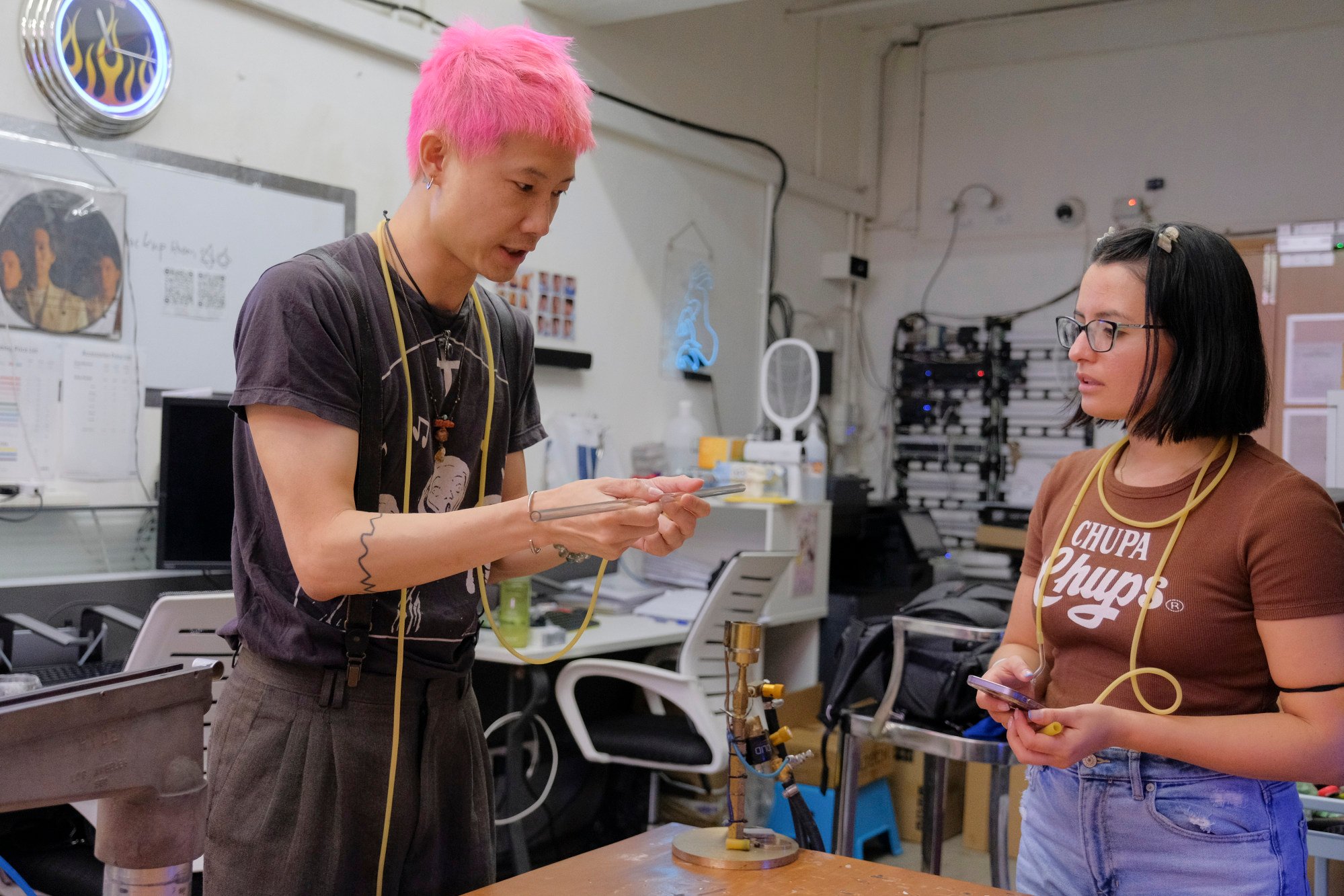 Neon was discovered in 1898 by the British scientists William Ramsay and Morris W. Travers. But it wasn't until the Paris Motor Show of 1910 that the world was introduced to its potential, when French inventor Georges Claude presented tube lighting in a form we'd recognise today.
The beauty of having the lighting contained in glass tubes is that, with the right tools and skills, those tubes can be twisted into all sorts of shapes.
Lau begins with a quick introduction to the tools: a mouthpiece and rubber tubing, for blowing the glass into shape; a burner; and a wooden block.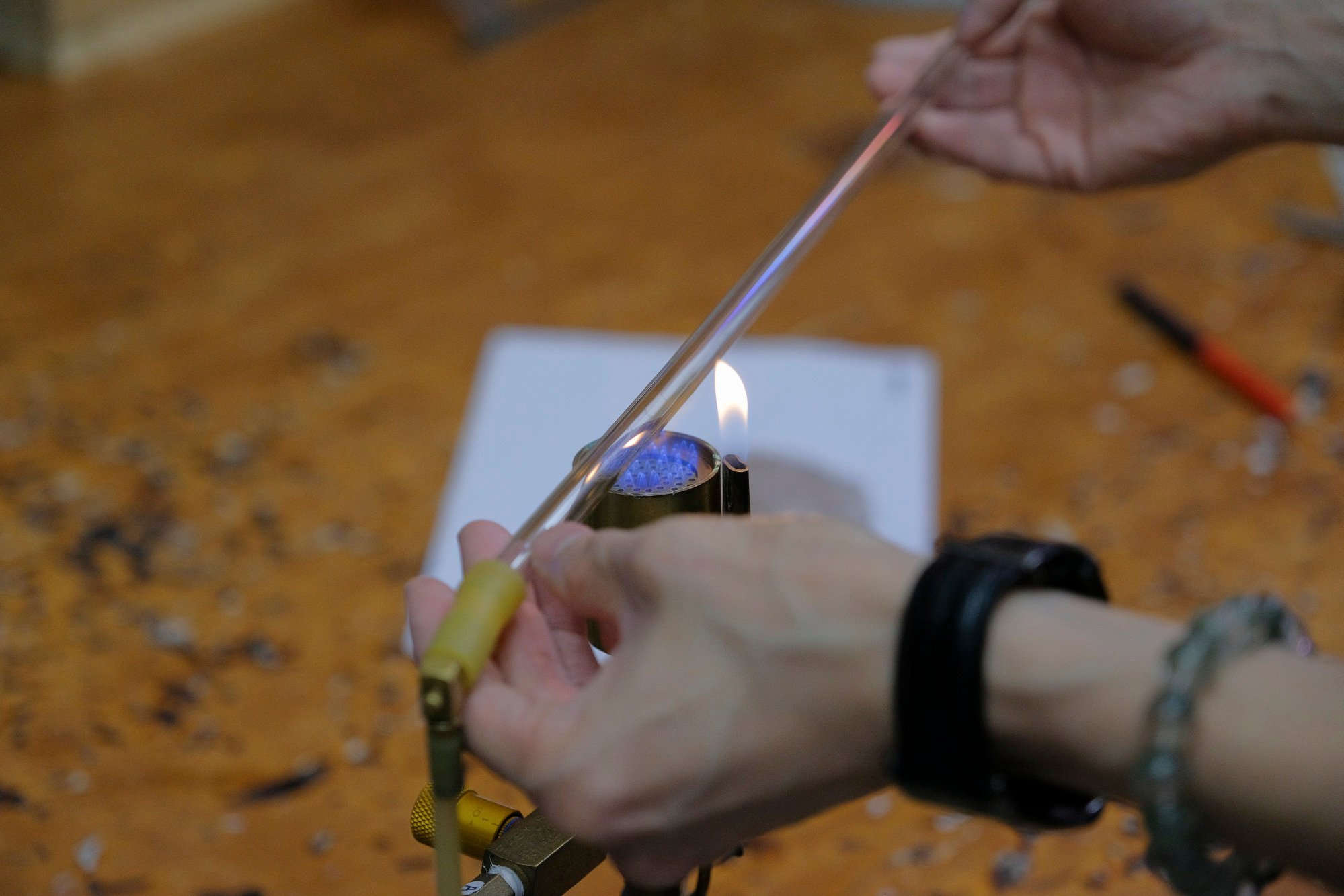 Fundamental tube bending requires burners that can achieve temperatures of more than 800 degrees Celsius (1,500 degrees Fahrenheit).
Lau's demeanour is calm as he uses a foot pedal to ignite and control the blue-and-orange flames that lick around the glass – he burnt himself enough as a young apprentice to be in total control now, he says.
Students receive printed patterns to copy – zigzags or waves – and we practise basic bending by producing a U-shape and a 90-degree angle.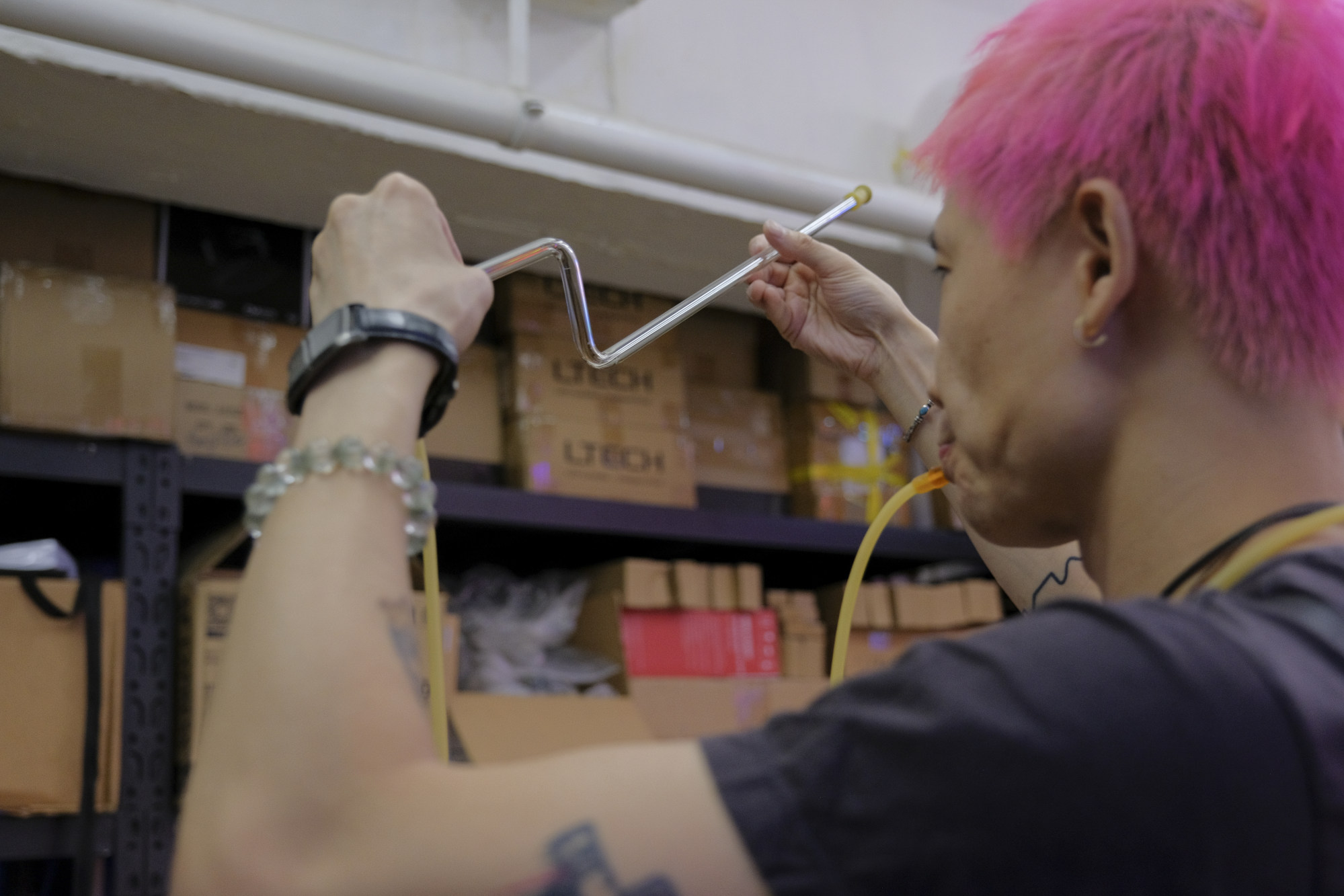 Lau demonstrates the dance of the neon bender – a slight shaking of the tube back and forth over the flame to heat the section that needs to be moulded.
Following his lead, we place our glass on the heavily scorched table when it is hot enough, and anchor it with a wooden block.
We blow into the tubing to prevent the molten glass from collapsing in on itself; the deeper the bend you want, the harder you should blow to preserve the space inside the tube.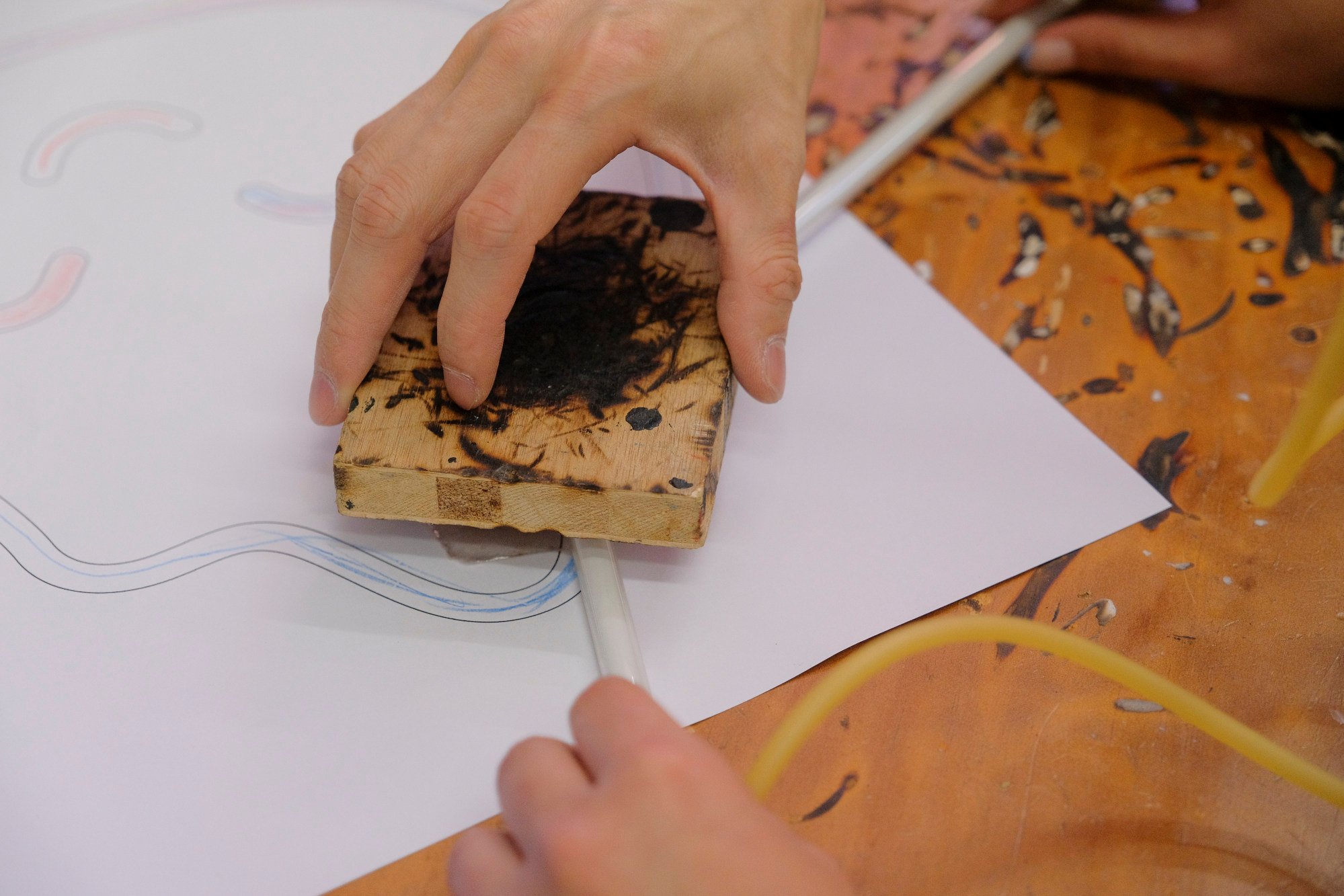 The window of opportunity for bending is short and your glass can sag out of shape all too easily if not laid on a flat surface and supported by the wooden block.
With practice shapes made, Lau prints an image of a student's choosing from the internet – a heart or square, perhaps – or he sketches what you describe using a drawing tablet.
Lau encourages beginners to choose organic shapes with soft bends. "Curves are easier," he says.
We choose a simplified fire with a smiley face meant to resemble a character from Japanese animation giant
Studio Ghibli
. After some simplification on the sketch pad, our design is printed and it's on to the colour selection before we break for lunch.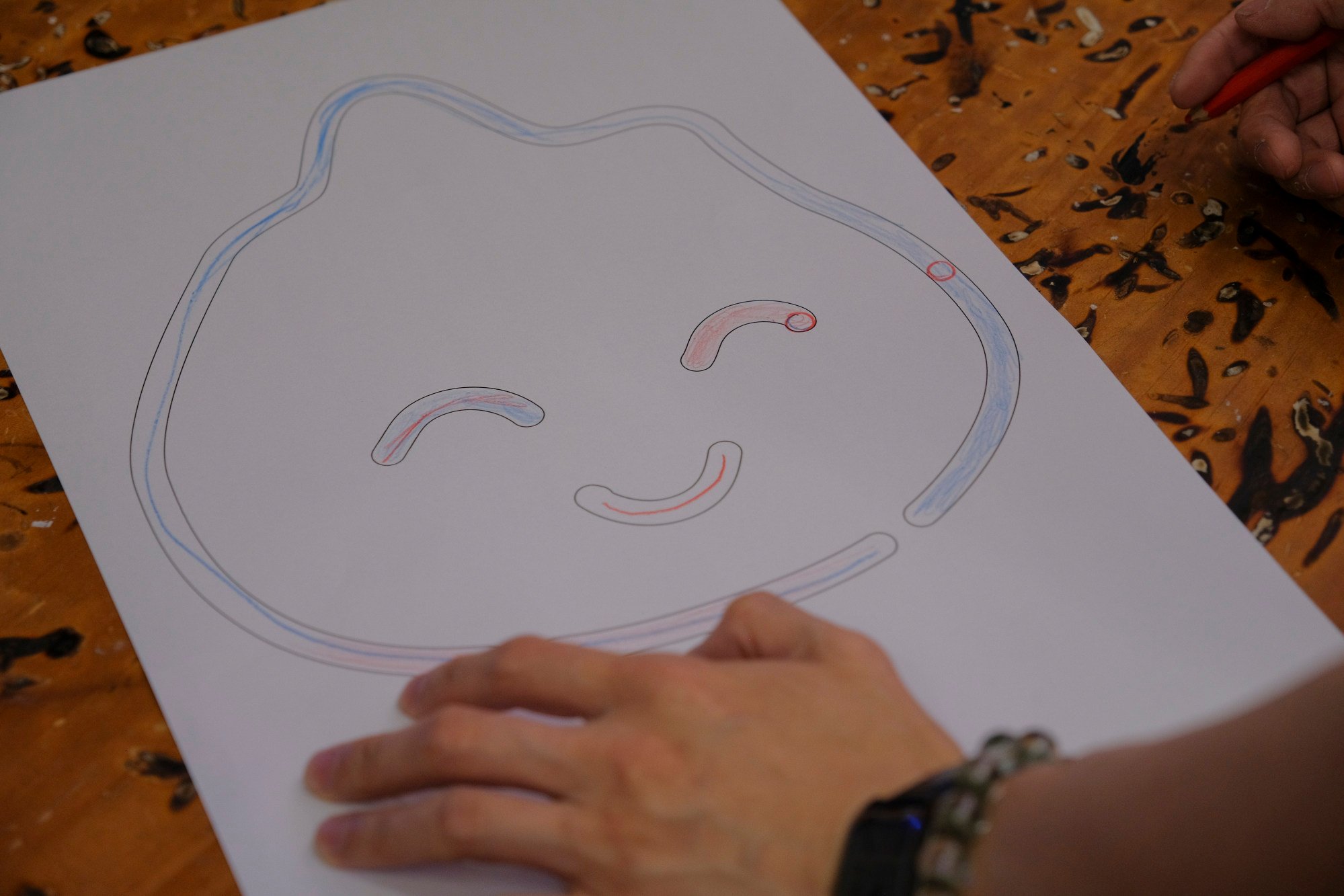 On the wall hangs a chart for reference; vibrant reds and oranges contrast with deep blues and purples in a neon rainbow.
Despite the name, only "neon" tubes that are red or orange have neon gas inside. Other colours are created using gases such as argon or mercury.
We choose red for the smile and eyes, and blue for the flame, inspired by the burners we've been using.
We return from the break to find we're more comfortable in manipulating the glass in the flame. Corresponding crayon marks on our plans and glass tubes – three for each curve, at the beginning, middle and end – guide our bending.
Lau has to help out with the tricky tube ends, where the electrodes needed to light the piece will be attached. These parts require a heavy bend, explains Lau, who also has to perform a bit of surgery when a section is bent too much or too little.
Although Lau has been bending glass neon tubes for 20 years, he feels he still has more to learn about the traditional Hong Kong art form, with Chinese characters a particular challenge. "They can be really complex," he says.
Neon tubing is almost like cursive script in that, ideally, an unbroken line connects an entire piece. The fewer tubes that are needed to form a Chinese character, for example, the fewer electrodes needed – making the process simpler and cheaper.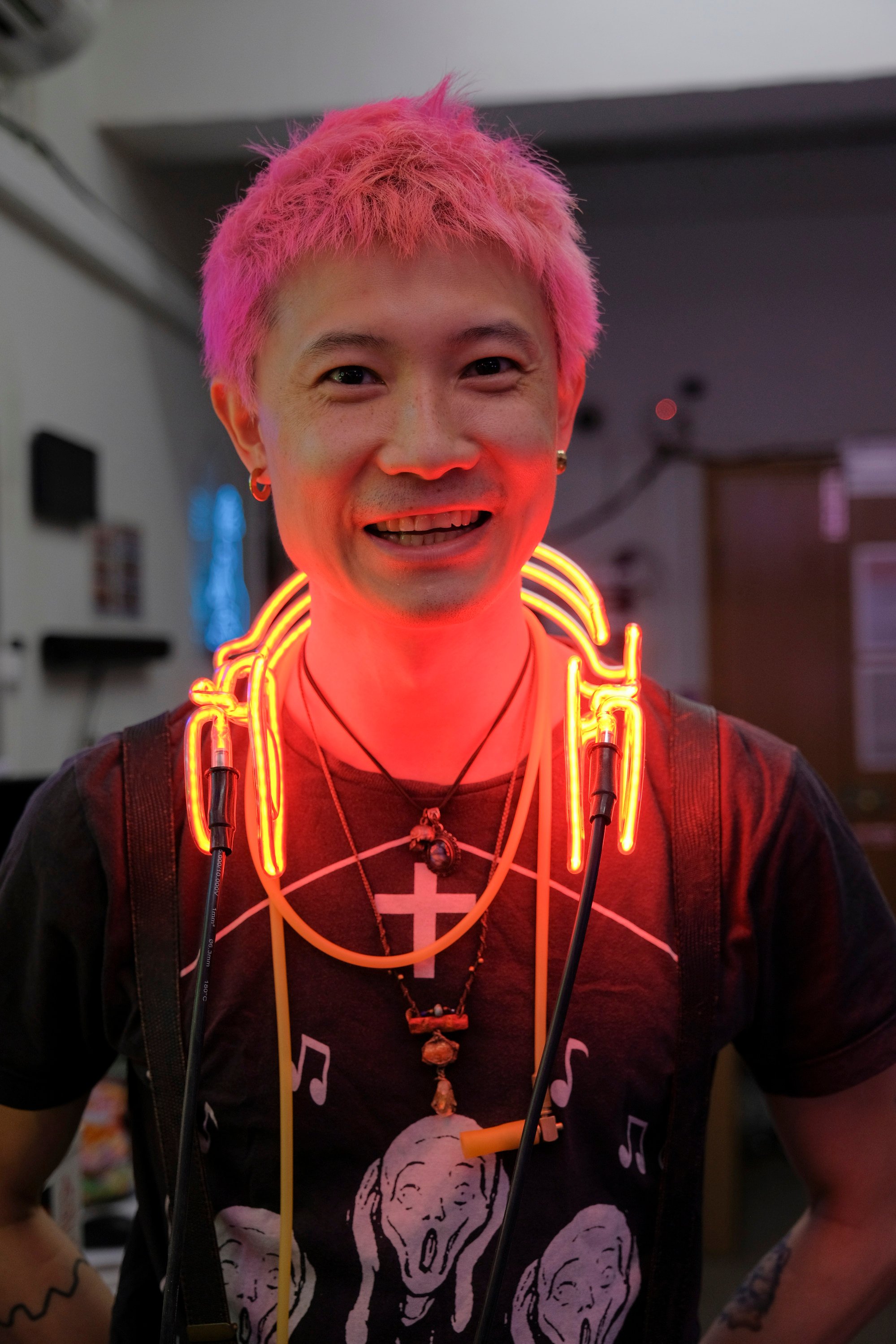 When we've finished, we don't walk out with our creation. It will be mounted on a clear acrylic sheet or a box and have electrodes attached in a month-long post-production process. Making sure that the neon gas and electric currents flow properly can be time- consuming.
According to the Tetra Neon Exchange – an NGO dedicated to the preservation of and education in the art form – Hong Kong once had 400 neon artists. That number is now almost down to single figures, but there is still a demand from smaller businesses interested in window and wall displays, if not huge street signs.
And, of course, the art is being passed on to new disciples in workshops such as Kowloneon.