Trouble in paradise: at Bali surf spot Medewi the good old days are gone, as tourists who 'forget what surfing is all about' crowd out locals
Medewi is a reminder of how Bali used to be – shacks on a black, volcanic beach backed by emerald-green rice fields. Its long waves make it a surfer's paradise
The breaks used to be the preserve of locals mostly, but these days 100 surfers can be queuing to catch a wave – mostly tourists who ignore the sport's rules
Three hours' drive from Bali's original surf mecca, Kuta, the village of Medewi, on the island's far west coast, is a throwback to the Bali of yesteryear: emerald-green rice fields, children swimming naked in creeks, bamboo shacks where tourists can get a meal or a massage for a few dollars, and long, black volcanic beaches littered with coconut husks and palm fronds.
Medewi is also home to the longest waves in Bali: curved mirrors of water ranging from two to 10 feet (0.6 to 3 metres) high.
"When conditions are right, you can ride waves for up to one-and-a-half minutes here," says Mike Holzrichter, a surfer from Austria who managed a homestay in Medewi before the coronavirus pandemic.
Things have changed since Holzrichter chanced upon this surfer's paradise 15 years ago.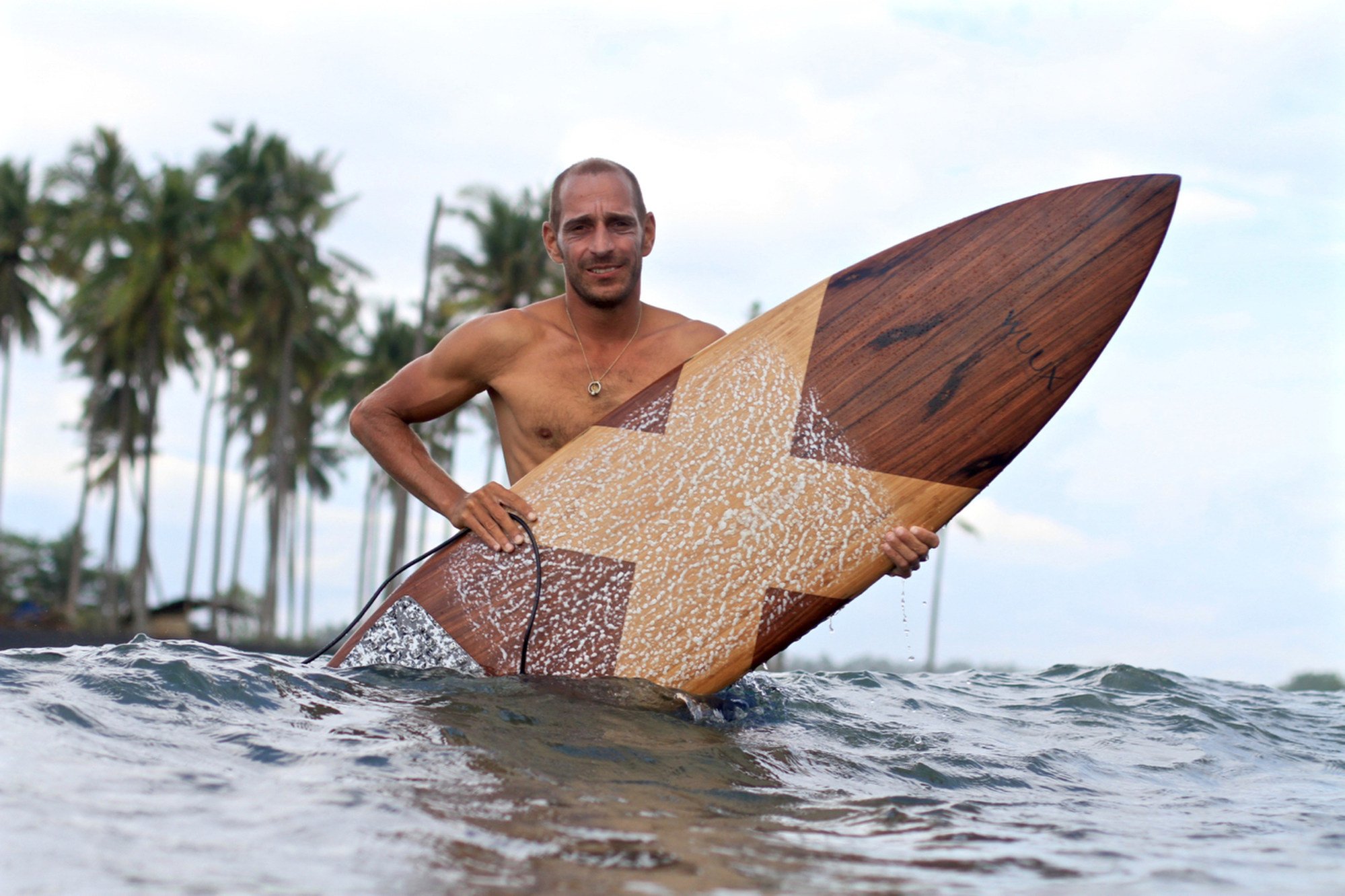 "Back then, there would be maybe 20 surfers out on the waves – mostly locals and a couple of blow-ins from Kuta. But today there can be up to 100 surfers on any given day. And they're all hungry for waves. They forget the rules.
"It makes it hard to relax in the line-up [the area of water where waves begin to break and surfers wait to ride them]."
Muklis, a professional surfer who, like many Indonesians, goes by only one name, is also nostalgic about Medewi's good old days.
"Back when I was a kid, it was super mellow, good fun vibes, with everyone in the line-up talking to one another and sharing waves. The tourists respected the locals and that is how it should be.
"But nowadays tourists are so much more aggressive. They all want to get waves and forget what surfing is all about."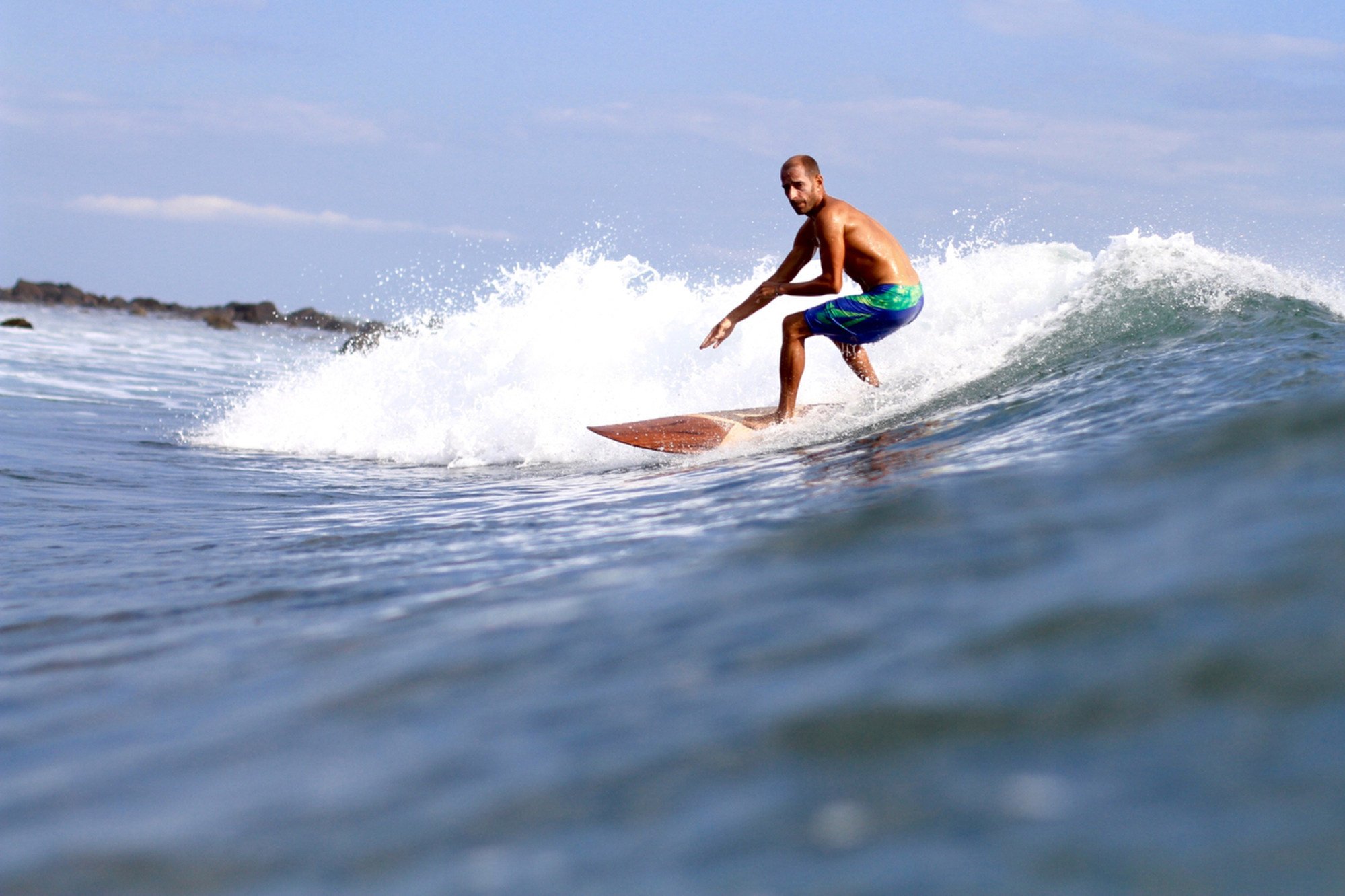 I get a very clear picture of what they are talking about when I paddle out to Medewi's popular "point break" at high tide. The waves break slowly and consistently and are at times more than 100 metres in length – perfect for beginners. And therein lies the problem.
A few minutes after I get into the water, I see a beginner try to stand up on her surfboard before being wiped out.
Unfortunately, she didn't properly attach her surfboard's leg rope to her ankle and it comes undone – a crime in the surf world because it turns any surfboard into a dangerous waterborne projectile. And sure as death and taxes, it hits someone in the head – and that someone happens to be a local.
He doesn't hold back from voicing his discontent.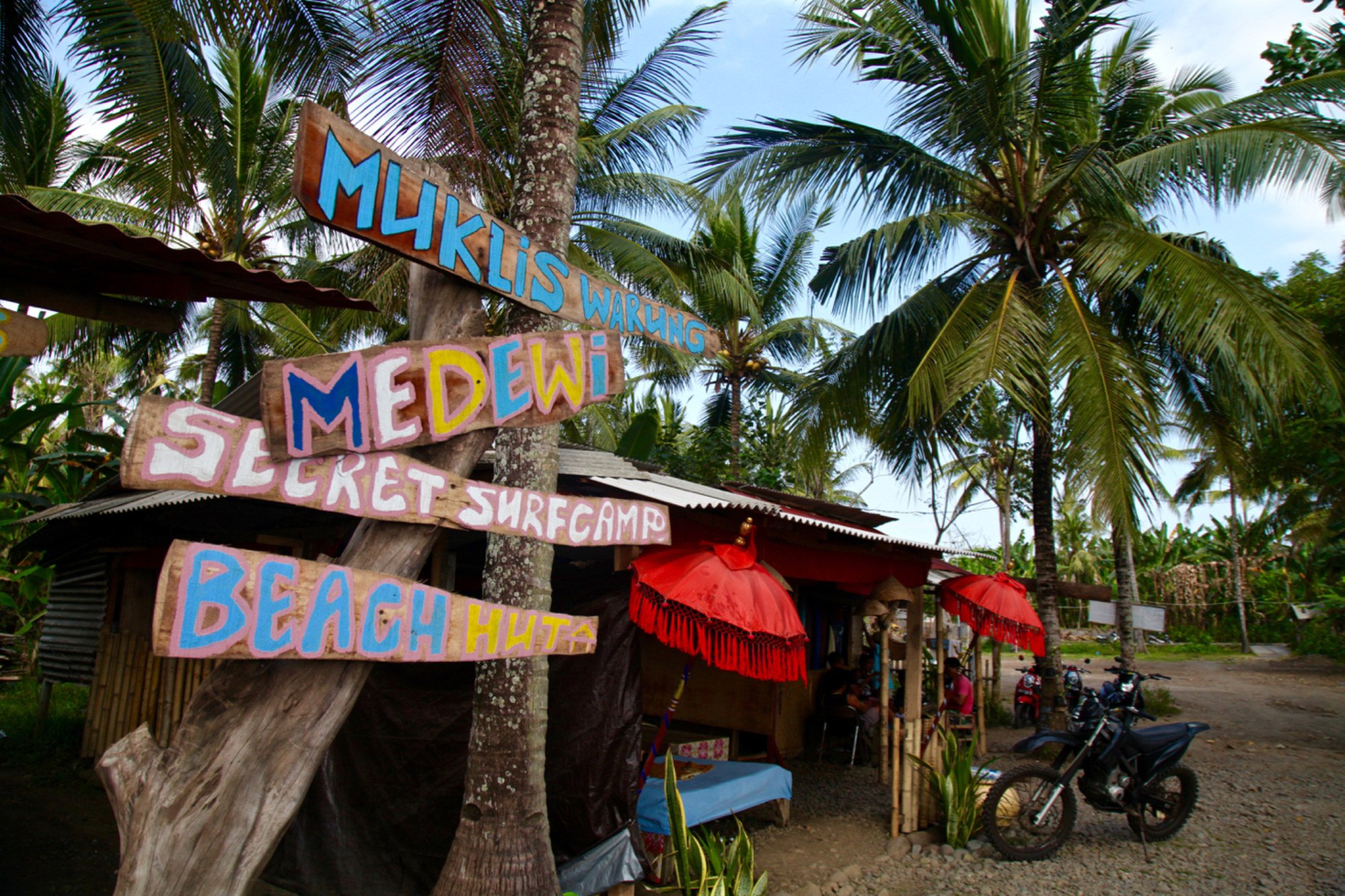 "Down in Uluwatu," Muklis says, of the world-famous surf break set under the soaring limestone cliffs of Bali's southernmost peninsula, "fights between tourists and locals happen every day. But in Medewi they happen only once a year. We are village people so you really have to push us to make us mad."
Another serious crime in the surfing world, "dropping in", refers to a surfer who catches or tries to catch a wave another surfer is already riding.
"That's the reason we have a line-up," Holzrichter says. "You need to take your turn, especially if you're a tourist. Even if a local drops in on me, I will let them have it 90 per cent of the time.
"If you let five good waves go, then the biggest and best wave of the day may come and you're the only one left. That's surf karma for you."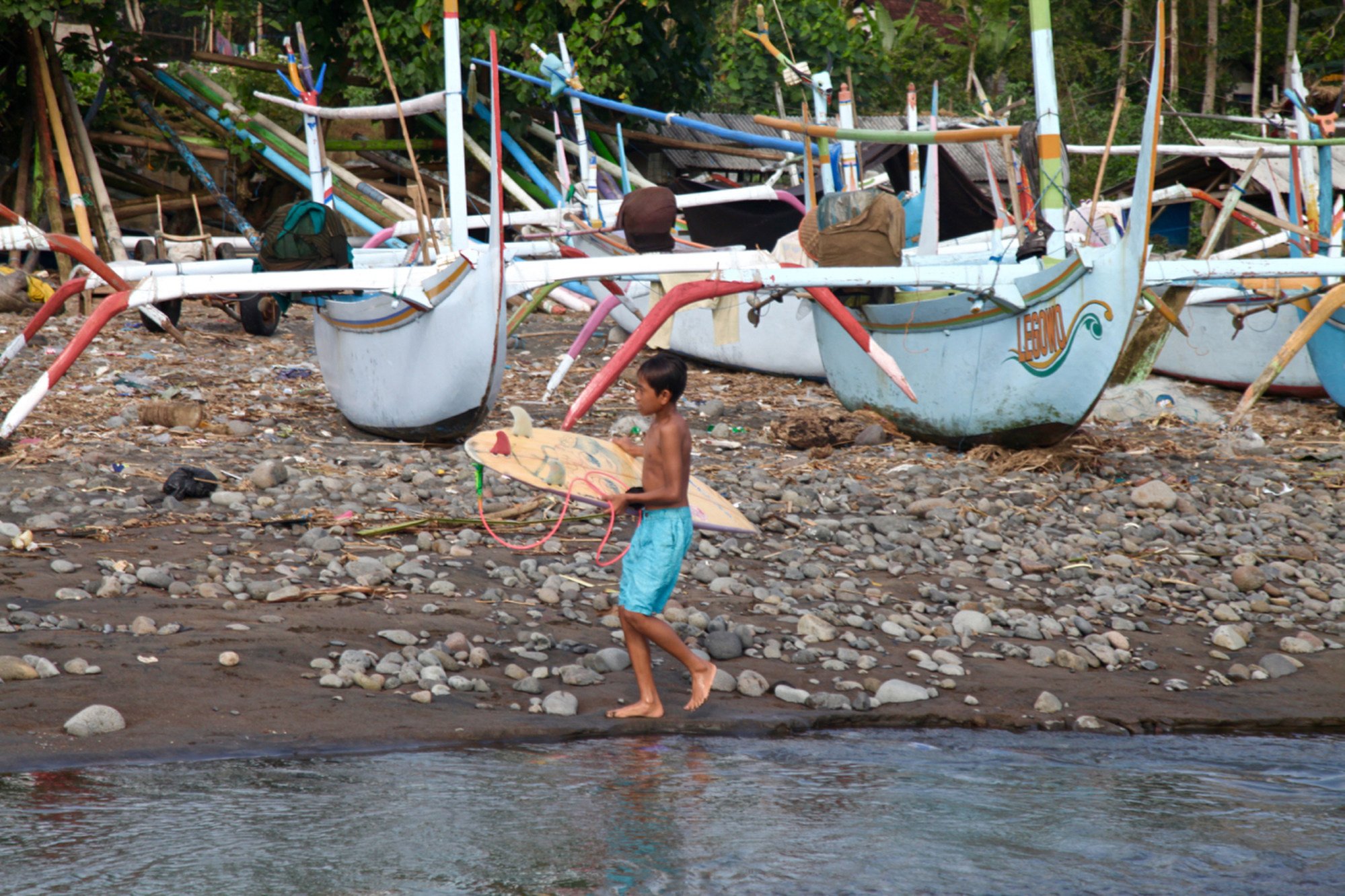 My session on this day is not fruitful. Practically every time I am about to catch a wave, I have to give way to another surfer in the line-up. When I finally catch a perfect wave I'm forced off it by a Westerner wearing a yellow T-shirt with the word Canggu printed on the back, who drops in on me without a care in the world.
Canggu, pronounced 'Chan-goo', is Bali's hip surfing community, about 5km north of Kuta Beach. Ten years ago, it didn't look too different to Medewi. Today there are more luxury villas and cocktail bars than there are rice fields in Canggu, while the beachfront is lined with surfboard hire shops and surf schools.
Many of these businesses offer day trips to Medewi, piling up to eight beginners and one instructor into a van for the drive up the coast. The low instructor-to-student ratio means these rookies are not properly supervised and accidents such as the one I witnessed are bound to occur.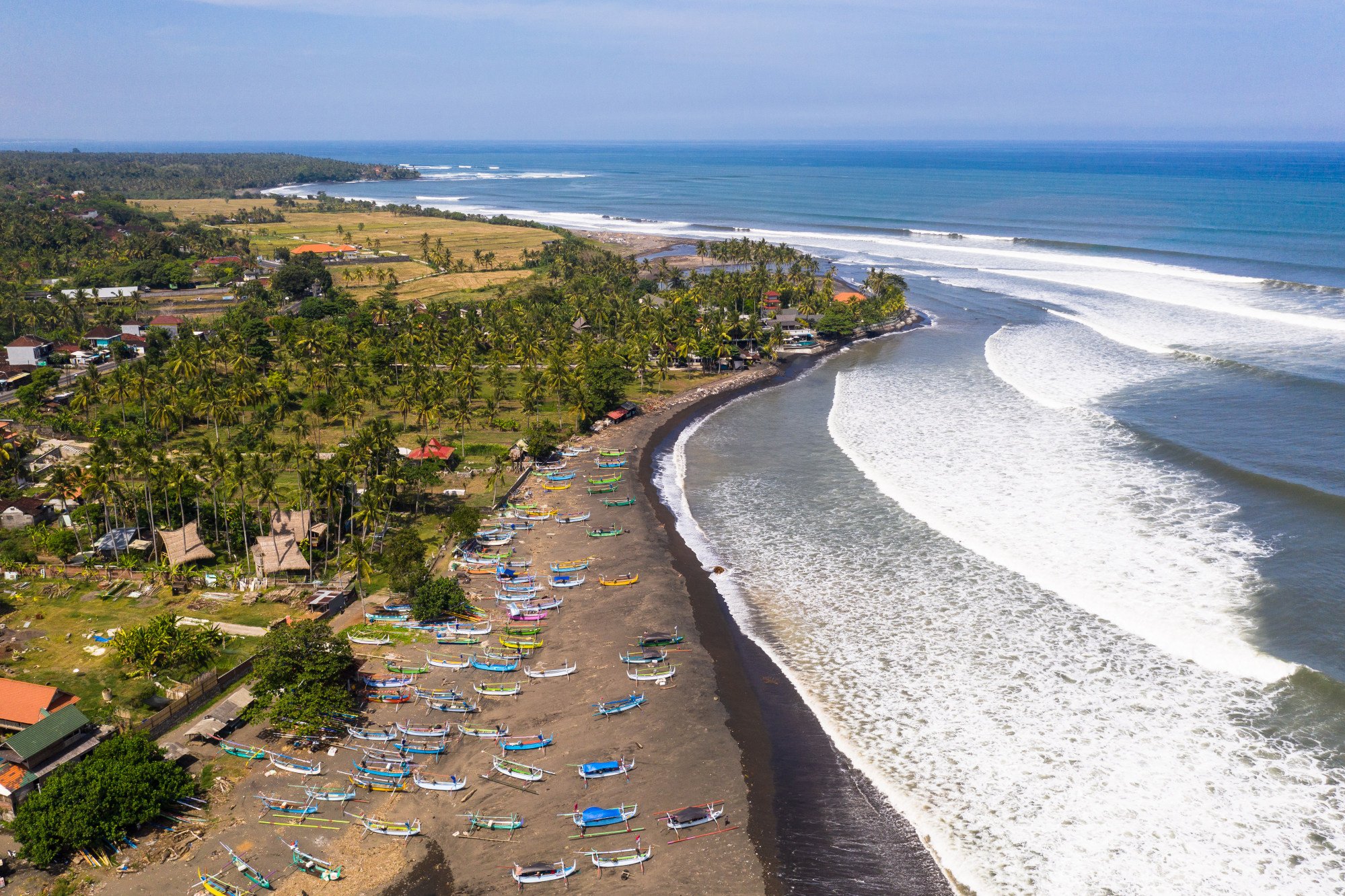 Worse, these day trippers occupy waves – a limited resource – but don't contribute much to the local economy.
"I don't mind if surfers come and stay in a local guest house for a few days. It's good for us and gives us money to send our children to school," Muklis says. "But those who come up just for the day with surf camps from Canggu; this is the kind of crowd we don't want in Medewi.
"On some days, we get [ …] four or five vans full of Canggu people crowding up our waves."
Muklis and other members of the Medewi Boardriders Club – a group that holds weekly clean-ups on the beach and teaches local children how to surf – have tried speaking to instructors from Canggu about the problem. "But they're just employees, they have no say in what they do and if they complain to their bosses, they could lose their jobs," Muklis says.
"Their bosses never come up here. They hide in Canggu."
The solution, Holzrichter says, lies in affirmative action among tourists themselves. "There are plenty of surf camps in Medewi. They can rent a car or motorbike in Canggu or just catch a taxi – it's not too expensive. That way, their money helps the local community."
Muklis concurs: "That way we'll get respect. Respect for us locals and respect for our waves."