Tourism
Get more with myNEWS
A personalised news feed of stories that matter to you
Learn more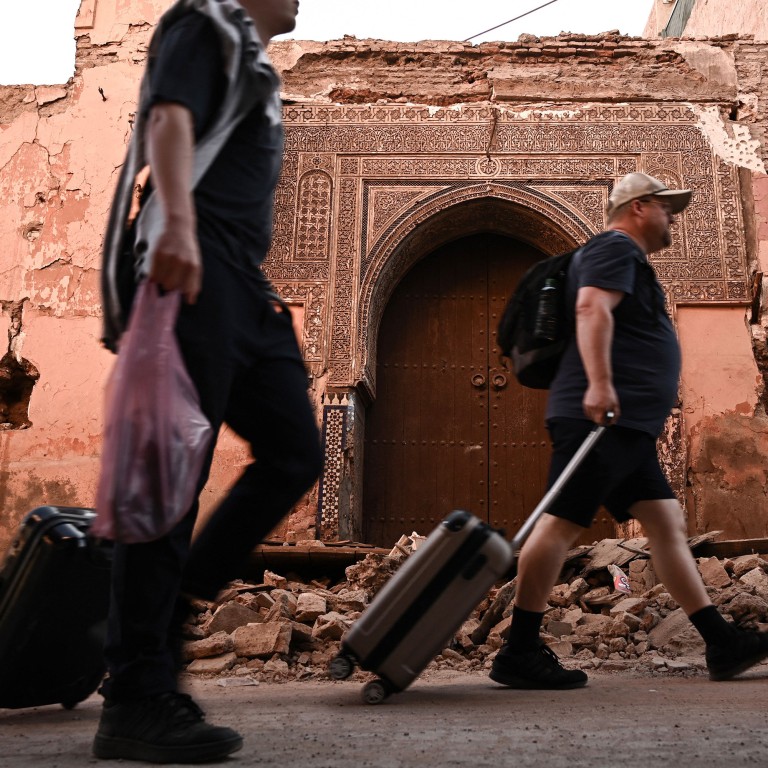 Morocco earthquake: tourists in Marrakech choose to stay on – 'We're not going to let the earthquake ruin everything'
Ancient Moroccan city Marrakech is picking up the pieces after a deadly earthquake struck nearby, killing more than 2,000 people and damaging buildings there
Some tourists have decided not to leave the stricken city, which had just started to recover after a slump in tourism during the coronavirus pandemic
Marrakech's ancient medina was nearly empty on Sunday after a deadly earthquake hit Morocco, but that didn't deter some tourists.
Tourism is the lifeblood of the North African country's economy, and Marrakech is its main attraction.
Friday's devastating quake,
which killed more than 2,100 people, has spurred fears of a repeat of the tourism slump suffered during the Covid pandemic.
Some visitors, however, were in no rush to leave.
"We're not going to let the earthquake ruin everything," said 35-year-old Kirian Ficher, from Germany, who was on a guided tour of the historic city. "There was no warning of any major risk, so we stuck to our plans."
Just four people were on the tour, however; all had been evacuated from their rooms as the earthquake hit on Friday night.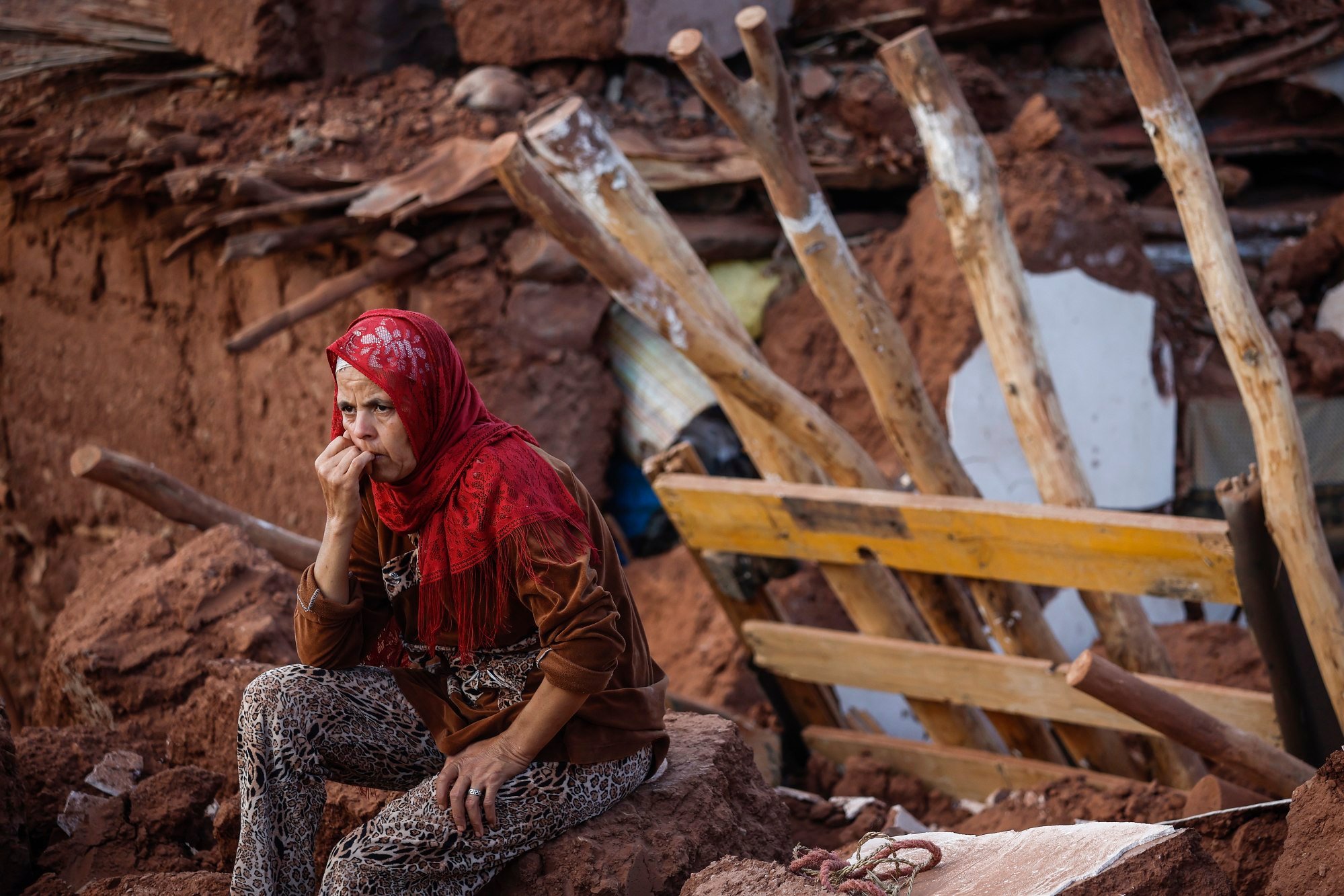 The 6.8-magnitude quake was the strongest to hit Morocco since records began, and wiped out entire villages in the hills of the Atlas Mountains, southwest of Marrakech.
"We're still a bit hesitant about whether to leave," said Dominik Huber, 26, who was also on the city tour. "But it seems relatively safe.
"And also, by staying we are contributing in a small way to supporting the Moroccans."
The small group stood outside the imposing, studded-wooden doors of the Bahia Palace, built in the 1860s, a tourist attraction which is now closed.
It suffered some damage, with smashed green-glazed terracotta tiles on the ground. Jagged cracks have appeared in the rose-coloured walls of buildings in nearby streets, and some houses are now just piles of rubble.
Other parts of Marrakech's Unesco-listed historic centre sustained serious damage, with masonry raining down on parked cars and some of its alleyways collapsing. A video on social media showed the 12th-century Kutubiyya mosque shaking as screams punctured the night sky.
Guide Abderrazzaq Ouled assured his small group that the tour of the city founded nearly 1,000 years ago could still go ahead. "Most of the visit is still feasible," he said.
Not far away, three Italians asked police officers whether attractions in the city were still open to visitors. They too had decided to stay, as had a couple sipping tea in the shade of a tiled terrace, and a lady in flip-flops and straw hat haggling for a leather bag in one of the few shops still open.
In Marrakech's Jemaa el-Fna square, perfume and fruit juice vendors had replaced residents who spent the night in the open, wrapped in blankets, because their homes had been damaged or destroyed.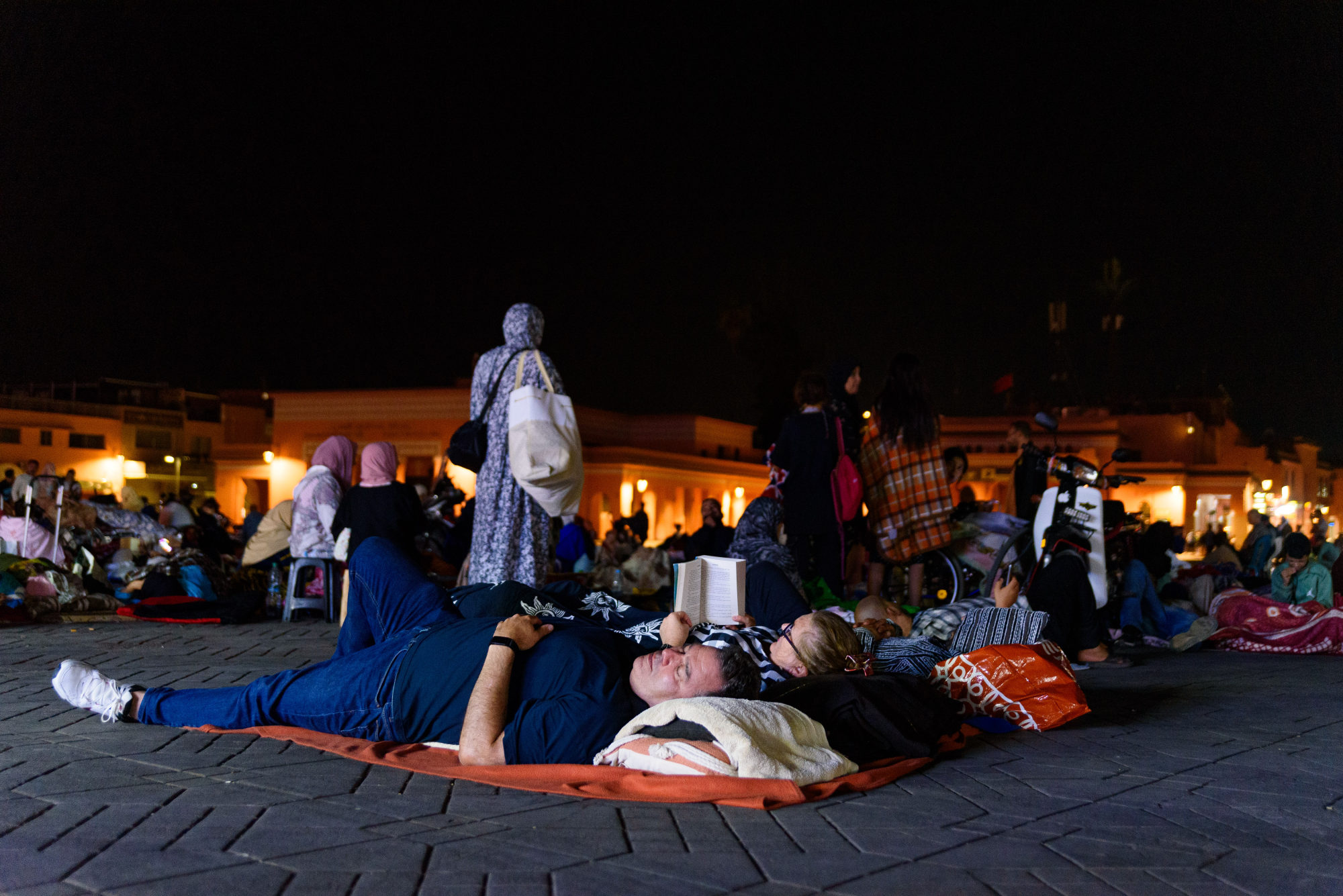 The country's Tourism Observatory is concerned that the economic consequences of the disaster may negate the upturn in visitor numbers recorded this year.
The observatory recorded some 6.5 million tourists in Morocco in the first half of 2023, mainly from western Europe and the United States, an increase of 92 per cent over the same period last year. Marrakech had more than 4.3 million visitors.
The economic effects of the quake are already being felt by some tourism professionals in the city. "Entire tour groups have already cancelled, fearing aftershocks," said 56-year-old Daehmen Ziani, who runs a hammam (Turkish bath).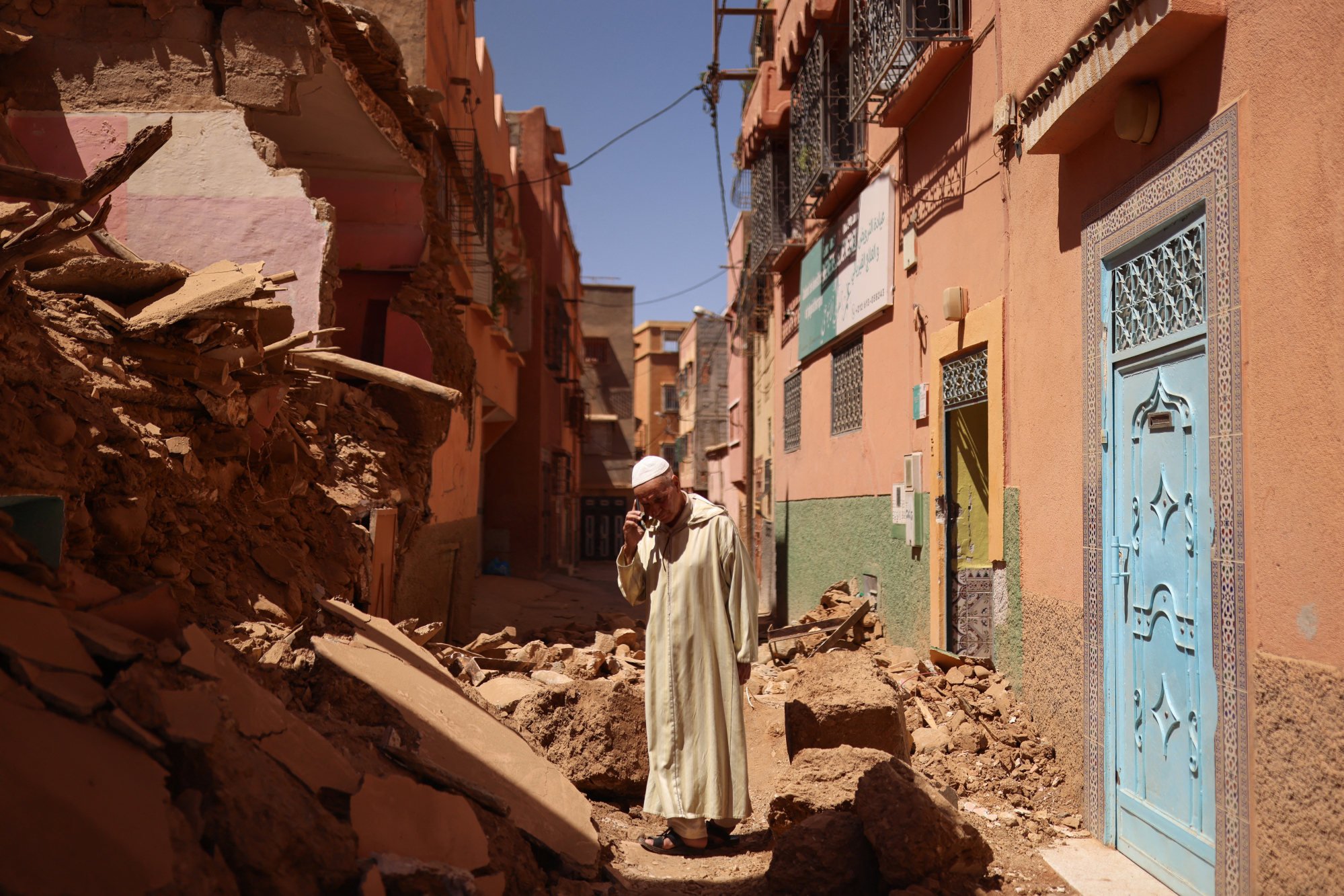 "The medina [old town] is the pride and soul of Marrakech, and tourism accounts for 99 per cent of our income. If that dies, then everything will stop," as it did during the Covid-19 epidemic, Ziani said, speaking on the marble steps of his now deserted business.
Morocco imposed a strict lockdown in spring 2020 because of the pandemic, and its tourism industry ground to a halt.
"Then, we could only cross our fingers and hope that such a disastrous time doesn't happen again," Ziani added.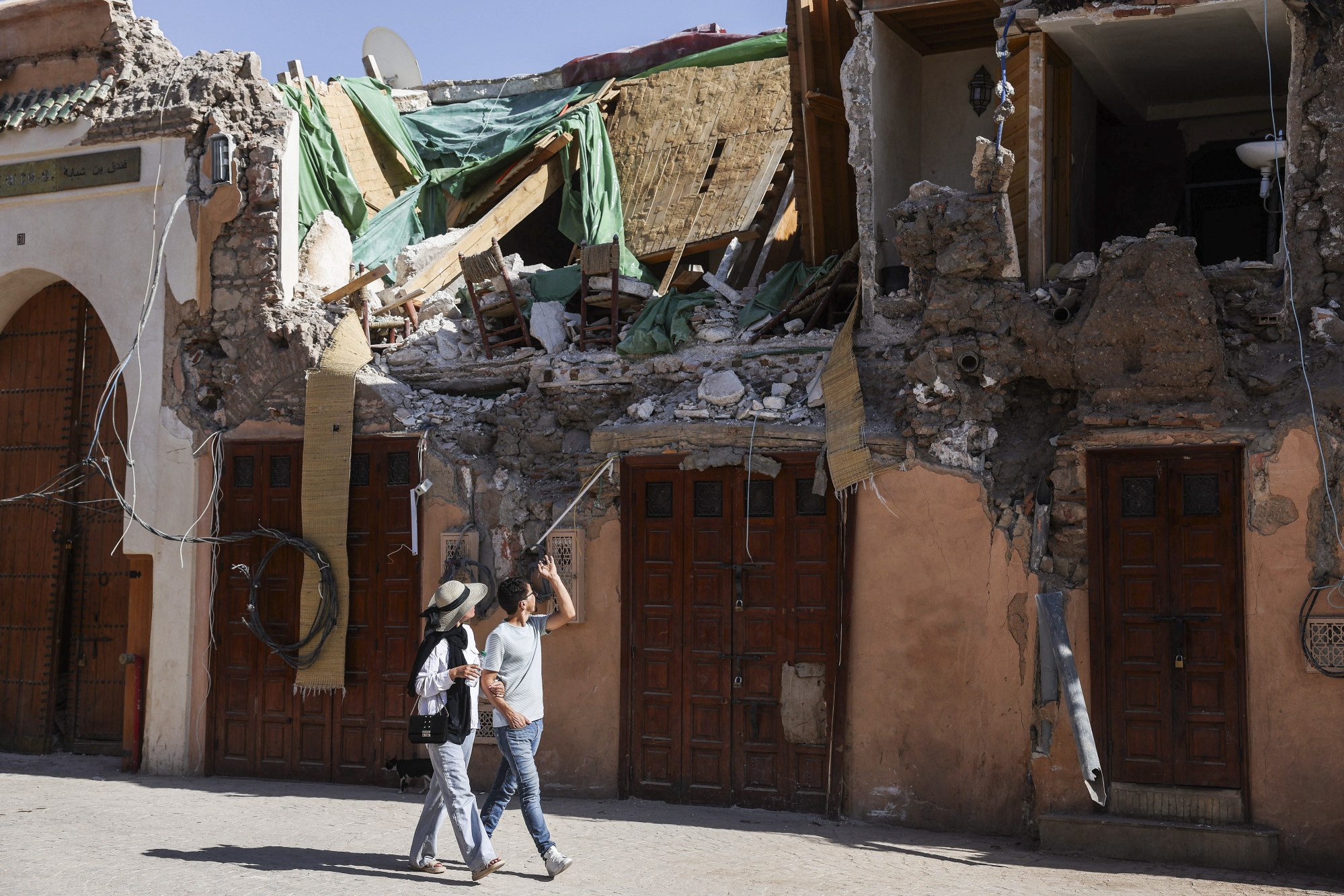 Although a short-term hit seems likely, the country's size and diversity of attractions may provide a cushion. Tourism in Turkey, which was hurt by disastrous earthquakes in its eastern provinces in February, mostly rebounded, with surging summer arrivals on the Mediterranean coast and in Istanbul.
Flights from Europe's major airlines were still arriving in Marrakech on Sunday.
The quake probably won't "impact Morocco's economy as a whole, but it will hurt the local economy, especially the many villages that live off tourism on the outskirts of Marrakech and the city itself", said Rachid Aourraz, head of research at the MIPA Institute, a think tank in the capital, Rabat.