LIFE
Get more with myNEWS
A personalised news feed of stories that matter to you
Learn more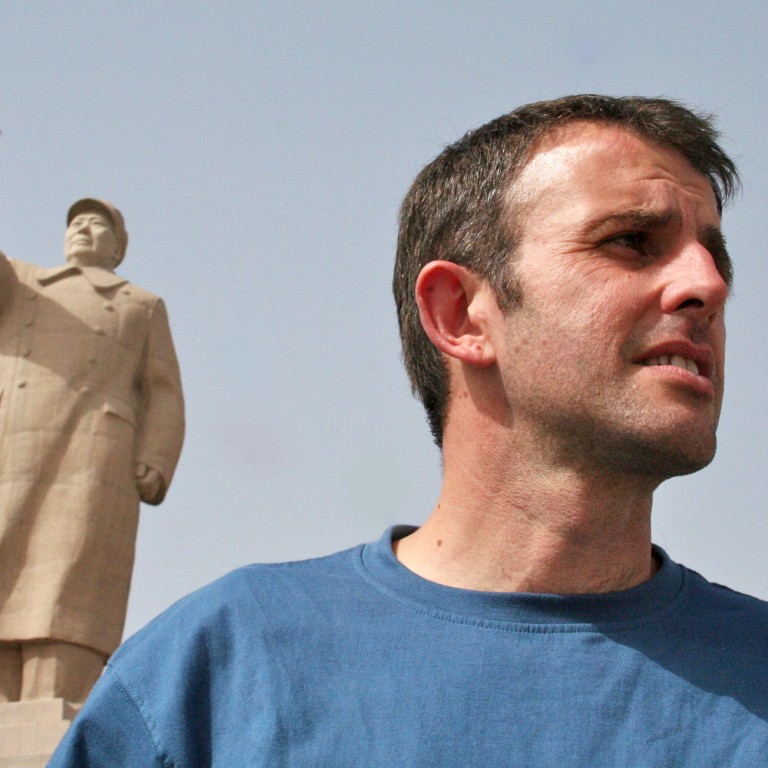 ESF teacher's quest to visit every province in China
An English teacher's aim to see every corner of the mainland - and learn the language along the way - has given him enough travel stories to fill a book, writes Simon Parry
The strangeness of English Schools Foundation teacher Chris Taylor's quest to visit every mainland province dawned on him as he sat down on a bench in a town square in Ningxia - an obscure northwestern chunk of China most foreigners have never heard of, let alone considered visiting.
Alone and nearly 2,000 kilometres away from his family in Hong Kong and his job as head of senior school at Sha Tin College, the 43-year-old suddenly found himself surrounded by a throng of locals. "They just sat really close to me and stared and stared," he recalls.
"As soon as I did anything like get my notebook out, everyone would be really interested and lean over and stare. I distinctly remember just wanting to be left alone and sitting there doing nothing until people finally dispersed and gave me a bit of space."
Being the object of intense curiosity is an experience Taylor relived in different ways throughout 10 years visiting all 27 provinces and five autonomous regions of the mainland, an adventure recounted in his newly published book, .
"People are really intrigued and want to see what you're doing," he says. "That's great most of the time - but there are occasions when you just want to be left alone, for pity's sake.
"But it was never threatening. Not a single time did I feel I might be attacked or robbed. The attention I got was always welcoming and friendly. It was just a bit overwhelming at times."
From eating goat's head in Xinjiang to countless run-ins with universally obdurate taxi drivers, Taylor's 600-page book is a mixture of travelogue and history and the culmination of a mission to understand the world's most populous nation by visiting every corner.
His eccentric ambition took root after he arrived in Hong Kong in 2003 and made some initial forays into the mainland with visits to Beijing and Yunnan with his wife, fellow ESF teacher Justine, and their two young daughters, Martha and Molly.
Then, spurred on by his fascination for the country from teaching modern Chinese history, he began making more intrepid trips to less visited parts of the country associated with the Long March and other history-shaping events.
"There were certain places I really wanted to go to - and before you know it, you've been to 12 or 15 provinces and this idea took off that I'd go to them all," he says.
As his journeys took him further into the depths of the mainland, it became an increasingly solitary enterprise. "My family came along on some of the trips and they enjoyed everywhere we went to," he says. "But they did go to the best and the most interesting provinces.
"China at its best is great. There are parts which are really beautiful, really interesting and it's not too difficult to get around.
"But after a while there was this rolling of the eyes when holiday time came around and we were going to China again instead of Bali or the Philippines. There came a point where they'd had enough of China as a holiday destination."
After that, Taylor's exploration was limited largely to summer holidays when his wife and daughters would fly back to England while he would spend five weeks travelling through China before joining them for the tail end of the vacation.
Learning Putonghua transformed the experience for Taylor. On one early solo trip, he found himself virtually stranded in Hunan province because of his inability to communicate. "I was really off the tourist trail and I didn't speak any Chinese and it was almost impossible to function," he says. "I remember thinking that if I didn't learn any Chinese it would just be impossible. It was exciting but it was hard and it was lonely because I couldn't have a conversation with anyone at all."
So in the summer of 2008, he went to live for a fortnight with a family in the capital of Hubei province, cycling to the local university to study Putonghua by day and teaching English to the family's son in the evenings in exchange for bed and board.
Speaking the language gave him the skills to collect the anecdotes that shape his book. Travelling by bus and train - "you meet more people that way" - and staying in 30 yuan (HK$38) to 40 yuan a night hotels, he spent five days to a fortnight in each province.
What struck him most about China was its diversity - from the frenetic cosmopolitanism of its eastern cities to the backward traditions of central provinces, including one where the parents of a dead child beat the corpse for betraying the family by dying young.
"That's what kept me going when I got to 15 or 20 provinces and thought 'I've had enough of this now'," he says. "I wasn't seeing the same thing all the time. It was like going to different countries and seeing different cultures everywhere I went. That's what gave it an endless interest."
For all its diversity, however, Taylor found two "almost insurmountable" challenges for China loomed up time and again - pollution and corruption.
"There is this tendency for people in the West to see China as a threat. There is an assumption that it is marching on and will take over the world, but I'm not sure that's the case. The problems are the things that really stand out.
"Pollution is just catastrophic. If you look at the UN list of the world's most polluted cities, the top 10 are all in China. You get off the train in Shaanxi and you can taste the pollution and people's washing is covered in soot. It's desperate. I don't know how, with over one billion people, China is going to resolve its energy issues.
"The other big problem is corruption, the level of which is quite breathtaking. When you get out to remote, obscure cities, they are run by terribly corrupt officials who are just filling their pockets. It seems to be so deeply ingrained and it prevents so much from happening."
His overall verdict, nevertheless, is upbeat. China is "a nation on the up" with some extraordinary natural beauty and an unfailingly generous people. "There is an energy and optimism and a can-do mentality that is as energising and exhausting and thrilling as the first throes of love," he writes.
With his book now on the shelves, Taylor's wife and daughters might be excused for thinking they can look forward to relaxing family holidays in more conventional destinations. They would be mistaken, however. "My next project is the former Soviet states," he says with boyish enthusiasm. "I've visited six already - Uzbekistan, Kazakhstan, Armenia, Georgia, Belarus and Russia."
When the school holiday begins, the Taylors will visit three more: Latvia, Lithuania and Estonia. He does have one crumb of comfort to offer his long-suffering family. "The beauty of the former Soviet states is that there are only 15 of them."
is on sale at Dymocks.
Taylor's travel tips on China
 
Favourite place: Yunnan. It's absolutely stunning. The southern part has jungle and elephants and is like Southeast Asia. In the north, there are snowy mountains and the culture of Tibet.
Friendliest people: Sichuan. The people are very, very down to earth. They spit and smoke a lot but they have no airs and graces and they are incredibly honest and welcoming.
Best food: I loved Tibetan cuisine. It's very basic and it's always really fresh and they serve a lot of momo dumplings, which are excellent. The fermented milk is really good, too.
Worst meal: sliced rat in Guizhou. It had a strong flavour and tasted terrible.
Places to avoid: the three northeasternmost provinces, Heilongjiang, Jilin and Liaoning. I was there in the winter and it was absolutely freezing - insanely, unnecessarily cold.
Ugliest city: Chongqing. The humidity is sky high, the river is filthy and the city is constantly enveloped in this murky, soupy fog.
How to get around: take trains. They're sociable. Avoid buses as much as possible. There's always the feeling that you might plunge off a cliff. Taxis are unavoidable but be on your guard: Taxi drivers will invariably try to rip you off, wherever you are in China.
As told to Simon Parry
This article appeared in the South China Morning Post print edition as: Roads scholar