Alibaba
Get more with myNEWS
A personalised news feed of stories that matter to you
Learn more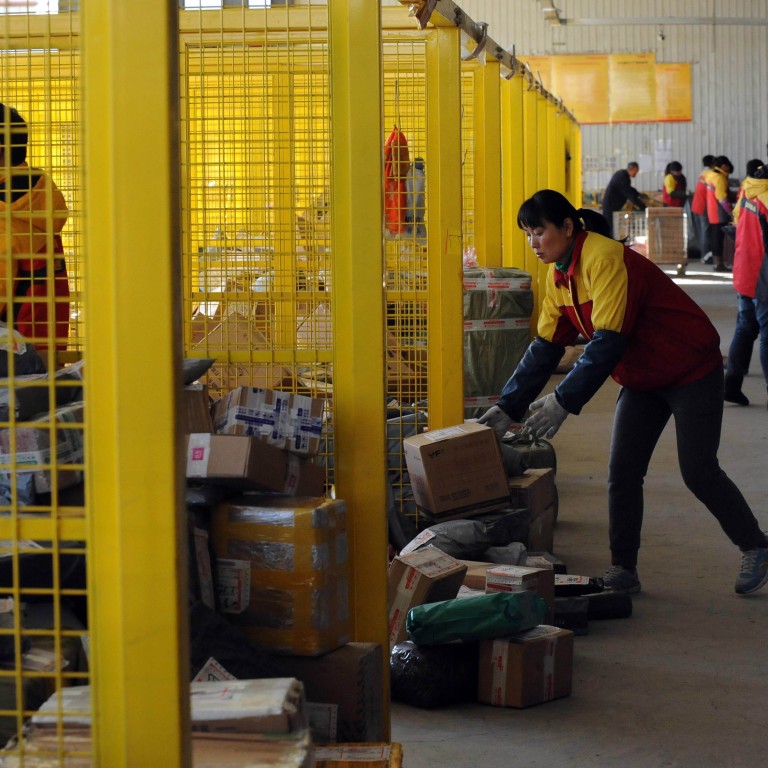 New

|
Top 5 business-to-consumer e-commerce platforms in China
One of the things that struck me most when I relocated from Hong Kong to Beijing two years ago was that almost everyone shopped online. I remember the disbelief and contempt on a friend's face when, not long after my arrival, I said I was walking to a supermarket 15 minutes away in order to lug gallon bottles of water back home. That was my first realisation of why delivery vehicles fill Beijing's lengthy streets.
Online shopping reached a record 2.8 trillion yuan in mainland China in 2014, making up around 10 per cent of total retail sales of consumer goods, according to official data. Business-to-consumer retail made up about 46 per cent of the online shopping market, a five percentage point rise from 2013. SCMP reporters have sized up the growing market and compiled a list of retailers based on market share.
Tmall
The B2C arm of Alibaba Group's e-commerce kingdom was spun off in 2008 from Taobao, which then became a consumer-to-consumer business (though many small shops and businesses still use the site to sell goods). The rationale was that having thousands of similar products on a similar platform would damage the user experience and merchant profitability, so the divison was made between large brands and smaller ones. The invite-only platform features more than 70,000 international and domestic brands from more than 50,000 merchants. Tmall controls about 60 per cent of the Chinese B2C market.
JD
Originally founded as an online magneto-optical store, JD soon diversified into a B2C consumer goods platform, selling cameras, smartphones, computers, and now just about everything. While its scale is dwarfed by Alibaba Group's outlets, JD boasts superiority in having its own storage and logistics teams. JD controls about 19 per cent of the Chinese B2C market.
Suning
The e-commerce arm of one of China's biggest 3C (computer, communication and consumer-electronics) retailers, the fast-growing platform has built on its advantage in sales of similar products. In 2013, it switched to an open platform, allowing third-party merchants to sell products on the site. Suning controls about 3 per cent of the Chinese B2C market.
Vipshop
The Guangzhou-based flash sale platform, where goods are offered for a steep discount for a limited period of time, has focused heavily on attracting female consumers compared to other companies on this list. More than 80 per cent of the site's customers are women, accounting for around 90 per cent of sales. Vipshop controls about 3 per cent of the Chinese B2C market.
Gome
The e-commerce arm of Chinese electronics retail chain Gome Electrical Appliances started off with a heavy focus on 3C products, but has developed as a one-stop-shop retailer that even operates a groceries wing. Its four major categories are maternal and baby supplies, health and medical products, home and textiles, and culture and art supplies. Gome controls about 2 per cent of the Chinese B2C market.