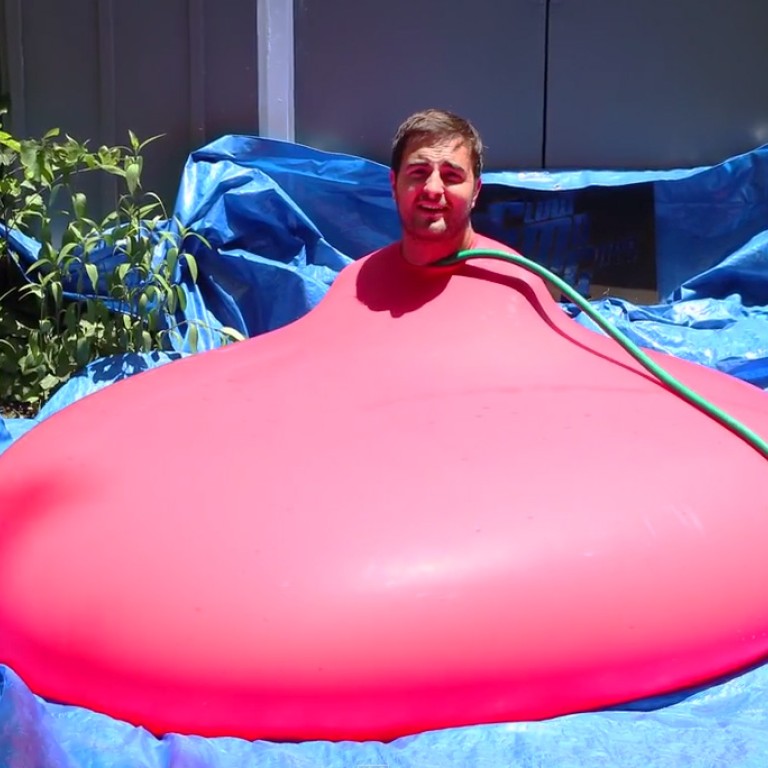 Top 5 videos of the week: From shark attacks to an exploding giant water balloon
Every Saturday, the South China Morning Post will present its top video picks from SCMP.tv and the web, highlighting news, features, mini-documentaries and more.
This week, we've got an exploding giant water balloon, a dramatic drone rescue and a surfer fending off a shark. 
FIFA's Blatter pranked with fake money shower
FIFA president Sepp Blatter had quite a surprise earlier this week, when a news conference he was about to speak at was suddenly disrupted by a shower of fake dollar bills. Lee Nelson (real name Simon Brodkin), the British comedian who threw the fake money, approached the FIFA president and declared, "Sepp, this is for North Korea in 2026." 
Soon after tossing the money, the comedian was escorted out of the conference by security and later driven away by Swiss police. A visibly angry Blatter left the room for 10 minutes until it was cleaned up. 
This wasn't the first time Nelson has disrupted major events. Earlier this year, he interrupted rapper Kanye West's headlining set at the Glastonbury Festival by jumping on stage. And last year, he turned heads when he tried to join the England World Cup team as they flew from Luton Airport to Miami for the start of their training camp.
Man sits in giant water balloon until it explodes
Ever wonder what it's like to sit inside a giant water balloon? According to YouTubers The Slow Mo Guys, it feels pretty nice. 
In this video, Dan (half of the Slow Mo team) places himself inside a six-foot balloon and watches and waits as it slowly fills up with water until it explodes. What results is a silly and hilarious sight, made even more so when it's seen in slow motion. But while one can't sit in a water balloon forever, we can't help but keep wonder how refreshing it would be in this humid Hong Kong heat. 
Champion surfer fends off attacking shark
It was like a scene straight out of Jaws.  Australian surfer Mick Fanning was competing in the finals of the World Surfing League's J-Bay Open in South Africa when a shark sneaked up on him in the water. What resulted was an exhilarating and frightening scene as Fanning tried his best to fend off the animal and swam as quickly as he could to safety. Thankfully, no one was hurt in the incident. And as the video shows, Fanning will certainly have a heck of a story to tell his grandchildren! 
School choir sings for teacher with cancer 
Better get your tissues ready, because this video might just make you cry. The famous PS22 choir of New York's Public School 22 in Staten Island surprised their teacher, Mrs. Lopez, with a rendition of Martina McBride's "I'm Gonna Love You Through It." 
It was a particularly emotional moment, as Lopez had just recently been diagnosed with breast cancer. As the kids sang for her, the teacher couldn't keep it in and the tears of happiness flowed liberally. 
And yes, we admit it. We're crying along with her too. 
Man dramatically rescues drone with another drone
It was a mission that required strength, patience and perseverance. After a friend crashed one of his drones onto his neighbour's roof, YouTuber Harrison Howes took matters into his own hands to save the marooned gadget. 
The first order was to get a bigger drone. Then, by using the hooks from coat hangers, the larger device was ready for its daunting task. 
With the dramatic soundtrack from the film Interstellar as background, the video kept our eyes completely glued to the screen. We admit that we had moments of doubt as the bigger drone tried to get to the roof, but breathed a huge sigh of relief when both safely returned to their rightful owner.