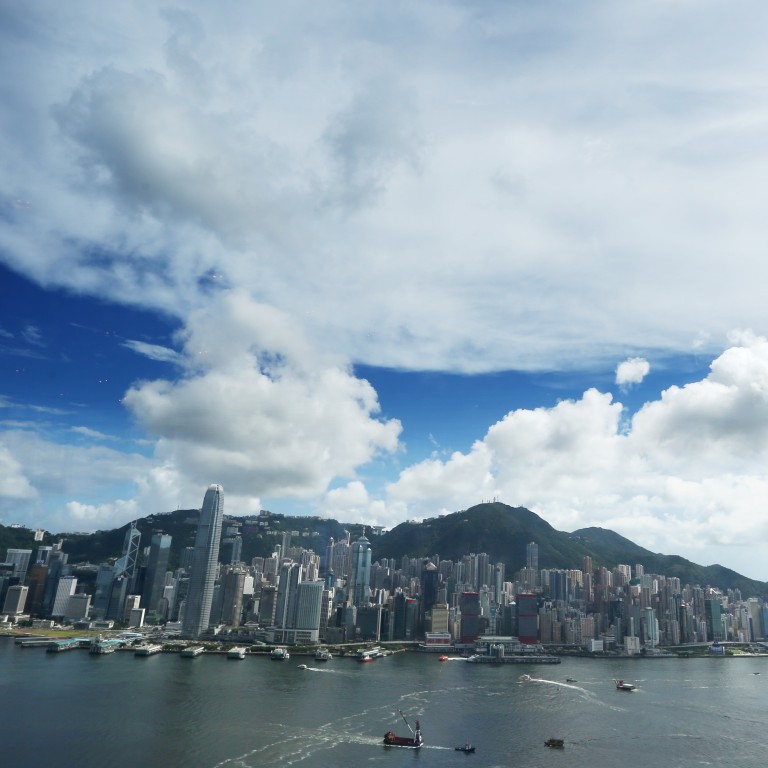 Top 5 innovations to turn polluted, congested Hong Kong into a green city of the future
The modern city bulges with buildings, cars and people. Think of a city like Hong Kong and you picture streets lined with apartment blocks and skyscrapers; streets choking with smartphone-using, coffee-drinking pedestrians, and of course, endless traffic.
Mass urbanisation, for all its benefits, is followed by a trail of collateral damage: pollution, congestion, energy consumption, and waste.
SCMP staff reporters sifted through the technologies, both current and in development, that could transform how urban dwellers live their lives, and have a positive benefit on their surroundings.
PRT pods
Rather than using buses, trains or subways to travel around, imagine a network of ski lifts that run across the city.
That's what supporters of Personal Rapid Transit (PRT) systems, such as Metrino-PRT, hope to bring to urban centres around the world. These car-sized, driverless pods use electric rail networks suspended 5-10 metres above the ground. By making small stopping points off the main transit line, and by travelling while suspended above ground, these pods would drop passengers at precise locations without obstructing ground-level traffic. The technology would also tackle the pollution that plagues busy cities like Hong Kong, as it runs on electric power.
Solar roads
Roads make up a massive amount of city surface area, why not turn them into solar power generators?
In November 2014, an experimental, 70-metre bike path was set up in Krommenie, the Netherlands. In 6 months, with over 150,000 cyclists having ridden across it, the path generated an excess of 3,000 kilowatt-hours, enough to power a single-person household for a year. This was done using concrete paving slabs embedded with solar panels, and protected with a centimetre-thick layer of transparent, skid-resistant safety glass.
There are still some hurdles to overcome, however. With large temperature fluctuations and wearing caused by traffic, the roads are liable to be damaged. But the SolaRoad team are in "advanced stages" of developing an improved top layer, and hope to begin testing on small municipal roads next.
Anaerobic digestion systems
Not the sexiest name, to be fair, but massively important nonetheless. Food waste is a largely unseen problem in cities: in Hong Kong alone, 3,200 tonnes of food are sent to landfills every day, and the capacity of the city's landfills are expected to be exhausted by 2018. Once dumped in the landfills, waste goes on to generate methane, a greenhouse gas 20 times more potent than carbon dioxide.
Firms like ORCA and EnviroPure offer food waste management systems, where waste is broken down by adding water, oxygen and microorganisms to accelerate decomposition into waste water for treatment in sewage systems, in self-contained machines that "digests" up to a ton of food waste per day. If widely adopted, this could reduce methane output and reduce waste destined for landfills.
Solar-power generating glass
Silicon Valley startup Ubiquitous Energy is developing a fully transparent solar cell, which selectively harvest the part of the solar spectrum unseen by the human eye, and convert those photons into electrons.
They do this by directing non-visible wavelengths of ultraviolet and infrared light to the edge of these solar cells, where thin strips of material convert light into electricity, while allowing visible light (parts of the solar spectrum we need to see) through.
The startup claims an energy conversion rate of over 10 per cent is possible. If this catches on, the tech could turn any window or sheet of glass (such as the smartphone screen) into a solar cell. In a city of skyscrapers and smartphones such as Hong Kong, this could be revolutionary.
Electric bike conversion kits
The last on the list is the humble bike- reducing your carbon footprint to the air you breathe and avoiding the misery of congestion, all the while getting some healthy exercise. Of course, cycling can be tough work, particularly in cities with varied terrain like Hong Kong.
Electric bike conversion kits, then, present an affordable and effective way to make biking easy. The Velospeeder, for example, is a device that turns any ordinary bike electric. Once the user attaches the device to the bike, the waterproof e-drive will offer up to 600 watts of power and will run for around 20km- more than enough for daily travel around a city. It may seem less revolutionary than turning every window into a solar cell, but few technologies can change the face of a city, or how we live, as the simple bicycle.