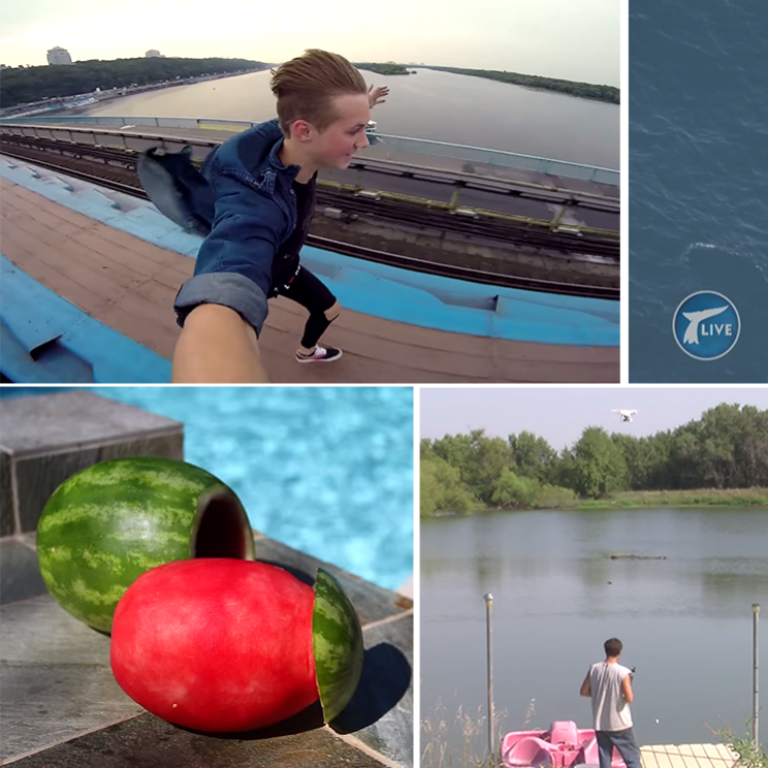 Top 5 videos of the week: from drone fisherman, skinning a watermelon and daredevil's joyride on train roof
Every Saturday, the 
South China Morning Post
 presents its top video picks from 
SCMP.tv
 and the web, highlighting news, features, mini-documentaries and more.
This week ... a young daredevil takes to the rails - well, above the rails - by taking a wild ride on top of a metro train, and a man takes the term "fly fishing" to new heights by catching a freshwater fish using a drone.  
Drone fisherman makes the ultimate splash 
Is this the future of fishing? Derek Klingenberg, an American farmer living in Kansas, successfully pulled a bluegill out of his pond by baiting a fishing line attached to a DJI Phantom 2 quadcopter. 
Granted, the process takes patience, but there's a moment of pure joy when Klingenberg realises he'd done it. The drone even filmed an aerial shot of the fish getting hooked. After the big catch, Klingenberg took the perfect Snapchat photo, with the fish and the drone strategically positioned in the frame. Bravo, Derek! 
Daredevil leaps onto the roof of a metro train
The man in this video risked life - and limbs - to take a dizzying ride on top of a metro train just for the thrill. "I am 18 years old and I love to ride on the roof of a subway car," the teen who calls himself "Pasha Bumchik'' wrote on his YouTube page.  
Pasha, who is wearing a camera on his head, runs into a train station and slides down the railing of an escalator and waving to a frowning metro employee as he runs away. Later on, he climbs over a fenced area - dodging a policeman - before leaping onto the top of a train. The young James Bond then runs across the carriages as the train speeds along the track.
Will he get caught? Watch the breathtaking video to find out. 
BBC One reporter Steve Backshall was in the middle of an interview with a whale expert on a boat in Monterey Bay, California, when another guest too massive to ignore came moseying in.
"I'm so so sorry, I don't believe," the reporter exclaims, cutting the interview short. "I've just heard that ... this is incredible! I've just heard that we have [as seen from] our helicopter ... a blue whale." 
It must be truly amazing to see the world's largest and heaviest mammal in person! 
It takes a rocket scientist to show you how to perfectly "skin" a watermelon 
A perfectly skinned watermelon does look weird, but it can be a jaw-dropping trick to wow your friends at parties. Former Nasa engineer Mark Rober showed the trick step-by-step in this video.
Now what we would like is to see Rober doing this ... in space!
For decades, one unspoken rule has governed civilised escalator behaviour all around the world. Stand on the right, walk on the left. But Hong Kong MTR chiefs now claim walking on escalators is a safety hazard and started its latest campaign to have passengers on the escalator to "stand still and don't walk" on August 17.