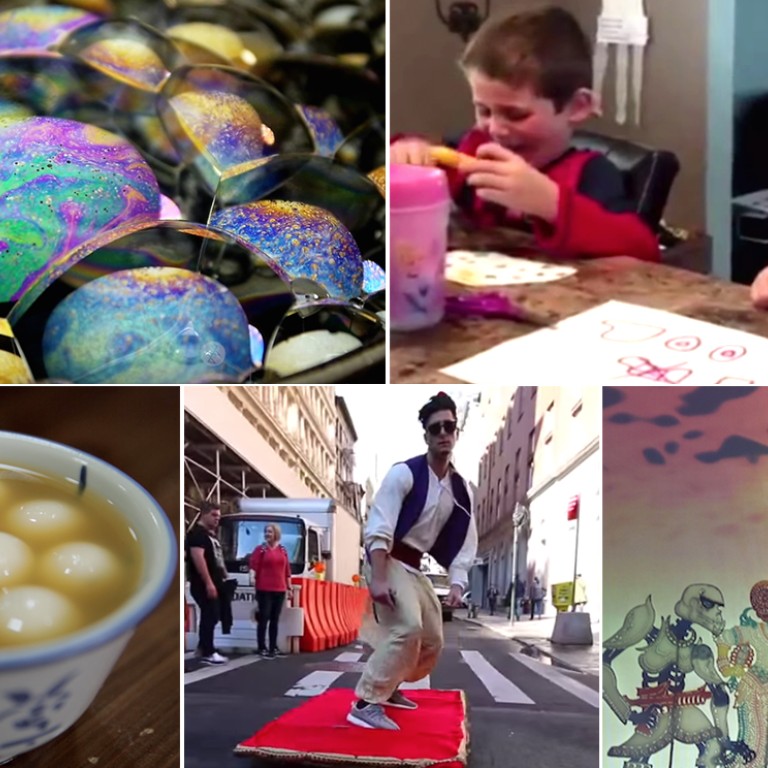 Top 5 videos of the week: from 'Aladdin magic carpet' prank to macro footage of iridescent soap bubbles
Have you ever looked at soap bubbles through a macro lens? How would you react if you saw "Aladdin" riding a "magic carpet" on the street? Do you know where to find Hong Kong's best street food? 
The South China Morning Post team has the answers for you compiled in our top video picks from 
SCMP.tv 
and the web this week, highlighting news, features, mini-documentaries and more.
How would your kids react if you told them that you ate all of their Halloween candy? For each of the past four years, YouTube asked parents to play the prank on their kids and post video of it on the online video platform. Here are the best of this year's submissions. 
Caution! You might laugh your xxx off when you watch these cute kids' funny reactions!
Is he the real Aladdin? A guy dressed in full costume whizzed through the streets of New York on a "magic carpet" ahead of Halloween, inspiring shocked gasps and even screams from many onlookers.
The carpet actually is nothing more than a remote controlled skateboard. Want to know how exactly these guys build the device? Watch
the behind-the-scenes video
. 
The latest episode of Star Wars films will release in December, but there's very cool version of it being played out in Malaysia.
Darth Vader's distinctive helmet-headed silhouette swoops in to seize control of a spaceship, but this is not the movies -- instead his movements are being brought to life by a shadow-puppet master behind a back-lit screen.
Who knew soap bubbles were so beautiful! In this video, you see everyday soap bubbles from sinks and washing machines from macro perspective.
They swirl and pop and look colourful and vivid. The video, besides being simply gorgeous, is also meant to elicit an "
autonomous sensory meridian response
"...we don't know what that is either but it looks cool!
SCMP's Bernice Chan and Michael Ellis, International Director of the Michelin guide, visited three of the 23 listed places and tasted their signature dishes.