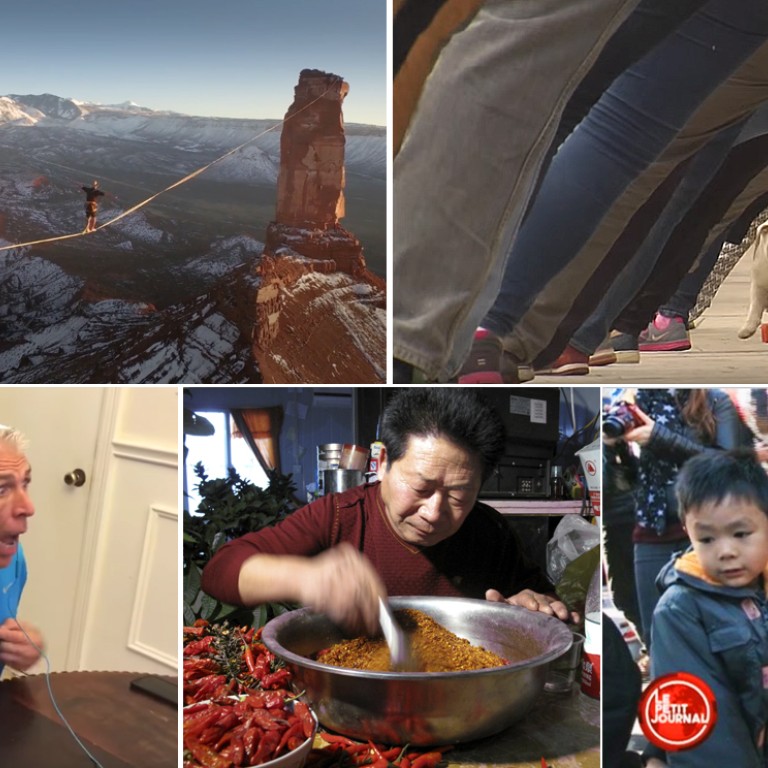 Top 5 videos of the week: from a skateboarding bulldog to a Chinese man who eats two kilos of chillies a day
Every Saturday, the 
South China Morning Post
 presents its top video picks from 
SCMP.tv 
and the web, highlighting news, features, mini-documentaries and more.
This week we feature an amazing 500-meter slackline walk between desert towers and a Chinese man who who eats two kilos of chillies every day.
In this interview with French TV show Le Petit Journal, the father tried to explain to his young son what has happened and why everyone has gathered to lay flowers. The father tells his child "they might have guns, but we have flowers." 
At the end of the conversation, the little boy said he felt reassured by what his father said. "The flowers and the candles are here to protect us," he said.
Do you like eating chillies? Can you eat two kilos of chillies a day? This man in central China does it every single day. 
Li Yongzhi, a 54-year-old retired construction worker, eats different kinds of chillies from morning to night. "This is my god. This is my own delicacy," he said. 
Li turned his passion to profession, appearing on television shows, commercials and at chilli eating contests.  
French daredevil Théo Sanson performed a breathtaking 500-meter walk on a slackline rigged from The Rectory to Castleton Tower in Castle Valley, Utah, on November 15th, likely setting a new world record. 
In this fantastic video, we watch Sanson balancing and walking high between two rocky peaks, having the vast expanses of desert beneath his feet. 
"Walking on a line have always scared people to death, and that's normal…I'm still afraid to die, but what would be life without risk?" he said
on his website
. 
Not only the human beings can skateboard, Otto the bulldog also can do it. And Otto can do it pretty well. 
The dog broke the Guinness World Record for skateboarding through the "longest human tunnel" in Peru last Thursday. It rode on a skateboard through the legs of 30 people.
How would you tell your parents that your wife is pregnant? YouTube user Alexa Goolsby did it during family game time. 
In this video, Goolsby's father tried to guess what his son was saying while listening to loud music on headphones. After his father's many failed attempts, he finally figured out the sentence with surprise and joy . "You are going to be a grandfather!" Yes, that's the right answer.