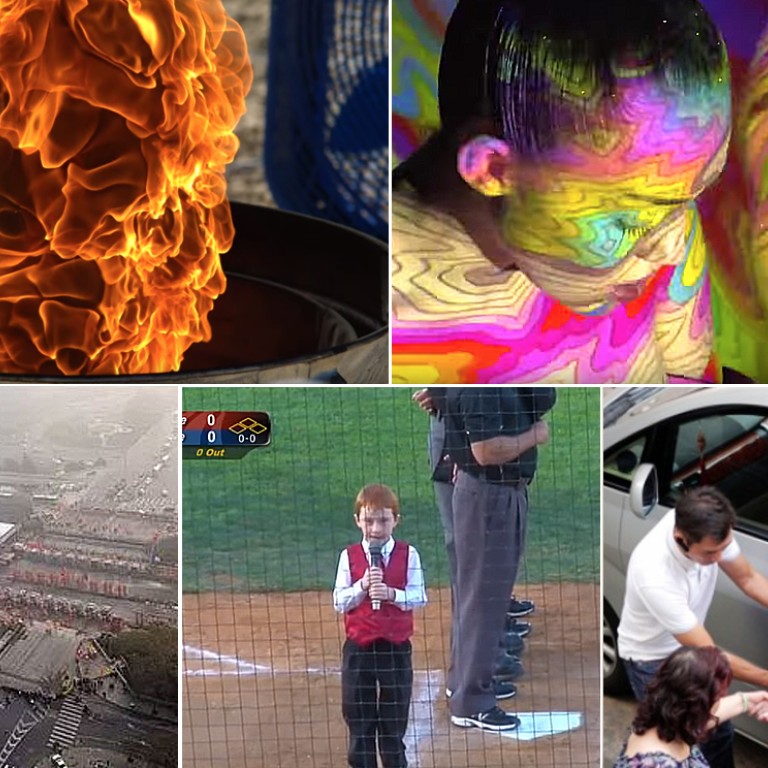 Top 5 videos of the week: kid battles through hiccups to sing Australia anthem; amazing slow-motion footage of fire tornado
Every Saturday, the 
South China Morning Post
 presents its top video picks from 
SCMP.tv
 and the web, highlighting news, features, mini-documentaries and more.
This week, we feature Miley Cyrus's new kaleidoscopic music video and an amazing slow-motion video of a fire tornado. 
What would you do if hiccups occurred when you were performing at a public place? This 7-year-old kid chose to keep calm and continue his performance. 
Australia's Ethan Hall was singing the country's national anthem ahead of a game in the Australian Baseball League (ABL) when the embarrassing incident occurred last Friday. The boy battled through hiccups to complete the performance. The ABL called it "the greatest rendition of the Australian national anthem EVER SEEN" on its YouTube page. Bravo, Ethan! 
This time, the pair lit a bucket of kerosene on fire, surrounded it with 12 box fans, whipped the fire into a tornado, and filmed it with their slow-motion cameras. Want to feel the heat and energy of a fire tornado? Watch the vid. 
Rebuilding a 1,300-tonne bridge in just 43 hours? This mission: impossible was completed by Chinese engineers in Beijing this month.
Miley Cyrus might be a controversial celebrity for her outrageous nude photos, but this time she has brought us an awesome music video for her new song "Lighter".
In this hallucinatory MV co-directed by the 23-year-old singer-songwriter and Wayne Coyne, Cyrus sang and danced in a set flooded with kaleidoscopic projections. 
Last weekend, Hong Kong held its first District Council elections after Occupy Central, the 79-day civil disobedience movement happened in the city last year. 
SCMP reporters Robin Fall and Jeffie Lam waited outside a nursery home in Hung Hom area for eight hours and caught these actions on camera.