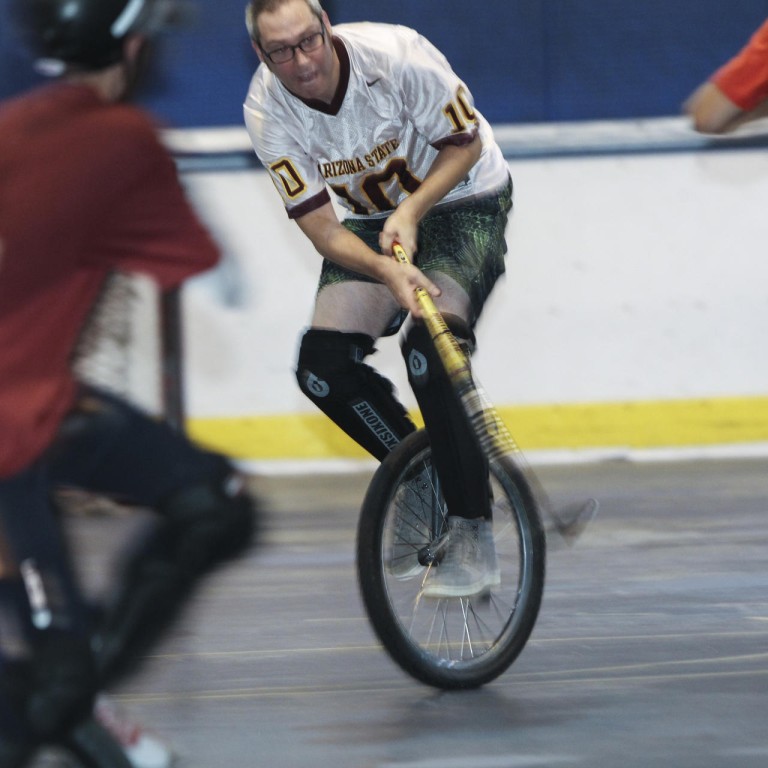 Wacky they may be, but unicycle hockey and bubble football are fun ways to exercise
There are any number of wacky ways to keep fit. Here's some of the best out-there sports to sign up for

Making it through a game of unicycle hockey is an achievement in itself. Staying on is only part of the story. You also need to coordinate with your four teammates, hit a tennis ball with a hockey stick and try and score. And you have roughly half an hour to do that.
Chan Koon-sing, a 20-year-old who has been playing unicycle hockey for 11 years, says anyone can learn to unicycle in around two to three months, but they have to keep practising.
Usually unicycles don't come with brakes, though some models do. It takes some perseverance; Chan says quite a number of newcomers, including some of his friends, tried it and gave up. "They don't really stick around. They come a few times, pose for pictures and leave."
There's not as much physical contact as in ice hockey, though unicycle hockey players zip around the rink at similar speeds. The rules are simple: you don't raise your stick too high (to avoid hitting someone on the head), and you can't jam your stick into someone else's wheel. The group in Hong Kong plays for fun every Friday evening starting at 8pm at the YMCA King's Park Centenary Centre in Jordan, and after the first match, they are all soaked in sweat.

Basketball is a lot more fun on a spring-enhanced court. This is what I learn at Ryze, Hong Kong's first trampoline park, as I soar four metres into the air and perform a reverse slam dunk like an NBA All-Star.
The park opened last month in a cavernous, neon green-striped space in Quarry Bay, and most of the 7,000 sq ft area is covered by an open jump field of more than 40 connected trampolines. There is also a dodgeball court with angled wall trampolines, basketball net and launching decks. The park is staffed by a "flight crew", including a trampoline instructor with 15 years experience, who can teach you how to bounce safely or correct your somersault technique.
Studies have shown you can burn more than 1,000 calories an hour trampolining with 40 per cent less impact than pavement-pounding, so you can exercise harder and recover faster. After five minutes of continuous bouncing, I start working up a sweat and I am breathless after 10 minutes. Sessions, or "flights", are one or two hours in length.
You can bounce freestyle, or there are aerobics classes, dodgeball tournaments and weekly theme nights on Thursdays, such as Michael Jackson. These are announced on Facebook a few days beforehand.
On Friday and Saturday nights, the lights go down and lasers and black lights come on for the over-15s Club Ryze: the most jumpin' club in the city.

What do you get if you cross hockey with five-a-side football, and make the players ride a BMX? Bike polo comes pretty close. "It's a weird game," admits Bear Chau Wai-hung, organiser of Bike Polo Hong Kong.
The rules are simple: two teams of three players pedal around a roller hockey rink and try to hit a small ball into the opposite goal with mallets. The first team to score five goals or earn the most points after 10 minutes is the winner. If your foot touches the floor, you must "tap out" by cycling to the halfway line and touching the wall with your mallet before rejoining the game.
Players can shoulder barge to try to force someone to put a foot down and mallets can be used as crutches or for duelling - although contact is strictly body to body and mallet to mallet.
"Keeping your balance is the trickiest part of the game and knocking over your opponents is the most fun," says Chau. Players wear hockey helmets, arm, knee and shin pads, and gloves for protection, and girls play alongside the guys. Bike polo has few rules but requires many skills. "It's for people who enjoy a challenge and working as a team," says player JCY Ho.

This arrived in Hong Kong in April and it's become so popular that there are already four rival businesses, according to Rodolfo Yiu, one of the founders of Bubble Soccer Hong Kong, the first company to offer it.
The game isn't difficult: you slide yourself into the middle of a bubble (similar to zorbing), wear two straps like a backpack, and hold up the front of the bubble with two plastic handles. Only your legs stick out.
Each game takes eight minutes, though you'll be surprised how long eight minutes can be - running around carrying a giant bubble is a surprisingly effective cardio workout. Yiu recommends bringing a lot of friends so you get a chance to rest. The game doesn't have as many rules as regular football. Instead of tackling an opponent, you just charge into them.
You can push your opponents out of the way like human bumper cars, or tip them over and watch them roll. The referee is there to make sure no one gets injured, and will kick the ball out from under you if two players are pressed against each other's bubbles in a standoff.
You can play in an air-conditioned indoor football field in Tsuen Wan where games are three-on-three, or you can book your own venue and the Bubble Soccer team will bring the game to you.

Parkour is an outdoor activity. Now you can do something that is similar indoors, too. Stephane Vigroux and Chris Sotiriou have developed a strong cardio and muscle-building workout that still looks impressive but doesn't involve the risk of plunging from a dangerous height. Sotiriou is newer to parkour, but he was a professional fitness trainer for many years. Now the two go around the world promoting their fitness programme at conventions.
You still have to jump from hurdle to hurdle, leap on all fours like an ape, and do push-ups. "It is not parkour, let's make it clear," Vigroux says. "Real parkour is outside, it's tough, and you need to have a certain mindset to do it, you have to be prepared to take the risk. It can be dangerous if you practise the wrong way."
This workout routine is far less risky, and you'll be doing it inside an air-conditioned gym studio. But as with actual parkour, Sotiriou and Vigroux stress the philosophy as well as the spectacular moves.
"It's a method of training to overcome obstacles, to train the body and mind to grow and learn about yourself through challenges," he says.
This article appeared in the South China Morning Post print edition as: Game changers