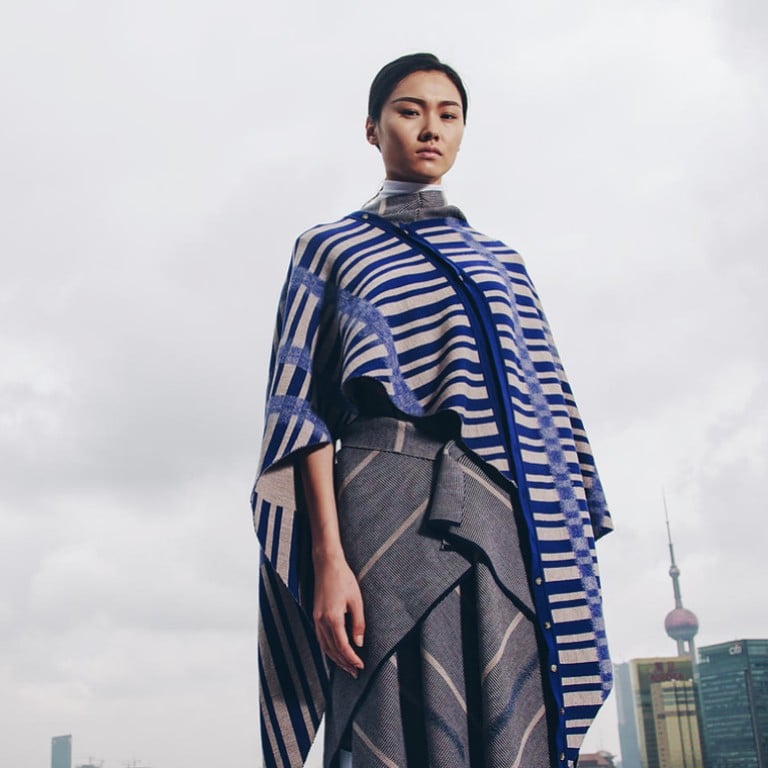 Meet four of Hong Kong's hottest young fashion designers
The city is becoming a hotbed of fashion talent, producing a wealth of young designers and start-ups. We profile some of the new kids on the block
Kay Kwok
One of the local designers creating the most buzz at the moment is Kay Kwok, who despite launching his label just two years ago, has already shown at London Fashion Week, where he impressed fashion editor Suzy Menkes. Kwok is a firm believer in fashion education, which he says has improved drastically in Hong Kong in recent years. His fashion design studies at Hong Kong Polytechnic University gave him the confidence and the skill set to go to the prestigious London College of Fashion (alumni include Jimmy Choo and Patrick Cox) and then to work at Alexander McQueen. "Hong Kong gave me key skills, like pattern cutting and computer-aided design," says Kwok, adding that London further honed his creativity.
Kwok's aesthetic is avant-garde with his last autumn-winter collection featuring UFOs and extraterrestrials. His latest collection is influenced by the themes of futurism and technology, and combines computer-generated prints with asymmetrical cuts and a jaunty colour palette. Kwok says he values creativity over monetary gain, not an obvious choice for many up-and-coming designers. "I was first approached by Joyce after my degree show, but I turned them down as I wasn't ready," says Kwok.
It's an offer that most young Hong Kong designers would give an arm for, but Kwok turned down Joyce two more times before finally letting them buy and sell his collection in their stores. It is this willingness to be patient and learn the trade, he says, that has set him up for long-term success.
Whosthat
Great technical skill and buckets of creativity helped Whosthat garner international attention, highlighted by a nomination for the International Woolmark Prize. Created by designer Meiyi Cheung, the brand was singled out by a panel that included American designer Thom Browne and Cyril Rahon, head buyer at Milanese retailer 10 Corso Como.
Cheung describes her aesthetic as "genteel and exquisite", and says it has a young attitude and subtle sexiness. She's no fan of the fast fashion that dominates Hong Kong and believes that the mindset of Hong Kong consumers is still one of "MTR culture", meaning convenience and price still rule. But, she says, the situation is improving for local designers and will only get better, even if the city's future is becoming more uncertain. "To me, Hong Kong is a great place for business, yet it has been too safe and too comfortable for a long time to generate creativity," she says. "Great creativity always come from challenges and limitations."
Cheung has, however, taken advantage of Hong Kong's location to help her brand grow. "The city is a fertile place for fashion start-ups, because it is a hub of major global brands' branch offices and sourcing centres, along with the fact that it's located next door to the world's factory," she says.
Hei Lau
Hei Lau also made the short list for the International Woolmark Prize with a style that's both clean-cut and feminine. Its founder, from whom the brand takes it name, has shown at Australian Fashion Week, put on a catwalk show in Macau and was also selected to show at the Asahi Kasei Chinese Creativity Award Collection at China Fashion Week in Beijing for spring-summer 2015.
Despite its Hong Kong roots, Lau sees her brand as international. She relocated to Shanghai this year to explore the Chinese fashion scene, and she says her platform is in Europe.
"I meet all my international buyers in Paris three or four times per year and I travel with my collections to do catwalk shows/promotions around the world," says Lau, who this year relocated permanently to Shanghai to explore the Chinese fashion scene.
Grana
Grana became the poster boy for Hong Kong fashion start-ups after securing US$1 million in funding from investors that included fashion group Bluebell. The brand's co-founder, Luke Grana, says he decided to set up his company in Hong Kong rather than his native Australia, partly as it's a free tax port. "It's also the world's sourcing city for the garment industry," he says. "And Hong Kong is a huge distribution hub. There are five DHL planes that fly to Australia every day, 12 to the US and 16 to Europe."
Grana was able to secure a deal with DHL, and being based in Hong Kong has allowed the company to keep costs down. Being an e-tailer also means they don't have to deal with crippling rents. Like other Hong Kong fashion e-tailers such as A Boy Named Sue, Grana is thriving in international and local sales as Hongkongers take to online shopping in a big way.
Four other local designers to watch
A womenswear brand established by Priscilla l'Anson, PI'A is part of a growing trend of bloggers putting their money where their Instagram account is and creating collections. The aesthetic is clean and modern with an emphasis on stylish separates for easy mixing and matching. p-ia.com
Aries Sin's androgynous designs have earned her a cult following that includes actress Miriam Yeung and singer Candy Lo. Sin spent time learning the trade in Paris and set up Modement to create a distinctly Hong Kong style.  modement.hk
Set up by Central Saint Martins graduates Kay Wong and Jing Wong, Daydream Nation is all about collaboration. As well as giving a platform to rising local designers, Daydream Nation creates its own quirky main line. The company also works in theatre, dance, music, film and visual art. 
Daydream Nation is at K11 Select, Level 1,18 Hanoi Road, Tsim Sha Tsui, tel: 2177 7208. daydream-nation.com
Made in Paradise is the type of brand that only kids brought up on a diet of '90s hip hop, graffiti and skating could come up with. Established by Hongkongers Maurice Maghnagi and Vishal Sani, MIP is available in Japan and South Korea.
Made in Paradise is available from Woaw, 11 Gough Street, Central, tel: 2253 1313. Also available from 1800-paradise.com
This article appeared in the South China Morning Post print edition as: Keepin' it fresh