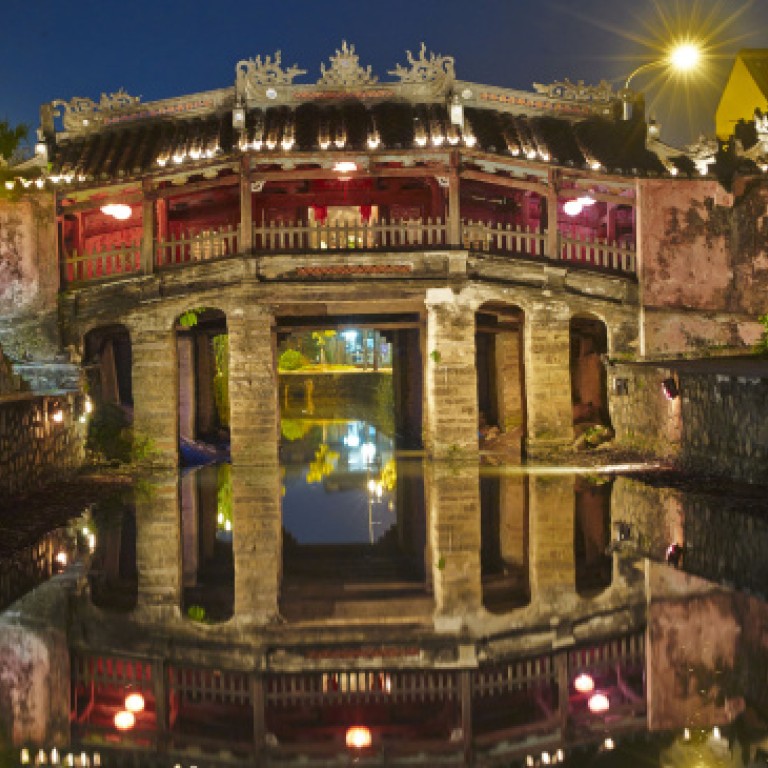 Few places can hold a candle to Vietnam's central coast, as Morgan Ommer discovers on an overnight trip to the seaport of Hoi An
we have landed at Da Nang International Airport. The temperature outside is 32 degrees Celsius, the local time is 8.55am, and tonight the moon is full. If you have no plans tonight, I suggest you check out the full moon celebration in Hoi An."
I have never heard a pilot recommend anything in his landing address before, so I decide to heed his advice.
But not before I've had a swim. Da Nang airport is less than 12 minutes from the beach at My Khe. Most of the beachfront restaurants conveniently have a swimming pool and changing rooms, so I go straight from the plane into the surf.
Formerly known as "China Beach", an R&R base for American soldiers during the Vietnam war, My Khe is a spectacular 30-kilometre stretch of white sand. It's too big to be crowded.
Hoi An is an old town a half-hour from Da Nang. At sunset it is a scenic ride along the beachfront for 25 kilometres and then inland through villages and markets and across green rice paddies. In the 16th century, Hoi An was already ancient and the largest port in Asia. Now it's a Unesco World Heritage site and one of Vietnam's most beautiful towns.
Last year 2.7 million tourists visited Vietnam's central coast - an increase of 130 per cent from 2007. And this was achieved with minimal marketing. "The Vietnam Tourism board's yearly budget is only about US$3 million, compared with Bali's US$229 million or Thailand's US$933 million for 2011," says John Blanco, chairman of promotional group Central Coast Vietnam. "Yet the region is perfect for tourism, and there is more to it than Hoi An: the beach, two more Unesco World Heritage sites, golf courses and some stunning resorts."
The coast is certainly more accessible since the new airport opened in December and direct flights from around the region - including Kuala Lumpur, Seoul, Siem Reap and, most recently, Hong Kong - now go there.
The lantern festival takes place every month on the eve of the full moon. On that night, motorcycles and cars are banned from the historical centre of Hoi An for a few hours, and the authorities switch off electric lighting.
Being able to walk the streets without hearing a motor humming is a rare treat in Vietnam.
Street musicians play traditional instruments, and Buddhist monks hold candlelit ceremonies, asking Lady Thien Hau, the goddess of the sea, to protect sailors and fishermen. The only light source in the centre of town is from candles. Around the river and by Hoi An's famous Japanese wooden bridge, vendors sell lotus-shaped paper candles to be set afloat for good luck or to help fulfil a wish.
"The women selling the floating candles are still around and it is less crowded," says Tran, owner and chef of three restaurants in Hoi An - Mango Rooms, Mango Mango and the newly opened Mai Fish. "The historic part of Hoi An on any evening is very romantic, and thanks to the invention of electricity, I can actually see what I'm cooking."
The next morning, Tran and I meet for breakfast at the local market.
If Hoi An is famous for one dish, it's , a bowl of noodles, greens and usually pork slices. The udon-style noodles were originally made using the ashes of a tree on neighbouring Cham Island and the water from a local well. Today they still use ashes and water but not specifically from the Cham Island tree and not from the well. Influences from India (mint leaves and spices), Japan (the noodles) and China (the roast pork slices) are apparent in this dish.
"Only a few families around Hoi An make the noodles fresh every day," Tran says, adding that they must make huge amounts, because every restaurant around here serves the dish.
After breakfast, we head to Faifo, a Chinese merchant's house in the old quarter of Hoi An. The space is divided among a restaurant, lounge and art gallery. We chat to painter Vu Trong Anh, whose works are on display, while sipping , Vietnamese coffee with condensed milk and ice. At Faifo it comes in cognac glasses with foam on top.
Having observed the large number of tourists walking around Hoi An the previous night and this morning, I can't help wondering whether the region is ready for the hordes that are likely to descend as more direct flights are launched. Some of the hotel general managers say they are preparing by engaging in social responsibility programmes. The Hyatt Regency, for example, works with a convent of Catholic sisters who have set up an organic farm. The sisters provide an education to disabled children. Most of the hotels hire staff from Streets International, a Hoi An-based NGO that trains street kids to work in hospitality. Streets International has its own restaurant in Hoi An. These efforts are laudable but limited. What the region needs is a widespread sustainable development programme.
Later that afternoon, I go on a small expedition by boat and bicycle to the surrounding villages. Blanco is right: there is still much to be explored here.
- Seafood and fried chicken. My Khe Beach 1C-1D Hoang Sa St, Da Nang
- Michel Roux is leading the way for Vietnamese chefs to make their mark on the global culinary map. The restaurant is beautifully designed, to boot. Roux is there four times a year to delight visitors. At the Intercontinental Sun Peninsula Resort
- An interesting interpretation of Vietnamese cuisine by Duc Tran, an experienced Vietnamese-American chef who has worked in Mexico, Morocco and Texas. 45 Nguyen Phuc Chu, Hoi An
- For the traditional specialities of Hoi An. Try the white rose, a local version of (steamed shrimp dumplings), and the steamed fish. Also check out the paintings on the wall, based on old photos from the colonial era. 22 Nguyen Hue, TP, Hoi An
- A family-run restaurant. Try the pork satay, rice pancake and spring rolls. 45-51 Tran Hung Dao St, Hoi An
- A restaurant run by a local NGO that trains street kids to work in the hospitality industry. 17 Le Loi St, Hoi An
- Some of the best bread in Vietnam. The local baker serves a fine selection of baguettes, focaccia, ciabatta, grissini, sourdough, walnut and pumpkin seed bread. At the Hyatt Regency Da Nang
Play golf at Montgomerie Links

montgomerielinks.com

Da Nang Golf Club

dananggolfclub.com

or the Laguna Lang Co Golf Club

angsana.com

Try your hand at painting and lantern making classes at Lifestart Foundation, an NGO that helps disabled women and street children in the region. 77 Phan Chu Trinh, Hoi An
Travel on a motorbike. Hoi An Motorbike Adventures, 54A Phan Chau Trinh St, Hoi An
Take Jack Tran's Hoi An Eco Tour. The captains of his boats are named after infamous pirates from history, except for Jack, who takes his name from Captain Jack Sparrow of Pirates of the Caribbean
Learn traditional cooking from Ms Vy at Morning Glory. Classic Vietnamese cuisine in a charmingly restored building smack bang in the centre of town. 106 Nguyen Thai Hoc St, Hoi An
Head to the beautiful beach to unwind
- a Unesco World Heritage site
- Former imperial capital of Vietnam, also a Unesco World Heritage site. A Vietnamese version of the Forbidden City
- One of the most beautiful towns in Vietnam, also a heritage site
Dragonair flies from Hong Kong to Da Nang in just two hours, three times a week with special visa-on-arrival procedure obtainable online (search for Vietnam visa)
Exotissimo Travel organises complete tours.

exotissimo.com