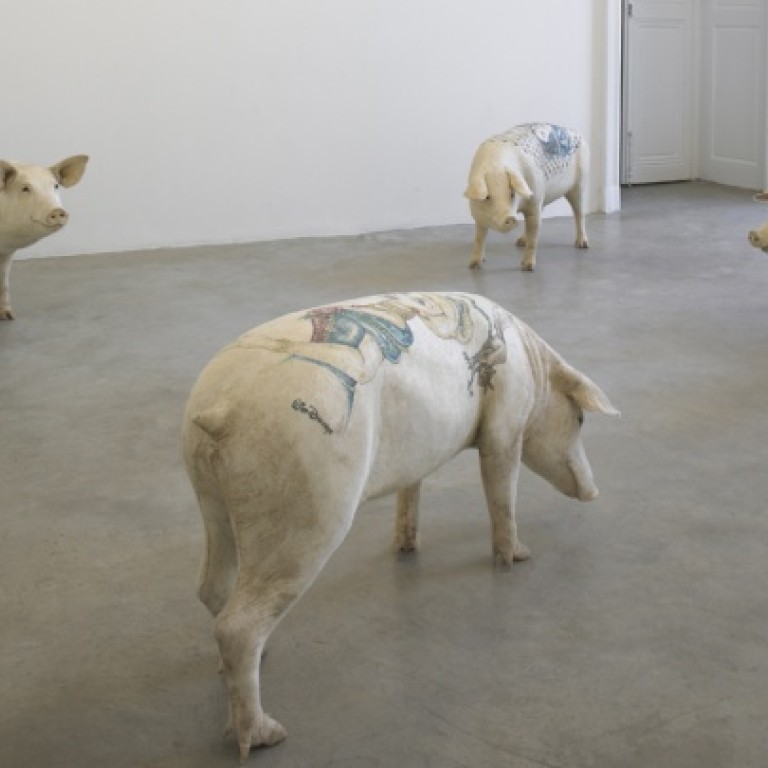 Be it tattooing pigs or twisting religious icons, nothing is out of bounds for this artist-provocateur, writes Catherine Shaw
WIM DELVOYE COURTS
  controversy like it's going out of style. The Belgian  neo-conceptual artist's  more provocative excursions  include tattooing a herd of live pigs (one with a Louis Vuitton logo that prompted threats of a lawsuit) and creating a room-sized installation of six glass containers faithfully replicating each stage of the human digestive process – down to the excrement – which were signed and sold for US$1,000 each.
He's not the only one. Think of the 1999 "Sensation" exhibition  featuring a dung-decorated Madonna  (Chris Ofili),  decades-long careers built on dissected sharks (Damien Hirst)  or a showcase of the state of one's own bed after a nervous breakdown (Tracey Emin).
''It's not like you suddenly say, 'Oh, I'm so surprised they are all shocked,'" says Delvoye whose anarchic, playful artworks often blend humour with a subversive touch.
"You know the reactions. You know some will be annoyed, but these are the feelings that I want to make in people. I was never understated as a young artist. I felt a bit weird, but that never bothered me and it never stopped me."
This time around, in his current exhibition at Galerie Perrotin Hong Kong,  Delvoye  puts a twist on what some might consider sacred.
The eponymous show presents his decorative hand-carved car tyres; the striking, laser-cut steel Twisted Dump Truck;  and a new series of twisted,  bas-relief conceptual pieces made of alloy that, upon closer inspection, are revealed to be distorted crucifixes.
To make his molten wall sculptures, Delvoye digitally altered the form and dimensions of the cross.
"They are relief versions taken from Jesus statues I've exhibited at shows in Europe," Delvoye says. "But I've learned that the art market generally doesn't buy anything with bearded men. One gallery curator even said, 'Enough of Jesus! They don't sell.'"
Lambasted by some for his extreme works, the artist says the media shares much of the blame as well.
"Jesus is an interesting example of how journalists come to a show and write that everyone is shocked, but no one ever got shocked by Jesus."
It is strange, he muses, that the art market today usually eschews such an important religious icon. "I am a collector of old paintings and bought a Guido Reni.  He was like Jeff Koons in the 17th century, but you can buy a masterpiece like his for less than ¤100,000 (HK$1 million) simply because it has Jesus in it," he says.
"In Europe, people just don't buy those artworks because they think it won't make money in the secondary market. It shows that, for the artist, art is art. But this is not so for [observers and art consumers], who have other reasons for why something is considered good or bad."
"I see being an artist as a bit like being an entertainer. It is completely harmless; it can't change the world or help people out of a recession but it can be intelligent entertainment that makes the human condition more comfortable," he says.
There is, of course, an economic imperative at play in today's art world, Delvoye says. But he tries not to let it control his work.
"Although there is always a small percentage of my work that pays for the work I do that is not so commercial, selling is almost accidental.
"For galleries, the trick to selling well is to be faithful to your work, to just keep producing it. I prefer the harder approach. I cannot promise that next year I will do work in metal and wood. I ?  hope it will be different. This is more interesting and challenging. I would be very worried if it is always the same."
The 48-year-old  has used a wide variety of materials throughout his career and draws on different artisanal techniques – from weaving, ceramics, sculpture to stained glass, printing and steel, each of which he has mastered.
In 2009, he created a  Gothic steel tower  for the Peggy Guggenheim Collection during the 53rd Venice Biennale.  He held solo shows in  2010 at the Rodin Museum in Paris   and the Palais des Beaux-Arts in Brussels in 2011.  Last year, he exhibited an 11-metre-high corkscrew-shaped tower, ?  Suppo?  , under the pyramid  at the Louvre.
Delvoye owns a studio and farm in Beijing (where he tattoos his now infamous pigs).  He chose the locale in 2003, he says, because the capital is the "spiritual centre" of mainland art, which has been booming.
"When I was thinking of moving there, I asked everyone which was best: Beijing or Shanghai? Even the Shanghaiese said Beijing! I learned it is much more important to look for the spiritual centre, not just the economic centre," he says.
Delvoye says the Chinese "have  a very good sense of history", and happily notes that  Hong Kong's  art scene is quickly catching up with the mainland.
"Five years ago Hong Kong was really behind the mainland. If you were in Beijing, you saw the hottest art. It may not have been fantastic, but it was the moment. Whatever was showing in Hong Kong was a compromise with their past, while Chinese artists in Beijing were experimenting with a newfound freedom.
"So you had sugar candy-coloured paintings with smoking camels and capitalists. Hong Kong didn't appreciate the subtleties of those programmes."
Delvoye says his current project, the architectural design of a  cathedral in the Philippines, challenges the notion of compartmentalising art into gallery or installation pieces, where curators might screen out some pieces.
"Why should art be limited  to a gallery?" he says. "You will  never be Leonardo da Vinci if you did that. He didn't have someone saying, 'No more of that Mona Lisa stuff.'"
"Wim Delvoye", Galerie Perrotin, 17/F, 50 Connaught Road,Central, tel: 3758 2180.  Opening hours: Tuesday-Saturday, 11am-8pm