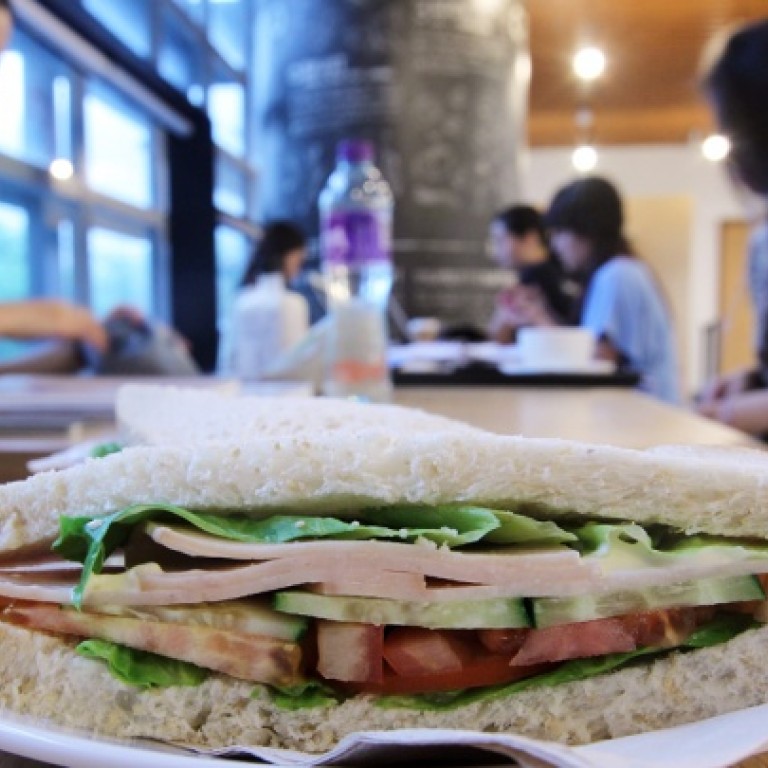 Charities are supplementing traditional donation income by running their own food businesses, writes Janice Leung Hayes
IN BUSINESS, sustainability – ensuring that profits are continuous and steady – is a basic commercial concept. More and more charities are adopting the commercial model rather than relying on donations and subsidies. For many, their preferred outlet is the food industry.
The new Legislative Council and Tamar Park complex houses two new outlets – iBakery Gallery Café overlooks the park and serves salads, burgers, pasta and coffee; and iBakery Express is a quickservice stand with outdoor seating and a harbour view. The Tung Wah Group of Hospitals Jockey Club Rehabilitation Complex is part of the local charity Tung Wah Group of Hospitals.
Florence Chan devised and opened the first iBakery in Kennedy Town in October 2011. It is attached to the central bakery, where all the chain's baked goods – from ciabatta to palmiers – are made. These are distributed to the other iBakery outlets, as well as to institutional and corporate customers. A bakery concept was ideal, she says, because "the production process can be divided into small procedures. Those who can master more can learn the whole process, while those who have limited abilities can focus on a small part."
More than half of iBakery's employees are disabled. While the rehabilitation complex trains and matches people with employers, Chan says, "there is still a group who may not be able to get a job in the open market". That is what sparked the idea of starting their own business.
Good Kitchen, a Cantonese restaurant that soft-opened in February, has a similar philosophy. Run by Hong Kong Sheng Kung Hui Welfare Council, it employs socially disadvantaged such as women who have lost manufacturing jobs, at-risk youth and those recovering from substance abuse, besides the mentally and physically handicapped. Skills training is on the agenda, but the secondary goal is to encourage people to eat better and live healthier lives. The menu advocates fresh seasonal produce, and uses healthy cooking methods. Staff are quick to remind diners that no monosodium glutamate is used in any dishes. The decor is recycled wood, and small shelves selling social enterprise products line the walls.
The New Life Psychiatric Rehabilitation Association has a series of projects that employ those recovering from mental illness. Under the Cafe 330 brand, it operates cafeterias at Prince of Wales Hospital and Chinese University. Like iBakery, the aim is to increase employability and reduce the "social stigma of people in recovery from mental illness," says Kris Wong, New Life's general manager of social enterprise.
Says Chan,"Connection with the community is what we want to do, apart from providing job opportunities. We still want customers coming for our products, though. A quality product is the key for sustainable operation, we believe."
In 2002, Viola Wong and her husband Raymond founded Confiserie Benji, a social enterprise that encompasses three businesses – Belgian chocolate maker Leonidas, French restaurant La Parole, and Japanese restaurant Shou Zen. All profits go to Benji's Centre, Hong Kong's only charity that provides professional assistance to children and teenagers from low-income families in need of speech therapy. Like most charities, they receive donations, but the Wongs found that donations weren't providing the consistent flow of income they needed, so they turned to business.
La Parole and Shou Zen are located in the same building in Sheung Wan, while Leonidas is widespread around town. All three businesses aim for a mid- to high-end clientele. La Parole's executive chef, Eric Taluy, has worked in Michelinstarred restaurants, and was the executive chef of the Belgian pavilion at the World Expo in Shanghai in 2010, while Shou Zen focuses on sushi, with ingredients flown in daily from Japan.
Besides the potential for greater margins, a more polished, higher-end offering helps improve the image of social enterprises. "There is a misunderstanding that the products and services [offered by] social enterprises are inferior," says Kris Wong, "but a strong brand [helps] draw customers' awareness and enhance confidence."
Cafe 330 employed local studio CoLab to design its interiors as well as create stronger branding for its food products, such as O'Bean, locally made soya milk, and Olly, a line of organic snacks.
"Customers like our cafe design, healthy food menu and fair-trade products," says Kris Wong.
From salads, sandwiches and desserts featuring organic produce from the association's farm, to teabags and tofu made by its members, the menu at Cafe 330 showcases social enterprise projects.
At Gingko House in Prince Edward, the servers, all in their 60s and 70s, love to point out the ingredients in their dishes that come from their own organic farm, and tell diners about the health benefits of their double-boiled soups, or housemade herbal drinks. The charity behind Gingko House and Lohas Organic Farm is Ever Concern Action, whose services focus on the elderly, including long-term care facilities and rehabilitation. Seeing that seniors, especially those who live alone or have recently retired, are prone to depression due to lack of social interaction, the charity started opening restaurants with elderly employees. The second Gingko House is in Central and serves European-inspired dishes. Most of the food is from their farm in Sheung Shui, which also employs seniors. The average age of employees is 67. Joyce Mak, CEO of Gingko House, says: "They could be 80. We don't have an age limit for employment here. As long as they are physically able, we're happy to employ them."