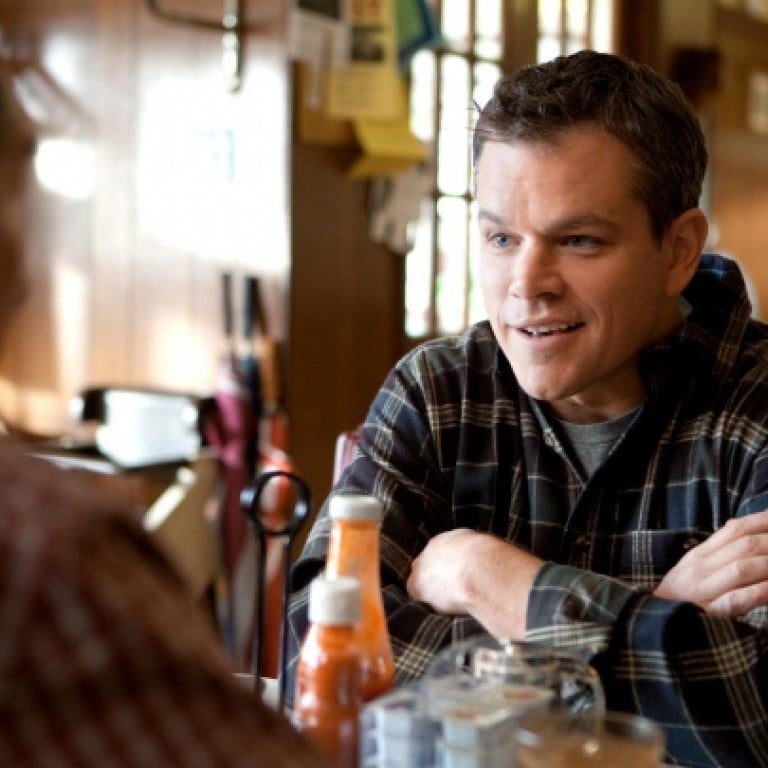 Activists have attacked the environmental message of Promised Land. But as James Mottram discovers, there's more to the film than politics
found out, when it comes to the environment, green issues are anything but black and white. Take fracking, for example, the controversial natural gas extraction process that forms the molten core of his new film .
"The stakes are so incredibly high and people are divided about it," says the 42-year-old Hollywood star, who is all too aware that in upstate New York this January, a billboard was erected by Phelim McAleer, director of the pro-fracking documentary , to debunk myths he felt were perpetuated by the film.
In the film, directed by Gus Van Sant, Damon plays Steve Butler, a so-called "land-man" for a US$9 billion energy company who arrives in the fictional farming town of McKinley to convince the residents to lease their land for drilling rights.
But led by eco-activist Dustin Noble (The US version of 's John Krasinski), the locals are made to consider the consequences - not least that of fracking, which sees a pressurised mix of chemicals, sand and water pumped into the ground to release the gas, is believed by some to be detrimental to the environment.
While those who are for fracking believe it offers cash-strapped communities an economic lifeline, there are alternative views, with some believing that residential water supplies can become flammable in the wake of the process. Not that McAleer believes this. In big, bold letters, his highway billboard read: "Matt Damon: the water has been on fire since 1669." The message being that natural gases, such as methane, have been causing this phenomenon long before fracking was invented. Other pollution cases, he says, have been fabricated by anti-fracking activists.
McAleer was not alone. A group of residents from Armstrong County, Pennsylvania - near to where the film was shot - formed a Facebook protest group. Meanwhile, sponsored by the Pittsburgh-based Marcellus Shale Coalition industry group, a 16-second advertisement - playing before screenings of the film in many Pennsylvania theatres - urged audiences to visit the website
learnaboutshale.org
to have "a community conversation on natural gas".
Yet Krasinski, who also co-wrote , claims the film is neither pro- nor anti-fracking. "It's about the bigger sense - what are we sacrificing in the long term for short-term gain?" he says.
Moreover, Krasinski and his co-writer and star, Damon, never set out to specifically focus on fracking. Wanting to author a story about a rural community, the 33-year-old was inspired by his own father, who grew up in a small steel mill town near Pittsburgh. "I think I subconsciously wrote this movie for my dad," he says.
"Just the sense of community that he discussed, and the sense of coming together in any sort of hard situation - the idea that we take care of each other and there's always hope that tomorrow's going to be a better day. I felt that we had moved so far away from that as a country."
While the film evokes memories of social issues dramas, such as or , Damon cites British filmmaker Bill Forsyth's 1983 film as more inspirational. That was a tale of an out-of-towner who goes to remote Scotland to secure land to build an oil refinery.
At the same time, Damon - who was initially shaping up to make his directorial debut with - maintains that, the film is "really an exploration of American identity, how we make decisions ,and what we think about when we make those decisions and what that says about us".
Damon's own crunch decision came when the shoot for his forthcoming sci-fi movie overran and, simultaneously, the start-date for the Liberace biopic - in which he co-stars with Michael Douglas - came forward. Juggling the shoot, the actor began to feel the pinch - and decided to quit as director.
When he heard the news, just before Christmas 2011, Krasinski was shocked. "It was the first time we ever had a problem. I said to Matt, 'We can't even get our agent on the phone, let alone get a director. You couldn't have told me this a month before?'"
Fortunately, Damon had a plan: he sent their script to Gus Van Sant, who had directed Damon and his then co-writer/co-star Ben Affleck to a Best Screenplay Oscar in their acclaimed 1997 breakthrough work, .
That wasn't their only encounter. Damon and Van Sant also reunited for the experimental (2002) - for which the actor took another co-writing credit. "It didn't even occur to me that the only times I'd written, he'd directed," says Damon. "I just trust Gus so much, it just made total sense for me to call him."
Overnight, Van Sant read the script and committed to directing. "I think I liked that it was funny and that it was topical," he says. "I liked that it was about a company man and a corporation." The Kentucky-born Van Sant's own father was a travelling salesman - and it was this personal connection that drew him in.
"Salesmen always have an interesting good and bad side. Steve is the hero of our story, but he's selling something that isn't so safe."
Van Sant has also been drawn into defending . The movie received some financial backing from Image Nation Abu Dhabi, a film investment outfit owned by Abu Dhabi Media, a state media company for the United Arab Emirates, the third largest oil exporter - and, of course, a rival energy source to natural gas.
So is the film funded by oil profits? "In some ways," concedes Van Sant. "It's a conflict of interests, because we're making a film criticising US forms of gas, [that's] being paid for by a foreign source."
Says Damon: "There are a lot of people who were expecting a certain type of movie, so I think they started attacking it [ ] before they saw it." But we wouldn't go back and do anything differently. We're really proud of the movie. It didn't get the reception that I would've hoped for, but that happens sometimes. The movie exists and it always will exist."
opens on May 9