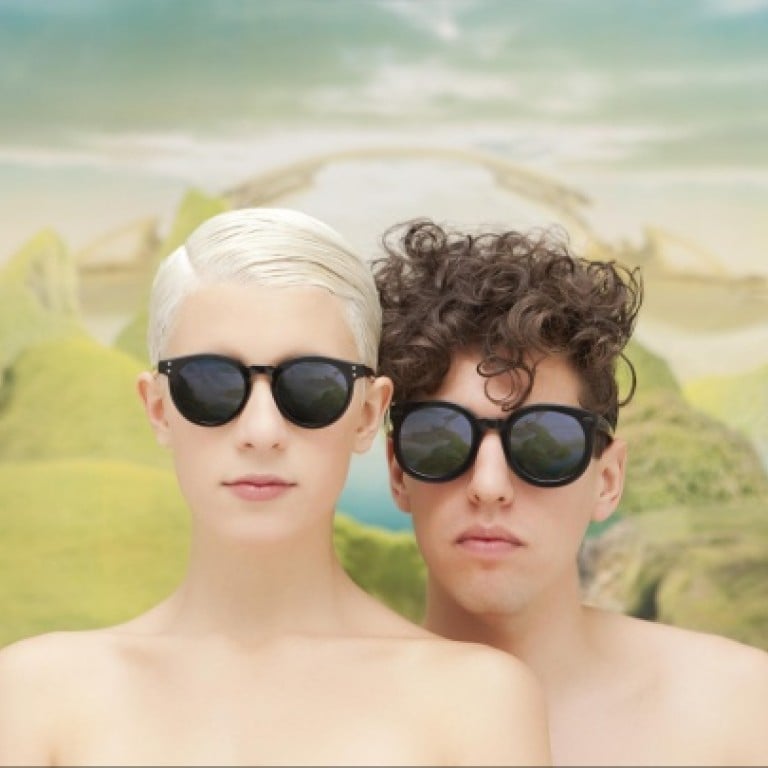 Down and Yacht's whimsical pop songs belie something more cerebral, writes Madeline Gressel
"If I can't go to heaven, let me go to LA, or the far West Texas desert, or an Oregon summer day," runs the jubilant refrain of Yacht's 2011 bubbly single .
It's an apt line. The song paints an agreeably concise picture of the band's history - their past, present and future, in a literal and spiritual sense.
Yacht, an acronym for "young Americans challenging high technology", is an indie-pop outfit based in Portland, Oregon, that began as the brainchild of Jona Bechtolt. In 2008, he was joined by Claire L. Evans, after her band opened for Yacht at a gig in Los Angeles.
"It was collaboration at first sight," Evans says ahead of Yacht's Hong Kong appearance on May 15. "I was a huge fan of his. After that gig, the band I was in at the time actually had a meeting about how to be more like Yacht. [Jona] was so interesting, weird and visually engaging. He was doing performance art using only a computer. I had never seen that.
"If I had only known that a few years later I would be in the band," she says. "It wasn't intentional manipulation, but it ended up that way."
Both musicians were raised in Portland, live in Los Angeles, and consider the Texas town of Marfa to be their "spiritual home". "These three places come together to form what we lovingly refer to as the 'Western American Utopian Triangle'," Yacht says. Which goes a way towards explaining the refrain.
But there's more to Yacht than meets the ear. Ostensibly, Yacht is a band. Or is it? In a mission statement posted on their website, Yacht describe themselves as "a band, belief system and business". It's a surprisingly ponderous description, considering the band's colourful, dancey indie-pop tunes that have won them touring slots with the likes of the Yeah Yeah Yeahs, LCD Soundsystem and Vampire Weekend.
The mission statement is poetic but vague. The website is filled with friendly, mysterious symbols, phrases and equations. They notably take the time to specify that they are not a cult.
I ask Evans, who is wry and down to earth, to clarify the core of Yacht's philosophy and expanding symbol system. "It's actually quite simple. It's about radical self-empowerment - the notion that if we live in an infinite universe, then there's no real centre, and every person has the right to stake their claim on their own reality and define who they are and what they're doing on their own terms.
"It's an evolution of our own punk-rock roots, filtered through a more starry-eyed, cosmological view. Artists and scientists and religious people are all trying to answer the same questions: how can something come from nothing? Who are we? What is our role in our universe? What is the nature of being? We're all trying to get to the same truth, which may be unattainable. But it's not about attaining it. It's about the journey. Our way of manifesting that journey is by making something out of nothing every day."
This philosophical bent isn't immediately apparent in Yacht's bright and buoyant ditties. It is hidden in simple lyrics about building the worlds we want to live in. Geography is central to the band's narrative, be the places real or imagined.
Yacht aim to enliven, not encumber. They call themselves pop musicians, embracing a term many bands try to get away from. "We make pop music and we're not ashamed of it," says Evans.
"Pop is profound. I think it's mystical, because it has a tendency to get under our skins and into our minds. We repeat pop anthems and choruses without even knowing what they mean. That has an esoteric weirdness to it," she laughs.
But Yacht aren't here to preach. They're happy to do all the heavy lifting. "If we build a utopia, will you come and stay?" Evans sings in . All we have to do is show up and have fun.
Yacht, May 15, 8pm, Grappa's Cellar, Jardine House, 1 Connaught Place, Central, HK$310 (advance), HK$360 (door). Inquiries:
ticketflap.com