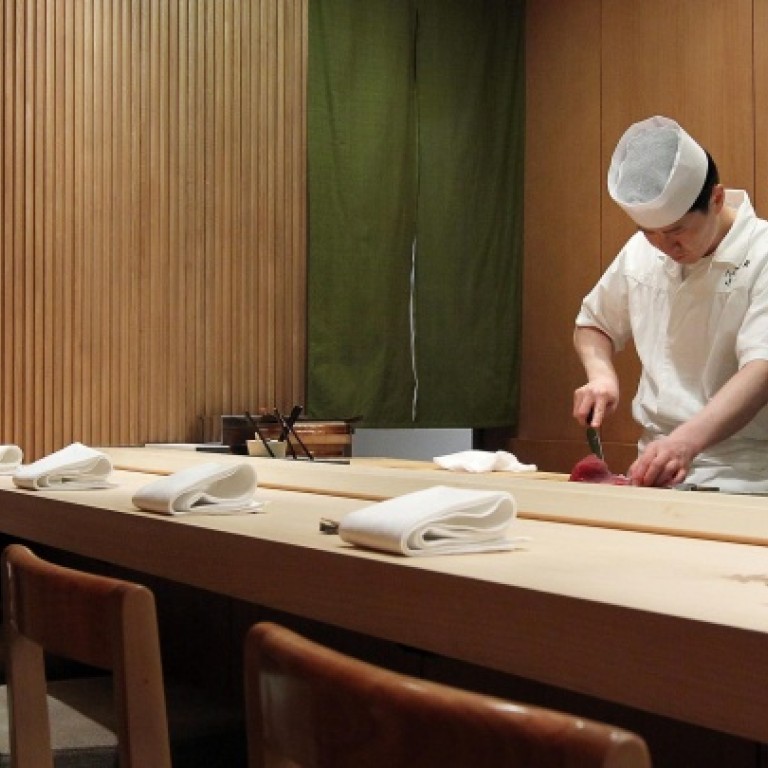 Food review: Sushi Yoshitake is expensive, but worth the money
Susan Jung wonders if the most expensive meal she has ever eaten was worth it
the meal at Sushi Yoshitake was fraught with anxiety. It started with trying to decide if I should review the restaurant, knowing that this would be the most expensive meal of my life.
The cheapest menu is HK$2,500; the mid-priced one, at HK$3,500, is recommended, as it's served at the original Michelin three-star restaurant in Tokyo (the Hong Kong branch has two stars); and the third menu, labelled "for serious sushi fans with a hearty appetite", is HK$4,500.
Once you book, there's no turning back - at least, not without paying a hefty fee. The restaurant sends you an e-mail asking you to confirm the date and time, and you must provide your credit card details, in case you need to cancel.
If you do, they'll charge HK$500 per person, although if you give short notice of two days or less, it's HK$1,250 per person. It's understandable - it's a small restaurant, and all the fish is ordered from Tokyo.
Then there was the "sushi etiquette" page on the restaurant website
sushiyoshitake.com
Most of us already know that you don't mix the wasabi with the soy sauce; that the pickled ginger is a palate cleanser; and that we can use our hands to pick up the sushi. But the advice about "strong fragrances" - such as tobacco and heavy perfumes - and how they can "have a negative impact" on fellow diners worried me. I wondered if the lightly scented body lotion I put on the night before would be considered "strong". To be sure I wasn't going to offend anyone, I took a shower and brushed my teeth before going to the restaurant.
Once we arrived, our anxieties melted away. It's in a very low-key location, tucked away in The Mercer Hotel in Sheung Wan. It's a quiet space with just eight seats at the sushi counter. There's also a private room that seats six. We were served by the sous-chef, the affable, talkative and knowledgeable Yoshiharu Kakinuma.
The HK$3,500 menu has five appetisers and 10 pieces of sushi, and there was nothing we disliked. Some of the dishes were revelatory. Baby firefly squid with rape blossom had a sauce composed of saikyo miso, egg yolk and grainy mustard. The simmered octopus was the best we've ever eaten - amazingly succulent, tender and meaty.
The best dish of the evening was abalone served with abalone liver sauce. It was so good I tried to use my chopsticks to scoop up the sauce left in the dish. The chef took our bowls, added a small amount of sushi rice and told us to mix the ingredients and eat it, "like Japanese risotto".
Of the sushi courses, (squid) had been scored with the most delicate of knife marks, making it sweeter and stickier than any we've ever had.
The gizzard shad had been marinated with salt and soy, then rolled with rice, gourd, shiso leaf and white kelp and topped with shrimp powder. All the elements were distinct, but they complemented each other.
The sea trout was smoked, brushed with special soy sauce then dusted with freshly grated yuzu zest at the last second, so the fragrant citrus lifted the flavours.
Just when we thought the meal couldn't get any better, it did. In quick succession came a generous pile of light, cool Hokkaido sea urchin; the best cooked prawn sushi I've tasted (it was a wild, deep-sea prawn, and was dense, meaty and sweet); a wonderfully delicious anago (saltwater eel) brushed with maple syrup; then tamagoyaki.
The end of the meal brought back anxieties of a different type.
"Do I tip?" I whispered to my guest. In Japan, I wouldn't even consider it, but this is Hong Kong. We searched online to see if other diners had tipped, but couldn't find anything.
When I finally saw the bill, I stopped worrying about that. The service charge alone was HK$900.
The total bill, for two HK$3,500 set meals, two carafes of sake (at HK$200 each) plus two extra pieces of sushi each (because we weren't full) came to HK$9,900.
Would I eat here again? No, even though it was easily the best Japanese meal I've eaten in Hong Kong. The same set meal in Tokyo would have been HK$2,300, Kakinuma explained, but it costs a lot more here because the restaurant imports all the ingredients, including the water used to make the sushi rice.
I could get an inexpensive flight to Tokyo and eat at the original Sushi Yoshitake for about the same price as I paid here. Still, my palate has gained for the experience.
This article appeared in the South China Morning Post print edition as: That's abit rich