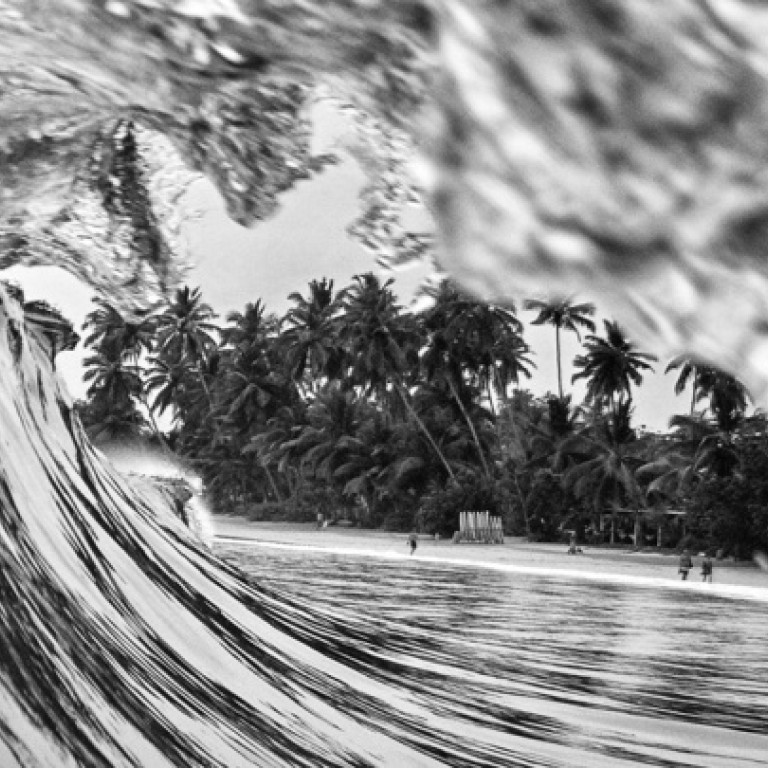 Sri Lanka's sleepy Mirissa Beach is a paradise waiting to be discovered, writes Chris Beanland
IT'S ONE OF THOSE moments when you can't stop a swear word tumbling from your lips. The sky has suddenly turned slate grey and the wind has whipped up. I'm paddling in the warm waters off Mirissa Beach in Sri Lanka when I spy a huge wave looming from the direction of the storm clouds.
I try to turn and escape but in a moment I'm dragged under and tossed around. Clearing the salty water from my windpipe with a cough and trudging back up the beach a minute later, I feel more embarrassed than anything, especially because I've lost my sunglasses in the swell. Thankfully, Mirissa's one shop offers a neat range of fake Ray-Ban Wayfarers for US$3.
These waves are legendary and have made Mirissa a mythical stop for surfers. I look out to sea and can see the unmistakable shapes of a dozen or so surfers; matchstick men riding the rips between jagged rocks with the kind of verve and aplomb clumsy old me can only fantasise about.
My close encounter with the power of nature makes me think of another wave – one that will be remembered by generations to come. The December 26, 2004 Indian Ocean tsunami obliterated Mirissa along with many other villages and towns along the coast of Sri Lanka. Mirissa today, however, is back to its chilled-out, blissed-out best.
Nightmares don't seem to last long here – it's so tranquil that you feel you can forget your troubles.
From the top of Parrot Rock, just10 metres or so high, you can appreciate this place's real beauty.
I climb up and survey the curving bay – a perfect arc of sand framed by lush green forest. Sure, there are hotels here, some of them shoddily built. But as yet Mirissa has been spared the super resorts. How long will that last?
Sri Lanka is the fastest growing tourism destination in Asia. The best time to come? Well, now, of course.
Surfers and backpackers were here first and that vibe is very much alive and well. There are about 20 beach bars along the sand, serving ice-cold, locally brewed Lion Beer in giant bottles. I eat devilled prawns and grilled fish with simple salads; fish curries with rice and roti and plenty of chilli. The bars don't seem to have formal names – just a few chairs outside a kitchen and a scrawled sign.
What they all have in common is a tune in, drop out manifesto: Bob Marley rings from many of the speakers, and dreadlocks and baggy T-shirts are everywhere.
To get an even better view I climb the highest hill to where a little Buddhist monastery perches above the town. From here you can see along the coast – up towards Galle where it gets more developed and touristy, and down to Weligama. This direction used to be as sleepy as an infant, but Sri Lanka's booming economy has put paid to that. There are new buildings – hotels, homes and even a brand new airport and port in Hambantota; much of it funded by Beijing.
But in Mirissa, for now, all remains calm.
On a tip, I thread through the backstreets of town, past the red postboxes which look like the ones in Hong Kong, Harrogate or Harare, past the stalls selling fresh bananas and mangoes, past the ads for whalewatching excursions in the bay.
I arrive at the Dewmini family's spotless little courtyard cafe where a plate of steaming kottu is dished up along with a mixed fruit smoothie. The kottu is a must-try: chopped roti with chicken, vegetables and a pot of fiery scarlet sauce.
But all of this is more exertion than you need here. At Number One Mirissa hotel, a year-old boutique bolt-hole started by an English expat and clinging to the rocks overlooking the bay at the opposite end to Parrot Rock, I spend the rest of my time reading under the swaying palm trees, sipping a G&T, paddling in the pool and admiring the retro "Ceylon" posters.
If Mirissa is known as a sleepy paradise, it's with good reason.

Several carriers - including Singapore Airlines, Sri Lankan Airlines and Malaysian Airlines - fly from Hong Kong to Colombo
Number One Mirissa, Mirissa Beach, Galle
numberonemirissa.com
Airport transfers are available on request