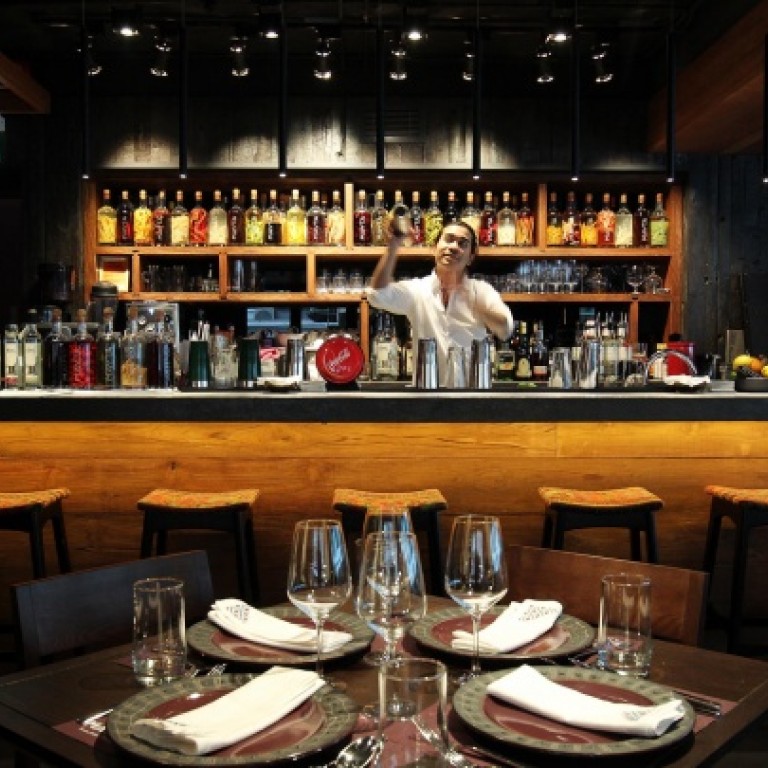 Food review: Mayta Peruvian Kitchen and Pisco Bar
Peruvian cuisine with a touch of class is a change for the better, writes Susan Jung
Mayta Peruvian Kitchen and Pisco Bar, one of restaurant group Dining Concepts' newest ventures, replaces Blue Smoke Bar-B-Que in Lan Kwai Fong.
Gone are the neon lights, distressed wood and Americana on the walls, along with the smoked meats and huge helpings; giving way to Peruvian artefacts and more sophisticated (but casual and comfortable) decor, with a menu of ceviche, (a traditional raw fish dish) and piscos.
The change is for the better. My guest and I attempted to order something from every section of the menu and we disliked only one dish, the (HK$128). As an appetiser, it didn't work. The three steamed buns were too large (we ended up pulling off and discarding most of it), the sliced pork belly was too dry and the other fillings - chilli aioli, pickles and fried sweet potato chips - while a good mix of textures, were too scant to save the sandwiches from being heavy and dull.
Our second appetiser, a salad of quinoa, cured salmon, fava beans, avocado cream and miso dressing (HK$68), on the other hand, was light and delicate.
The ceviche clasico (HK$148), made with sea bass dressed with a tangy, citrusy and served with (Peruvian corn, the size, texture and flavour of which reminded me of hominy), sliced onion and cubes of tender sweet potato, was bright and refreshing. Just as delicious was the Andean (HK$138), a very pretty, vividly flavoured composition of thinly sliced salmon with and garnished with mild chillies and a scattering of tiny grains that turned out to be black quinoa.
For our main course, we were tempted by the Andean potato stew with crispy suckling pig leg, but ended up ordering the (HK$198). It wasn't the most attractive dish, but the homey and unlikely-sounding combination of tender beef strips with red onion, tomatoes, soy sauce, (rice), roasted banana, fried egg and french fries, was a deliciously sloppy and comforting melange, and each mouthful gave us a different flavour combination.
After so many savoury courses, we could only manage one dessert. The pineapple - grilled, so the flavour was intense - came with a smooth, light dulce de leche, delicate quinoa cookie and olive oil ice cream (HK$68). It hit the spot and wasn't too filling or too sweet.
The service was very good. Our main waiter was friendly and engaging, and he was able to answer all our questions about the ingredients that were unfamiliar to us.
Mayta offers set lunches ranging from HK$108 plus 10 per cent to HK$128. The restaurant wasn't very busy when we visited for a weekday lunch, although we can't understand why because the food is good and the location on the third floor of an office building means it's away from the bustling Central crowds.
This article appeared in the South China Morning Post print edition as: Continental shift