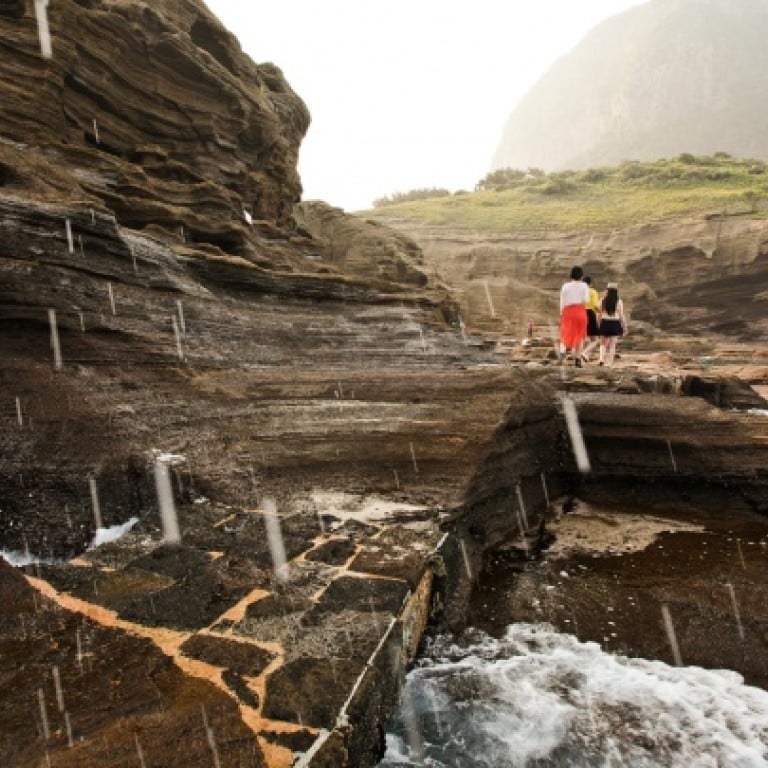 South Korea's Jeju Island offers hidden pleasures for travellers
Visitors to Jeju Island in South Korea can delve into subterranean lava tubes and feast on fresh fish caught by its octogenarian diving women, writes Jennifer Barclay
blares away in American English and signs proclaim: "We love having you here!" Past Jeju city there are farms with green hedges and basalt stone walls, forest-covered hills in the distance, and breezes play with the golden eulalia grass.
Sub-tropical Jeju-do wraps you in its lush, salty embrace. It feels cosy, which is surprising considering what a tough place it was to live until recently.
Jeju Island has lured me here with its otherworldly aura of ancient matriarchal traditions, 18,000 local gods and goddesses, abundant myths, and the striking Easter Island-type Grandfather Stones ( ), which were carved to scare off invaders. I'm welcomed with a lunch of grilled mackerel with sea salt, and seaweed and sea urchin soup.
I learn from a feisty young woman with dyed red hair that this volcanic "island across the water" was once a separate kingdom from the Korean mainland and, at a different time, a place of exile. Previous generations spoke with such a strong accent that other Koreans couldn't always understand them. It became a self-governing province again in 2007.
The population is only 500,000, yet it's three times the size of Seoul. So while it's no desert island - it was Korea's "honeymoon island" for decades - it's relaxed and rural, albeit with luxury resorts. There are now cute replicas of the Grandfather Stones.
What was a rugged place of "wind, rocks and women" has been transformed into a holiday island. I soon put away my business cards.
Later that day, walking through Manjang lava tube, a kilometre-long tunnel of strange shapes forged by molten rock, it's dark and cold. There's the sound of water dripping. Somewhere up above, there are bats.
At the heart of Jeju-do is the dormant volcano of Hallasan, and its subterranean lava tubes spread their hidden fingers across the island. There are other caves with stalactites, but as walking trails go, this one is remarkable.
The volcano, at 1,950 metres, is the highest mountain in South Korea, capped with snow for most of the year and lovely when covered with spring azaleas or autumn foliage. I'm told it can be hiked in a day, but since it's hidden by cloud today, I opt for an easy hike up one of the shorter trails to a lower peak.
Surrounded by 153 square kilometres of forested national park and 368 smaller peaks, with 5,000 species of animals including badgers, roe deer and chipmunks, Hallasan is Korea's biggest ecological treasure, and, in 2011, was voted one of the world's New Seven Wonders of Nature.
Jeju is bursting with opportunities for ecotourism, and walking trails have been created along practically every interesting bit of coastline. They're known locally as after the winding lane to a Jeju stone-and-thatch house, to protect the home against strong winds. Having been underground and up high in the mist, the next day I take a gentle stroll from Seogwipo harbour, along a well-built path surrounded by colourful flowers, amid the sound of birds and insects in the trees. I pass a pretty guest house, and a woman sitting on the rocks, staring out at the hazy ocean.
The myth surrounding the Lonely Standing Rock tells of a woman who prayed 100 days for her fisherman husband to come back from the sea - she was eventually turned into a column of rock pounded by surf. More poignant still are the caves under the cliffs that the Japanese occupiers forced locals to build in the early 20th century as hidden weapons stores.
For centuries, while the men went to sea in fishing boats for weeks on end, women had to feed their families. As well as tending farms they learned to dive - some from the age of six - for seafood such as abalone, clams, sea cucumber and octopus.
Even in winter storms, they would dive all day to depths of more than 10 metres without oxygen tanks.
These self-sufficient communities of strong women developed a matriarchal society. "Have a baby girl and we'll throw a pork barbecue party," they used to say in Jeju-do. "Have a baby boy and we'll kick his ass." The diving women - or - were actively involved in fighting the Japanese occupation.
There are still 5,000 women divers. So there's one more thing I hope to do before I leave. And I'm in luck. At Jungmun Beach, beyond the hotels and palm trees, I spot a group, like seals in their black wetsuits, often called mermaids. They surface every couple of minutes, make a whistling sound to let out air, breathe in fresh oxygen, then dive back down. One hauls herself up on the rocks and walks to shore, carrying a huge sack that must be half her weight, filled with shellfish. Their average age now is 65; there are easier ways of making a living these days.
A woman squats on the ground, pulls a squirming octopus from a bucket, hacks off the ink sack and puts it in a pot. She is 85 years old, but hale and hearty, and has been diving since the age of 15 - as her darned and patched wetsuit suggests. Wetsuits were introduced in the 1970s, replacing cotton suits with adjustable buttons for diving when pregnant.
I sit at a table to eat. This is a pretty spot, not to mention a cheap place to eat fish straight from the sea. I try a tiny snapper and raw squid with sesame oil, and then, feeling relaxed after two days of fresh air and exercise, I decide to conquer my fear of the humble or sea cucumber. She grabs a sharp knife and chops it up, removing the white insides. I daub a piece with hot sauce, and eat. It's a bit like an oyster. I've done it and what's more it was served by a woman who's been free diving for 70 years and keeping the ancient traditions alive.
I am ready to leave, before I have to eat another one.
Haevichi Hotel and Resort: located on the southeast coast at Pyoseon Beach, the spacious rooms feature rainforest showers and views over Jeju Folk Village and Pacific Ocean sunsets.

haevichi.com

Phoenix Island: closer to Sunrise Peak is a resort with a meditation space and a "pyramid of light" clubhouse by Japanese and Swiss architects.

phoenixisland.co.kr

Villa de Aewol: this complex in the northwest has the kind of hip design you'd expect in a big city, yet it's a peaceful setting for enjoying the natural beauty of the island.
Tasting local tangerines and abalone porridge is not compulsory, but you'd better be prepared to lie about it if someone asks whether you have tried it. The waterside cafes run by diving women are at Jungmun, Seongsan and Sehwa. For dinner, try barbecue with succulent pork from local black pigs. Or scrumptious organic vegetarian fare such as potato pancakes and green tea soup at Yon Oo Nae near Halla Arboretum.
The weirdest attraction is Love Land, a humorous adults-only sex theme park set up by art graduates (

jejuloveland.com

).
There are many family-friendly options from the Teddy Bear Museum (

teddybearmuseum.co.kr

) to the fascinating Haenyeo Museum (

haenyeo.go.kr

) dedicated to the women divers.
Outdoor activities include horseback riding and boat trips to Udo Island. The best beaches are Emerald Bay, Gwakji, Hamdoek, Sinyang and Jungmun. The hike up to Sunrise Peak with its crater-like shape is probably the most photographed spot on the island.
Relax at Hanwha Resort Therapy Centre (tel: +064 725 9000 ) where you can sample mud therapy, water massage, snooze in oxygen rooms, or be cocooned in hay.
This article appeared in the South China Morning Post print edition as: Sirens of the sea