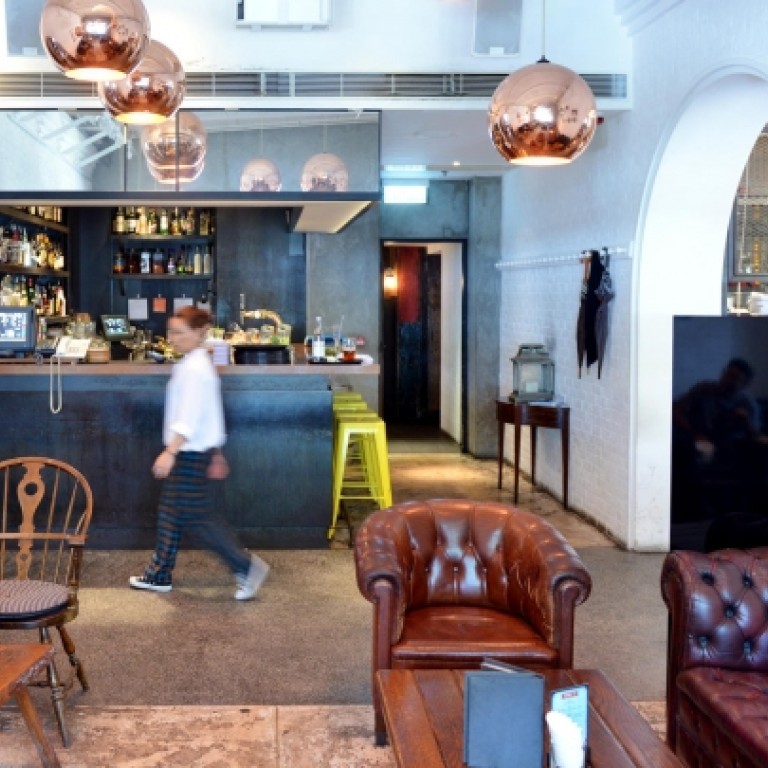 Bar Review: The Living Room at The Pawn
as if someone had raided an Anglo-Chinese junkshop to fit out a hipster bar in Shoreditch, east London. The Living Room is the first-floor bar area of The Pawn, one of the last pre-war buildings in Wan Chai.
It has a balcony overlooking the tramlines of Johnston Road, and inside a mixture of Windsor chairs and leather banquettes, candle-covered old tables and second-hand books on the window sills. The clientele is mostly stylish, young and slightly older expats, both Western and Asian, and older middle-class local couples.
the rarities cover beers from Yorkshire brewery Samuel Smith, including its excellent Organic Pale Ale at HK$80, although you'll need to stop the waitress from pouring the bottle into a pint glass filled with ice cubes. Other beers are Californian craft ales such as Rogue Dry-Hopped Red Ale for HK$70, Marston's Pedigree and Leffe Blonde at HK$42 in a small glass, and jugs of draught lager for HK$250.
Cocktails range from the Sage Lady (cucumber, sage, Absolut Mango vodka, Cointreau and peach bitters) to the crème brûlée martini (vanilla-infused vodka, house-made crème Anglaise, Frangelico and a caramel crisp) via a lavender and peach Bellini, all costing HK$95 to HK$125. Wines are HK$80 to HK$130 a glass, HK$390 to HK$630 a bottle, and there's a fine collection of aged spirits such as 1953 Armagnac Casterede for HK$430 a glass, and a 21-year-old Long Pond rum from Jamaica for HK$225.
excellent for a long chat with an old friend. The menu covers all the pub favourites - Scotch egg (HK$75), pork pie (HK$55), shepherd's pie (HK$155), beer-battered fish and chips (HK$165), wagyu and Angus burger and chips (HK$165), and roast beef sandwich (HK$95).