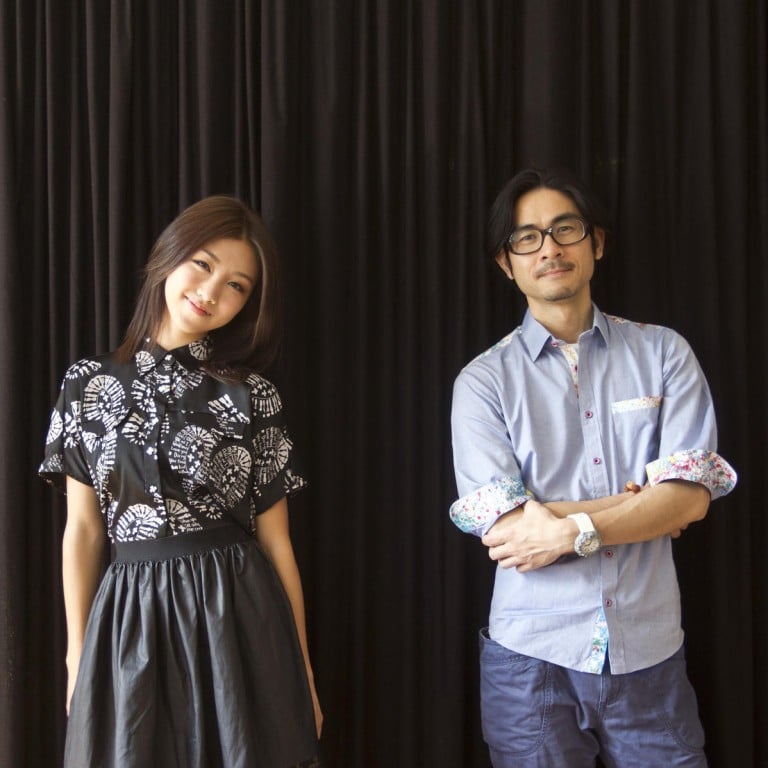 All the right moves: Dance director on magic behind the film
Cherry Ngan was 16 when she auditioned for a role in The Way We Dance. A few years later, she won the lead, director Adam Wong tells Yvonne Teh
. That was the title of a 2003 Herman Yau Lai-to film about a director who befriends a group of young street dancers who practise hip hop moves at night outside the Hong Kong Cultural Centre.
And giving them a chance - and more - is what Adam Wong Sau-ping decided to do with the group of youthful talents he cast in . The spirited dance drama revolves around a first-year undergraduate who lives to dance, her university dance crew, and the older tai chi student who brings a special something to her life.
A visiting lecturer at Hong Kong Polytechnic University as well as a filmmaker, Wong got the idea for his latest film after seeing a group of dancers regularly trying out their hip hop moves in the open space outside a 7-Eleven near Poly U. He was surprised to find that they were a university dance crew who had not been granted a formal place to practise.
After checking out performances at a variety of dance venues, including "clubs, community halls, and college extravaganzas", the 38-year-old director-scriptwriter decided that his next foray into filmmaking, after 2007's magician-focused , would be "a really cool hip hop dance movie". So along with his partner, producer-scriptwriter-lyricist Saville Chan Sum-yiu, Wong proceeded to organise multi-round auditions to unearth young dance and acting talents.
"I chose all of the main cast through auditions. Not a single one of them was previously decided upon. Some films pretend they are holding auditions, to act as a promotion, when the companies already have stars in mind. Not with this movie," he says when we meet to talk at a dance studio in Kwun Tong.
"I think we had nearly 500 people audition," Wong says. To hear him tell it, it was as if they were conducting a version of . "We saw a lot of great people, the hidden talents of Hong Kong," he says.
So it was with much regret that the filmmaker had to put his project on hold for a few years after having problems securing financing.
But about a year ago, Wong was able to get going on what he's characterised as "a tribute to the soul of youth". Although he held more auditions, he also contacted some of the hundreds of talented hopefuls who had attended the original auditions. Cherry Ngan Cheuk-ling, the young woman who was eventually selected to be The 's lead actress, was among them.
"Three years ago, when Cherry came to audition, we thought, 'She's so bold'. At the time, she was one of the youngest applicants. She was like a very happy little girl coming to do the audition," Wong recalls with a laugh.
Picking up the story, jazz dance-trained Ngan, who's now a first year Hong Kong Baptist University undergraduate studying comparative literature (as well as being a professional actress and model), says that, "When I went to the audition three years ago, I was still in love with dance. So I just danced quickly in front of them, thinking nothing, aware of nothing."
Since she was only 16 at the time, she felt that she probably wouldn't win the leading role. "But I felt I could participate in the movie. The director, producer and choreographer looked at me and they were very happy. They were laughing during my audition," Ngan remembers.
Wong says that the people present had enjoyed Ngan's audition because of her disarming honesty, as well as her dance abilities. "I found it really impressive that she prepared a dance, she prepared the music. But she also told us that she had overlooked one segment of music and didn't know what to do in it! She told us that before she danced," Wong says.
Laughing at the memory, he says that when Ngan got to that part of her dance number, "She just jumped about randomly and said, 'I'm Cherry Ngan, I'm 16 years old, blah, blah, blah, I really love dancing, so please choose me!'"
For her part, Ngan remembers that Wong found her answer to a question about the prospects of local dance movies in Hong Kong funny. I said they would not earn money, because people would rather spend their money in Starbucks, or on Hollywood movies. They would look down on Hong Kong dancers, Hong Kong youngsters, Hong Kong dreams."
Director-scriptwriter Wong admits that he knew that he'd be facing an uphill battle to get a film like made. He felt this even though it's less of an art house offering than his previous films, and more like the "down-to-earth, entertaining Hong Kong movies" he appreciates.
For one thing, he thinks that contemporary cinema is dominated by "movies with masculine power and action - and [those] featuring dirty jokes".
So all the other genres, including dance dramas, don't often get a green light in Hong Kong, or elsewhere in the world, for that matter.
"French director Jean-Luc Godard said that 'All you need for a movie is a woman and a gun'. So, basically, that's the whole world's cinema described right there - all the cinemas in the world have this idea," explains Wong.
Rather than make a cop or gangster movie featuring women, along the lines of, say, Johnnie To Kei-fung's or , the filmmaker opted to make his first film with a female lead displaying action in the form of dance and tai chi moves. In keeping with Wong's other work, the focus of remains on young talent which is mainly new to the film industry.
Lead actress Ngan, who is now 19, is the youngest of the main cast members. But she has still appeared in more films than male leads Lokman Yeung Lok-man, the 23-year-old leader of dance crew SREKOL, and 26-year-old theatre actor Babyjon Choi Hon-yik.
Although she has shared the screen with star names such as Simon Yam Tak-wah in (2012), and Tony Leung Ka-fai and Kelly Chen Wai-lam in this year's , Ngan is still wary about calling herself a full-fledged actress. "I think I need to go through 10 or 20 years to confirm that I can become an actress, and I need to play many different characters to ensure that I can really act," she maintains.
But Wong saw that Ngan had the requisite talent for success when she was just 16, and he believes that luck is on her side. With regards to her involvement in , he says: "If we had started the movie three years ago, she might not have got the main part because she was too young at the time.
"Everything involves timing. Now, she's the right age," he says.
opens on August 8
This article appeared in the South China Morning Post print edition as: All the right moves