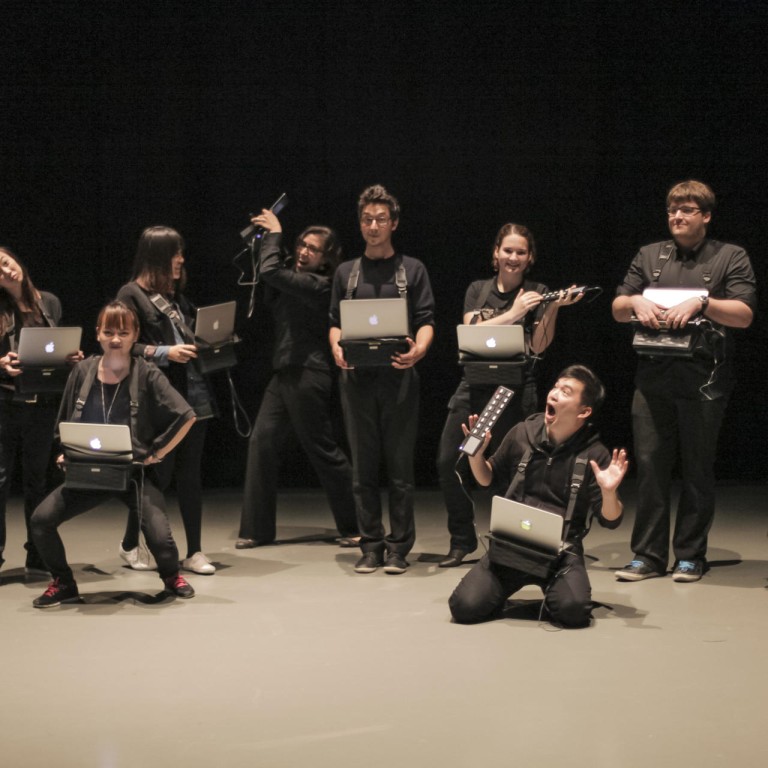 Arts preview: Electric Company provides mobile laptop music
When it came to forming his own laptop orchestra, composer and multimedia musician Samson Young Kar-fai decided to think differently. He had been involved in laptop orchestras that left the audience disconnected and confused - something that happens, he thinks, because performers are hidden behind their devices.
So last year, when he started Electric Company, a 10-piece laptop orchestra previously named CLOrk (City Laptop Orchestra), Young made sure it was truly mobile from the outset.
Instead of staying at a laptop station, all the musicians are equipped with an all-in-one sound contraption so they can move around. This consists of fully charged cordless gear, an interface, and a wireless boom box. It gives the orchestra optimal mobility, and this makes it possible for them to throw in theatrical elements and perform outdoors. The orchestra also uses elements such as gestural sensing and bio-sensing to provide a more visual experience.
"The laptop is a great instrument, because it's reprogrammable and very powerful. Any devices that can detect physical interaction and input [data] for a laptop to program into sound can turn it into an instrument," says Young.
"We call ourselves an orchestra, and we have a conductor, musicians and, occasionally, soloists, like conventional music; this gives a sense of comfort to the audience.
"But how we render our music, and the instruments we use, is very new," he says. "The challenge is to make the audience feel that they're listening to live music."
The opening piece for the concert, , will be played by the conductor Vicky Shin's heartbeat: data collected by a sensor she wears will be transmitted by wireless to the laptops to render into audio.
Vanissa Law's piece, , equips each musician with a motion sensor controlled by gestures. Paul Lansky's gives the impression that the laptops are talking among themselves, while other commissioned composers include Sascia Pellegrini, Tang Lok-yin and Lam Lai.
Electric Company has developed an app especially for this concert. If audience members download the app beforehand, the performers can push data into their phones to generate different sounds and visuals.
"It's like we recruit their mobile phones to extend our sound source, and become part of the orchestra," says Young.
HKICC Lee Shau Kee School of Creativity Multi-Media Theatre, 135 Junction Road, Kowloon City, October 18 and 19, 8pm. HK$200 Urbtix. Inquiries: 2268 7323
This article appeared in the South China Morning Post print edition as: Live and clicking