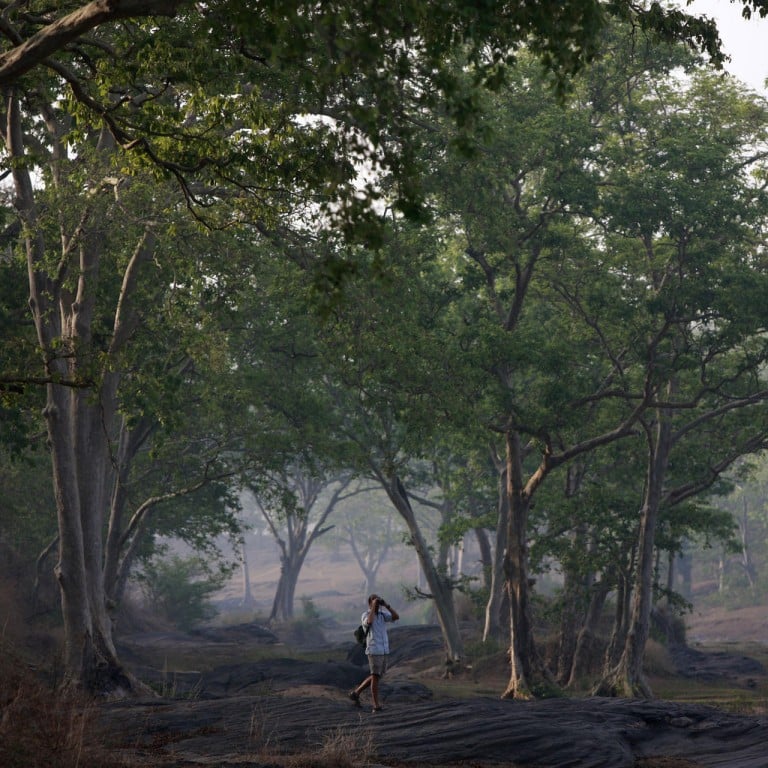 Shergarh Tented Camp, a place for safaris, is a serene experience
A luxurious camp near India's Kanha National Park is full of surprises, writes Shafik Meghji
I'm half asleep when my car screeches to a halt on a dusty, rural road in the central Indian state of Madhya Pradesh. My driver nudges me sharply in the ribs; barely 20 metres ahead of us is a flash of orange and black. As I scrabble in vain for my camera, the tigress casually saunters across the tarmac, pauses briefly to give us the once-over, and then disappears into the undergrowth.
We are well outside Kanha National Park, a Kiplingesque landscape of lush forests, grasslands and meandering streams, which is home to an estimated 40 to 45 tigers, but the big cats pay little attention to map boundaries, something to which Jehan and Katie Bhujwala can attest.
Over glasses of (a refreshing mix of lime juice, water and sugar) the Parsi-British couple who own and run Shergarh Tented Camp tell me about an incident a few years earlier. A five-year-old male tiger strayed from the park and took up residence in the paddy fields around Shergarh, about three kilometres outside Kanha. He left peacefully soon afterwards, but not before the camp's surprised guests got some wonderful photos, and an enviable tale to tell friends back home.
Sadly, the tiger does not make a return visit during my stay at the camp, but there are plenty of langur monkeys, kingfishers and multicoloured butterflies to focus on instead. The wildlife is a testament to Shergarh's environmentally and socially responsible approach, which involves everything from minimising the use of plastic to providing employment opportunities for locals.
Set up 10 years ago, the idyllic camp offers the perfect blend of luxury and adventure. Shergarh has just six tents - which in reality are more like large huts with canvas roofs - scattered throughout eight hectares of woodland, giving each guest the illusion that they have the area entirely to themselves. The impeccably designed tents are fit for a maharaja, and each comes with electricity, a king-size bed, a huge stone bathroom, local artwork, and a private veranda on which to drink your morning chai. The twice-daily safaris (or "game drives" as they are known locally) in the park are the big draw for most guests, and Shergarh has some of the region's best guides. But there are a range of other activities to keep you occupied.
One morning, I take a guided walk through the "buffer zone", a band of wildlife-rich forest that separates the park boundaries from nearby inhabited areas. I watch clouds of dragonflies and damselflies, marvel at spider webs large enough to trap a small child, and climb on top of giant boulders to glimpse the Banjar River.
Later that day Katie, Jehan and their two young children take me on a bike ride through the countryside surrounding the camp. We pass pretty villages with houses made of mud, members of the local Gond community herding cattle, crowds of schoolchildren, and even a formidable gaur (a type of bison) and her calf.
There are few better ways to spend a lazy afternoon than taking a seat under the shade of Shergarh's tall mango tree, with a slice of home-made cake, a good book, and a soundtrack of birdsong.
Shergarh Tented Camp
Open from mid-October to mid-May, it is located 3km from Kanha National Park's Mukki Gate. It costs 20,000 rupees (about HK$2,489) per night, full-board for two people, with two safaris included. The nearest city is Jabalpur, 180km away, from where there are daily flights to Delhi. For details, go to
shergarh.com
This article appeared in the South China Morning Post print edition as: Home is where the hut is