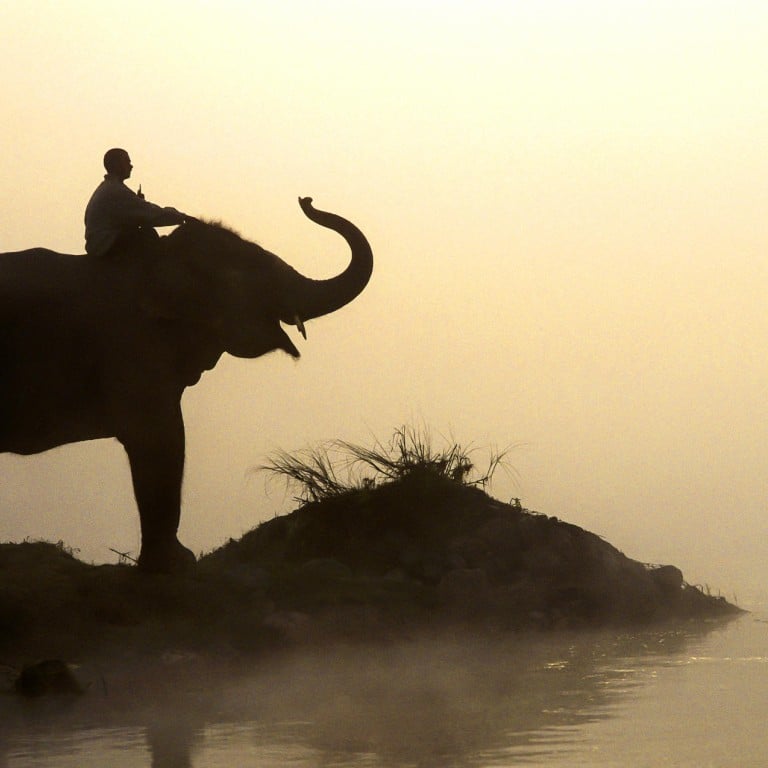 Nepal's Terai plains offer wildlife and sacred sites
Nepal's southern fringe is a land of free-roaming fauna and protected forests, a tempting world away from the mountainous north, writes Shafik Meghji
"Chh-op." Nothing. "Chh-oooop?" My throat is getting sore. The mahout, knee-deep in the river, looks up, smiles and gives the thumbs up. One more try and a fraction of a second later Rani's wrinkled grey trunk arches back towards me and squirts water into my face.
Down river, tourists are perched on pachyderms, enduring a similar drenching to a chorus of laughs, splashes and periodic trumpeting. People are busy scrubbing away or snapping photos. Elephant bath time has begun. These raucous scenes are common on the East Rapti River, which separates the village of Sauraha from Chitwan National Park in Nepal's south.
Most people associate Nepal with the Himalayas, trekking and Kathmandu's tourist hangouts, but the Terai plains in the country's south stand apart.
The lowlands are hot, flat and culturally distinct. They are home to stunning national parks, elaborate Hindu temples, and one of the world's holiest Buddhist sites. Chitwan is about 150 kilometres by road south of Kathmandu. The forest houses the endangered greater one-horned rhinoceros, which can be spotted on guided walks, jeep tours, canoe trips, and - most enjoyably - on elephant rides. Before bath time, Rani and her mahout took me through a forested buffer zone separating the national park from the villages.
We get to within metres of a female rhino and calf, grazing peacefully as the morning sun breaks around them. Getting close to the wildlife is easier from an elephant's back as its scent masks yours.
Later, I stop off at the Elephant Breeding Centre, a project run by the national park that aims to boost the population by allowing the animals to mate in peace. Baby elephants are the biggest draw, but there's also a tiny museum with a helpful list of verbal commands for elephants, including "chh-op", or spray water.
Chitwan is easily the most popular attraction in the Terai, but it is far from being the only worthwhile sight. I take a bus east, along dusty, bumpy roads - doing my best to ignore the many reports on fatal road accidents in the local newspaper - to Lumbini, birthplace of the Buddha.
This Unesco World Heritage location is Nepal's most important archaeological site. Lumbini is home to a complex of temples built by Buddhist communities from around the world in their own distinctive styles. The centrepiece is the Sacred Garden and the glimmering white Maya Devi temple, parts of which date back to about 300BC. Inside is the spot where the Buddha is reputed to have been born. Although there are few ruins in Lumbini, the fluttering prayer flags, neat grounds and meditating monks make it an incredibly tranquil place to sit and think - at least until a party of students arrives.
About 270 kilometres beyond Lumbini, in the remote far west of the Terai, is Bardia National Park, which feels like a version of Chitwan 20 years ago. Relatively few tourists visit the park and, apart from some atmospheric lodges built in the indigenous Tharu style (think mud-and-thatch huts), there are few facilities.
It means I can explore the park's dense forests and patches of savannah in relative solitude, spotting several rhinos and scores of crocodiles slumbering on river banks. But no tigers, unfortunately.
My final stop is Janakpur, a small town south east of Chitwan. I'm the only foreign tourist here, but there are many Hindus on pilgrimage to see the Janaki Mandir, an eye-catching plaster and marble temple dating back to 1911. It was built to mark the discovery of a golden statue of Sita, the consort of the powerful Hindu god Rama.
Nearby is the old quarter, a maze of streets crammed with shops selling mithi or sweets, colourful religious trinkets, clothing and jewellery. Much like most of the Terai, it is a place of unexpected pleasures.
• Avoid the two-night, three-day budget safari packages to Chitwan sold by the travel agents in Kathmandu and Pokhara. They are, without doubt, going to be rushed, are of variable quality and represent poor value. It's easy to arrange activities by yourself when you get to the national park.
• Pack a pair of binoculars, a course of antimalarial drugs, plenty of mosquito repellent, and warm clothes for a morning safari - it can be surprisingly chilly.
• When eating, only use your right hand. As in most parts of South Asia, the left hand is reserved for less hygienic practices.
• Make sure you learn a few words of Nepali before you travel. , for example, means "I bow to you", but is also a common greeting. Be sure to accompany the greeting by pressing your hands together in a praying gesture.
Dragonair (
dragonair.com
) has regular direct flights to Kathmandu. It is also possible to fly through Mumbai or New Delhi onJet Airways (
jetairways.com
). From Kathmandu, take a connecting domestic flight to Bharatpur to visit Chitwan National Park, to Nepalgunj to see Bardia National Park, or Janakpur. It is a five-hour journey by road from the capital to Chitwan. There are regular scheduled public buses or take one of the more comfortable "tourist buses" run by companies such asGreenline Tours (
greenline.com.np
). From Chitwan there are buses to the eastern and western Terai.
Visas
Tourist visas (from US$25, HK$194) are available on arrival at Tribhuvan International Airport in Kathmandu, but the queues can be long, so it might be worth getting one in advance from the Consulate of Nepal in Tsim Sha Tsui.

The Terai's proximity to India is reflected in its cuisine, and you can find excellent tandoori dishes, fiery curries, fluffy naan breads and sugary mithai. Outside the tourist areas, you will find yourself eating a lot of the national dish, dal bhaat (rice, lentils, curried vegetables and pickles).

Chitwan and Bardia are busiest once the monsoon season ends in October or November. The weather will be warm, but the long grass makes spotting wildlife difficult. From late January until the end of March is the best time to visit. Temperatures rise from April on and the monsoon arrives in July, but if you can stand the heat and the rain, you'll have the parks to yourself. October to March is a good time to visit Lumbini and Janakpur.
There's a range of accommodation around Chitwan, from luxury lodges to basic backpacker digs. A mid-range option is River Bank Inn, which has a knowledgeable owner and overlooks the Rapti (tel: +977 056 580 450,
riverbankinn.com.np
; doubles from US$26). In Lumbini, which also has a good selection of hotels, try the plush Buddha Maya Garden (tel: +977 1 470 0632,
ktmgh.com
; doubles from US$170), a 15-minute walk away from the Sacred Garden. At Bardia, the Forest Hideaway has atmospheric mud-and-thatch huts (tel: +977 975 800 1414,
foresthideaway.com
; doubles from US$20). Janakpur is woefully short of decent hotels. I stayed at the adequate Hotel Manaki International (tel: +977 41 521 540,
[email protected]
; doubles from US$40).

Chitwan National Park US$15, Bardia National Park US$10; elephant rides cost US$25. Maya Devi temple US$2. Entry to the Janaki Mandir is free.
if you're travelling by public bus, you're unlikely to pay more than US$5, even for journeys lasting hours. Tourist buses cost more, but are fast and comfortable. The Kathmandu-Chitwan journey costs about US$17.
This article appeared in the South China Morning Post print edition as: The Terai