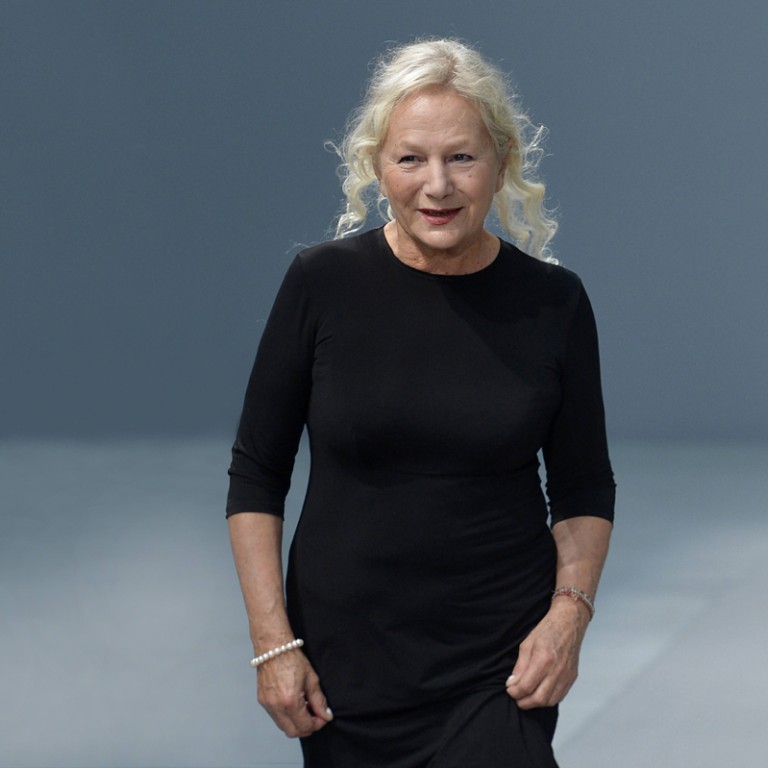 Straight shooter: Agnès Troublé talks art, life and her directorial debut
Art is a way of life for fashion designer turned director Agnès Troublé, writes Elisabeta Tudor
WHOEVER THINKS THAT Agnès Troublé, also known as agnès b., is only about fashion design, has it all wrong.
In fact, despite having hundreds of stores around the globe and regularly showcasing her womenswear and menswear collections in Paris, it seems as if the French designer actually cares very little about fashion.
Preparing a runway show? Child's play, according to Troublé. "I play with my models like a child plays with its dolls," she says, strolling around her Parisian office and pointing at the racks that carry her autumn-winter 2014 womenswear collection. "I like to dress my models according to their personality. I'm not about trends; I'm about the person."
A true multitasker, Troublé is interested in various art forms. Today she's here to discuss her love of filmmaking.
"I wrote My Name is Hmmm ..., a short story on an impulse, 10 years ago," Troublé says of her directorial debut. "I was carrying on with fashion design as usual, and waiting for the moment to develop my ideas beyond fashion."
It was Christian Bourgeois, her first husband and the man who lent the initial b. to her brand, who introduced her to cinema and photography.
Towards the end of the 1990s, Troublé created a film production company, Love Streams, to help promote and fund the projects of emerging directors, including much-lauded independent releases, such as Gaspar Noé's Irréversible (2002) and Jean Denizot's La Belle Vie (2013). She also co-founded O'Salvation, another company with American director Harmony Korine, in 2002.
This time, however, instead of helping other projects evolve, Troublé is directing a feature film of her own.
"I did this film for myself," she says, adding that the plot is completely fictional and nothing to do with her own life. "It's about a little girl who runs away from home after she's been abused. I wanted to address the subject of child abuse, particularly incest. I wanted to analyse the impact of this type of abuse on the child's mind and the family and people surrounding this child."
Troublé is known for her humanitarianism and involvement in environmental protection – she contributed funding for the research boat Tara, which records climate change data around the world – and is also known for supporting several humanitarian organisations, including AIDES, Act Up and Handicap International.
The organisers of the Hong Kong International Film Festival invited Troublé to premiere here.
My Name is Hmmm ... will show at noon on March 29 at the Hong Kong Cultural Centre Grand Theatre.
"I was delighted to participate," she says.
"I'm very fond of Asia."
Troublé likes to observe gestures, habits and attitudes through certain film angles. "I'm a very visual person," she says. "Important events and meanings can often be expressed in a very minimal way.
This was the type of expression I looked for when casting my actors; a very strong focus on emotion and behaviour."
Troublé left nothing to chance, supervising the set design herself, meticulously depicting her main characters' intimate world.
"It's not a story about incest only, it's mainly about growing up and finding your own way. This movie is about the impact and evolution of friendships and adventures, and how they can influence our lives and form our personalities," she says.
"At the start of her journey, Céline finds refuge in a truck, probably the most important encounter of her life. This is where she meets the Scottish truck driver who takes her on a road trip. They are both very different and yet complementary at the same time: they are misunderstood loners that have suffered in life, and now they find a new way of appreciating and loving life through their dialogue and discoveries."
She chose to film in France, around Bordeaux, seeing the natural surroundings as a blank canvas.
"But like any good road movie, the story is full of surprises. In this sense, I decided to collaborate with butoh dancers; their expressive performances are mind-blowing," she says, referring to the avant-garde Japanese form of dance theatre that was born out of the generational struggle after the second world war.
"Céline is adventurous, she wants to discover everything, and her new friend the truck driver, who at the start is a grumpy outsider, evolves with her. They learn from each other, and naturally, start seeing life with fresh eyes. Isn't that something we should all consider doing?"
Founded in 1976, agnès b. has evolved from a fashion label into a global lifestyle brand, including a skin care and cosmetics line, flowershops (agnès b. fleuriste), and library-galleries both in Paris (Galerie du Jour) and Tokyo. Today, co-founder Agnès Troublé remains relevant with classic statement pieces. Her creations are always wearable, but come with a twist, as seen in her latest collection for autumn-winter 2014 - think smart little jackets, bold photo prints on straight-cut dresses and tops, gender-bending suits and the blue-white-red colour palette, reminiscent of the French flag.